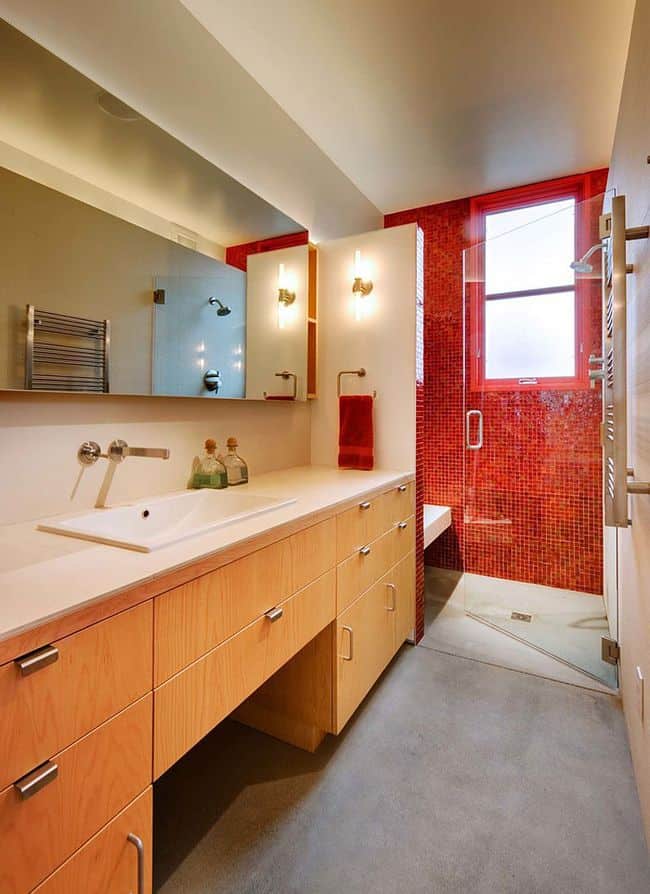 Dare to combine different colors and materials, give the bathroom the same attention you have dedicated to decorating the bathroom and you will not regret it when you see the result.
Next, we will show you colors for very nice bathrooms that are trending.
Green bathrooms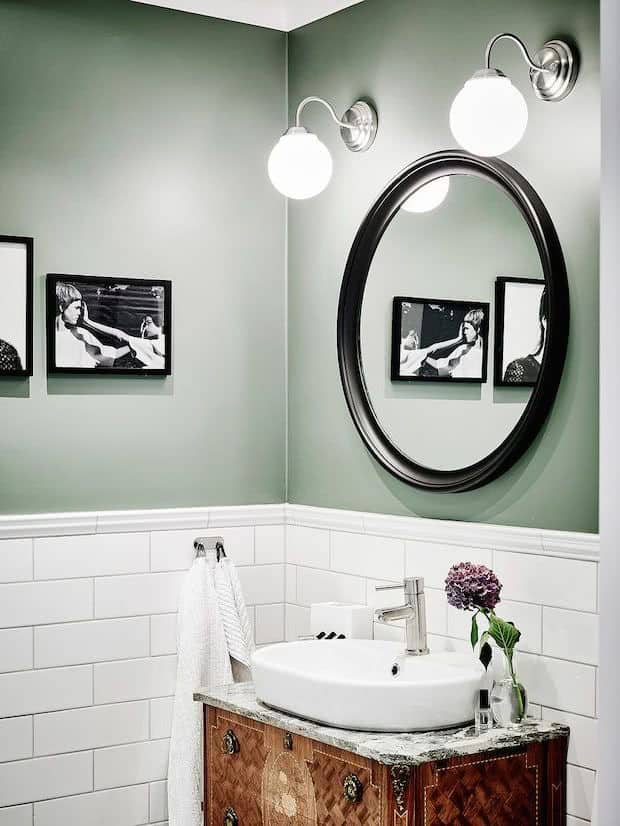 The sage green color, to cover the walls of a bathroom, gives it that fresh and natural feeling but with an urban, elegant and modern style when combined with a contemporary washbasin like this. Decorative elements, such as a vase, mirror and lamps, add great interest.
Also slightly more saturated green tones are in fashion.
As well as dark, green forest tones. They look fantastic accompanied by white or black.
Orange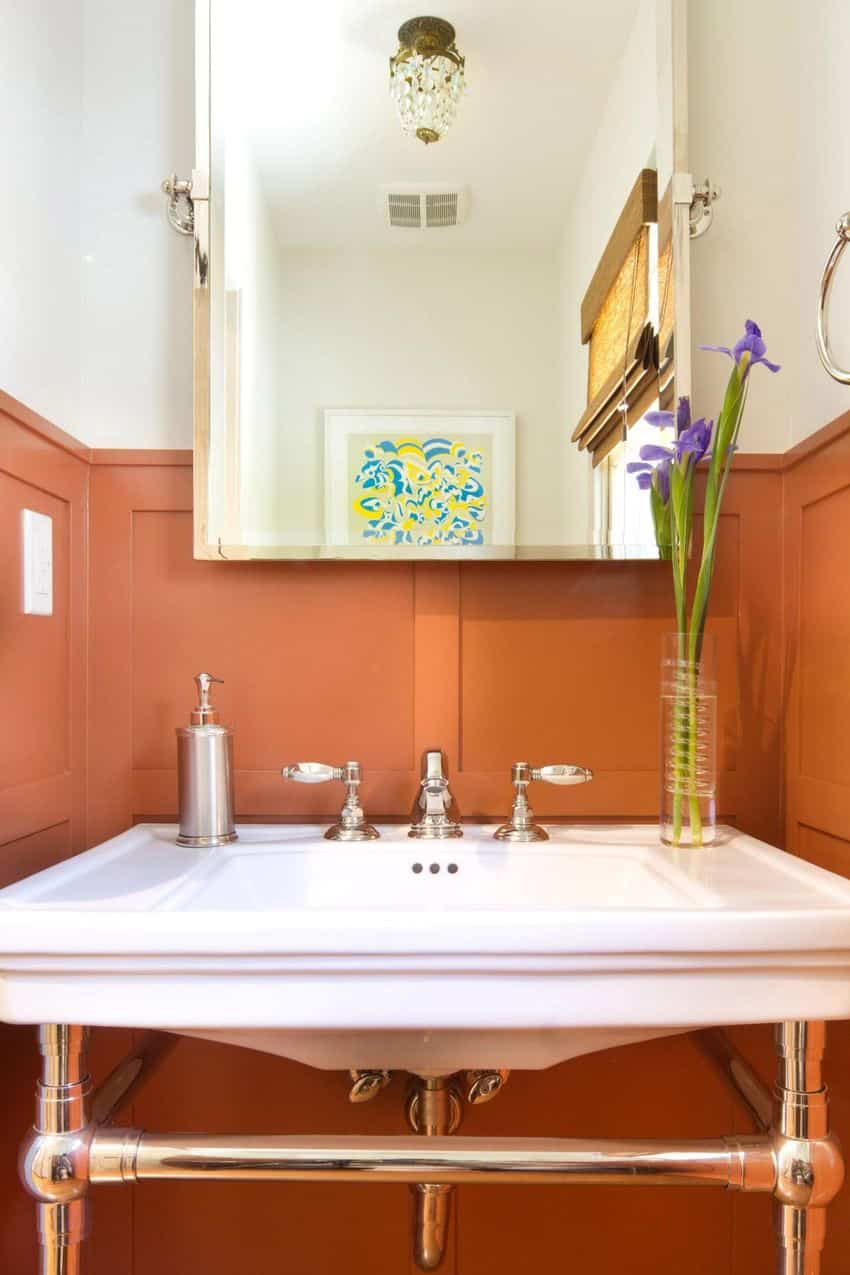 An energetic orange bathroom like this one requires white accessories. The different detail is the laminated wood floor.
An orange wall tile in a bathroom will undoubtedly be the protagonist, therefore it must be combined with quite sober elements. A large frameless mirror balances the bold tone of the walls and accompanies the vertical effect of the towel warmer.
Another orange and white bath, although a pumpkin shade has been used here, one of the trendy colors today.
You can also take a risk for an almost pink orange, which combined with golden metals looks great.
Lilac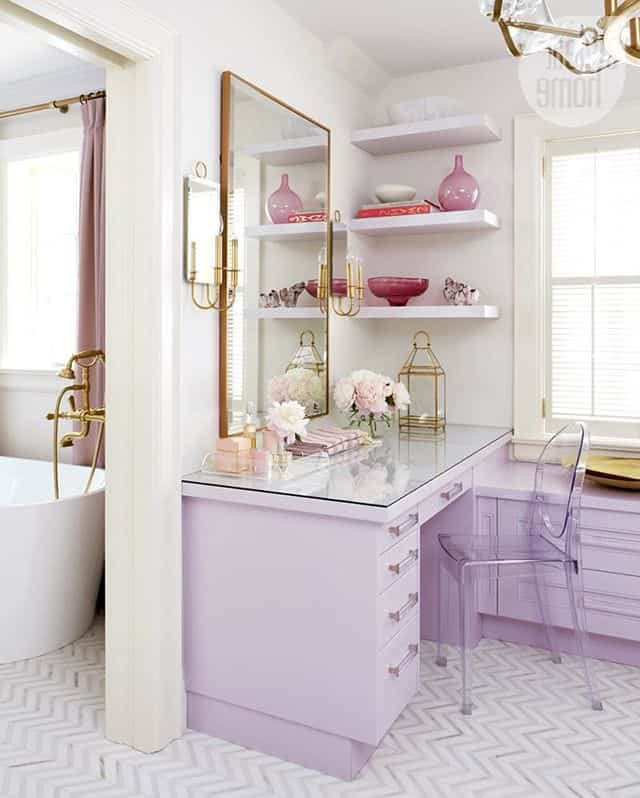 An excellent color palette to give life to an old bathroom with white sanitary ware. Ideal for small and very bright bathrooms. The white color of the walls and the golden or pink accessories give it the necessary contrast so that it is not monotonous.
Red baths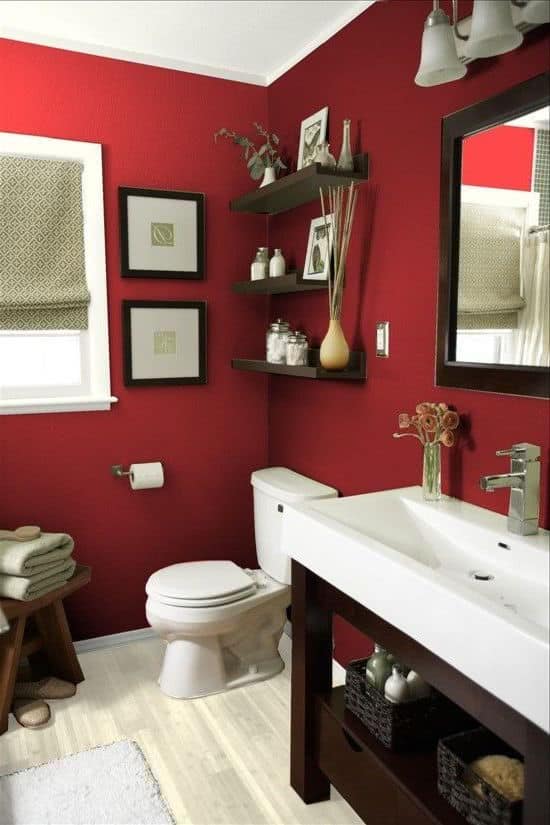 The red color for the bathroom is certainly not the most used color, however, in this case the white tiles are very elegant with the back wall in red, and combine very well with the details in black.
The red color is ideal for luxurious bathrooms and exotic design. But it is a color that we can also use in bathrooms without so many glamor pretensions, whether for accessories, in ceramics or in simple details.
Blue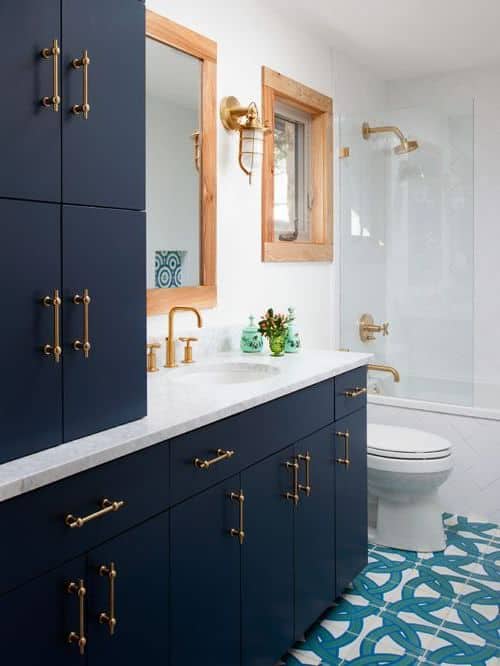 You can add dynamism to a bathroom with decorative tile. The multicolored bluish tiles in this bathroom are the focal point despite the variety of elements that coexist in this space. See how the floor has been combined with the white and light blue walls.
The nautical motifs are ideal to create a fresh and personalized bathroom by means of simple blue, black and gray stripes on the wall. Towels, carpet and curtains help recreate the theme in shades of navy blue.
The bronze door handles match the faucets of the sink and bathtub. The completely white walls and wood together help to create a very contemporary style bathroom.
Pink color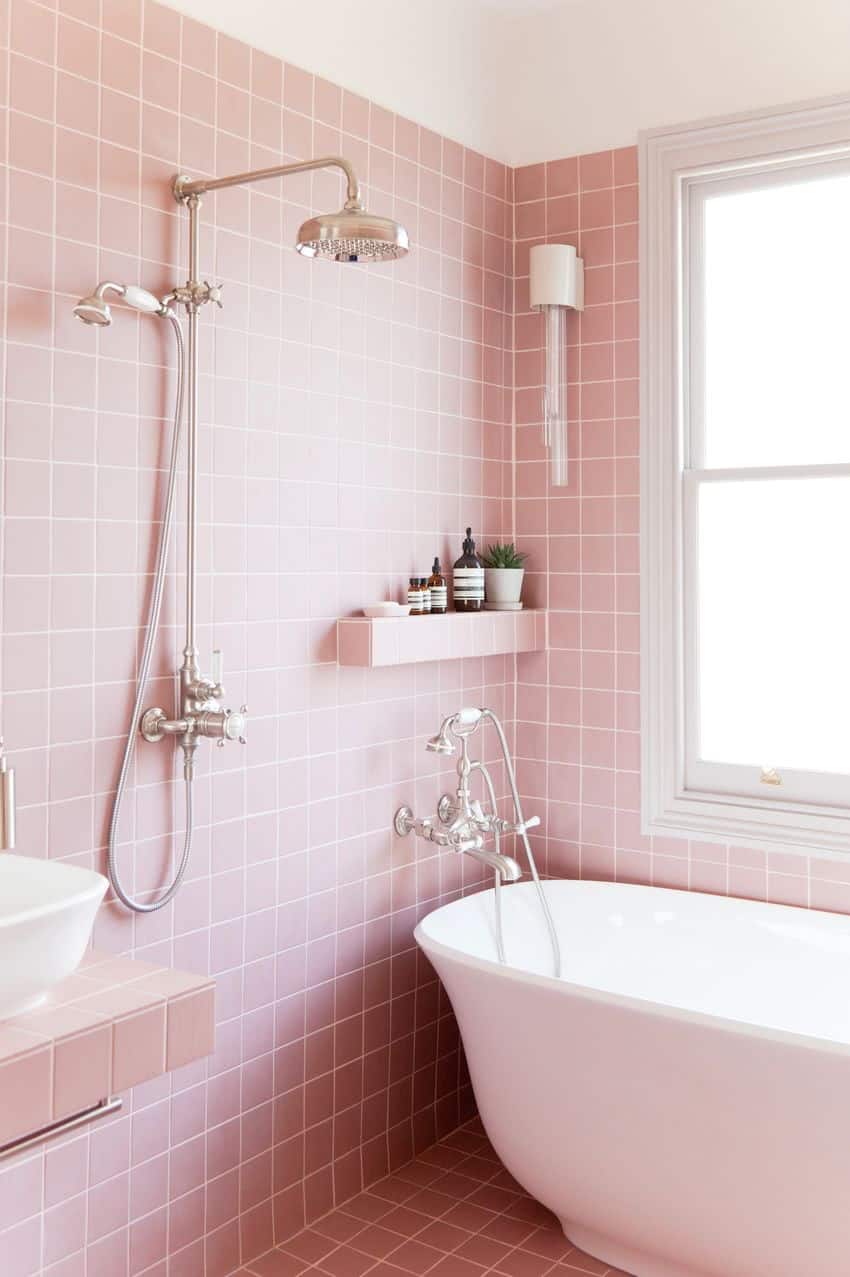 From salmon pink, millennial or almost fuchsia, pink offers a wide range of shades that are very fashionable and look fabulous in the bathroom.
Accompanied by gold or black, the pastel pink color looks very pretty and bright. A color that transits a lot of positivity and joy.
This glamorous bathroom combines varied elements with success, such as vintage-style tiles and tiles with a very modern lamp. The chosen color palette, all in white and pink with black accents perfectly harmonizes what might seem incompatible. The feminine touch is not only given by the pink color on the wall and floor, but also by the white of the towels and accessories.
A vibrant bathroom like this is achieved by painting a pink wall and placing accessories to the tone. A wall has been placed between the sink and the bathtub that allows the installation of a shower inside.
White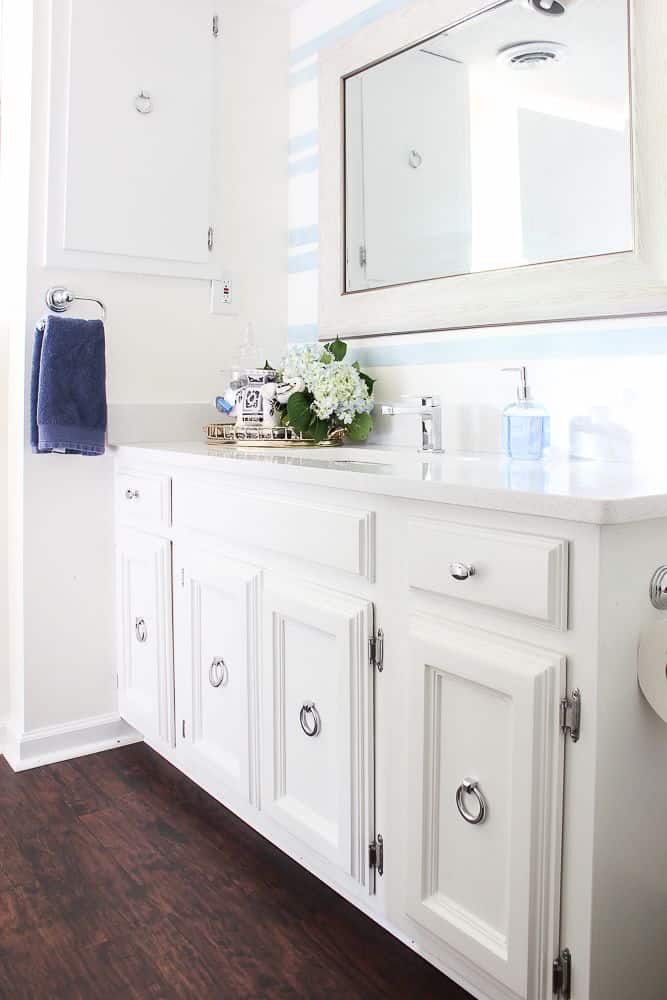 A bath in shades of white, accompanied by some neutral or touches of vibrant color, will always be a classic. In this photo it has been complemented with a vase of colorful flowers and a wicker basket.
Gray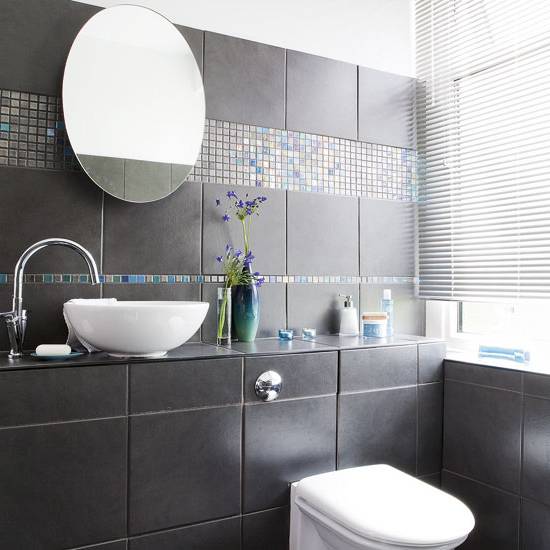 A gray bathroom will always look sophisticated. The mixture of large dark gray tiles with small blue mosaics creates a sophisticated look. White sanitary appliances offer an elegant contrast, while accessories in bluish tones enhance the mosaics.
Beige and brown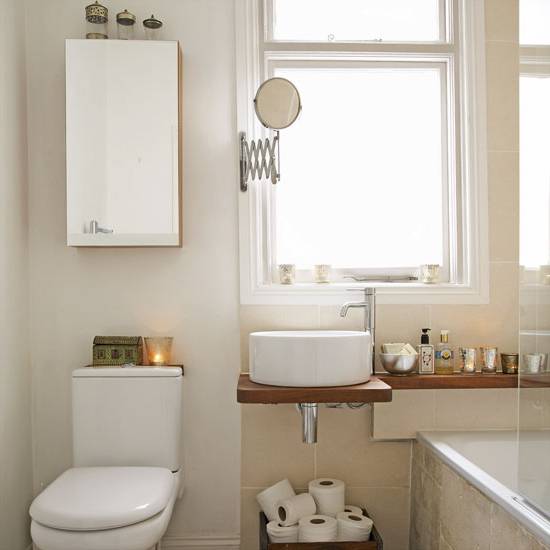 Another classic to consider for the bathroom. This combination of colors ensures a bathroom that will look modern for many years.
This is a five-star hotel bathroom, with double sinks for him and her. Bright mosaics have also been used for lighted niches over the bathtub, which create a relaxing glow to set the night immersion baths. A towel warmer keeps clothes warm and cozy.
A bathroom in brown tones, with mosaic tiles, complemented with walnut wood give it a very attractive appearance. The white walls and the toilets give it a fresh touch.
A bath of natural materials, such as limestone and wood to heat this neutral style bathroom.
Black bathrooms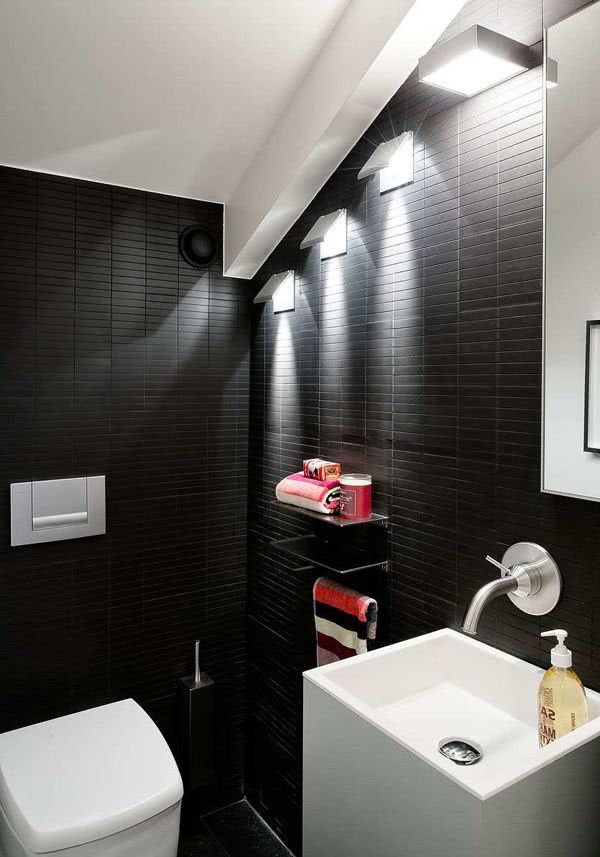 Very elegant bathrooms with a lot of personality are these color in black. Not many people would dare to paint a room completely black, however these bathrooms have been designed, achieving an extraordinary result with a very masculine air through a color as risky as black.
A black bathroom with white flowers, with a lot of glamor.