We show you a series of photos of modern bathrooms and many ideas that can serve as inspiration to build or decorate your bathroom. A modern decoration is essential, in a house of comfortable and contemporary design, so today we present some of the best bathroom designs 2025 in these characteristics.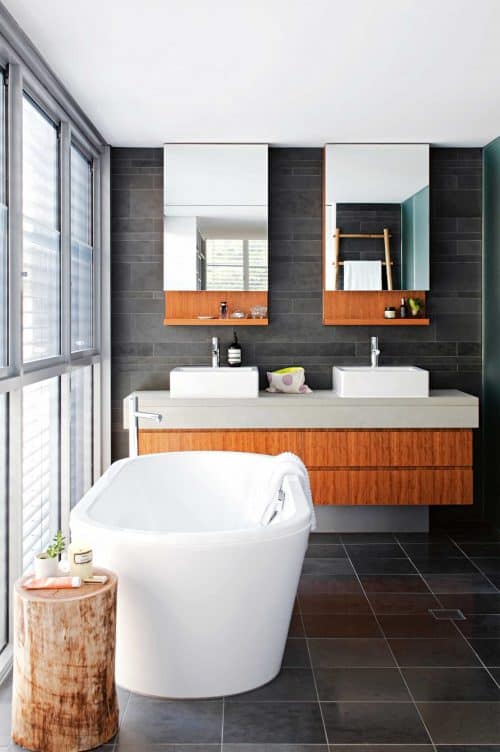 One of the main things to keep in mind when trying to get a modern look to the bathroom is to play with soft tones, with natural materials and with decorative details typical of modern decoration.
Trends in modern bathrooms 2025
Thinking about renewing the bathroom? Before starting, take note of the latest trends. Open showers, sober and pale tiles to highlight the wooden cabinets, Italian accessories. We have compiled the latest design trends for the year 2025.
Large bathrooms
Nowadays, the bathroom is not only used for hygiene, but also a space of relaxation and beauty in which we want to feel comfortable and relaxed. We need space If you can, the bathroom can be extended to another room. The washer and dryer move to another part of the house.
GOOD TO READ: Beautiful Bathroom Design Trends 2021
The bathroom is re-located in a larger room or expands outward when possible. Otherwise, it is about expanding the space by means of an optical illusion, for example, using large tiles. In addition to giving an illusion of size, large tiles reduce the number of joints and accumulate less dirt.
Large and practical storage
We can multiply the storage space and try to optimize what is available. The compartments in the drawers, cabinets and shelves are part of a well thought-out bathroom. Hiding storage is also good advice to create a sense of space.
The cleaner the space, the bigger it will look. Inspired by functional architecture, we opted for modular furniture with simple and straight shapes and moderate decorations.
One can play with patterns on the floor and walls, and be original by breaking the linearity in the furniture. Asymmetric shapes can be used in the arrangement of cabinets, drawers and shelves.
Elegant style with a touch of originality
Minimalist styles are popular, but we try to make contemporary bathrooms a bit warmer. The colors white, gray and earth are always present, but you can always be more daring with colorful patterns, especially in the tiles.
Ceramic and marble
Ceramic tiles are popular for showers and floors, including porcelain. The new designs opt for several geometric patterns, monochrome or multicolored, and even patchwork patterns.
There are ceramics on the market that mimic high-end materials such as wood and marble or even concrete. In addition to ceramics, natural stones, such as quartz and marble, are also used.
Practical showers
For the shower, several options are being implemented, but there is a growing demand for an open and, above all, multifunctional shower: integration of a bench, a steam system, an environmental mirror, shower columns, etc.
We think of storage by adding shelves or holes to keep shampoo, shower gel and soap handy. There are even soap and gel dispensers, such as those in hotel rooms, that can be installed on the wall to save space.
The Italian shower is always a popular choice with its glass walls, which give a minimalist look. In addition to being easy to maintain, it allows you to save space and adapts to all decorating styles.
Relaxation baths
The freestanding bathtub is still popular, while the island is gaining popularity with its sophisticated and architectural appearance. It is found in a multitude of shapes: square, oval, round, asymmetrical or rectangular. To maximize its impacting appearance, it is installed in the center of the room, which ideally requires a minimum dimension of 10m².
Industrial bathroom appearance
To create a modern and elegant industrial decoration worthy of a New York loft, designers are using unique and imperfect pieces such as metal sinks or bathtubs and adding brick walls, waxed concrete floors and rustic wood finishes.
Technology in the bathroom
As technology advances, the bathroom does not escape. For example, more mirrors with LED lighting and taps with motion detector or with a temperature regulator are included.
The integration of customizable touch screens with mirrors is gaining popularity. Whether to control the lighting, to see the weather or simply to impress the guests, new options are constantly being offered.
The towel dryer, with various designs, is increasingly present and replaces the traditional radiator to save space. We prefer an installation over the bathtub to facilitate access and exploit a space that is often lost.
Wood
It provides a warm and natural environment to the room by integrating it into custom-made storage furniture. Preferring the white for the sink to recreate a Scandinavian look with clean design and elegant contrast.
And why not a wooden floor? Combined with a modern bathroom, wood adds a more classical side to the decoration by balancing opposite styles. A multitude of types and finishes are available to satisfy the tastes of all.
Contrary to what one might think, this material breathes very well and naturally absorbs moisture, making it a very popular choice for bathing. However, it is necessary to eliminate the accumulation of water at the exit of the shower to avoid its long-term deterioration.
Rustic modern bathrooms
You can create a modern look in a rustic space. Choose angular pieces that contrast with a rustic environment, and very striking accessories. The pieces of this bathroom are made of Roca, and the right angles contrast and harmonize with rustic details such as the wall decorated with wood where the bathtub is located.
Shower separated by wall
One of the current trends of modern bathrooms is to divide the space to hide an open shower behind a wall, which can hold a sink or toilet on the other side.
In this case the wall is concrete, which is also a trend.
Glass partitions
This bathroom is not as big as it seems, but the glass shower cabin gives it a feeling of great spaciousness, and without a doubt, it is one of the current trends.
Bathrooms en suite
The en suite bathrooms are becoming more fashionable. A room next to the bedroom can be converted into a luxurious bathroom that is an extension of the master bedroom.
Trend colors for modern bathrooms
Black and white
The bathroom does not have to be big to have a modern look. In this case, using the black and white color has achieved a very contemporary design.
Black or dark gray
The black color in the bathrooms also gives them a very modern and up-to-date look. You can light it with soft neutral colors, such as gray or white.
If you are looking for a conspicuous contrast, instead of the classic neutral colors, black is a good choice for the tub, faucets or tiles.
The white color in the bathrooms achieves a timeless and classic design, but for those who are interested in achieving something with more character, the gray tiles are the perfect choice.
Neutral colors
The pastel colors stand out, which are ideal combined with wood, glass, stone, shiny metal and ceramic tiles.
Some of the colors that most impose presence in these spaces are the earthy ones, which are combined successfully sometimes with the pure and versatile white color.
It is the place to enjoy a bit of tranquility to prepare ourselves in the morning to start the day, and to end an arduous journey at night. The bathroom is a center of activity in any home. Neutral colors bring a lot of calm.
Pale shades of sand, gold, silver, ivory, brown, white and cream are undoubtedly those that best complement the decoration of modern bathrooms, as they bring softness and warmth to an intimate space such as the bathroom.
Touches of striking color
Those who nevertheless enjoy creating accents through some striking color, may incorporate some notes of luminous blue, vibrant red, orange and pink; since they are colors full of energy and vitality.
In this bathroom a wall separates the dressing room from the rest, in which a double sink is installed very colorful, ideal for a bathroom can be used by two people at the same time.
Adding color to the bathrooms is one of the options to make them look modern and contemporary, in this case the color was used in the toilet, bidet and sink countertop.
One of the colors that looks great in a bathroom is green. It brings a lot of freshness and clean feeling.
Green is beautiful in all its shades, be it an emerald green or lemon green. And as you see in the previous images, both make really elegant and welcoming environments.
Being one of the colors with more tones and that each one is especially flattering, you can use either a vibrant green fluorine or a pastel green. It lends itself well, to combine with citrus colors such as yellow or in contrasting colors such as black or blue.
Gold or silver
To add a more sophisticated and artistic touch, you can use tiles in the wall in silver, pearl and gold; which add an important touch of sophistication. You can also use metal accessories.
Natural stone
Natural stone is also an element of modern bathrooms, especially if it is used on walls. You can break the monotony with long mirrors. And keep in mind that currently there are many economic ceramics that imitate very well the veins and textures of the stone.
Materials in modern bathrooms
One of the places where we most aspire to achieve harmony and warmth is undoubtedly the bathroom, since this space is one of the main places when it comes to a well-deserved time of relaxation, so it is very important to combine aesthetics and elegance of our bathroom with its functionality.
Wood, glass, metal and stone are also the materials most used in modern spaces. Although undoubtedly, one of the most outstanding are the tubs of wood and natural stone.
Being able to appreciate before anything a clear commitment to natural elements, inspiring more than anything to walls, floors and furniture.
Although they also allow us to enjoy the presence of rough stones and rustic-looking woods, in bathtubs, washbasins and edges of openings and / or mirrors. Materials that are also combined very accurately with glass, an element that brings light and a greater sense of cleanliness in the bathrooms.
Modern oriental bathrooms
Another style that takes strength in the modern decoration of bathrooms, is Asian, since it is a tendency to incorporate motifs in this style contrasting with light tones and minimalist designs.
This type of design is the ultimate in chic style. The key elements are a long, narrow mirror that allows you to see only the face, two sinks and over the sinks and a long shelf inside the wall.
Modern bathroom furniture
As far as furniture is concerned, the biggest winners are the large and antique pieces and, as far as possible, inspired by the Victorian style. Also the minimalist furniture, with simple and clean lines are trend.
As a rule, advance planning for the storage and practical use of the bathroom is a trend that will never go out of style. For this 2014, designers are being a bit more creative in using every inch of space to make it functional, but also aesthetically pleasing.
Sanitary ware and modern taps
The general trend this year is to keep the bathroom layout simple and practical. Removing the legs of the sinks achieves the sensation of more space. This option is also highly recommended in those small spaces.
High-gloss surfaces enhance the sculptural surface of the accessories. Linear and geometric, the angles reflect the architecture of the bathroom.
Digital technology is also being widely used. This slim wall panel adds a futuristic dimension to the bathroom. The new Ondus digital faucet includes temperature control and a contact pad for operation. It also has a container for the soap included in the design of the panel.
The manufacturers claim that it is good for the environment, since it is not necessary to run the water to achieve the desired temperature. Always ahead of its time, the world-renowned German company Grohe knows that technology and architecture come together perfectly.
Ceramic tiles for modern bathroom walls
As technology was evolving in materials, the diversity of decoration was expanded and the materials, in addition to having higher quality, have more variety in terms of techniques and designs. The ceramics of today have different patterns, textures, shapes and colors, making them adaptable to all interiors.
Tiles and ceramics with relief are one of the strongest trends. It is very popular because they create 3D effect on the walls.
Tiles with beautiful prints is another trend in ceramics. In addition, digital printing allows you to create all kinds of ceramic images and they are really perfect. Tiles and bright ceramics are perfect for bathrooms and kitchens. Bright colors give lighting to a room.
Another trend is to imitate other materials with ceramics, such as wood, stone, metal, bricks, etc.
Regional styles are also being widely used. For example, the English style is very elegant and with many colors. The Italian recreates antiquity and the Spanish style tends to combine colors with gold or gold in a rustic look.
It is very popular to decorate with different geometric shapes and for this there is a great variety of ceramics in all shapes: square, triangular, circular, etc.
Bath and shower together
Since last year a new trend has become predominant in the design of bathrooms: placing the bathtub inside the shower, creating a glass space where you can shower and bathe. This configuration has a spa style, and occupies less space than the design of separate bath and shower areas.
Often, for smaller spaces, customers have to choose between a bathtub or a shower. However, with this design, you can often fit both in the bathroom.
It is also a good family disposition, children can take prolonged baths and play in the bathtub without the worry that the water spreads all over the place, so cleaning is easier. We see some photos so you can see what the trend is about.
Small modern bathrooms
To maximize space in a small bathroom, there are several things that can be done. To get rid of the feeling of clutter, start by replacing the old pedestal sink. Choose a sink with countertop and storage space below.
You can install a small bathtub, now there are many very elegant models. You can also use a coating of the walls and large tiles, this will give a sense of spaciousness.
For walls, use light colors, as dark tones create a feeling of confinement. A dark color on the opposite wall helps generate a sense of depth.
Use storage furniture that makes the most of the space.