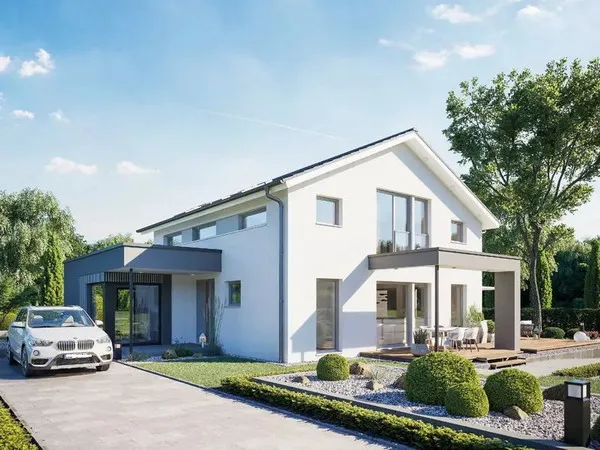 Corona created a real construction boom for new homes. The rush for home ownership is still unabated, but the trend is now increasingly going to extremes. It is being built bigger, but at the same time smaller. The roofs are either flatter or the buildings are taller. And more and more often the houses are standing shoulder to shoulder – as terraced or semi-detached houses. With a home office, the rooms are always repurposed or even more radically: the entire spatial development is rethought.
Building trends 2025: Extensions for the home office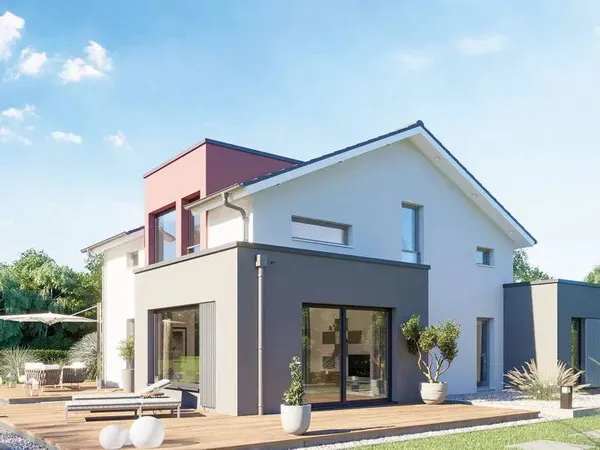 With the shutdown, Corona has left its mark on house building, which will largely remain in the room trends of 2025. While the fifth room was previously always considered a guest or work room and was therefore comfortable and usable, it will be converted into a home office during the pandemic. Ideally right next to the house entrance. This means that the home office is separated from the everyday family hustle and bustle of the open living area. In this way, you should be able to work productively and have fun. In order to meet changing space requirements, the trend in 2025 will be towards separate extensions for the home office. The rooms are also generally designed to be more flexible in order to adapt to family planning or the various needs that come with age. To create more space, custom-made furniture and built-in cupboards are still used.
That's why creativity is required when designing multifunctional spaces in 2025. Last year the theme was the adaptability of the spaces, while this year the focus is on spaces and furniture that have a dual function. This means that the function of the room can change at different times of the day.
For example, a room can be created that combines a home office and gym, and a child's room can have a "classroom" in one corner – the possibilities are truly endless. Since working from home will be present in our lives for some time to come, we need to find a space at home where we can work in peace, without noise and unwanted sounds. This situation will certainly determine the trends in interior design this year. An attic can be transformed into a perfect home office.
If you can afford it: preferably bigger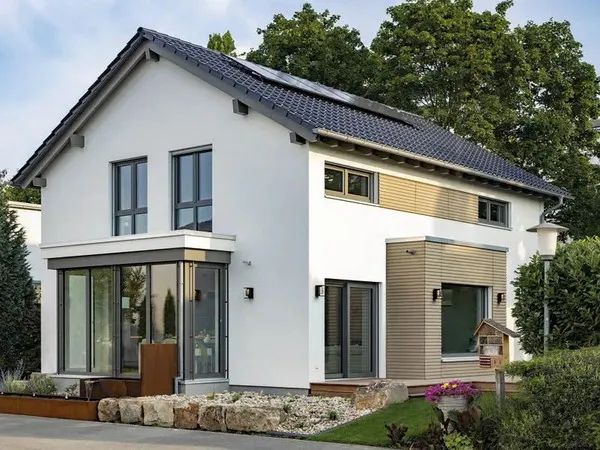 This classic home has a lot of character: a gently sloping gable roof, a white-gray plastered facade with wooden applications and anthracite-colored doors and windows. However, if you have the necessary change and have a suitable piece of land, you will be happy to build larger in 2025 than last year. This is also noticeable in the average size of new buildings. Because it is constantly growing. With an average of 168 square meters.
Inside, there is an open-plan ground floor with a kitchen counter, a light-flooded dining area in the winter garden and the living area, which is somewhat shielded by a wall. People today live more on 20 square meters of living space than they did 10 years ago.
When it comes to house trends 2025, the gable roof house is of course the undisputed leader. Particularly in single-family homes, the gable roof is the most common type of roof in Germany. However, there are also changes in the details: the roof pitch is flatter and the knee height is higher. A tendency that arises from the desire to optimize living space. The unbroken triumph of the gable roof is undoubtedly also due to the fact that it is still the roof shape most frequently prescribed by development plans.
But flat roofs are also increasing. Especially in new development areas, where flat roof houses are increasingly being approved. There are several reasons for this, because a prefabricated house with a flat roof offers several advantages. With a flat roof there is the possibility of integrating a roof terrace and a roof garden – a green roof – can also be easily implemented. By eliminating sloping ceilings, more living space is available.
Flat roof houses can look like a high-quality city villa, but also in a minimalist bungalow style. In addition to the ever-popular Bauhaus look, it also offers the advantage of two full floors. With more living space on the upper floor, the disadvantage of small properties is somewhat offset.
House trends 2025: Semi-detached houses are increasingly in demand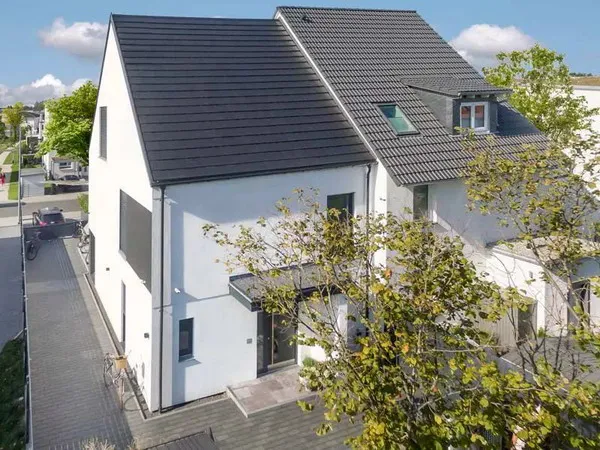 In times of ever-increasing property prices, a shared property offers a decisive advantage over a free-standing individual building. The prefabricated house manufacturers have long since reacted and are offering numerous solutions.
By sharing the construction and land costs, both owners can save a lot of money, have the advantage of a beautiful garden and only one direct neighbor. The shared wall helps to save heating costs because at least on one entire wall in the semi-detached house no heat is lost.
In addition to the shared land and construction costs, what makes multi-family and semi-detached houses even more attractive may also be due to people's need for a sense of community, especially after the pandemic.
House building trends 2025: Sustainability must succeed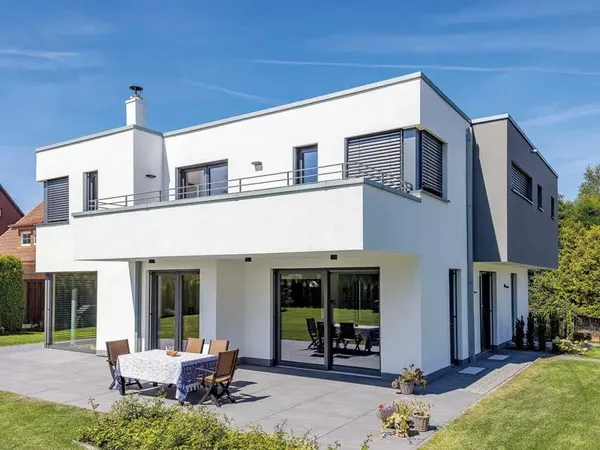 Environmental awareness and sustainability are one of the most important guidelines of today's house building trends, and it will be the same in 2025. In all areas of life – including interior design – one must strive to conserve natural resources. Natural materials are used and attention is paid to where the furniture comes from. It is better to choose small, local manufacturers to strive for quality.
Upcycling – another important term that involves the use of unwanted, old objects that we breathe new life into and transform into completely new products – will also play an important role in home furnishings. The use of organic materials, furniture made from recycled wood and accessories made from glass and metal, the growing popularity of reclaimed, antique or used furniture and a more environmentally friendly approach to home furnishing – the idea of sustainability has and is making its way into the interior design and living industry will also play a crucial role in 2025.