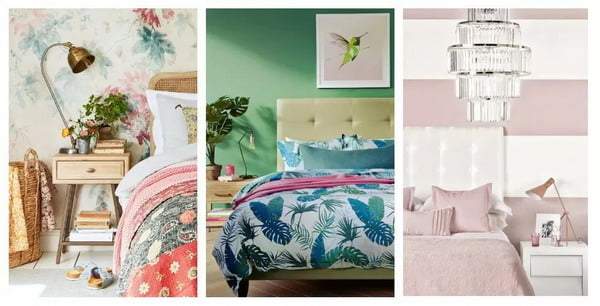 Want to decorate your bedroom in bright, bold hues to make waking up easy? Or do you prefer neutral tones to easily calm down in the evening? In our selection you will find splashes of bedroom colors 2024, interesting patterns and muted tones, everything you need for inspiration.
Palm greens
The shades of green go great together. So don't be afraid to mix light and dark greens, blues and yellows for a look that will energize your bedroom.
Bold botanical prints fit perfectly into the green color scheme. For a more sophisticated look, opt for gray or pink linens. Soft blush or bright fuchsia look great against a backdrop of lush greenery.
Sweet plum
Violet shades of plum and mauve tones create a warm and soft mood in the bedroom. Dark shades of purple, deep tones will give the interior character.
Mix plum with rich tones of green, add a sheen of brass for a touch of modern glamour. Grass green velvet headboard and plant-print bedding refreshes the warm color of the walls and makes the room feel alive and natural.
Green and mustard yellow
The muted green color creates a pleasant atmosphere in the room. It looks soothing in winter and cool in summer. The shade of green is quite dark, but it works great and changes depending on the lighting. During the day it looks fresh and energetic, and at night it looks velvety and dramatic. Small blotches of mustard yellow keep the walls from becoming too dark and gloomy.
Denim blue and orange
From deep tones of indigo to soft hues of chambray, blue pairs beautifully with crisp white for a soothing and timeless color scheme. If you like a simple, laid-back style, check out the classic blue with a worn effect. It will be the perfect backdrop for deeper tones, prints and patterns. Mix blue with a generous helping of fresh white and a vibrant orange hue.
Mint green and gray
Soft mint green is a great alternative to white. A gentle shade soothes and uplifts the mood. In combination with a gray headboard, the palette becomes clearer. The casual color scheme looks great in a contemporary bedroom.
Blue and pale pink
A deep navy blue light-absorbing hue perfect for the bedroom design 2024. If you choose a dark tone for the walls, make the floor and ceiling white, and add more neutrals to balance out the dark tones.
Nude pink becomes the perfect accent color for blue, use it in decor and home textiles.
Coral and copper
Create your own bedroom color scheme from the combinations you love. An airy blooming wallpaper becomes a bold statement. Coral and blue-green tones add character. Link the color scheme by decorating the bed with pillows in different patterns and prints and quilted bedspreads.
In order not to overload the room, leave the floors light. Choose plain bedding so that the riot of colors does not become chaotic. Woody accents and the soft sheen of copper make the room calmer and more reserved.
Pastel pink and blue
If you're tired of the sterility of a white bedroom, paint the bottom of the walls pastel pink for a soft, dreamy color scheme. To add depth, choose terracotta decor. Finish off with blue linens to ground the scheme and make it more balanced.
Subtle patterns
Striped wallpaper with a textured effect will add depth and interest to pastel-colored walls. The soft coral color is neutral enough to set off the bright green headboard.
Pair coral and green with different throw pillows. Leave the top of the wall white to enhance the beauty of the accessories.
Deep blue-green
If you're tired of neutral palettes in your bedroom, shake things up with blue-green. This elegant rich hue will help enliven the space. It is not bright, but rather muted. With it, it is easy to create the feeling of a cozy cocoon.
Wooden furniture gives a touch of naturalness and goes well with forest green. Dilute the dark shade of white with accessories. The dusty rose color will be the perfect accent that will add zest.
Pale green
If you want to get rid of stress, you need to reduce the amount of visual noise. This calm shade of green will be a great backdrop for your bedroom and will help you relax.
Once again, in this photo of a stylish bedroom, we see a mix of muted tones of green, blue, and pink.
Refined charcoal gray
The trend of gray on gray does not lose popularity. If you're not tired of this color yet, explore the versatility of its palette by layering different shades and textures.
Use gray in both deep and light incarnations, creating a rich, contrasting and harmonious look. Add a splash of color in the form of a hot pink plaid.
Soft yellow
Paint your bedroom yellow to fill the space with sunny positive vibes. This tone is reminiscent of the first spring flowers and creates a bright, but at the same time cozy atmosphere. It may seem surprising to you, but yellow and gray go well together. Add a pattern of geometric shapes and accents of pure white.
Gray and yellow
Joyful shades of yellow play in a special way against the background of a calm gray color. If you want to add even more energy, paint a wall, door, or fireplace yellow.
Turquoise bedroom
Choose turquoise as your base color for a royally luxurious bedroom. Painting doors and cabinets the same shade makes them disappear, and a contrasting color headboard makes a big statement. The combination of solid and patterned bedding creates a fashionable layered look.
Simple white bedroom
White is a classic soothing color for the bedroom. But simple does not mean boring. If you want to create a calm and peaceful look, accentuate the white walls with accessories in shades of green and colorful prints.
The neutral base means you can mix and match with different fabrics depending on the season. You can easily change the look of the bedroom by changing the linens and adding a few accessories.
Plum and gold
Create beautiful contrasts of gold and plum. Add some white to your home textiles and accessories. Combine decadent style with art deco. The most daring experiment will help create a unique and very individual interior.
Dark blue
Cool, calm and harmonious, the blue and white palette is repeated in trendy bedrooms 2024 over and over again. If you love blue, you will surely love this bright bedroom. Use indigo like it's neutral and you'll find that you can pair it with just about any color.
If you want to create a soothing color scheme, complement navy blues with white. Choose a wallpaper with pinstripes for a beach house look.
Volumetric white pillows, faceted with contrasting dark blue shades, will complement the look. Experiment with fabrics and textures by adding embroidered linens, silk pillows and lace bedspreads.
Bold orange
Choose an earthy color scheme using an intense rusty orange. Pair it with patterned throw pillows and wood furniture. To avoid making the room too dark, paint the floor and ceiling white. An openwork chandelier will add airiness to the image.
Bright combinations
Decorate your bedroom with bright colors. For example, with the help of an unexpected combination of yellow and pink. Such a rich color scheme will look bright and original. Against a white background, bold shades look appropriate and help breathe life into a neutral interior.
Calm pink
Delicate nude pink is an elegant shade, perfect for a romantic mood. The base beige tone keeps pink from looking too girly. Wide stripes on the wall help to keep the right balance of color. Do not add bright prints to this interior. The image can be made more voluminous and textured with the help of various materials. Copper will be a great addition to blush pink, and a chandelier will add some glamour.
Purple
This cozy bedroom with dark shades of heather and gray looks warm and relaxing. The vintage style floral pattern was the starting point for an interesting color scheme. Shades of print heather, lilac, gray, soft beige are reflected on the walls, in textiles and accessories.
Warm brown
The tree fits perfectly into the bedroom in a modern style. Polished walnut, oak and birch are combined with natural linens, woolen fabrics and soft gray walls.
White on white
Such a simple, but certainly sophisticated, all-white bedroom looks very stylish. Lace wallpaper makes it three-dimensional, not flat. A large white glossy headboard adds shine. Small shelves serve as bedside tables.
Gorgeous gray
A sophisticated palette of pewter and platinum can look ultra glamorous. In this bedroom you will find all shades of grey, from matte pewter to polished platinum. The main highlight of the room is a spectacular bed with velvety upholstery. A crystal chandelier accentuates the sheen of the velvet.
Soft coral
The combination of delicate coral and slightly muted pink make the room very warm and cozy. And the artistic effect on the walls gives the image a little carelessness.
Wooden panels
Wood-paneled walls are becoming a trendy alternative to white paint. It is impossible to determine the exact color of the wood, but it definitely makes the color scheme more interesting. The bedroom looks neutral, only the bed linen has splashes of bright colors.
Floral motifs
A bold floral mural is the focal point in this chic bedroom. A black metal bed grounds the look and makes it more balanced.
Spring flowers
The zesty yellow floral wallpaper is the brightest part of this bedroom. A calm gray bed with soft shades of yellow helps to soften the look. Against such a bright background, you should not use other prints and patterns.