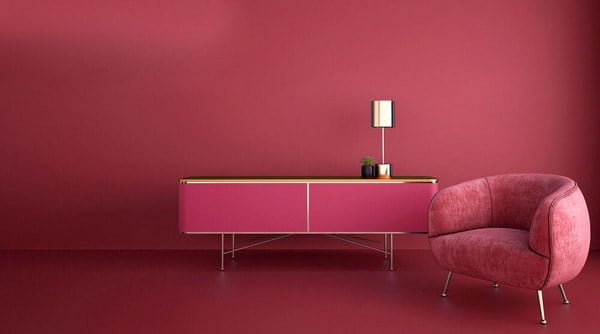 Trends in the design industry, though not radically, are constantly changing. Designers keep their finger on the pulse and are ready to tell you what interior colors 2024 to decorate the apartment in the new year to make it look stylish.
Trending interior colors in 2023
Trends in interior design are set not only by eminent designers and reputable magazines, but also by life itself.
The main color of the year is traditionally announced by the world expert in this field – Pantone. In 2021, they chose deep gray and bright yellow, and this year the most fashionable color is periwinkle.
They are not chosen by chance: the shade can reflect world events, the vector of development of society or new perspectives. For example, in the words of Pantone itself, the color of 2023 "demonstrates a cheerful attitude and a dynamic presence that encourages bold creativity and self-expression."
What else was fashionable in the past year:
natural materials for interior decoration, especially stone and wood
combination of natural texture and high technology
warm pastel shades, as well as contrast between light and dark tones
minimalism and thoughtful storage space
All these trends will continue in the new year and are only gaining momentum.
What interior colors will be in trend in 2024
Pantone has already named the color that will be the main one in 2023 – this is carmine red with a purple undertone.
Compared to the color of 2022, this one is deeper, calmer and more natural. The color of Viva Magenta is a reference to cochineal, one of the most valuable and vibrant dyes.
Fashion for deep, muted colors is associated with a general design concept that every year brings people closer to nature. This trend will be more pronounced in the coming year.
The advantage of natural shades is that they do not go out of fashion and do not bother. You can choose any number of colors from the natural palette and with a high probability they will be combined. Here are some basic combinations in natural colors.
Try on different natural shades in the virtual Fitting Room and see how they look in your apartment.
Here's my personal life hack: choose a landscape you like and borrow five colors from there. It can be a picture from the Internet or your vacation photo, it doesn't matter. I did just that in one of my latest projects.
Use the most neutral color as the base – paint the walls in it. Leave wood or sand for the floor: usually in apartments they make a laminate of such shades. Let the third color be an accent: you can paint part of the wall in it or use it in furniture. Distribute the remaining two colors between textiles (curtains, upholstered furniture), fittings and decor. There is an unspoken rule that the brightest color should be taken the least, but rules are made to be broken.
General design concepts in 2024
Fashionable in 2024, natural shades fit well with current interior design concepts.
Soft minimalism
Soft minimalism is in fashion – softer and more comfortable than classic. First of all, this was reflected in the color palette. The cold bleached shades were replaced by a warm range with beige and brown colors. They can be diluted with muted yellow or red, or shaded with any achromatic colors.
But even in the concept of minimalism, it is not necessary to paint all the walls in one color. Designers have been experimenting for a long time, combining different shades, and it looks very harmonious.
Sharp corners of furniture and clear geometry give way to more streamlined and rounded shapes, and cold metal gives way to warm wood and textiles.
In the new year, minimalism becomes more creative and theatrical. Designers give official permission to bold decor, unusual lamps, art and light avant-garde. All this will add even more comfort and individuality to minimalism, because the interior should reflect the character of the owner of the apartment.
How to add elements of softness and minimalism to the interior:
Choose a base interior color and stick to it throughout your decor. You can add 1-2 accent shades to it: in decoration, furniture and curtains.
Do not use a lot of colored textiles. A few multi-colored pillows are enough against the background of a plain sofa or bright upholstery of an armchair in the living room.
Smooth out the corners. In the literal sense: the walls in the apartment can be made semicircular with a drywall construction or simply plastered.
Paint the baseboard the same color as the wall. This will make the room appear taller and erase any unnecessary borders.
Paint the cornice the same color as the wall so that it blends in and doesn't distract.
Hide the joint between the stretch ceiling and the wall at the stage of its installation. You can make a floating ceiling with LED strip around the perimeter or a shadow profile.
If you are doing repairs in the bathroom, choose tiles or porcelain tiles of a large format – definitely not less than 120×60 cm. Lay the coating without joints, and to beautifully decorate the outer corners, cut the edges of the tiles at 45 degrees.
Today, many people only tile in wet areas to save money and paint the rest of the walls. This is convenient because repainting a wall is easier than changing tiles. In the new year, it will be fashionable to paint bathrooms in natural pastel colors.
Environmental friendliness and naturalness
Taking care of the environment – sorting garbage, not pouring water in vain and going to the store with your own bag – has already become a habit for many. Interior design cannot but obey this idea, so it also reflects a respect for nature. Natural textures and shades are in fashion. Finishing materials will be dominated by wood, stone, concrete and metal. It is permissible to use high-quality imitations of these materials: for example, porcelain stoneware with a marble pattern or decorative concrete-like plaster.
Natural shades in the interior help to slow down, relieve stress and feel safe. Terracotta, beige and other pastel colors, as well as deep blues and greens, do a great job with this.
How to add naturalness to the interior:
Replace plastic skirting boards with wooden ones, even if they already imitate wood: as a rule, this looks unnatural and reduces the cost of the interior.
Get rid of the plastic shower enclosure. In modern interiors, the shower is slightly raised above the floor level, the walls are made of aquapanels with tiling and a transparent glass door is installed.
Use the texture of the stone in the decoration of the bathroom. It can be porcelain stoneware that imitates different types of stone, porcelain stoneware for concrete or embossed gres.
Use the texture of concrete in furniture or decor: for example, install a concrete-look countertop in the kitchen or make plant pots from cement.
Choose brass or bronze-colored metal fittings and plumbing fixtures: the interior looks more expensive with it, and golden hues perfectly complement the natural colors of the finish.
Zone the space with wooden partitions. It is advisable not to paint them, but varnish or stain so that the wood pattern shows through.
Rail partitions are no longer as relevant as they used to be, so I would suggest making wooden partitions with unusual geometric shapes instead.
Comfortable and smart home
Modern interiors are well thought out. Designers draw a layout based on the lifestyle of the owners, and arrange the zones so that everyone in the apartment is comfortable. As part of this trend, they pay special attention to the little things: they think in advance where the sockets will be, allocate storage space in all rooms, use built-in furniture and appliances to free up space. You, too, can do all this at the planning stage.
As part of the concept of combining nature and high technology, modern home appliances are in fashion. It's not just about a dishwasher and a 4K TV: today, apartments are equipped with smart home elements that make life more comfortable. As a starter kit, designers recommend:
Smart socket. Plug in your home appliances and control them through the app. For example, turn the humidifier on or off on a timer, or let the kettle heat the water while you wash your face.
Smart lamp. Control the lamp with a remote control or an application on your smartphone and change the atmosphere in the apartment. Use cold or neutral lighting to focus on work, warm lighting to relax, and bright colors for a party.
Smart speaker. The voice assistant will turn on your favorite music and tell you what the weather is like outside. And all smart home gadgets can be combined into one system and controlled through the column.
How to make an apartment more comfortable:
Choose an open floor plan during the project phase. It is not necessary to completely remove non-load-bearing walls, but some rooms can be combined with each other, such as a living room with a corridor or a living room with a kitchen. So, the apartment will have more space and fewer doors, and this is convenient.
Replace conventional swing doors with sliding doors. Doors without frames, architraves and hinges look minimalistic and are more convenient to use.
At the design stage, calculate how many outlets you will need and where to place them. You can install them in the countertop, window slopes and even in the floor next to the sofa.
If you have a narrow and long room, discard the closet and allocate part of the room for a dressing room. Yes, there will be a little less space in the bedroom, but it will be free.
You can remove some of the shelves or open shelving to free up space. They are not very practical in terms of cleaning, so many people prefer closed storage systems and even place decor behind glass.
How to Renew Your Interior Without Remodeling
We share ideas that can be easily and quickly implemented, even if you are not planning a global renovation in 2024:
Repaint the walls.
Repaint furniture or artificially age it: a touch of retro is always in style.
Install moldings in the living room or bedroom. Long vertical panels visually stretch the room and make the ceiling higher. This creates the illusion of free space.
Install tall mirrors. In addition to the same vertical effect, they reflect part of the room, visually enlarging it.
Add lights to different areas of the room. To get started, put a floor lamp by the sofa or install an LED strip behind the TV. Ideally, think about the location of the light at the planning stage and use as many different light sources as possible to change the situation.
Hang new curtains. Blackout thick fabric is now in fashion. If you do not like these, you can choose roller blinds made of bamboo, jute and other natural materials.
Summary
You don't have to renovate every year to be trendy. Most interiors can be freshened up with color, décor, or a little rearrangement of furniture. In the new season, head for natural shades, smooth lines and convenience in everything.