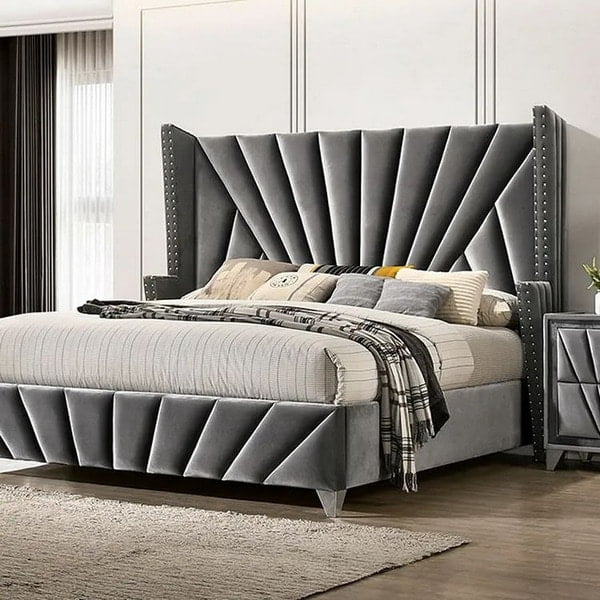 If you want to refresh your interior by changing the air in the most intimate room of your home, bet on the safe bet – decoration! So there's no need to buy new furnishings, just add a headboard trend 2023! It is an accessory that wants to be a focal point of every bedroom and thus, it has the capacity to transform it completely. As a bonus, you have the option of choosing between a luxurious headboard and a handmade headboard! It's easier than you think. So, scroll down to find our ultra cool proposals!
Which headboard trend 2023 to choose to transform the bedroom?
Since the bedroom is a den where you need to feel calm and relaxed, incorporating your personal style and preferences into it is essential. So get inspired by this list of trendy ideas that will mark the year 2023 in interior design, but don't forget to add your individual touch as well. The result will undoubtedly be a unique and more than original decoration which is in fact the basic rule that we will follow from now on.
You can change the look of your bedroom with just one decorative detail, and that's possible with a simple headboard. It can be minimalist and understated or just the opposite – a contrasting accent that will energize your interior. You are spoiled for choice according to the 2023 decor trends. We've already introduced you to the highlights of trendy bedroom decorating, but today we're going to take a closer look at one of its key elements. Choose your favorite headboard and instantly style your old bed.
A cane or rattan headboard
Rattan and cane have taken over the interior design world lately, and with good reason. It is a natural and durable material that adds warmth and harmony to any room. So, if you want to achieve a bohemian or cocooning bedroom, this is the best choice. To complete the look of your dreamy space, also add a few round cane baskets or a cane rattan shade. This style combines perfectly with walls in nude colors such as vanilla, beige and champagne.
To achieve a japandi style interior, use the rattan headboard as a contrast. You must always keep the simplicity and minimalism of the decoration, but adding a little touch of more or less intense color. Taking into account that it is a relaxation room, we refrain from red decorations and we opt instead for details in midnight blue, petrol blue or empire green.
A wallpaper headboard
Another significant trend in interior design is wallpaper. It's an easy-to-make alternative that will break the monotony of light walls. In addition, it will emphasize the centerpiece of the master bedroom – the bed. In this context, it is essential to note that the wallpaper should only be applied to the wall behind the bed. The rest must remain in solid color and contrast in order to achieve a trendy look. Thus, you will create a fabulous point of interest by giving depth to the room.
In the market, you are going to find a variety of colors and patterns –  from navy turquoise and tropical patterns to starry papers and abstract designs.  We admit that the choice will not be easy.  Once you open the catalogs, you'll find a whole new world of creative ideas.  So, let your creativity speak and find a wallpaper that matches the rest of the decor perfectly.  Associate it for example with the colors of the curtains, with a painting that you plan to hang or with the covering of the room.
Play with colors
The third idea for a headboard trend 2023 is to paint the wall behind the bed in an ultra creative way. This is the solution that will allow you to make your interior even more beautiful at a really low cost. So, if you don't want to spend hours shopping around finding the perfect accessory, roll up your sleeves and grab the brushes to draw the wall. Create an oval, triangular or abstract shaped headboard, the choice is yours. The goal is to embody your own style and design preferences.
In addition to the combed headboard, you can also add some accessories such as a light garland that will frame it. A shelf with hanging flowers can also do the trick. Also think about quilted cushions, colored wooden planks, old shutters, driftwood or even the room divider… All these materials (and not only) will bring character to your room if they are used as one. single headboard.
2023 wooden headboard trend
While DIY wallpaper and paint headboards are the star of a trendy bedroom, that doesn't mean wooden ones have lost their shine. Wood is really timeless. It is a classic material that goes with all styles of decoration, that brings warmth and that offers infinite versatility.
Enhance the pretty bedroom in neutral shade with a touch of rustic style with a wood pallet headboard. Reuse an old photo frame and if you want, combine it with panoramic wallpaper that you can place in the middle. Scraps of various fabrics can also be useful for making a patchwork pattern. The upcycling trend can give you an endless list of ideas.
The wood can be painted, of course, in any color you want. You can mainly choose between two options: to paint the wooden headboard the same color as the wall in order to achieve a minimalist look, or to color it in a contrasting shade to give a more artistic aspect to the bedroom. If you choose the last option, do not forget to match it with another decorative element in the room. Thus, you will certainly have an interior like those of magazines.
2023 textile headboard trend
Wood will predominate in the 2023 interior design, but there are also decorations in linen, velvet and cotton. They are all durable and eco-friendly materials, so you have to choose according to the style of the room. Just like the velvet sofa, the headboard upholstered with this fabric suits the contemporary and luxurious style better, especially if you are going for an intense shade like emerald green or royal blue.
If you want to modernize the cocooning and Scandinavian style parental suite, we advise you to take a look at the linen headboards. With its soft natural beige (or gray) color, this fabric has the ability to create a relaxing environment filled with serenity.
Cotton is the third option that will be seen everywhere in 2023, not only on the bed, but also in front of the windows, on the table and as a decoration behind the bed. This natural decorative accessory will structure the night space in a restful way (if you go for pastel colors) or in an artistic way (if you go for pop shades).