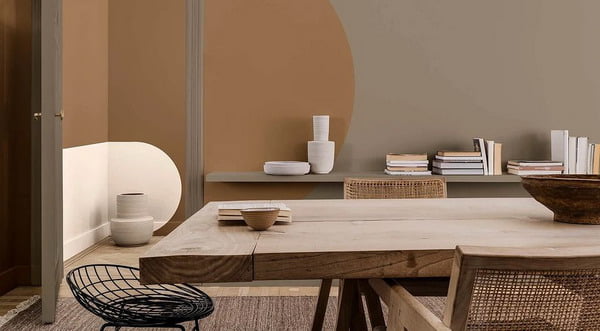 In the coming year, most of the trendsetting companies do not make us happy with bright saturated colors. They rely on muted palettes and pastel shades. But there are also exceptions. For example, Pantone.
December is the time to choose the palette of the future design. Well-known manufacturers of paints and varnishes and not only have already chosen their colors. We tell you what will be relevant in the interior colors of 2022, according to the market leaders.
Trendy interior colors of 2022
Pantone: strength and hope
The trendsetter in the world of design, the Pantone Institute, answered the main question on December 9: what color in 2022 is the most fashionable in the interior? The company decided not to skimp on shades and appointed two main ones at once: this is a light gray Ultimate Gray and a yellow Illuminating. The first means strength and energy, strength and stability, and the second, bright and cheerful, inspires hope.
According to the company itself, this combination, on the one hand, should strengthen, on the other, give faith in positive changes. Obviously, after a not very successful 2020.
In the interior, this combination is one of the favorites of many. Gray is the perfect base for any room, from the bedroom and living room to the bathroom and dressing room. And yellow is able to dilute the boring achromatic base. However, we advise you not to limit yourself to this pair, try to add deeper tones: it can be the same mustard, fawn or sandy. And gray will dilute graphite, silver and steel. This will not make the design look flat and naive.
Benjamin Moore and Dusty Turquoise
American paint manufacturer Benjamin Moore relies on a cold palette. And the main thing in it, in their opinion, will be Aegean Teal ("Aegean turquoise"). The turquoise has hints of gray, it is exactly like fans muted, but not too blokloy range. Moreover, it acts not only as accents, but also as a base. The easiest way to imagine such a wall or floor decoration in a bathroom, however, in the bedroom and in the living room, it can look no less beautiful.
In addition to Aegean turquoise, there are 11 more colors in the scheme, which complement it and create a very harmonious combination. If you like a cool palette with warm accents, take a closer look at this option.
Dulux Interior Color Trends 2022
In the coming year, the designers of the English company Dulux will highlight a natural color scheme called Brave Ground. In their opinion, it is able to balance and balance any room.
They offer four palette options based on this warm natural shade.
Monochrome classic
The idea of beige monochrome is traced here. It is suitable for an apartment in an eco-style and modern design, which will combine natural materials and textures: wood, warm metals, stone.
With red and pink
If you're ready to experiment, check out this expressive scheme with red and pink. This combination makes Brave Ground a good base to soothe juicy colors.
With natural calm tones
This earthy scale will look good in a design with notes from the 1950s-1960s. Calm shades emphasize elegant textures: velvet, marble and copper.
Greenery, water and earth
Another combination without bright colors. It looks good with natural wood, wicker furniture, rustic ceramics and houseplants.
4 palettes by Jotun Lady
The Norwegians from Jotun Lady have also defined trendy colors for the 2022 interior. They propose to consider a collection of four palettes under the general title Rediscover – "Reopen Yourself".
Warm rustic
This is a selection of colors inspired by different countries and cultures. All warm shades are collected here: from the golden-pink Moroccan deserts to the bright orange Mexican motifs.
Soft natural colors
They do not attract attention, but envelop us in their softness and calmness. The case when minimalism does not become cold or empty.
This timeless warm scheme is the perfect balance between restraint and style. Shades can be used to create monochrome interiors, or combined with brighter colors for exciting contrasts.
Dreamy pastel
The colors in this family are both retrospective and trendy, bringing an element of Scandinavian serenity to modern interiors.
Air blue
Delicate colors are great for creating a timeless setting, whether it's a living room, hallway or bedroom. Especially in the second case – this range of contrasting natural shades soothes and fills the room with comfort.
Sherwin Williams and bronze notes
Another American manufacturer of varnishes and paints, Sherwin Williams, chose Urbane Bronze as the color for 2022.
According to the company, the home is now an absolute refuge from the world, and color is a simple and effective way to create it. Warm exquisite bronze inspires to embody your own space protected from all.
Frankly, the shade is not so simple. It is a complex mix of earthy and gray with hints of metal and even wood. Dark in itself, it requires a light complement. Light wood, leather, metal and natural stone will go well with it.
6 ready-made circuits from Behr
Canadians from Behr propose to consider 21 colors in the coming year. For convenience, they have divided all the tones into 6 understandable schemes.
Calm zone
It is based on green and blue paints that will help to create a calm and light interior. Combine several tones to play shades: dark blue can coexist with blue and grassy, complementing them with classic green and beige as a base.
Fine focus
Light pastel colors look sophisticated and cozy, creating a relaxed, serene atmosphere. Ideal for a living room, kitchen or bedroom where natural light is lacking.
A quiet harbor
Deep, rich dark greens, browns and blues will be appropriate in a spacious room. Complete them with expensive textures: velvet, leather, wood and natural stone.
Optimistic outlook
Note that this is the only scheme with bright, saturated colors in our selection today. Unsurprisingly, a muted palette is in vogue. But, we admit, it does not suit everyone. If you value mood and vibrancy, check out this upbeat selection with yellow-orange, magenta and coral paints.
Casual comfort
Another selection of pleasant beige shades – in the version from Behr. It is based on "Almond" color, "Mocca" and "Canyon twilight".
Escape for facades and exteriors
Behr also took care of the facade of the house. They offer to highlight windows, doors, decor and other elements with cheerful colors.