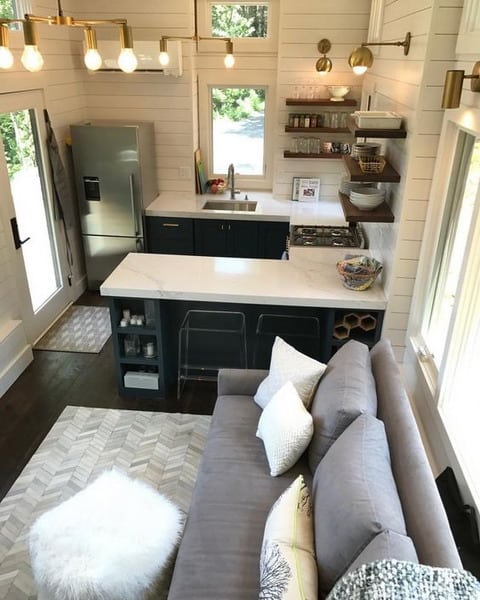 If you are about to remodel your space check these Predictions in interior design trends for 2024 – 2025, I bring you the trends in styles decorating rooms, kitchens, walls, furniture, interior design for bedrooms, as well as colors and materials for interior design.
Please look no further than the comprehensive guide in interior design trends 2024 that I compile today for you. Without a doubt, they are the best predictions in interior design from 2024 – 2025 according to experts, so you are up to date on design issues.
You will be fascinated with these beautiful, elegant and sophisticated images that you will want to have in your next interior decoration projects.
Predictions in interior design from 2024 – 2025
The 2024 visions of the future in terms of interior design have already arrived, and now we are projecting the 2025. I leave you with the different styles and proposals where the predictions in interior design are present. So you can choose the one that best suits your tastes, or make a mixture of them to achieve the right decoration for your spaces. In a matter of styles everything goes!
Trends in decoration for living rooms
This is one of the spaces where the members of the family probably spend more time, as well as the cozy space where we receive our guests. Hence the importance of the decoration of this place.
For this reason, select trends in decoration for living rooms to make this special place of the house look.
As you can see in the photos, we can remember that in trends we are talking about:
The boldness of using colors like yellow, violet, green, gray, black, red, mustard and pink, the combinations between them are really charming, fascinating and very elegant.
The sophisticated use of metals such as chromium and copper in furniture elements.
Sofas really comfortable, soft and elegant, being protagonists of these beautiful rooms.
The coffee tables are of different dimensions and materials; using glass, metal and wood.
The carpets are in textiles with geometrical and ethnic shapes.
The walls acquire colors and vintage tones.
Interior design for bedrooms 2024 – 2025
For the design of interiors for bedrooms, we continue looking for ways to make functional and practical spaces. They are intimate spaces where we seek order within chaos.
As you can see in the images some of the predictions in interior design are:
Light colors to give light to the rooms.
The use of wood, for floors, furniture and ceilings.
They are spacious rooms but with the basics, without attributing many furniture, only what is necessary.
Decoration of kitchens in trend
It is curious to observe how things have changed in terms of kitchen decoration. Before, little attention was paid to the decoration of the same, as they were spaces where only was cooked and that was all its function. Nowadays they are spaces for meeting, talking, coffee, and sharing a snack or drink.
That is why the designs are now more spacious, some have television accessories, and an extra touch are the mini gardens of aromatic plants and organic species, at your fingertips.
Each time these designs are presented more modern and practical, saving time for those in charge of making food, since they enjoy a comfort that they did not have before.
The styles range from the industrial to the rustic, classic and elegant, achieving very sophisticated spaces in the decoration of the kitchens.
Furniture trends 2024
As you can see in the trends in furniture 2024 are still using metals in lamps, edges, frames, mirrors, as well as the rustic and natural; making use of ethnic textiles that you can see in cushions, armchairs, curtains, carpets, as well as plants, and the use of wood in chairs, tables and other furniture.
Trends to decorate walls
This year we are going to create real works of art on the walls. We will use textures, watercolors and tapestries with themes of nature and the whole world, letting us influence by the natural. In this way we
Colors for interior design 2024 – 2025
Within the colors for interior design come the colors related to nature:
Warm pastel colors: as green, brown and earthy.
Terracotta mixed with yellow mustard. Y
Daring tones like violet and cobalt blue.
All these can be in contact with whites, beige and bone, to give them that air of freshness. spaciousness and cleanliness to our spaces.
Trend decoration styles
Simple styles come ; reflecting modernity, elegance and above all order.
We put aside industrial styles a bit to give way more to the natural.
The Chic farmhouse style, comes together with glued to the rustic style, looks for natural complements in decoration such as fabrics and the use of wood.
In addition to the previous ones, we have the bohemian or boho chic style, which seeks freedom and simplicity in natural details.
The Scandinavian style is also part of the trends in decoration, since like the previous searches for accessories based on textiles such as curtains, carpets, blankets, etc.
And the vintage style, which does not leave us.
It's Scandinavian decoration style belongs to the group of predictions in interior design for this 2024. If it is a style that catches your attention I invite you to follow it closely.
Materials for interior design 2024 – 2025
Within the materials for interior decoration 2024-2025 we find the rescue of natural materials. We try a less harmful process for these materials, including wood, bamboo, marble and quarry.
Some of the predictions in interior design that has most influenced social networks, have been clear tones and sober spaces.
Also in these predictions in interior design will be added details and handmade finishes with thick fabrics, furs, felt and synthetic leather.