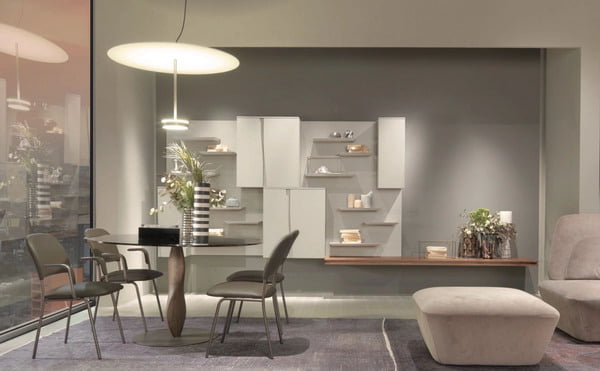 The dining room is one of the main rooms in any home. It is that place where families or friends sit down for lunch or dinner while chatting and enjoying delicious food and refreshing drinks. A place to discern and enjoy pleasant and fun conversations with your loved ones.
Therefore, when decorating it we must be careful and adapt it to our tastes and needs in the best way. If you are lost in this aspect or want ideas to help you, here we bring you the main trends in decoration of modern dining rooms 2024.
The latest trends in modern dining rooms in 2024
They have changed the trend a lot when it comes to decorating modern dining rooms. We talk about aspects such as the decorative style, the wall covering, the colors and the chosen furniture, with the table and chairs as fundamental elements.
Follow the advice that we are going to indicate below, and get a modern and elegant dining room that will be the envy of all your friends!
Style to choose for a modern dining room
The truth is that there are many possibilities. You can opt for a more rustic style with wood and stone, even a vintage style, which is undoubtedly becoming more and more of a trend in decoration. These are styles that bring naturalness and warmth to a modern dining room.
But a modern dining room can also have a more avant-garde decoration, opting for minimalism with few elements and simple lines, giving the dining room a feeling of being larger, cleaner and with more space.
Dining room colors 2024
It seems like a simple choice, but it is an important thing. An always successful choice is white. This color provides elegance, a greater sense of spaciousness and cleanliness.
But if you want to break with the established, colors like orange, green or blue are a trend in dining room decoration in 2024. Colors that can be adapted to rustic, vintage and avant-garde styles with equally charming results.
Dining room furniture 2024
A dining room is not a dining room without a good table and comfortable chairs so that lunches and dinners are more pleasant. But not everything is comfort, you also have to look for furniture according to the rest of the decoration of the dining room. Wood is usually the most chosen material, thanks to the fact that it adapts to all kinds of decorations.
As for tables, square and round are the most used, depending on the size of the space that exists within the dining room. While in the chairs there are many styles and designs, from the most traditional and vintage to the most avant-garde. The use of stools is also a fairly common trend.
The wall covering in modern dining rooms
The walls give brightness and that distinctive touch that a modern dining room needs. One of the most current trends is to use wood or stone coverings that provide warmth and stand out on their own. Another of the most used alternatives is to place room dividers, a technique widely used by the most innovative designers.
On the one hand, it defines spaces and delimits areas and on the other, it is a decorative element that gives a lot of room to create and surprise, giving a different touch to any room. Wood, wicker, metal or stone are excellent materials to form these dividers.
Decoration of modern small dining rooms, what will be in 2024?
A dining room is usually a large space where family or friends gather around the table to enjoy a pleasant time. But not all homes have large spaces for this purpose, so it is very useful to know some trends in decorating small modern dining rooms.
The use of sunlight is essential because it offers a greater sense of spaciousness, for this, it is important to use the color white, both on walls and furniture, since this color enhances luminosity. You also have to be very practical with the spaces, using smaller tables and chairs. To further optimize the space, it is very useful to have folding or extendable tables.
Finally, the decoration should be minimalist, without taking up too many spaces, as this can give a feeling of being overwhelmed and will create a feeling that the dining room is even smaller.
Indecortrends Furniture, we do all kinds of modern dining room designs!
You will have been in for a big surprise, because there is a lot to work on if you want to have a dining room that follows the latest trends. Now, why get your head so hot?
Why spend hours looking at hundreds of stores? Taking action? Thinking about the distribution of the entire room? No, you don't need to get overwhelmed, because you can count on us to do all the work.
It does not matter if you want a modern dining room in which wood, steel, iron prevail… Or if you want it to be a modern dining room full of color. We can take care of everything! Not in vain, we have been manufacturing all kinds of custom furniture for more than 30 years.
By clicking on the button that we will leave you a little further down, you will access our website. There you can see all the work we have done for our clients. And you will see that, if you want to achieve a beautiful, elegant modern dining room and, above all, one that adapts well to the space, we are your best option!