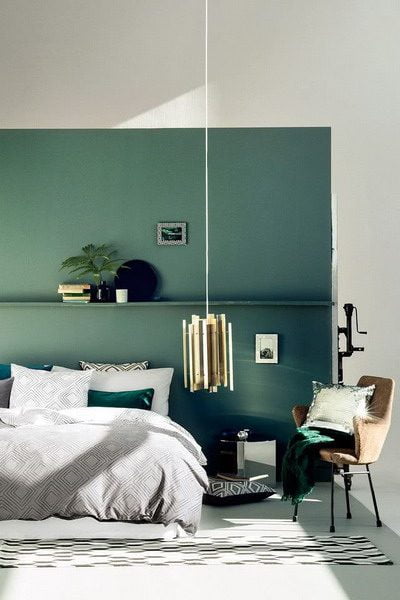 If you are looking for ideas to decorate your bedroom, then you can see a large selection of bedroom paint colors for nice bedrooms, which are a trend in 2021.
White bedrooms
The white color is associated with serenity, cleanliness. It symbolizes purity and peace. A totally white bedroom, it seems an oasis of calm, which invites you to relax and rest. When it is used pure, it is important to play with different textures and lighting sources so that it acquires different nuances.
It is the neutral color par excellence, therefore it is widely used in decoration, because it admits to be combined with the most difficult tones.
You can enter color notes, as in this case, with an intense color in small quantities, enhancing the attractiveness of the space by the high contrast.
Yellow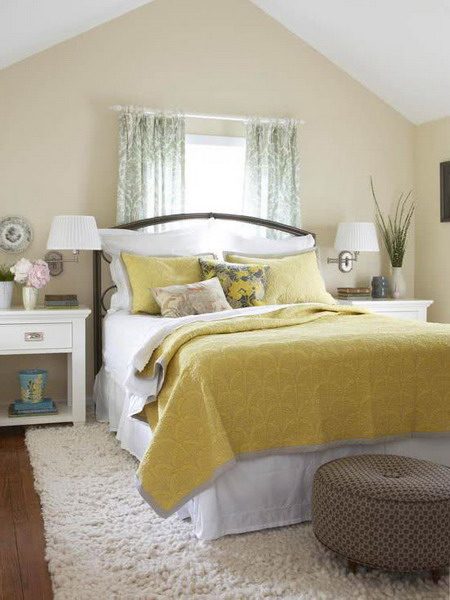 To create cozy and intimate environments, nothing better than warm colors in a variety of textures and in combination with a lot of wood. To incorporate colors in the decoration of your bedroom, try adding different layers of bedding of different shades. Sheets, blankets, pillows, comforters offer a great opportunity to create unique color combinations.
Contrary to popular belief, the headboard and bedside tables do not have to be of the same materials. Try mixing light and darker woods to give the room a rustic look.
Orange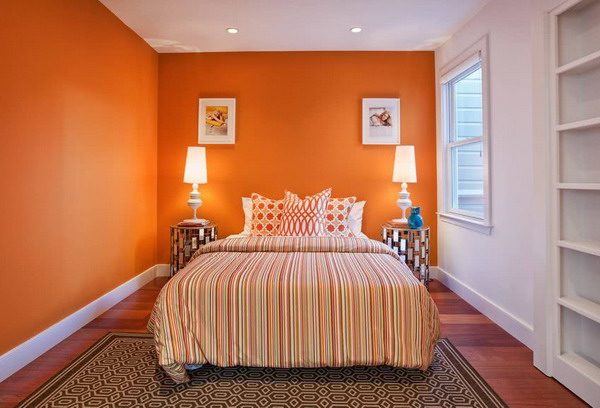 Two vibrant colors to give your room charm and originality. If you do not dare to paint the walls with such a striking color, you can use the lighted colors for the bedding, carpets and curtains.
To add dimension and warmth to any room, you can use a striking color on some of the walls and bedding. The combination of orange and white tones is very elegant.
Red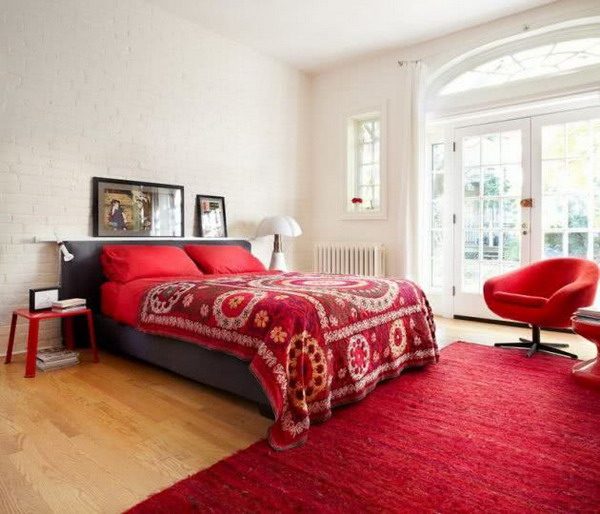 Do not abuse with too much red and black. You can use these colors in accessories, such as pendant lamps or carpets, but make sure they are on basic colors such as white or beige.
The shades of gray, used as the main color in this bedroom give it a sophisticated look. Grays accent the red color.
Dark blue
The blue in its darkest shades, is very sober and elegant, although it is convenient to use it in moderation. It blends perfectly with white, gold, silver and different shades of pink.
It is very fashionable in its darkest version, almost on the border with black. In this case the walls have been painted in a beautiful dark blue color, which is not overwhelming due to the great luminosity of the environment since it has been very intelligently combined with colors that do not absorb, but instead reflect light, such as white and the gray See also how to take advantage of the use of white bedding.
It is also said to be an introspective color, which invites you to relax and meditation, therefore it is ideal for use in the bedrooms, to stimulate the harmony of the mind and emotions.
Sometimes a touch of color on a neutral background is enough, as in this case, where by means of an accessory, a cushion or a blanket (which you can even vary every bit at will) gives life and warmth to the environment. The decoration of these bedrooms also plays a lot with different textures, another way to enrich any space.
Light blue
The light blue pastel color in combination with the white color creates a light and very pleasant atmosphere. Ideal for modern and youth bedrooms like the ones we see below.
In general the combination of any color with white never fails, but especially this blue walls look as modern as they are delicate.
Green
The green color in all its shades offers many possibilities in interior design and could be adapted to any room and all styles. In general it is chosen to create relaxing and fresh environments.
Green is a secondary color, which contains the energy and strength of yellow, spirituality and the depth of blue. It could be said that it symbolizes the union of body and soul, creating a balance between the physical and the spiritual.
Green stimulates balance and inspires high ideals, so it is perfect for the bedroom.
Commonly a wide range of colors is called green, although really green is only one, the one found in the rainbow, when a ray of light decomposes. But not to enter into discussions, we agree that green is a color that admits many nuances that combined with each other are fantastic. For example we can choose between those green that tend to blue tones, and thus create lively and stimulating environments.
Sage green
While when we opt for sage and mint tones, we can create more calm and romantic atmospheres. It is that having more blue in its composition enters the range of cold colors.
In its pastel shades it takes a lot in the bedrooms for baby or for small children. It is a relaxing and delicate color that goes very well with white.
Apple green
The apple green color is one of the favorite of girls and young people, it is a fresh and cheerful color, ideal for youth bedrooms. It is a perfect color when you want to achieve relaxed and cozy environments.
It is a color that admits to be combined with many other shades of green, but that can also be combined with an intense blue, turquoise or yellow. Ideally, use it next to white and to create some movement and contrast add some detail in its complementary color: red.
Purple and violet
The purple color that tends to lilac, is next to turquoise and apple green, one of the colors preferred by teenage girls and girls, in general it is used to achieve very feminine and quiet environments.
The color violet is used in chromotherapy to calm the nervous system, anxiety, and to treat insomnia. A white and violet room is extremely delicate and elegant and invites calm and relaxation.
We can also say that violet-painted bedrooms suggest mystery, melancholy and serenity. Especially in those shades of violets that contain more blue in their composition, giving depth and visual richness.
So that it is not too overwhelming it can be used to paint only one of the walls of the room and complete the composition with accessories, details on furniture, curtains, pillows or bedding in the same hue.
Lilacs
In metaphysics it is considered the color of the transmutation from the negative to the positive, it is a color that stimulates inspiration and intuition. It is also said to act as protection against dark forces, therefore it could be used in children's rooms, to protect the little ones while they sleep.
The lilac adapts perfectly to various types of style, but goes especially well in modern bedrooms like these. Although it is also very common to find it in the color palette used in romantic rooms with vintage touches.
It looks great in rooms with light wood floors, such as parquet floors made of pine, light oak, beech, maple or ash, creating a feeling of cleanliness, freshness and clarity.
There is a wide range of this type of multifunctional furniture that adapts perfectly to small spaces and to all types of space in general. They are specially designed taking into account the needs and uses that a teenager today can give them.
Some young people are difficult to please, so the advice is to provide them with the fundamentals and leave the decoration at their discretion. What should not be missing is a lot of storage space so there are no excuses for mess and dirt.
It is also essential to dedicate a space for study, which should be a comfortable and well-lit area. Another good idea is to invest in a trundle bed for friends who sleep at home. These last images belong to the blog Deco designing, and the furniture is from Mobles SEAN of Barcelona.
Pink bedrooms
The color pink is the obvious choice to decorate a bedroom as a girl or young teenager, but to prevent it from becoming too cloying it is convenient to use it in a mixture of patterns like these, in vibrant gray and white tones.
Here they have mixed patterns with flowers and rugs of geometric figures, but always staying within that range of tones. It is a good combination to be used with white walls and furniture to keep a fresh and contemporary look.
Pink is already a very feminine color to decorate a bedroom, but if we add to that the furniture and other vintage-inspired details, the result is definitely an ultra feminine room for romantic girls.
Pink and white
Painting the wall in two colors is ideal for bedrooms with very high ceilings. The color palette is very attractive for its simplicity: white and pink on the walls and gray in the accessories such as the circular carpet and the bench.
An ideal room for young romantic lovers of glamor and pink. This bedroom will adapt as the girl grows until she becomes a teenager, and will still be valid until she is even older.
Another example of youth bedrooms wallpaper with wallpaper with a design suitable for all ages. The bed is a refuge worthy of a princess. The set covers the pastel green bed cover with many pillows in the same tones, of different sizes to make it even more cozy.
Turquoise and pink
Almost any girl would be delighted with a teenage bedroom like this. Pink and turquoise is a combination widely used in youth bedrooms.
For adult bedrooms, pink and turquoise are used more in small quantities next to white as the main color, or in their pastel versions. As in this bedroom where a beautiful turquoise bedside table has been chosen to give life to a space in different shades of light blue, which makes counterpoint with the flowers in pink and the bedding in lilac.