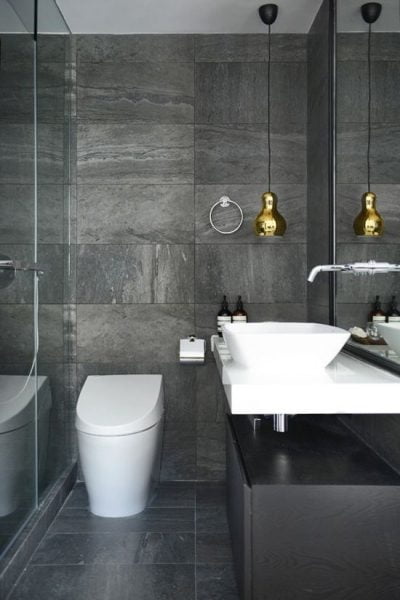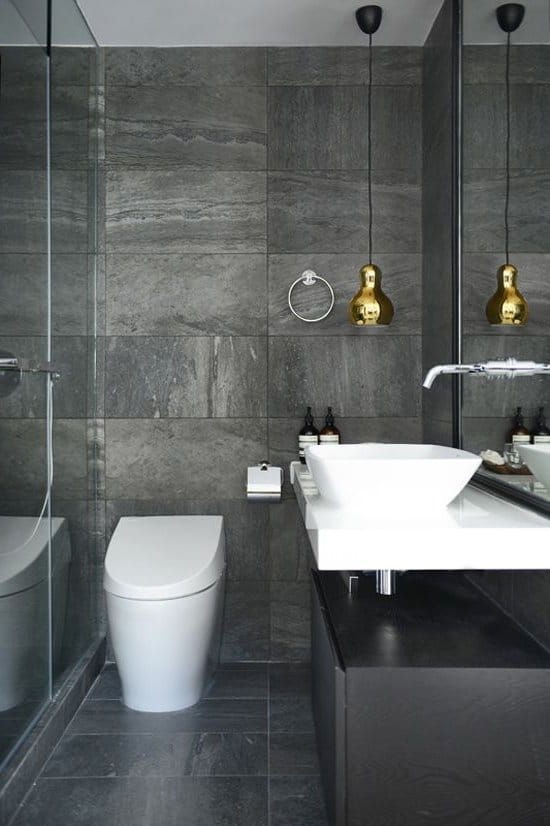 The colors for bathrooms 2021 will be predominantly gray and neutral, which make a great comeback in the interior fashion scene this season. If you use these shades in the bathroom, you will achieve an environment that will distil luxury and relaxation.
For those or those who are in the search of the color scheme for bathrooms, here are some ideas, according to some of the trends most used today.
Modern bathroom color trends 2021
Black and white
Black and white with a classic decoration. This color combination is ideal for use in the bathroom.
Green bathroom paint colors
The green color is one of those that will be used in 2021 for interior decoration. And of course, it can be used in the bathroom.
No more shiny surfaces, this year it turns to matte surfaces. In addition, taking into account the trend in the use of natural materials, slate tiles will be very popular this year, since they meet all the requirements.
If you like cozy and neutral spaces, it is best to opt for a cream or lime green tone, very soft, accompanied by opaque and white wood.
Shades of gray
The most fashionable color this season will undoubtedly be gray. And don't think that gray can look boring, since it works great in a rich variety of shades and shades. In addition, you can give a touch of bright colors in accessories.
A space in pale gray and white, does not seem narrow, but gives the feeling of being larger and more airy.
Something more modern, according to the trend of luxurious and minimalist bathrooms, is clearly the use of the gray palette, in addition to taking advantage of metallic paints, to give more space appeal.
Gray with touches of color
Touches of color in yellow, orange, green or blue, can be a great way to bring the gray bathroom to life.
Fresh colors such as blue and green are responsible for generating a soothing and calming effect, perfect for a relaxing bath. Choose the blue and green color you like best.
Pastel marble, wood, silver faucets and bright mirrors add elegance.
Raw and beige colors
As we mentioned, matte, nude and neutral colors are booming. Beige, brown, white, conjugate to give a calm and relaxed atmosphere.
Of course, the choice of colors depends directly on the type of bathroom. For a small bathroom, it is preferable that white predominates, with some beige touches.
Rustic colors give a sexy touch to old bathrooms, if complemented with wooden furniture.
For a casual and classic bathroom you can go for low contrasts like beige and black. If you want a high contrast, using the black and white combination is perfect and also elegant.
A great way to color the bathroom is by painting the cabinets or walls. In this case, the cabinet stands in contrast to the blue walls and red accessories. The tiles remain neutral.
A great trend for bathrooms is to generate a neutral field, mahogany cabinets and white bathtubs. They are one of the most common combinations. To maintain neutrality, the wall of a gray clay turned off.
Blue bathroom wall paint colors
For example, for warm or coastal sites, it is always recommended to apply colors from the sea, which may be mixed with some woods, or with white. Next, we leave the main palettes of each of them.
When you do not want to spend too much money on the investment, it is best to leave the floors and walls white or pale gray, and apply on towels and other items.
There is also the theory of the two colors plus white. This time we offer the possibility of doing it with a soft cream and light blue Mediterranean.
Red bathroom color trends
For those who want a more expressive and hot bath, then we show a palette of various reds, from a very soft one, to a dramatic burgundy.
Orange bathroom colors
Finally we leave you with two more trends, the first taking advantage of tones such as salmon and coral, while the second, focuses on the underwater colors of blue and green, to achieve the perfect combination.
Colors affect our mood, and neutral colors are perfect for adding some vibrant color details. If we want an energizing bath, a color like that of this bath is perfect. Terracotta orange gives energy but does not overwhelm when combined with beige neutral tone tiles.
Tips for choosing colors for bathrooms
Choosing the right colors for your home is often intimidating; and in the bathroom, most color selections, from floor to ceiling, may seem very drab. To choose the color the trick is to find the most suitable for you and your home. Here we will give you some tips to keep in mind when choosing the colors of your bathroom.
Choose your favorite colors, which respond to your emotions. For example, yellow can be a great stimulant for one person, but something crazy for others.
Usually in the bathroom there is very little empty wall space, due to the cabinets and tiles. The walls can be seen as the backdrop to exhibit a work of art, in which the tiles, furniture and sanitary ware will stand out. That is why the walls and ceiling should always be painted white or light tones.
Do not buy any items until you have selected the entire color palette.
You have to look at the colors with daylight and artificial light. Soft blues and greens can look a bit sad with incandescent light. Sometimes it is useful to correct the color with fluorescent lighting.
There are no rules about the appropriate colors in a bathroom, but there are generalizations. The pink or peach color looks better if it is combined with green tones. Green contrasts with wood tones and is a versatile option.
For granite or other materials, it is most likely to keep a predominantly neutral palette and add small color details in the accessories.
To choose cabinets you have to take into account the nuances of wood, some woods are warmer and others cooler, although they can be glazed, dyed or painted.