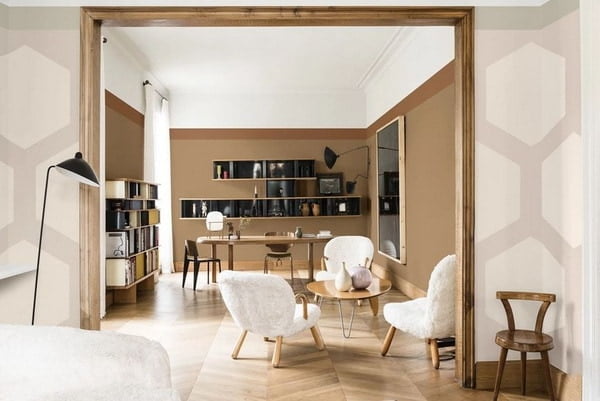 What wall colors will be trends in 2022? The time spent in isolation made us pay more attention to our immediate surroundings. Our house has become for us not only a place of rest, work and study, but above all our refuge. And the wall color trends for 2022 reflect those changes well. According to leading paint manufacturers, the future looks like the natural colors of the earth, mostly in shades of brown, green and blue. The trendiest wall colors in 2022 include Earth Power Warm Brown and Transcend Sandy Beige. What color shades are hidden behind these and other names?
The trendy wall color of 2022 is warm brown The Power of the Earth
The coming year will be marked by neutral earth tones. Subdued colors allow you to truly feel connected with nature and take a break from excess irritants. This is what we need in the current situation. In 2022, gray, beige and shades of white will appear in our homes. But the leading role will be played by brown.
This year, two big brands are betting on this color:
AkzoNobel – Dulux paint manufacturer and global expert in color trend prediction
Sherwin-Williams Company, American paints and coatings manufacturer
Brave Ground – AkzoNobel's 2022 interiors color
Brave GrouBrave Ground reflects this year's main theme, "Courage to Embrace Change. " It is a warm color inspired by nature. It meets the growing need of people around the planet for peace and stability. Interiors painted in "Brave Ground" colors help, in the literal sense of the word, feel the ground beneath your feet. They contribute to accepting and realizing the changes that have happened in our life, to feel the value of simple things. Begin to perceive the house and its interior as a cozy refuge where you can really relax, restore balance and put your thoughts in order.
"This year, we have been extremely difficult to make a forecast of trends and create color palettes, inspiring creativity, charging optimism and joy – says Helen van Gent (Heleen van Gent), creative director of the International Center AkzoNobell aesthetics. We all had to face difficulties that disrupted our usual way of life. At the same time, we gained new experience and knowledge, began to value our home, home comfort, communication with family and friends in a new way. We rediscovered the concepts of solidarity, kindness and generosity, and we realized that together we can do incredible things. And finally, we were able to gather courage and continue our journey forward. "
AkzoNobel experts have prepared 4 different color palettes focused on the trendiest wall color of 2022:
Trust colors (earth tones of Trust colors)
Timeless colors (Timeless palette)
Earth Colors
Expressive Colors
Trust Colors Palette ( Trust earth tones )
This palette contains the power of the Earth in combination with other neutral colors. It is dominated by warm shades of brown, gray and beige. They fill you with peace and encourage relaxation. Clay, peat, chalk, loam – the earthy tones of Trust colors seem to be collected from all over the world and reflect all its characteristics. These warm and harmonious tones inspire a person's openness and connection with the outside world. And since they are so well combined with each other, they can unite and knit into a single whole any, even the most daring, idea in the interior. Soft, neutral shades of gray and brown…
These colors are in harmony with each other and perfectly combine, creating a balanced sense of the integrity of the interior. They are ideal for spaces where people like to get together and share their ideas. Earthy tones and shades from all over the world really foster communication and collaboration. Warm, neutral grays and browns complement each other and bring a sense of harmony and harmony to the home.
Timeless Colors palette ( Timeless palette)
The Timeless Palette is based on muted browns and beige tones with added ocher, cinnamon and mustard yellow. The combination of earthy and yellow colors is ideal for those who want to create an interior for relaxation, communication and a comfortable life.
Palette "Natural Earth Colors» ( Earth the Colors )
The Earth Colors palette is inspired by nature itself. Earthy brown hues are combined with the blues of the sky and water, forest greens and neutral gray. An interior decorated in these colors will be the perfect place to relax and meditate. These are colors that help to overcome all difficulties and hardships.
Palette "Expressive colors» ( Expressive the Colors )
"Expressive color» ( Expressive Colors ) are not entirely clear brown mixture, bold red and pink. Bright colors, red and pink, bring invigorating energy to the interior. And neutral browns, as it were, smooth it out, allowing you to maintain the necessary balance.
Vibrant shades of reds and pinks, balanced by soft neutrals, are a combination that can add a touch of vigor and vitality to your home. These shades allow you to create a personalized space that reflects who you really are.
« The Urban Bronze The » – the color of the interiors 2022 by Sherwin-Williams Company
Urban Bronze will be the trendiest interior color in 2022, according to the Sherwin-Williams Company, a US manufacturer of paints and coatings. This time, the experts chose a dark shade of brown with pronounced gray tones. This shade of bronze really looks calm and elegant. He, like the Earth Force, helps transform a home into a secluded sanctuary that promotes relaxation and meditation.
Urban Bronze can be the leading color in the living room, bedroom or kitchen. This color looks very advantageous when surrounded by light tones. Such as beige, cream, contrasting white, as well as shades of green. An interior enveloped in bronze will also be a beautiful backdrop for wood furniture, stone cladding, woolen fabrics, and sparkly accessories in silver or gold.
" Aegean Teal " – Interiors Color of 2022 by Benjamin Moore
The American company Benjamin Moore proposes to fill the house with cheerful, natural colors in the coming year. According to her experts, "Aegean Teal", the soothing combination of blue and green with gray will take a key place in interiors. This beautiful and rich color is a great alternative to blue. In fact, it is much calmer and more versatile than it might seem at first glance. Looks great on walls, cabinet fronts, kitchen furniture, front doors or bookshelves.
Aegean Teal in 2022 can be used alone or in combination with other colors. Experts have developed a consistent palette of shades that blend perfectly with Aegean Teal. The set is dominated by cheerful sunny shades, reminiscent of the warmth of the family hearth. Ripening fruits on the windowsill, warm and soft blankets, the rays of the sun peeping through the window. These little elements of everyday life have inspired a unique palette that inspires peace and hope.
Wall Colors 2022 by PPG Paints
PPG, one of the world's leading paint manufacturers, has surprised the interior design industry with a whopping 3 trendy shades for 2022. This time, the brand has moved away from dark saturated colors in favor of cheerful and soothing shades of the Be Well palette :
sand beige ( Transcend )
cinnamon with a hint of orange ( Big Cypress )
mint blue ( Misty Aqua )
All three colors are in perfect harmony with each other, creating a solid and complete basis for the composition of the interior. The colors of the "Be Well" palette bring peace and at the same time make you feel comfortable.
"They represent peace and simplicity, two values ​​that society has longed for after years of relentless haste and thoughtless consumerism," says Dee Schlotter, director of brand marketing for PPG.
" Epoch " (plum color) – Interiors color 2022 by Graham & Brown
The Graham & Brown brand really stood out among the trends presented this year. The luxe wallpaper and paint maker was the only one to ditch cheerful neutrals in favor of a deep, dark color. According to the brand, in 2022, an elegant plum shade called "Epoch" will appear and will prevail on fashion walls. This luxurious color allows for a tasteful decoration. And at the same time, maintain a calm, relaxing tone.
How to add plum purple color to the composition? Graham & Brown advises using this trendy color in the bedroom, study or living room. The shade they choose can decorate one of the walls, a wooden door, cabinet fronts or an elegant chest of drawers.
What wall colors will dominate 2022 trends? The experiences of recent months and the accompanying anxiety make us more and more concerned about our immediate environment. We realized that home is an important place where you can find joy and peace. The need to feel stability prompts us to look for inspiration in nature. In the coming year, our interiors will be filled with warm earthy colors: warm browns, calming greens or subtle shades of blue.