The winter of 2024 is dotted with unusual decorative elements! Thus, lead without restraint your choices towards what is more daring.
Step out of your comfort zone to surprise those around you by incorporating vintage furniture into a room. By painting a wall of a pop color that draws you, incorporating the patterned wallpaper… Have fun! Moreover, do not lose sight of the Nordic trend that continues.
Introducing 10 major interior decoration trends that will steal the show in the winter of 2024.
1. Trendy colors
Just flick through a home decor magazine or watch your Instagram feed to see that color is back, not just on the walls.
Dare richer colors such as terracotta, deep blues, warm greens… In short, the colors presented in my previous post.
2. The refined Scandinavian
The Nordic trend is not a novelty and some even believe that it is running out of steam… Think again, because it remained for a few years! Scandinavian-style decorating is a worthwhile investment as it is a timeless style that makes you happy.
That said, this season, you can densify it to give it more character. Keep the natural materials and neutral colors, but add some personality: an unexpected color (like my famous "Ni Lilas or Gris" ), a mix of textiles (like velvet, linen and wool), elements fun deco, etc.
3. Ethnic motifs
The colorful ethnic motifs will harmonize perfectly with the Nordic decor and will fit just as well in the more contemporary decorations.
The exoticism and dynamism of these decorative elements will warm the cold atmosphere of the Quebec winter!
4. Bold Wallpapers
If I rely on my recent training on future trends, the wallpaper will be even more present in 2024! So why not take advantage of the winter to installsome rooms?
Make your wallpaper a focal point by selecting large colorful prints such as flowers, birds, clouds… In short, a touch of madness never hurts!
5. The antique furniture
Ironically, the elements attached to the past modernize our sets. Let yourself be tempted and bet on the authenticity of an old buffet, a night table found in the alley, a rocking chair that belonged to grandma…
These beautiful furniture will have a second wind and will find their place warm in your home!
6. Velvet
Because trends in decoration often follow those of fashion: as velvet returns in strength in ready-to-wear, it will also be in our sets!
Velvet is particularly beautiful under the tones of precious stones such as quartz, navy, emerald, gold and purple. These colors will give a sublime luster to your seats !
7. Colorful rugs in the kitchen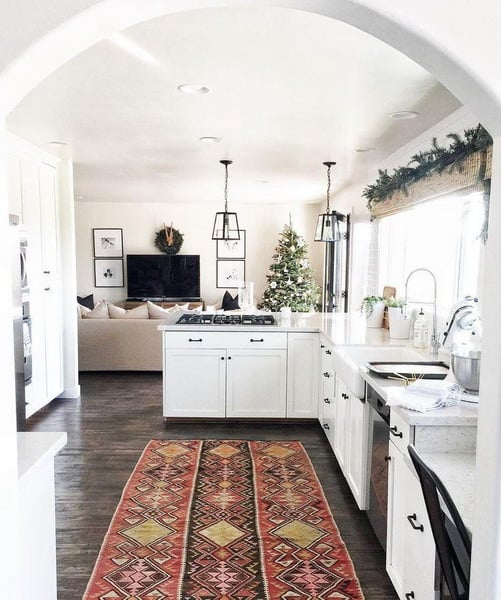 Instagram account by @michelle_janeen
In winter, the kitchen floor is often chilly and lacks personality. A nice tribal rug is a great way to add color and make this room even more inviting!
8. The art of the cozy table
Who does not like spending hours chatting around the table? So here's a great reason to create a cozy and fluffy cocoon in the dining room!
Choose materials that evoke northernness and nature. Play with overlays and contrasts of materials, such as linen and fur.
Your guests and you will feel wrapped in this wraparound setting, without being stifling if it is well balanced.
9. Bedding composed of natural fibers
And if these beddings are colorful, it's even better since the colors enhance the flax fiber! Natural fibers allow for better nights sleep, because they breathe.
Avoid at all costs the slightest trace of synthetic fibers, such as polyester. Prioritize linen, cotton and bamboo.
10. Greenery continues
The hue Greenery will still be among us with plants and different greens. Do not hesitate to hang in each of your rooms!
Suspended, the plants are less cumbersome in addition to giving life to this period when everything is gray and white outside.