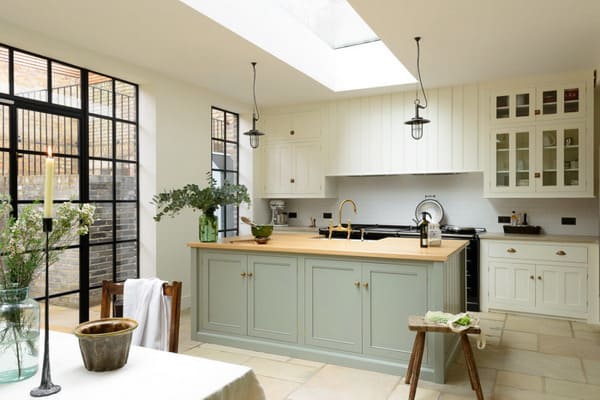 Today we are going to do a futurology exercise predicting the trends in decoration that are going to govern this year. And since I like the concrete data, this is based on the Pinterest 100 ranking, where they detail the concepts that have increased their searches within their platform.
First I start by defining that we consider trends as inclinations towards a certain aesthetic. Basically it is what is coming, not what we see everywhere (that would be fashion). Also on this occasion I want to make a descent to the national market, because despite globalization I think we are not on the same foot with all these trends in decoration, since most come from the other hemisphere.
Spa baths
Undoubtedly the wishes regarding the renovation of bathrooms point towards there. Nowadays, a functional, but boring, white bathroom is no longer enough, but one expects to have the comforts of a spa. Details such as the use of wood, folded towels and everything stored in jars help to achieve this look. In fact many customers who consult us for renovation of bathrooms have this idea in mind.
Mix metallic shades
An old decoration rule said that you can not mix metal tones. Never combine silver with bronze, or gold with copper. However, I believe that this rule no longer applies. Perfectly you can mix different shades of metallic colors and get a very well decorated environment. The secret lies in distributing them throughout the space. Because if for example in a kitchen you have everything in stainless steel, a single golden element will be out of context. But if you repeat the color in several applications then it looks intentional. In any case, this recommendation applies to combine any color, not just metals.
Terrazzo floors
At the beginning of the 20th century, terrazzo floors were the top. And since the trends are cyclical, this trend returns today. We have seen it applied especially in industrial style environments, such as an economical and stylish floor covering. The terrazzo consists of pieces of marble mixed with concrete or epoxy resin that gives it that textured effect. The final result looks similar to granite, and although it is not a material of my preference I think it is strong.
Take advantage of the sky
The ceiling in most cases is painted white, but this trend comes to break with it. Suddenly it is enough to add a color or pattern in the sky to get the wow effect, keeping the walls neutral. Although being sincere, I see it as little applicable in Chile. Here the standard height of the buildings varies between 230 and 250 cm in height, and you need a sky at least 280 cm high to paint it and that does not come on you. Visually speaking, obvious.
Bone inlays
I love this trend! Ideal to achieve a more bohemian style. This type of furniture can be quite expensive; because they are imported, it is not a work done by Chilean artisans. However, it is easy to get accessories of this type in the national market. In fact, in our cellar we have some accessories of this type.
Tang pattern
The herringbone pattern is a very classic one. Basically it comes to intersperse the pieces of wood, tiles, ceramics or whatever to get this pattern. It is not used as much as it is more expensive, because it has a lot of material loss due to the amount of cuts that need to be made at the edges. But maybe it's worth trying on the kitchen dashboard or other space where you do not need as much material. Personally I love it, especially the parquet floors made with this pattern. However, I think it is a decoration trend that is not applicable to our country.
Colorful doors
I would say that the tendency to paint the main door with intense colors has been around for a while now, but according to Pinterest, searches and saved photos have increased a lot. I hope more people dare, it's really a change that anyone can do in an afternoon. In fact, in my house I have the main door painted blue, very similar to this door. I think having varnished doors is fine, but it looks very 90's. Friend, it's time to modernize.
Plants with texture
This must be the weirdest trend, but for some reason people are looking for plants with leaves that have patterns. As for example the calatea, this tropical plant with large leaves and jungle look. I do not know if this hits so much in Chile, rather I would say that the tendency is to use large-leaved plants.
Large-scale art
We have not done an article about it yet, but I think that a very common design error is to use very small frames. I'm glad to know that people are looking for great art, at last! Now if you think that this can be very expensive, you are absolutely right. But do not worry, we did a tutorial where we taught to make a giant  and very economical picture.
Sage green
I think that this trend in decoration has not yet arrived but it is coming strong. The sage green color (sage in English) is the new neutral, and gives a certain warmth and charm to the spaces. I love it especially in kitchens. I want to try this color, and it is within my purposes for this year.
What do you think of these trends in decoration?
I realize that I have already tried several of these trends, either at home or in client homes, but I would love to do it all. Obviously not in the same house, but one or another application here and there. Do you like these trends? Which ones would they apply in their homes?