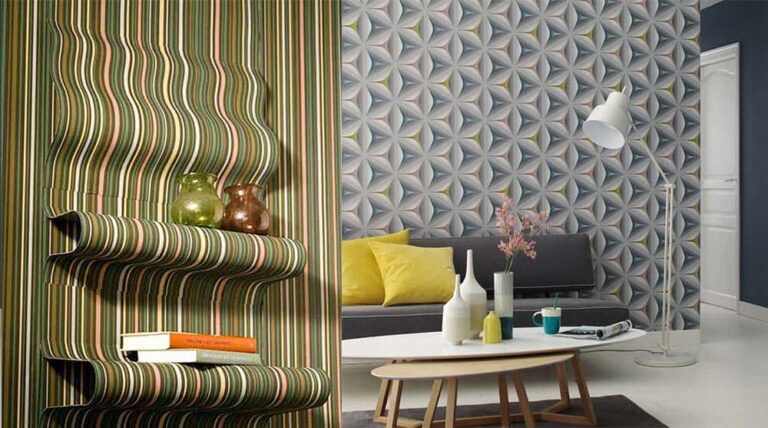 More than 500 years have passed since wallpaper began to be used in Europe. In China, they were known even earlier.
Today this finishing material continues to be popular all over the world. We invite you to find out which wallpaper trends in 2022, and how best to use them in interior design.
New wallpaper for 2022: No monotony!
This motto, as well as possible, corresponds to the main trend that characterizes the situation in the world of modern interior design.
Today everyone can decorate their home in the style of Minimalism, Shabby Chic, Hi-Tech, Ethno, Neoclassic or any other. Even eclectic designs are welcome, but they require a lot of craftsmanship.
Wallpaper is recommended for most styles. Moreover, today textured wallpaper 2022 is presented on the market, which is suitable even for designs that do not imply their use.
The main thing is to make the right choice and choose the perfect color, material and decor.
We have conducted a short market review and would like to present you with the most original novelties with specific tips for their application.
"Knitted" wallpaper 2022
More recently, the so-called Scandinavian style of interior design has come into vogue.
For those who don't know, let's say that this is a kind of Minimalism with a touch of retro. Its characteristic features were spied on by designers in the interiors of the average inhabitants of large cities in Sweden, Denmark, Finland or Norway.
Its main difference from "hard" Minimalism is the use of soft, cozy, knitted textiles.
It is this feature of the Scandinavian direction of interior design that is the reason that the "knitted" wallpaper 2022 was invented.
They are a high-resolution photo of a coarse knit of thick, coarse yarn. Using such wallpaper will allow you to get an unusual and super-topical Scandinavian design.
Glamorous 3-D wallpaper 2022
Do you consider the reality around us gray and unremarkable? But nothing prevents you from creating your own cozy little world filled with beauty and brilliance.
For this, the 2022 wallpaper with 3D effect, depicting large fantastic flowers, jewelry and other "glamor", is ideal.
Please note! Such trendy 2022 wallpaper is not suitable for total wall covering. They are recommended to trim only one of them, for example, the one where the TV panel hangs.
The rest of the surfaces should simply be painted in one color, from the same color scheme as the base of the wallpaper.
New wallpaper 2022 in the style of neoclassic
Recently, the neoclassical style has become more and more popular. With this in mind, many well-known brands have offered neoclassical wallpapers for the new 2022.
As you know, this direction of interior design involves the use of classic finishes and comfortable furniture. At the same time, the use of modern materials that are not characteristic of the Classic style is welcomed.
For example, it can be vinyl textured wallpaper with floral ornaments and gilding. Wallpaper imitating textiles, which can be gilded or with "embroidery", including shiny ones, also look great.
Photomurals with landscapes
Such finishing materials can hardly be called novelties. However, wallpaper 2022, which represents large copies of photographic landscapes, is of high image quality.
Their use as an organic part of the interior is in trend. For example, wall murals depicting a forest are complemented by a path-shaped carpet.
A popular option and decoration of one of the walls in the form of a window, from which a "view" of the sea, a night lake or a wheat field opens up.
Hi-tech wallpaper
The very combination of the words "wallpaper" and "Hi-tech" until recently was considered nonsense. However, many brands have introduced 2022 wallpapers that are perfect for high-tech interiors.
First of all, these are wallpapers with a metallic or glossy effect. The most relevant options are those depicting microcircuits, as well as various textures, for example, glass chips.
For the high-tech interior, you can also use the usual monochromatic options for neutral colors. It can be canvases of white, gray and other similar colors.
Loft interior options
Brands offering wallpaper 2022 have included wallpaper imitating stone, wood, leather, animal skins, etc. in their collections. They also paid attention to brickwork.
It is she who is the most popular decoration for interiors in the Loft style. Of course, it is ideal if such a design is created in a brick building. In this case, the walls may not be finished at all.
However, more often you have to come up with a way to imitate it. It is easiest to use 2022 textured wallpaper with a matching design. They can also be "plastered", or rather depict brickwork with rough, slightly crumbling plaster.
Options for ethno-interiors
The designers, engaged in the creation of new collections for manufacturing companies, could not ignore the ethno-theme.
First of all, they offer a wide variety of wallpapers. Among them you will find variants depicting hunting scenes with the participation of representatives of African tribes, and the eastern arch overlooking the Taj Mahal.
To create ethno-interiors, various textured wallpaper 2022 in the interior is also suitable. For example, for a design in the Indian style, options will look original, with a pattern in the form of a patchwork quilt sewn from pieces of leather.
You can also use wallpaper that looks like natural stone, such as marble. It can be used to decorate a house in the Egyptian style or turn a room into a hall of the Sultan's palace.
The Provence design was not forgotten either. Whole collections with small floral patterns were created for him. Why are they new, you ask? It's all about the high quality of the wallpaper, which, thanks to the use of modern technologies, does not fade for many years.
Wallpaper 2022 for Eco-design
The fashion for ecological design has not passed for more than one year. As you know, to create it, you need to use only natural materials, including special eco-wallpaper. Such natural coatings are more expensive than traditional ones. Cork, straw, jute, reed, veneer, bamboo and seaweed are used to make their upper surface.
The basis for natural wallpaper is paper. To protect them from dust and dirt, the surface is treated with a special impregnation.
These wallpapers are pretty heavy. When installing them, the glue should be applied not only to the canvas, but also to the walls.
Unusual wallpaper in 2022
Liquid wallpaper 2022 should not be ignored either. Such coatings resemble structural plaster, but are made using cellulose, with the addition of fibers, glitters and other decorative elements.
An interesting option and fiberglass. They are made from fiberglass by the weaving method.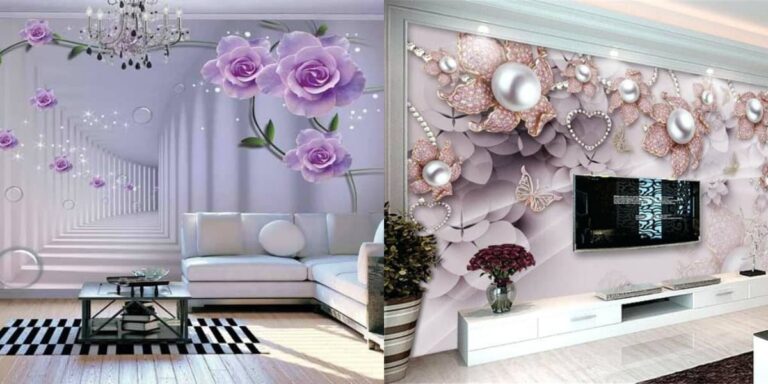 Such coatings are environmentally friendly and have exceptional durability. After pasting the walls with them, glass wallpaper should be painted in the desired color.
The most relevant and trendy wallpapers 2022
Wallpaper 2022 is focused not only on beauty, but also on functionality. Thanks to the latest technology, the trendy wallpaper of 2022 allows you to artfully model the space using optical illusions. The materials used are harmless to health and the environment.
Modern interior design also works to correct surface defects, and the correct selection of wallpaper will greatly help in this matter.
The 2022 wallpaper design is meant to help us – gracefully and aesthetically! So we're not just talking about color schemes here.
The modern world of wallpaper is a really interesting and useful topic for discussion. Read our article to understand the latest trends and technologies in wallpaper design.
Wallpaper 2022: Spirit of New Aesthetics
2022 wallpapers are impressive with a huge variety! No matter how important practicality is, when choosing wallpaper, we are guided primarily by aesthetic preferences. So, what new items should you pay attention to?
Digital printing technology has reinvented conventional flat wallpapers. With its help, it became possible to simulate textured surfaces and even three-dimensional images.
A 2022 wallpaper design with realistic simulation of brickwork, cracks, bamboo, wood or even a library will completely transform the space.
3D optical illusions can do a lot!
Cleverly calculated highlights and shadows can trick the brain. For example, from a certain angle you will see wallpaper with embossed, metallic sheen.
Or even a stylish vase shelf.
But if you come closer, you will find only a drawing on a flat surface…
Modernity, and more!
These trendy 2022 wallpapers are simply mesmerizing!
Drop shadow effect
The drop shadow effect is another magical trend!
Looking at such a wall, you involuntarily expect to see a fairy-tale forest opposite it, casting this very shadow.
Maybe he stayed in dreams?..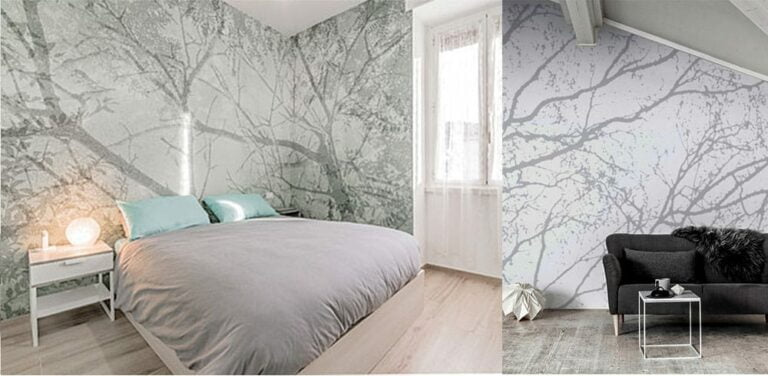 The illusion of highlights shading one primary color subtly textures the walls.
Basically, such interesting wallpapers are used to obtain the effect of a metal, velvet, silk wall.
Gradient Wallpaper
Gradient wallpaper is a fresh and bright solution.
Such walls are already spectacular, so for balance you need to choose rather laconic furniture in contrasting shades.
The lightest shade of the transition should be placed where you would like to get the effect of expanding the space and some airiness.
Trendy Wallpaper 2022: Trending Patterns
Wallpaper 2022 will not lose patterns, but rather breathe new life into them! The influence of the 60s brings to modernity not only pure geometry, but also a touch of psychedelicity.
The 2022 wallpaper design simplifies some of the classic wall decorating tricks.
However, familiar (even boring) patterns are being rethought, acquiring new lively forms of implementation.
In a word, the progress of wallpaper does not stand still!
This is a beautiful echo of the last century.
Strict "flat" geometry, without glare and shading, in trend!
It is perfect for retro, mid-century and eclectic interiors.
Quite funny options are possible, for example, wallpaper with polka dots.
The whole furnishings should correspond to such wallpapers: bright pieces of furniture, cheerful paintings and non-trivial decor.
The psychedelic colorful wallpaper designs of 2022 call for soothing shades of furniture and accessories. Typically, the wallpaper pattern resembles a mosaic.
Parts of it may contain additional patterns.
However, there are exceptions: you can repeat the pattern in a small fabric interior element.
Floral patterns have undergone an interesting transformation.
They can be roughly divided into three groups.
First: standard delicate patterns in a small flower (typical for the Provence style).
Second: floral with a wedge of animalistic motifs.
And the third includes the most relevant and fashionable wallpapers: patterns with large volumetric flowers in the style of classic paintings.
A good alternative to stucco is wallpaper with embossed patterns.
They are generally very pleasant to the touch and look different depending on the lighting conditions.
Romantic steampunk motifs can now be used not only for the interior style of the same name!
Think what is closer to you: cards, balloons, gears or octopuses?
Wallpaper 2022: Materials
Wallpaper 2022 is created with care for us! It remains to correctly navigate the materials that are suitable for our purposes.
Vinyl wallpaper is durable.
Easy to clean.
A wide range of patterns and textures are available, from simple flat patterns to "real" 3D brickwork and realistic photo wallpapers.
Non-woven fabrics are also very durable and resistant. The glue is applied not to the wallpaper, but directly to the wall itself, which greatly facilitates pasting the wallpaper. Non-woven wallpaper is suitable for painting.
This means that this trendy wallpaper makes it easy to create a trendy gradient with your own hands!
The most effective non-woven wallpaper imitating silk, crumpled velvet, metal, wood and 3D 3D patterns.
Textiles look great, but wash hard!
However, despite this, they are often chosen for children's rooms.
And this is not surprising, because they are incredibly pleasant to the touch! Yet, the difficult fight against pollution becomes the reason why they are completely unsuitable for the kitchen and hallway.
The 2022 wallpaper design with the fabric top is truly luxurious! Expensive options are covered with a protective layer that reduces the likelihood of contamination.
Their greatest problem remains the difficulty of pasting.
Liquid wallpaper will save you from the problem of seams. Their specific texture remains a matter of controversy, attracting their fans and repelling their "enemies".
Wallpaper Design 2022: Tips & Hacks
Popular wallpaper trends 2022 will help out in the matter of correcting space and walls. In fact, we can say that the search for alternative solutions and budgetary ways to improve the interior created the wallpaper design of 2022.
Let's find out what bonuses you can get from wallpapers!
Are there minor defects on the walls and there is no time to fix them? Choose a very dense wallpaper! Non-woven are the best concealers.
It happens that too uneven walls with concave areas leave much to be desired even after priming. Highlight these areas to make them look a little more prominent. Pick up dark non-woven wallpaper – all irregularities will brightly outline on light shadows. After the glue dries, spray paint with metallic paint – create light highlights or small patterns (preferably, under a stencil) in the concave areas. Don't worry, 2022 wallpaper designs can be sloppy!
Wallpaper with vertical stripes will make the room visually "higher". Horizontal stripes work on the illusion of expanding space.
The horizontal gradient will also give the visual height.
However, it will also visually expand the space closer to the ceiling.
Contrary to prejudices about the practicality of beige, warm colors visually reduce the space.
But a room like this can be reanimated with 2022 wallpaper!
Make an accent wall with a lively pattern or photo wallpaper.
3D illusions of stucco molding or embossed wallpaper will "save" the classic interior.
The trend is to decorate the walls with stylish florariums. Maybe this is what you need for light monochromatic walls?
Avoid the dominance of too light pastel colors in areas with frequent cloudy weather. The room will look gray.
We hope our article will help you find the perfect wallpaper for your home!