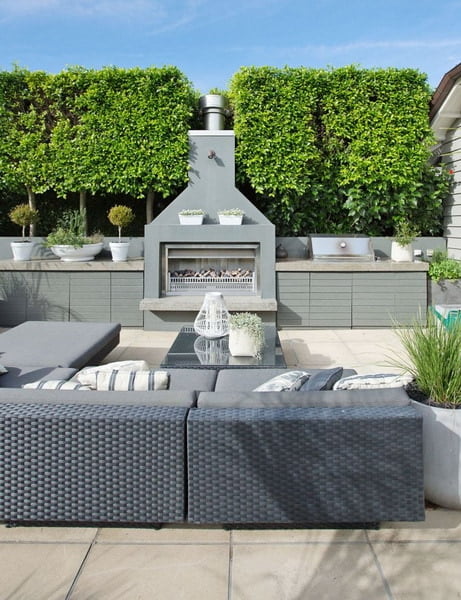 Today we show you some essential ways to give your exterior a change to prepare it for summer. Check out our ideas for decorating gardens 2021 as there is nothing better than enjoying a summer afternoon outdoors.
But after spending so much time indoors during the winter, you'll probably need to give your outdoor area a little love to make it a place to enjoy again. And like any good makeover, these 2021 garden decorating ideas will make guests think their garden looks this good all the time.
Garden Decorating Ideas 2021 – Build a Floor or Upgrade Your Barn Place with a Wooden Deck
There is little incentive to go out for long summer days and watch soccer games in the backyard if there is no comfortable place to sit and relax. Whether small-scale or a feature, flooring is the first outdoor item to think of that will instantly give any area a fresh look. When planning a new logging location, be sure to consider access to it with pathways, the look and function of the location where you will position your furniture.
Ideas for decorating gardens 2021 – What are your options
A pine wood floor. Pine is versatile, durable and sustainable. It is an easy to work, light wood that adapts well to stains and paint. Hardwood. A floor made of hardwood offers several color options. These can be kept with different types of protectors to maintain their color and protect from stains and oils and enjoy their natural shape and color.
Engineered wood. These types of wood are generally more expensive, but that is because they have been modified to achieve greater durability and stability than solid wood decks. Composite decks, for example, are made from recycled wood fiber and UV-stable recycled plastic. It is extremely durable, impervious to moisture, and relatively resistant to scratches, fading, and mold.
Ideas for decorating gardens 2021 – Maintenance
Bring your old wood deck back to life, replacing damaged boards and securing loose screws. Maintenance will be different for each type of material that is made from the floor of your resting space, therefore, before removing the water jet, consult with specialists to ensure that you are using the best cleaning method for your platform. . If cleaning with water is not the best option, deck cleaning agents will be the way to go.
Once you have removed all the dirt and moss from your rest spaces, it is a great opportunity to re-stain. You will need at least two days of dry weather for best results (the wood on your deck should be dry before you start). Be sure to apply the lacquer in thin layers to avoid puddles. If you do not, these puddles will not penetrate the wood and cause the lacquer to peel off when dry.
Garden Decorating Ideas 2021 – Install some shade
Thanks to the strong sun, outdoor living is not comfortable without a little shade to provide relief from the burning rays. Whether it's a temporary structure or a permanent addition, a shade option is something every outdoor area needs.
Lately, pergolas have taken center stage in outdoor living trends. Structural and versatile, they are the best way to make your terrace or patio look and feel like an outdoor room. Keep it green by planting climbers and vines at the base of your pergola. It may take a few years, but over time, you will have a canopy of vegetation to protect you from the sun. But why wait for your climbing plant to climb the rafters? If you want an elegant shade option now, the translucent ceiling is the way to go. It allows sunlight to filter in, but it also blocks UV rays, so you can enjoy being outdoors without giving in to its effects.
Ideas for decorating gardens 2021 – What are your options
Laminate Beams – This type of pergola beam is perfect for those looking to create an outdoor area that is elegant and refined because it maintains its shape and is easier to paint.
Hardwood: thick and rustic, these beams are the best choice if you want to achieve a more natural look.
Translucent Ceilings: There are a few different options when it comes to translucent ceilings. Ask about ceilings that offer the best UV protection and if they are available in several color options. The glass roof is also a good option if you prefer a similar profile.
Garden Decorating Ideas 2021 – Get Creative With Paving
Whether you want to create separate zones, a substitute for a deck, or a simple garden path, paving is a great way to dress up your garden. In the market you can find a wide range of pavers to choose from to create attractive designs. Using different sizes and materials will add interest to your garden, but be careful to avoid visual chaos. Light colored pavers are perfect for shaded areas as they will light up and warm the space. And while it may be tempting to do the opposite in areas that receive a lot of sunlight and glare, remember that dark pavers will absorb heat, making your surface unbearably hot.
Ideas for decorating gardens 2021 – What are your options
Natural Sandstone and Granite – Natural pavers are unique in color and texture. They are ideal for patios, patios, steps, and around freshwater pools. Natural stone is more expensive, but it brings timeless quality and durability to your outdoor area and stands up beautifully in a natural setting.
Gypsum Pavers – This is a range of dry gypsum pavers that are ideal for backyards and driveways. Depending on the design you choose they can have a high level matte finish and come in a select color palette for a modern and contemporary look. This type of paving stone is perfect for consumers looking for a high-end look.
Non-slip pavers – Many types of pavers feature anti-slip qualities, making them the ideal choice for patios, pool areas, walkways, driveways, and garden edges. Again they can be found in a variety of sizes, making them a great choice if you want to create a pattern.
Maintenance Garden Decorating Ideas
To update existing pavers, sprinkle some baking soda over the area and brush it. They will look as good as new. After cleaning, re-sand between the pavers with paving sand to prevent movement.
Ideas for decorating gardens 2021 – Putting up a fence
In addition to giving your home a major appeal, a stylish fence is quite satisfying to look at when lounging in your yard. Not only will it provide a bit of privacy from pesky neighbors and protection from badly kicked soccer balls, it also helps reduce outside noise and improve the safety of your property. Whether it's the idealistic white fence or an architectural structure, a well-designed fence will add the finishing touch to your outdoor area.
Ideas for decorating gardens 2021 – What are your options
Standard Wood Fences: Rough sawn pallets, post or barbs and laminated grooves are an expensive option, but these varieties will do their job and can be tinted or painted for a fresh look.
For those seeking an elegant option, they have a wide variety of wooden fences; with picket fence options and calibrated or laminated posts and splice options.
Powder Coated Aluminum – A strong and durable option available also for single and double doors.
Custom: From horizontal fences, original cedar systems, options are limited only to your imagination.
Ideas for decorating gardens 2021 – Lighting
Swap old outdoor wall lamps for new and modern models with sensors or color change options. If your outdoor dining space has a ceiling or pergola, install a statement pendant light over your table. This will add a little extra flair to your outdoor dining and provide better lighting for your latest culinary triumph.
Highlight your signature plants with solar powered garden lights, which are cheap and readily available. Lanterns containing tea light or LED candles emit a warm glow and create a true sensation of occasion. The rope ornament is lit along a fence or pole for atmospheric lighting.