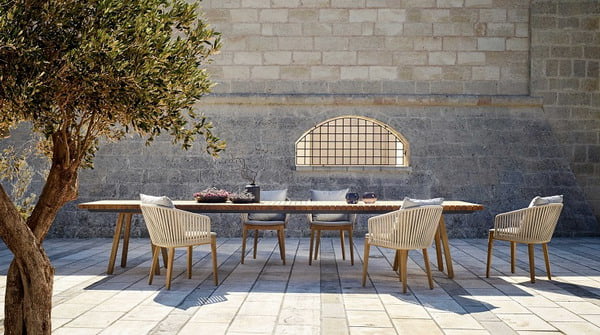 In 2021, outdoor decoration continues its revolution started a few years ago to become as orderly as inside our cocoons. In fact, the design world has revealed a host of exterior brands, ready to revolutionize. Today we show you garden design ideas and trends for the exterior in 2021.
PVC elements are no longer an option, instead we see delicate fabrics and worked shades. Because behind an apparent dissociation, outdoor trends are drawn according to indoor fashion.
Take your landscape design to the next level with top garden design ideas and trends 2021
The border between the two worlds is decreasing from season to season. And they are the decoration specialists who affirm that the design pieces can multiply in terraces and gardens. Below is a small preview of fashion and garden design ideas and trends for spring / summer 2021.
We already discussed last year in our publications that one of the key trends for exterior design and garden furniture is to decorate the exterior with the same attention we pay to interior spaces. That is why we are not surprised to see that the latest collections of garden furniture reflect many similarities with the main trends in interior design. In our garden design trends 2021 we give you the opportunity to discover some interesting news for the outdoors, along with some reflections on the latest outdoor trends.
Garden design ideas and 2021 trends to be up to date
Talking about outdoor design sounds like the perfect way to start this March, right? As you know, if you have been following our page for a while, you also know that we have many articles on the design of outdoor spaces. If you try to spend the free time you have outside your home, why not do it in your garden enjoying a beautiful space full of life. You can really feel the health benefits of your body and mind when you spend time outdoors. Therefore, firmly that spending time outdoors, alone or with friends, but always close to nature, can really help improve our lives in the short and long time.
Even if your deck or garden is still covered for winter, it's not too early to start thinking about your impending spring and summer garden parties. Outdoor life and entertainment are important to modern life; People enjoy spending time outdoors, surrounded by fresh air, wildlife, and the sounds and smells of their surroundings. Ultimately, this means that you need to offer your guests an outdoor space where they feel comfortable hanging out, requiring you to start designing that outdoor space right now, before there is a hot weather for enjoyment.
Garden design ideas and trends 2021
If you haven't thought about your outdoor spaces since fall, you may need some guidance on new trends. Here are some design ideas to boost your creativity and prepare your outdoor areas for sunny skies.
Metal and plastic furniture and outdoor features have been popular for decades because these materials offer clean, modern lines essential to minimalism, and metal and plastic tend to resist the elements quite well. However, as interest in minimalism has waned, so has the use of synthetic or artificial materials in exterior decoration. Instead, you should consider using natural materials, such as organic cotton, wool, wood, and wicker.
Garden design ideas and trends in furniture and decorations
There are several reasons for the change from design to more natural materials, but the main cause is an increase in environmental awareness. Materials such as cotton and wood tend not to require extensive refining processes with toxic or harmful chemicals; instead, they can be extremely clean and sustainable. In contrast, both metal and plastic have catastrophic environmental repercussions. As long as you take good care of your outdoor furniture, such as moving it under cover during inclement weather, you should be able to enjoy your outdoor design for years to come.
In addition to the change in materials, the latest patio and patio furniture is warm and inviting in color. In recent history, home color palettes have been in relatively cool shades: grays, icy blues, whites, and blacks. Cold colors are refreshing and tend to have a calming effect, but often don't make a space feel cozy or comfortable. As the new year begins, almost all designers are shifting their focus to warm, earthy shades such as brown, brown, golden yellow, dusty red, and olive green.
You can integrate warm colors in many places in your exterior design, not just in your outdoor furniture. You may consider giving your front and rear doors a fresh coat of paint or changing the color of your home's finish around windows and doors. You can add decorative landscaping, such as fences, with an attractive new color palette. Finally, you can stain your concrete or repaint your deck to add color to your exterior. Most of these solutions are relatively small, but have a great decorative impact.
No matter how much time, effort, and expense you spend on your outdoor living room if your furniture is uncomfortable. Perhaps most important of all, the features you put into your outdoor spaces must be functional, meaning that you and your guests must be able to enjoy the outdoors in style with ease and comfort.
One trend affecting functionality in outdoor areas is the increase in ergonomic design of outdoor furniture. Patio and patio furniture can often feel stiff and uncomfortable because designers prioritize weather resistance and look at support and feel. Ergonomic outdoor furniture promises to cradle the body, ensuring long-lasting comfort and long-lasting rain or sun.
Additionally, you may consider adding functional features to your outdoor living space, transforming it into a true room in your home. A popular option is to add an outdoor kitchen space, packed with a refrigerator, counter space, cooktop, and more. An outdoor kitchen can be fun and interactive during the hot weather months, when you don't want to separate the party between your patio and indoor kitchen. Plus, it gives you more opportunities to design your exterior, perhaps adding trendy countertops, splash guards, and lighting to the space.
Garden Design ideas and Trends 2021 – Combine and Mix Materials in Garden Design
One of the most attractive outdoor design trends that is rapidly growing in popularity is the trend of designing a tough landscape that uses multiple materials. For example, a patio built of cobblestones can be combined with a brick wall, wooden benches, and wicker outdoor furniture. This trend of mixing materials allows a lot of creativity to create a landscape design that is completely yours.
Garden design ideas and trends 2021 – Elaborate garden paths
Building a paved driveway with interlocking concrete pavers is a great way to enhance your landscaping while providing a useful and functional addition to your patio. In 2021, look for these hallways to become increasingly elaborate and aesthetically pleasing as homeowners choose to build hallways with patterned pavers and embellish them with flowers and other decorative items.
Outdoor Bars Outdoor
kitchens have been a staple in the harsh landscape for many years. Increasingly, however, homeowners are choosing to install an outdoor bar on their patio. An outdoor bar is a very attractive addition to most patios and at the same time makes your patio a much more pleasant place to hang out with friends and family or host outdoor parties.
Decorated courtyards
Now more than ever, homeowners are finally beginning to make the most of their patio space by decorating it with furniture, televisions, flower pots, and more. If you are building a patio outside your home, be sure to make the most of it with all the amenities and attractive decor needed to turn an ordinary space into one that is truly enjoyable.
Garden design ideas and trends 2021 – Flower pot walls
Installing flower pot walls outside your home can give you plenty of extra space to grow your favorite plants while still being an attractive addition to your landscape on their own. Thanks to these benefits, pot walls are rapidly growing in popularity and are poised to be one of the biggest exterior design trends of 2021.
We have already talked in many articles about wellness and this is one of the key trends in design now. This is extremely clear, especially in the design of garden furniture. In fact, outdoor furniture is becoming much softer, more comfortable and cozy. As in interior design, also for exterior design, natural materials are privileged. Welcome to natural wood, textiles, rattan, wicker. The latest garden furniture collections feature many new upholstered seats, with comfortable and spacious shapes, to invite you to relax and enjoy comfort.
Add some versatile storage
Imagine that you have designed the outdoor living space of your dreams. It is perfect and it is not just a place with grass. Now imagine it six months later. It will be the same? Well no, you can imagine kids' toys and garden equipment strewn about, a stubborn lawn and unpruned plants, you should probably consider your storage options. Modern wooden outdoor furniture often incorporates storage for added versatility.
Light up your life and your garden
You should be able to enjoy your outdoor entertainment area all day and all night, so add a bit of stylish exterior lighting to make your space that much more useful and versatile.
Incorporating outdoor lighting into your garden is also a great way to show off your landscape and harsh white light. Or consider hanging a few twinkling light bulbs on your favorite tree and arranging your furniture under it for a romantic dinner at home.
Native plants create elegant and contemporary gardens. They often require less water and less maintenance. If these gardens are not your style, try other plants that are good for the environment. Lavender and rhododendron plants are suitable for bees and are easy to care for.
Wicker outdoor furniture is the perfect combination of old and new. It looks great in a contemporary native garden or in a more traditional garden.
Outdoor therapy means, on the one hand, relaxing and recharging our batteries in a quiet outdoor setting, but on the other hand, it can also mean spending quality time together with friends outdoors. Just think of a garden dinner with your friends on a warm night, doesn't it totally affect your mood in a positive way?
Speaking of outdoor trends, we can translate this concept into the word coexistence. In design, we can translate this word into modular furniture that can easily change depending on the number of guests, or large dining tables that can comfortably accommodate many guests.