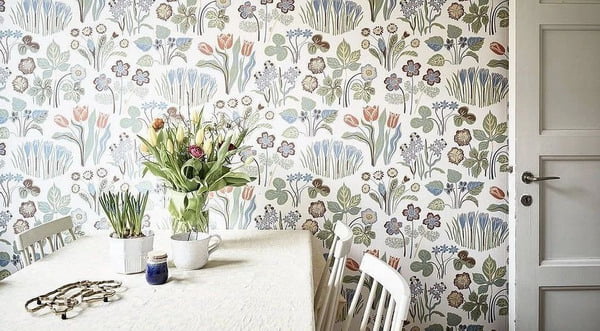 Abstraction, graphics, geometry – we show trends and tell in detail how to choose wallpaper for the kitchen in 2023-2024.
Choosing a kitchen finish is a complex task with many variables. High humidity and dirtiness, temperature changes, food odors – the coating must cope with all these factors. I also want a stylish design. In this article, we tell you in detail which wallpaper is better to choose for the kitchen: from material to trendy prints with photos of interesting ideas.
How to choose wallpaper for the kitchen?
What should be
Choosing trendy wallpaper for the kitchen in 2023, it is not enough to rely only on trends in this area. Due to the nature of the room, they must have such characteristics.
Resistance to water and steam is the first and main point, since there will always be high humidity in the cooking area and there is hot steam from the water in the sink or cooking dishes. All this will settle on the walls, which means they must be completely protected from negative consequences. This means that moisture resistant and breathable models will do.
Density by structure. The solid texture material will not only withstand mechanical damage, accidental scratches and high temperatures, but will also collect less dirt.
Washable. In the cooking area, you will often have to clean up, and fat and pieces of food will get on the walls in one way or another. Therefore, look in stores for rolls with the three wavy lines icon – they can be cleaned with a brush and detergents.
Fade resistant. Lightfastness is especially useful if the room has large windows or a balcony adjoins this area . It is important that under constant exposure to sunlight, the canvases do not turn yellow and do not lose color saturation.
Fire safety. Finally, you need to remember about fire safety. To avoid a fire, the area behind the gas stove is usually tiled or similar, but it is important that all wall finishes do not burn out in the event of a fire and do not spread fire throughout the apartment.
Material
Fashion trends in wallpaper for the kitchen concern not only the palette and patterns, but also the material from which they are made. Constant trends – environmental friendliness, durability, reliability. Products of foreign and most Russian manufacturers are certified for toxicity, so there is no need to worry about the environmental friendliness of the coating. It is worth focusing on the technical characteristics of the material. So, the following types of wallpaper are most suitable for kitchen walls.
Suitable species
Vinyl – have two layers, the first (base) can be made of paper or non-woven. For the cooking zone, you need to unambiguously choose the second type, even if you have to pay a little more for it. Paper is less durable and deforms when exposed to moisture. Vinyl models on a non-woven base will not bubble, hide imperfections in the walls well and are strong enough. Foam vinyl is good for air permeability, but can accumulate water – smooth vinyl embossing does not have this drawback, so the second option is suitable for regular wet cleaning.
Non-woven – made of polymer material, which consists of compressed cellulose fibers. It is used both as a base and as an independent wall decoration. In terms of characteristics, such canvases are similar to vinyl, but they cost more and last longer with proper care. There is a large selection of textures and models, including those for painting.
Fiberglass – the material is a sheet of glass threads, the wallpaper is made immediately for painting . As a result, a durable anti-vandal coating is obtained, which will last for decades and which can be repainted 15-20 times. It is not afraid of moisture and detergents, it is fireproof, and mold or mildew will not start in glass fibers.
What types are better not to use
Any canvases on a paper basis are more suitable for a bedroom or living room.
Textile – not washable.
Bamboo – Like any wood, bamboo is susceptible to moisture.
Liquid – do not like water, you will need an additional protective coating.
Plots of fashionable wallpaper for the kitchen 2023-2024 with photos
Fruits, greens, flowers
Any plant patterns are in trend. They look interesting, add coziness and natural notes to the interior, and also perfectly suit the theme of the kitchen area. All the variety of fashionable floral prints can be divided into three groups.
"Edible" – all kinds of fruits and berries surrounded by greenery.
Scandinavian – minimalistic, low-contrast designs on a floral green theme, which are often used in modern Scandi interiors.
Romantic – suitable for interiors in the Provence style , which is now experiencing a rebirth.
The larger and more colorful the pattern, the more careful you need to handle it. If you have chosen a tropical theme or an active ornament in the style of English designers, it is better to glue such canvases on an accent wall, and for others, take a coating in the same tone or with a barely noticeable supporting print.
Geometry
Geometric patterns also remain in the top. Moreover, the simpler, the better: simple compositions of squares or rhombuses, as well as ordinary stripes, are returning to fashion. The latter, by the way, not only look elegant, but can also transform the perception of a room.
If the room is small and the ceilings are low, vertical stripes will stretch it up. If the room is too long, horizontal lines can be drawn along the narrow wall, which visually harmonize the proportions.
Imitations
Manufacturers increasingly often find canvases with imitation of any natural surface: wood, stone, concrete. The visual copy is often almost indistinguishable from the original, so if you want to create a noble natural design, you can use this trendy finish. Moreover, if the finish gets bored, it will be easier to change it than natural stone or wood panels, which are undesirable to use in the kitchen due to the poor compatibility of wood and moisture.
The main rule of combination: do not place two different textures next to each other, for example, marble and concrete. It is unlikely that they will match in scale and style, which is why the imitation wall will look cheap. Combine such wallpaper with other elements by color.
Ethnicity
Speaking about which wallpaper for the kitchen in 2023 will be fashionable, one cannot but add ethnic motives to this list. In addition to the general course on environmental friendliness, stylized elements of other cultures are gaining popularity: fabulous oriental ornaments; Chinese and Japanese traditional subjects; colors and patterns typical for Arab countries.
If the interior of the whole apartment is not decorated in the boho or eclectic style , such elements should be used in doses. And also choose adapted options for ethnic ornaments that will organically fit into a modern or classic style.
Abstract print
Any repeating pattern without a pronounced form is considered an abstraction. The main difference between fashionable and unfashionable prints is the simplicity of the elements. Complex monograms with dozens of small details are becoming a thing of the past; low-contrast restrained drawings are replacing.
The more active the print, the calmer the tone of the kitchen set should be. A universal combination with any coatings – wood texture, black or white.
Graphics
Graphics, toile, prints and murals (stylized painting on the whole wall) are a real trend in the coming years. The most common subjects in this style are pastoral, animals, architecture, any flora. Such canvases will fit well into the modern and neoclassical style, and thanks to the black and white colors, they can be easily combined with other elements or made the central detail in a monochrome interior.
If you are using a large mural or engraving, it is better to select one accent wall for it. A low-contrast small or medium pattern can be placed on a large surface. Since the graphics are quite active on their own, choose monochromatic furniture with a laconic shape.
Plain
Trends come and go, but the classics remain the same. Monochrome coating is universal, it will fit into any style, palette and room size. And if you have chosen canvases for painting , then you can update the color at any time without changing the entire finish.
In monochromatic canvases, the main role is played by the shade. How to choose it and what colors are in fashion now, we will tell you in more detail below.
Trending wallpaper colors
What color wallpaper to choose for the kitchen so that they are relevant in the coming years?
All pastel shades were and remain in the top – they look noble and gentle, play beautifully under the sun's rays and are suitable for rooms of any size.
Any variations on the eco theme: all shades of green, gray, brown. Special emphasis is placed on different soil types. Sand, terracotta, rusty, gray-brown, brown tones are suitable. A dark palette must be handled carefully, it is better to choose lightened shades or use them in dosage.
The combination of black, white and gray works in any variation. The monochrome palette is unlikely to ever lose its relevance, so achromats can be used if you plan to renovate for a long time. And you can dilute the restraint of such a palette with the help of bright accents – both on the coating itself, and in the form of decor or one or two pieces of furniture.
Any "tasty" colors: variations of red, pink and orange, warm shades of yellow and green. It is also best to use them as an accent so that the palette does not turn out to be too aggressive and does not cause an overly strong appetite.
Blue, light blue, mint – cold tones go well with gray-beige shades and pure white. This palette is suitable for a room overlooking the sunny side to "cool" it a little.
Which style to choose?
Moving away from the versatile classic and modern styles, wall coverings can be categorized in several ways. That's what's trending.
Scandinavian style
Wall decoration can be monochromatic, in a laconic geometric pattern (polka dots, stripes) or in a flower. There is also a small, non-contrasting abstraction. The palette is dominated by white and light gray, and any natural shades complement it: brown (especially on the texture of wood), blue, muted orange, beige, etc. Pastel colors are often used in Scandi style.
English
This trend is characterized by floral patterns and the use of natural materials. In combination, this gives a unique effect of comfort and closeness to nature. Ornaments on the walls can overlap with kitchen textiles. Colors – any, as a rule, there are two main schemes: cold (gray-white-blue tones) and natural warm (shades of brown, beige, green).
Eco
And, of course, the top stylistics does not leave any variations on ecothematic. These can be tropical motives – in this case, you can decorate one accent wall with large photo wallpapers with palm leaves. A more neutral option is a modern style with eco elements, the wall covering can be either with a floral or natural-abstract ornament, or a monochromatic one.
Combination with furniture
A few simple rules on how to choose a finish for kitchen furniture.
The classic option for combining wallpaper with furniture is a lighter finish than a headset. If space permits and there is enough sunlight, you can make the opposite combination – lighter furniture will look interesting against a bright or dark background.
If the wallpaper plays the role of a calm background, you can combine wooden products and headsets with pastel or deep dark tones with them. And if they act as an accent element, then it is better to choose furniture in light neutral shades.
Achromats are a universal base. This works for both wall coverings and kitchen units. Any colors can be successfully combined with them: light and dark, warm and cold.
If the wallpaper has a print, the set and furniture for the dining group should be as simple as possible. The larger the drawing, the calmer all the other elements are – the current rule, otherwise the interior will be too colorful – this is especially destructive for small rooms.
What to consider when choosing paintings for a small kitchen?
Decorating walls in a small room is always difficult – you need to take into account not only the aesthetic preferences and characteristics of the material, but also how the coating will affect the proportions of the room. When deciding which wallpaper is best for a small kitchen, follow a few simple rules.
The safest option is a light palette. If you want bright colors, it is better to add them with emphasis: as one element of the print, or even better – transfer them to furniture and decor. You can use a dark base, but in combination with a light set and only if the room has large windows that provide enough natural light.
Small drawing is better than large drawing. The rule is simple and always works. An exception is an accent wall with photo wallpaper, for example, with a tropical composition or mural.
The lower the contrast, the better. Bright contrasting elements draw attention to themselves and to the size of the room. If you choose printed canvases, give preference to low-contrast options.
The embossed coating as the main one is not suitable for a small area. If you want to use a textured design, select one accent area for it – for example, in the dining table area.
The matte texture absorbs light. For small spaces, coatings with a glossy or pearlescent effect are suitable.
The universal scheme looks like this: light canvases, monochromatic or with a small non-contrasting pattern, without a pronounced relief, ideally with a glossy sheen.