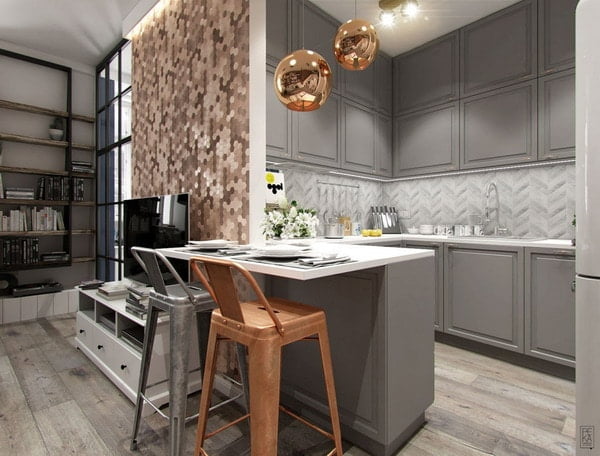 What kitchen colors will be fashionable in 2021? They will be primarily inspired by nature, associated with heaven, sea, earth and the sun. Therefore, among the most important manufacturers of paints and furniture engaged in predicting color trends in the interior, there are several shades of blue, green, pink and yellow.
Eternal and soothing blue – trendy colors for the 2021 kitchen
Among the most fashionable colors, of course, dark, muted shades of blue, chosen among the most important in the coming months, among others from the Pantone Color Institute, WGSN, Sherwin-William or PPG Paints.
In the first case,  blue  became one of the five key colors of 2021. Elegant and calm, but at the same time, an expressive shade is associated with the sky, which from time immemorial has been the promise of a new, better day. In 2021, the Sherwin-William brand focused on  sapphire navy , as it is associated with the deep sea and the night sky.
The combination of tones of blue, black and graphite gray, although strong, is neutral and ideally combined with other colors and interior decoration styles. PPG – one of the largest manufacturers of paints in the world, named Chinese porcelain as the current color  . This is due, in particular, to the sea and intricate jewelry made of Chinese porcelain cobalt-ink shade of blue.
Kitchen interiors using shades of  purplish blue ,  classic blue ,  sea  or  Chinese porcelain are designed to help you relax, reflect, calm down and make you feel safe. To achieve this effect, it is best to paint walls or one wall in this shade, creating a color accent.
You can also choose a set of seats upholstered in these shades, or add them through accessories, paintings or carpets. It is worth remembering that they look great in combination with currently very fashionable natural materials, such as natural stone (mainly marble), metal (brass, copper, chrome steel, tin), glass (transparent and colored) and rattan, wood , leather, wool, etc.
How to combine the kitchen colors 2021 with other colors?
You can also choose proven color schemes for the kitchen, for example, muted, classic interiors, navy with beige and not quite white. In bolder combinations, it is worth using dark blue with shimmering shades of gold, silver, copper, brass or tin. This underlines the elegant, timeless character of these colors. An interesting idea is to combine dark blue shades with warm, but natural shades of red, yellow, orange and pink.
Calming and relaxing green – 2021 color trends
Among the colors of 2021, several different shades of green appeared. In the trend for the kitchen, the shade is Back to Nature S 340-4 , which is olive-light green with warm tones obtained by the addition of bronze. This color, which we associate, among other things with the meadow and nature, contributes to contemplation and tranquility.
The dark, strong  shade of bottle green Adeline was announced by the British company Graham & Brown. This color, according to experts of the brand, is a way to update the trend of currently fashionable emerald green, and it is also associated with ripe green leaves of trees.
The color palette, inspired by greenery, also includes a shade of calm dawn, known as mint gray. This gentle shade of warm gray with an admixture of colors such as green and blue should remind of the morning sky and, like dawn, be a symbol of a new discovery.
Among the colors for the kitchen, there was also a  Minty Fresh DE5687 shade  from Dunn-Edwards, that is, cool, pastel green with clear menthol tones. WGSN also opted for color trend prediction, indicating Neo Mint's minty, light shade   as one of the five primary colors of 2021.
The kitchen, painted in green, will become not only more comfortable, but also relaxing. Nothing works more relaxing than communicating with nature. This color can be introduced into interiors in the form of colors of 2021, that is, Adeline, Back to Nature, Tranquil Dawn or Minty Fresh and Neo Mint, as well as other fashionable shades, such as sage or green peas.
Manufacturers offer us not only paints for the interior of the kitchen in these colors – which can be used to paint all or only selected interior walls. These colors are also available in the offer of floor and wall tiles, wallpaper, kitchen furniture, leisure sets, lighting or accessories, ceramics.
Like the  most fashionable colors of 2021  in shades of blue, natural, unobtrusive and muted earthy green blends perfectly with natural materials. It is worth combining it with an interior finish made, for example, from natural wood, wool, weaving, rattan, seaweed, bamboo, stone, steel, brass, glass, terracotta.
What colors combine shades of green?
Tips are best sought from specific paint manufacturers, whose specialists create perfectly designed color palettes that match the color of the year.
Green color in each version looks good in a duet with warm white or beige. Light olive will look good as the main color in the interior of the kitchen, combined with smoky, slightly soiled shades of brown and blue. An interesting effect can also be obtained by combining it with brighter colors – for example, turquoise, ruby pink or lavender blue.
Dark green color will ideally combine not only with dark blue, black or ocher, but also with bright pink, mint, raspberry red or mustard yellow. Delicate and unearthly shade like mint gray, it will be interesting to look along with pastel shades of brown, pink and blue. For the original design, this shade can also be combined with a dark yellow version, chocolate brown, dark green or mustard yellow. Mint gray is best combined with graphite in warm gray, cream white, beige and light brown, or – slightly bolder – with faded yellow, pastel pink, azure or green.
Calm pink – trendy colors in the interiors of 2021
Among the most fashionable colors of the interior of the kitchen in 2021, warm shades of pink, red and orange cannot be overlooked. In the first case, three shades of pink were even called  2021 colors – an elegant, but muffled warm shade of pink with pronounced apricot tones. According to brand experts, it is intended to express the currently widespread search for a balance between the joy of the coming decade and the world that we need most right now.
Another extreme is the shade of  First Light  pink (bright pink), which was recognized by Benjamin Moore as the color of 2021 and fits into the latest color trends. This is a vibrant pink color that refreshes and soothes at the same time thanks to its pastel color. Why did one of the largest interior paint brands focus on this color in 2021?
According to experts, this color should optimize the moment when people are very afraid of the future world. It also promotes integration and gives a feeling of comfort and security. No less warm shade of pink with pronounced orange tones, namely  cantaloupe , has become one of the key colors of 2021.
How to create an interior that will be cozy and suitable for the kitchen?
These shades for the kitchen can be considered neutral and serve as a backdrop for other colors, for example, in furniture or accessories. Colors are ideal not only for painted or clad walls, but also for the facades of kitchen furniture, wall and floor tiles. Pink shades look good in combination with metallic decorative elements, such as copper or brass. Airy and delicate fabrics, for example, very fashionable bright, semitransparent curtains reaching the ground, also perfectly emphasize their romantic character.
Pink and pastel shades should be combined with calm, muted colors such as green sage, light brown, straw, bleached yellow, as well as azure green or warm gray. You can add creamy white and bleached yellow as well as blue. In the case of apricot pink, according to experts, not only classic white, but also warm color will work in combinations, for example, orange in a shade of coral or old gold.
Sunny and warm yellow are the trendy colors of the 2021 interior.
Yellow is the color that prevailed at the 2021 interior design exhibition. He appeared not only – as was customary for several seasons – in accessories, but also on the walls of rooms, kitchen facades and even upholstered furniture for the living room. The choice of the Tikkurilla brand, one of the largest paint manufacturers in the world, was the shade of  Lemonade H300.
It is an optimistic, warm and delicate, muted shade of yellow with visible brown additions. As brand experts explain, this color is associated with the first rays of the sun in the morning, immediately after dawn. Thanks to this, he can add comfort and a positive attitude to life. The institute, which believes that yellow will belong in 2021, in particular, is also WGSN, a color forecasting company. Its experts, as one of the key colors, pointed to the strong, warm, earthy shade of  Mellow Yellow , which can be called a shade of retro mustard yellow or bleached ocher.
How to introduce  shades of yellow ?
Carefully, using the additions in the versions proposed by the manufacturers Lemonade or Mellow Yellow, as well as ocher and yellow mustard. Velvet carpets and even ceramic decorations are perfect in this role. In bolder kitchen interiors, yellow can be used on walls. There are three options to choose from: fashionable individual geometric ornaments of yellow color, for example, stripes or circles located on one wall, one wall painted in saturated color, or the entire kitchen covered with yellow paint or wallpaper. In addition to the stylish design, it is worth combining the yellow interior with materials such as chrome or black powder steel, natural wood or currently very popular colored glass.
Soft yellow will look great in combination with other dirty, earthy colors, for example, a warm gray, orange terracotta shade or apricot pink. It can also be combined with brighter colors such as burgundy, dark green or navy blue.
What color trends will dominate the interiors in 2021? Earthly colors and shades of blue associated with the vastness of the sky or the deep sea. Designers will also be happy to get green, associated with nature, among others mint, olive, but also emerald, as well as yellow in muted versions.