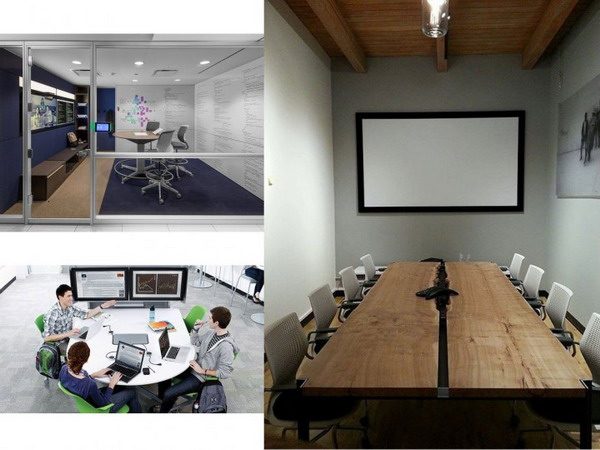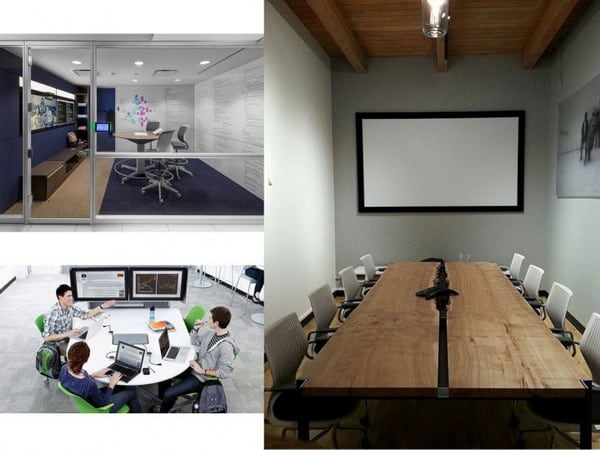 The trends 2024-2025 offices lean towards ergonomics and more efficient offices. Pleasant environments that offer comfort, rooms that enhance communication, creativity, spaces to relax or elements that make life easier will be key to generating greater productivity and effectiveness in the long run in our companies. Workspaces are adapted to the new labor realities and no longer only respond to an aesthetic question or fashion, but appear as a consequence to new needs and ways of understanding work. So let's see what are the trends 2024-2025 for modern offices that are stepping into the world of offices.
These are the offices trends 2024-2025
1. Offices trends 2024-2025: increasingly technological offices
Can you imagine a table that recharges the battery of your mobile phone just by supporting it on the surface? The offices of the future are becoming more real and little by little they become the offices of the present.
Technology grows by leaps and bounds and of course, this also affects our way of working. Mobile phones, tablets, social networks and other technological inventions are part of our day to day and increasingly, they become fundamental pieces of the work environment. Due to this new reality, little by little the offices of the world are adapting and incorporate furniture that integrates technological elements such as screens and other tools that make our work easier.
The trends 2024-2025 offices bring us technological tools that allow us to hold virtual meetings from different parts of the world or even large extra-thin screens that allow presentations with total comfort… Knowing each of the latest developments is essential to, for example, choose a suitable desk. Without giving us barely any account, new technologies increasingly influence our way of working and become indispensable for day to day, this leads us, inevitably, to more and more technological offices.
2. Offices with more flexible and multifunctional spaces
Another trend 2024-2025 offices that we will see more and more are multifunctional spaces. Small and versatile rooms that adapt to the needs of each moment. From rooms where small informal meetings, interviews, spaces to find concentration, have a coffee… these multifunction spaces are transformed depending on the needs of each moment.
Little by little, in the offices, the fixed work position no longer prevails, but rather, it tends more and more to create multipurpose spaces where workers can move according to the moment or the task they are carrying out. It is also done to encourage communication between departments and the flow of ideas.
3. Dark colors dress office furniture
Another trend that is definitely going strong this season are the dark colors in the furniture. Both wood and smooth tones are passed to the fashion of dark colors for office furniture. The lighter shades that have undoubtedly marked the last years are giving way to the dark ones. Dark furniture gives a more elegant look to the office.
4. The force of nature in the workspaces
Nature is also gaining ground in the world of offices. Vertical gardens, plants and green spaces add that breath of fresh air in the workspaces. More importance is given to creating pleasant spaces for workers in order to obtain a more efficient job. The offices with a small external connection are always more pleasant and allow people to concentrate better and generate a better environment.
From placing a small cactus on the desk to spectacular interior gardens that wear the green offices have become an element to take into account when designing workspaces. You can discover more in our article of office decoration with plants.
5. More and more leisure and relaxation spaces
To end the trends 2024-2025 offices we will see how some large companies, such as Google or Microsoft, have served as an example to many others that little by little include and are giving more and more importance to leisure and relaxation spaces allowing The workers take a break in their workday to resume it with even more energy when they return.
We find then companies that dedicate spaces for leisure with beautiful gardens, games rooms, cafes or spaces with really original environments that allow us to have fun. Rooms where we can have a coffee with a client or work at a given moment in a more attractive space in a more relaxed way. Bold colors and shapes previously unthinkable for offices or work spaces become a reality. Gone is the idea that work should be boring and serious and this leads us to offices where going to work becomes something motivating and fun also comes into play.
A new way of understanding work with more flexible schedules in which the results prevail over working hours, allow the idea of more versatile offices with spaces in which to disconnect and relax. Many are the 2024-2025 office trends that have come to stay. What trend is your favorite?
Office Furniture Trends 2025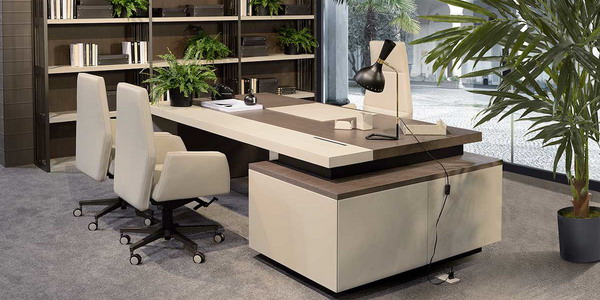 The concern with creating cozy offices, where employees feel welcomed and well received, is a trend in the area of office furniture . It has been growing in recent times and promises to continue rising in 2025.
Increasingly, companies have valued and sought ways to make their staff happy to go to work and not just think of the office as a boring and stressful place. After all, this is where people will spend most of their day and being comfortable with it has a highly positive influence on productivity. That is, both gain company and employees.
Following the trend of creating more relaxed environments, like big tech companies like Google and Facebook, this promises to be one of the demands of office furniture this year. Check out more about the trends in this area, maybe this is not the opportunity to give a new look to your company?
Technology in office furniture
Tables, workstations, and work platforms that feature USB ports, outlets, and cabling-facilitating structures continue to be a strong trend in 2025. We live in a digital age where we need to offer a dynamic workspace with office furniture. that helps in the use of technologies and devices present in our daily lives.
This is important not only for employees, but also for welcoming their customers at meetings, for example. Having a desk where you can easily put your phone, tablet or notebook to carry demonstrates that the company is up to date and is concerned about maintaining a well-equipped space.
Work Platforms
Creating collaborative workspaces that foster greater interaction between employees is another trend that is reflected in office furniture. Using work platforms to facilitate this interaction is an interesting solution for many large, small, and medium businesses.
Unlike separate office desks, they give you the feel of a more organic, integrated and dynamic environment. To assist in the organization of this workspace, it is possible to install small partitions according to the specific needs of the company.
Retractable Office Furniture trends 2025
Demand for multifunctional spaces, where staff meetings and training can be held, for example, makes the demand for retractable furniture large.
This is the case with folding tables, with the folding top they facilitate quick changes in the layout of the environment, save space when storing and can be snapped together. This is a great solution for small businesses with smaller offices.
Organic Design Tables
Another trend of office furniture for 2025 is tables that have a rounded shape design, with curves that give the feeling of a more organic space of movement. This style of design comes in tandem with this quest to create office environments that are less cool and more welcoming.
Use of light colors in office furniture
Following the trend of creating harmonic and receptive environments , the use of colors that add lightness to the space, such as neutral tones and pastels, is on the rise. Using vibrant colors as a feature to make the office happier remains an option, but instead of using darker colors, the tip is to opt for lighter shades.
They can be used in the office furniture itself or be inserted into decorative objects. Light shades of green and blue are interesting alternatives. Another option is Living Coral, chosen by Pantone as the 2025 color, it is described as vibrant and soft at the same time and will help make the office look more modern.
Wood mixed metal office furniture
The style of industrial decoration has also gained strength in recent times and can be seen in the environment design of various companies. It is characterized by mixing rustic materials such as wood with metal items and the use of neutral tones such as gray and beige. Office furniture such as wood-topped work platforms and metal feet is all about this trend.
Ergonomic Office Furniture trends 2025
Prioritizing the use of ergonomic office furniture that offers comfort and aids the well-being and health of your staff is not simply a trend but a fundamental one. Increasingly, companies are becoming aware of the need to take care of employee health, and by investing in ergonomic office furniture, you do so.
This is a way to keep your team from developing back problems in the future, and to increase their performance and productivity. Analyze the specific needs of your team and choose office furniture that fits them and is of good quality.
Office Decorating Trends 2025: 5 Tips To Apply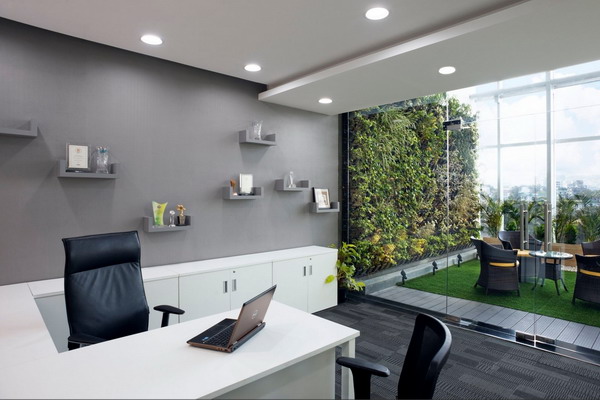 The well-being of people in office environments is one of the factors that contribute to increased satisfaction, productivity and health. With this in mind, office decoration is one of the means used to achieve these goals.
Small, enclosed, individual cubicles are making room for large, connected environments that foster collaboration between teams.
To assist you in the mission of transforming your environment, we have separated these 5 office decorating tips that are becoming a trend in the office world.
1. Dynamic And Flexible Spaces
Office decoration should not only make your environment more beautiful and cozy, but also make it a high-productivity place with flexible and dynamic spaces.
For this the environment should seem as restrictive as possible (open and airy), with differentiated furniture that stimulate creativity. Spaces for relaxation and work can exist side by side, which invites employees to feel more comfortable.
Lightweight furniture that can be reconfigured more easily helps to convey the concept. A good example is environments with comfortable armchairs or sofas and beanbags that allow them to be used to perform tasks.
2. Natural Design
In this case, the concept is already clear in the name. Green can be taken as the base color in decoration, plants can take care of the environment, and plenty of natural light can be harnessed through the windows and ventilation.
Organic, nature-inspired lines, as well as natural materials like fiber and leather, help make up the design.
This trend is widely used in large centers where nature is difficult to access. Natural or even artificial plants bring a sense of calm, focus and energy.
3. Technological Integration
Technology is present in our lives, and in the office cannot be different. With a technologically positive office setting, your employees work smarter and faster.
To provide this technological environment, the tip is to invest in large screens or projectors with easy connection to various devices, with wireless connections, tables with sockets, minimalist furniture. Glass and metal help to compose the look of the environment.
The key is to make it easier for people to better communicate, contribute, and manage tasks and projects. By providing the right environment, everything flows better.
4. Personal Inspiration
The idea of this office decoration is to bring a little of the warmth of one's home into the office. Allowing people to introduce a little of their personal profile into the decor brings a greater sense of comfort.
For example, provide picture frames for employees to fill in with their good times. Bringing a home object is also worthwhile: personalizing the desk is up to you.
This helps people feel more willing to go to work every day and meet their goals.
5. What Type Of Office Decoration Should I Use?
Do not just think about aesthetics. Take time to reflect on the culture, values, and processes that define your business and bring it to the office decor.
Therefore the right choice of furniture and equipment in the company will contribute to potential future changes. As well as priorities and business strategies. Already for employees means having a flexible environment, prepared and designed for their welfare.
There are numerous variables in office decoration that can help you achieve your goals and develop well-being. With this information you are better able to create a workspace that can deliver great results.
And don't forget that here at indecortrends you will find a wide variety of office furniture, designed and at the best prices. We have the most varied styles for your type of business. Come visit or request a quote for the site.
As you can see, the world of the office is evolving along with new work needs. The incorporation of technology and the emergence of new needs within the workplace, little by little take shape and is introduced into the office awareness of designing cozy, fun and colorful spaces. We hope you liked this office trends article. Which one did you like the most? Are you going to introduce some trend in the office? Thank you very much for reading and until next week!