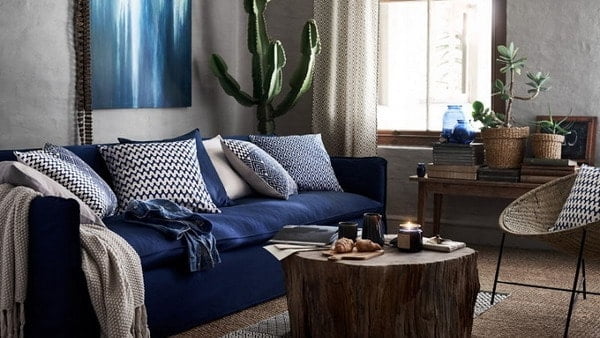 You may think that there is still much left for the arrival of 2025, but the truth is that the end of the year is just around the corner. In fact, before you want to realize you will be decorating your home for Christmas. That is why it is time for you to get up to date on the trends that will succeed next year, and not only in terms of styles and materials, but also in colors that, as you know, influence both the perception of space as in the mood. Therefore, we must choose carefully.
If next year you plan to renovate your home, redecorate it or give a new touch to a room, today we will talk about some of the colors that will succeed in decoration next year. Of course, remember that when it comes to decorating your home you do not have to let yourself be guided by the trends of the moment. Would you like to join us?
Color trends in interior decoration 2025
White
How could it be otherwise, let's start talking about white, a color that, in reality, never goes out of style. Therefore, it is always a safe bet both to paint the walls and furniture. Of course, you can also choose this color for textiles and decorative objects, especially if you opt for a Nordic or minimalist decoration.
One of the great advantages of white is that it combines perfectly with any color. In addition, it is bright and expands the spaces visually.
Gray
Another neutral color that will continue to triumph next year is gray, which brings elegance and sophistication to the rooms. Also, being timeless like white, it never goes out of style. On the other hand, you must take into account that it is also versatile, so it fits in any decorative style and combines perfectly with all kinds of colors.
It is important to bear in mind that gray is mostly combined with white and with the tones provided by wood. In fact, in the market you will find many furniture that combine gray with the warm material par excellence.
Black
Of course, we must also talk about black, which above all will be combined with white. Actually, the black-white binomial is always in fashion, so it's an almost certain bet. In this sense, it is important to bear in mind that this combination is ideal for minimalist and modern environments, but also for rooms decorated in the Nordic style.
We want to highlight the black furniture, which seems to be the next year will gain prominence, like the walls in this color. If you opt for this option, we recommend you take a look at our article " Tips and ideas to decorate with black walls ".
Cream
Another color that will be very successful in 2025 will be beige or cream, which provides the same advantages as white, that is, it is bright and expands the spaces visually. Of course, it is a color less cold and cozier. Therefore, it is perfect for all seasons of the year, including autumn and winter.
Although the cream tones combine with many colors, you should know that next year they will be mixed with the brown. Thanks to this combination you will achieve tremendously warm spaces.
Green
If, like us, you are passionate about the world of decoration, you will know that green has triumphed this year. And much of the blame lies with Pantone, who chose the Greenery as the color of 2017. Undoubtedly, one of the best ways to introduce green into the home is through plants, which you already know that provide us with numerous benefits.
It is important to keep in mind that in 2025, intense and dark greens will take over, although shades such as emerald will also play a leading role.
Pink
Another color that this year has had prominence and will continue to triumph in 2025 will be the rose, especially in its softer versions. Ideal to give a feminine touch to any environment, this color is optimistic and very cheerful, so it seems ideal for any environment.
Although pink combines with different colors, we especially like how it is combined with white.
Red
Red will also be very fashionable next year. However, you already know that you have to be very careful when using this color, as it can convey a feeling of aggression.
One of the great advantages of red is that it brings warmth to the rooms. Therefore, we recommend that you use it during autumn and winter, for example, from cushions and rugs.
Indigo
Next year the blues will also have a lot of prominence. And although the clearest versions will continue to be successful, it seems that it will be the indigo tone that triumphs the most. It is important that you bear in mind that this tone agglutinates under its denomination dark and deep varieties of blue.
Although blues convey relaxation, it is best not to overdo the use of darker versions in rooms with a few square meters, as the space may seem smaller and less luminous than it actually is.
Copper
Finally, we should talk about the copper tones, which have also been very successful during these last months. Logically, the best way to introduce this color in your home is through accessories and copper decorative objects.
We must recognize that above all we like lamps in this material, which you can easily find in the market.