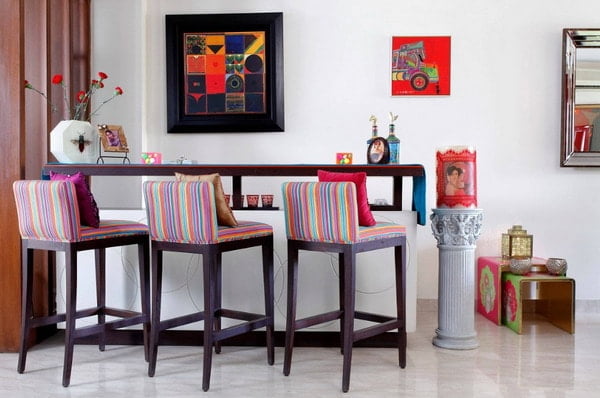 In 2024, it remains in vogue in interior decor to give preference to your tastes, rather than chasing trends. In retro fashion, a little chaos, handmade things. To make your home your place of strength and relaxation – create design not with trends, but with the help of them. The trend is natural materials, smart furniture, retro and antique items. At the same time, chaos and theatricality come to replace minimalism.
Environmental friendliness in the interior
In 2024, the so-called "new veganism" comes into fashion – this is environmental friendliness. When creating the interior, preference will be given to biodegradable materials, non-toxic finishes, and packaging that is easy to recycle. The ecotrend will make a big change in the decoration and layout of the premises, as well as in design projects. In 2024, food processors in sinks, furniture made from easily recyclable materials, non-toxic paint and all kinds of water pipe filters will gain great popularity. Of course, in the description it doesn't sound very nice, at the same time, all eco-friendly items in the interior look great. If you want to leave an ecological footprint, be sure to transplant your indoor flowers from plastic pots to clay pots, buy a dishwasher and install economy light bulbs.
Theatrical interior
In 2024, the so-called theater interior will replace the popular minimalist interior. When creating this interior, the homeowner gives preference to his own interests, to the creation of his own philosophy of housing. The homeowner violates all the previously established composition rules. Are you used to symmetry and completeness? So theater design is not for you. The interior with a theatrical character is saturated with its incompleteness, small chaos of creativity. There is a feeling that the repair was not completed: they did not finish painting, they did not putty. This decor will be complemented by beautiful vintage light, restored elegant furniture. All these incongruous things create a combined scene.
Japanese style and design
Japandi is not just a style of room design, it is a real philosophy. This decor style combines the Japanese spirit of wabi-sabi and the minimalism of Scandinavia. This style finds perfection in imperfection. If you like color and rich interior design, this style is not for you. It is expressed in traditional decor, consists of natural elements. The interiors in this style are quite spectacular, minimalistic, functional and simple. In apartments with this design, all things are in place, there is nothing superfluous and unnecessary for the interior. Preference should be given to furniture made from high quality natural materials.
Natural texture in decor
Previously, "cold" and "dry" interiors were in fashion. These interiors looked spectacular on TV screens, in the photo, but it was not comfortable to live in such rooms. In 2024, this minimalism is moving towards "spirituality". The preference for this decor of apartments is "decor that has not been touched by a human hand." The decoration uses natural materials. All this brings man closer to nature. Use as much organic matter as possible in the decor of apartments and houses. When decorating walls, choose clay and natural stone, when upholstering furniture, choose wool, natural cotton and velvet, decorate the room with handmade elements. Natural decor will make the room cozy and warm, filled with tranquility.
Monochromatic decor
Decoration in muted colors will gain popularity in 2024. It will make the interior of your home memorable. Such an interior can be either in one shade or in several shades of the main color, while the shapes and textures create an interesting and memorable space.
Monochrome decor creates a balanced and calm atmosphere in the room. Monochrome is very popular in bathroom and kitchen design today.
Warm colors in the interior
The interior decoration 2024 in the color of spices, namely in warm pinks and browns. It is best to combine such shades with white or black walls, floors or ceilings. All this will give the decor layering, depth and thoughtfulness. The decor in such colors looks great in the form of weaving from cattail, reeds, rattan and jute. Coarse fabrics, raw surfaces, casual materials will also remain popular.
Roundings
Designers are very fond of creating things with streamlined, rounded shapes that resemble drops. Such forms are very often used in the creation of furniture, the form of doors and arches, flowing lamps. Rounded corners symbolize home harmony and comfort, affect the subconscious and give a good mood.
Transparency in decor
Tempered glass partitions, furniture – all this has gained immense popularity in 2024. When using these things in a small room, you can zone the space and leave a lot of lightness and "air". Furnish the room with furniture, but do not "weight" it.
Emotional Design
If you want more emotions – fill the house with things that are dear to your heart. This trend is suitable for those people who like to bring plates, towels, magnets, copies of pyramids from their travels. Let it even be a collection of records, framed notes, garlands of white cranes, children's drawings. It is important that all these items in your interior will make you warm emotions and smile.
No matter how quickly fashion changes, even in the decor of the premises, give preference only to those things that will cheer you up and give you strength. Remember: "Your home is your castle."