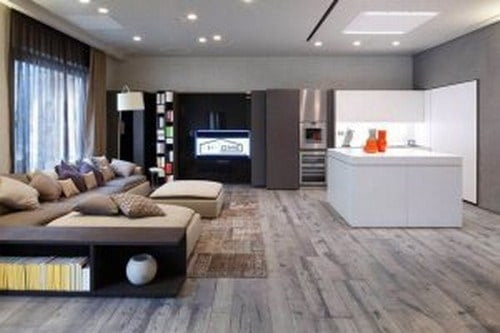 High-tech style interior trends 2025; First you need to figure out where such an exotic name for the style came from. If we literally translate the phrase "hi-tech" from English, we get "high (modern) technology", which is certainly associated with computers, electronic storage media and storage devices, electronic devices and gadgets that simplify a person's daily life. The image of this style began to take shape at the end of the 20th century. The most important feature to which this style of high is committed, distinguishing it from other areas – functionality, reliability and the complete absence of any decor.
Key and style features of high-tech interior trends 2025
In its current form, the hi-tech style is a bit chilly and dry, but it looks pretty stylish and modern. Its appearance is inextricably linked with architecture, which is why it does not have clear and strict boundaries. The use of the latest technology, as well as the diversity and luxury of finishing materials, make this style truly unique in its kind. This is what helps modern designers to create unique and unusual interiors that amaze with their sophistication and beauty.
The current home space provides for the fusion of modern technology and the ancient antique principles of "Convenience. Beauty. Benefit". The functionality of the space lies in the effective use of each square meter.
However, at the same time, it is very important not to forget about the aesthetic side of the issue, because even the most "stuffed" with electronic devices home, but devoid of "charm" is unlikely to help enjoy this interior.
It is no coincidence that the unique style of the future is so beloved by many designers involved in the development of projects for modern interiors. Indeed, the beauty and functionality that this interior design carries is more suitable than others to create a harmonious and free space for a comfortable life.
"Hi-tech" represents all the most modern and innovative, which has achieved and came up with humanity. Yes, there is no soft light, enveloping fabrics, light patterns and calm tones, but it has its own aesthetics. Aesthetics of cold surfaces, practicality, brilliance, as well as neon light, which is often the only source of lighting for some rooms.
Inimitable living room design trends 2025
When decorating a living room in high-tech style, a huge number of modern and traditional finishing materials are used: metal, plastic, brick, glass, wood, stone, concrete, gypsum, composites, polymers. Everything is permissible here. There are no restrictions in style.
A dynamic and original style finds inspiration in absolutely all materials, measuredly transferring them to walls and glare of cold surfaces. At the same time, the  interior of the high-tech style living room  should have a sufficiently functional and practical design, where each thing has its own purpose.
The presence of an ergonomic coffee table and a comfortable, repeating contours of your body sofa or soft chair, is an integral attribute of a modern high-tech living room. There are practically no accessories and parts in the interior, but their absence is fully compensated by the play of light, the luster of metal surfaces and chrome parts.
High-tech style is inextricably linked with other areas in the interior, such as minimalism and futurism. All three styles have a lot in common, so it's easy enough to mix them up.
If we talk about the furniture of the living room, then it is important how harmoniously it will fit into the overall interior. It is appropriate to use light shades with shiny, glossy surfaces. Perfectly invisible closet walls and bedside tables, which inconspicuously dissolve in the interior of your room.
A small part of the decor (coffee table, shelves) can be made of high-impact glass or plastic combined with chrome, while upholstered furniture should mainly be decorated in monotonous colors (mostly light). Both fabric and leather can be used as upholstery material.
Graceful bedroom decorating styles 2025
Hi-tech – flexible and flexible style. It is developing along with the world of information technology. Recently, a fusion of high technology and nature has been observed, which has led to the emergence of a new interior direction in the design of the living space "bio hi-tech". The former angularity and sharpness of the lines gives way to the smooth outlines and soft forms inherent in everything natural and natural. Beds, tables, chairs, sofas, tables and cabinets are created according to the natural principle: maximum benefit and ergonomics.
The high-tech interior looks not only graceful and elegant, but also functional. For its decoration, only high-quality materials of mainly natural origin are used.
For flooring, parquet or laminate with a small decorative rug having a long pile is best suited. It is important to remember that it is better to give preference to calm, bed tones that do not hurt the eyes.
Beautiful kitchen decor style trends 2025
Despite its extravagant design, this style is suitable not only for bedrooms and living rooms, whose sizes, one way or another, make it possible to functionally and conveniently design the space, but also for other small rooms in the house, such as an entrance hall, bathroom or kitchen.
The main distinguishing feature of a high-tech kitchen is the maximum ergonomic use of free space. Starting from the eating area, ending with the installation site of the built-in refrigerator or microwave.
Ergonomics includes knowledge of psychology, color therapy, physiology and design, therefore it has long become a separate scientific field, the study and development of which is carried out by specialists, conducting various scientific studies in order to identify maximum comfort and minimize labor costs.
Ergonomics should be in everything:
In a comfortable chair, on which the back does not get tired, the spine is free of stress and oxygen has free access to all organs;
In a convenient table on which all your favorite dishes are placed;
In the decorative components that stimulate and activate the necessary parts of the brain, they relax and soothe, inspire and guide.
Luxury bathroom style 2025
If you strictly follow all the rules inherent in this style when decorating, the result will be simply amazing. You will receive not only a comfortable and convenient bath, but also a beautiful design with many different functions. High-tech direction is designed to create harmony and improve the living conditions of a person as a whole. It allows you to seamlessly combine its intrinsic subtlety and grace in one piece, so that the interior of the bathroom is original and fresh. From all this we can conclude that this style is suitable for any age, despite the fact that the use of high technology in it is considered the prerogative of the young.
For walls, it is better to use monophonic tiles of large sizes. It will look good in beige, white and gray colors. Colors can be combined with each other or used as a finishing material instead of tiles, something else, such as natural wood or its imitation. For the flooring is best suitable self-leveling floor with heating.
In addition to the interior, shades of blue, light green and turquoise can serve. Remember that a high-tech design really appreciates the right combination of free space and lighting.
Of course, electronic devices and gadgets that simplify daily activities make life easier. But do not forget about the spiritual component of man.
All these bright accents and other decorative elements affecting our psycho-emotional state should in no way interfere with a calm and measured life.