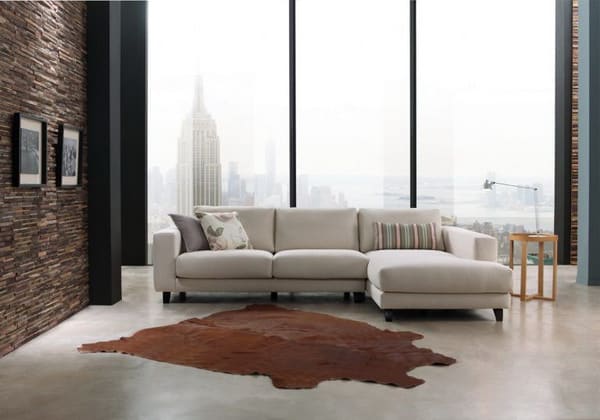 It seems that it was yesterday when we gave our house the welcome 2022 and in little more than a month we will be receiving with open arms, our best clothes and maybe a cup of more to 2023. So the best thing is to be prepared so that we do not get caught bull if we plan to move or give a new look to our home, following the trends of the new season, and do not know where to start.
Therefore, we have compiled an advance of the trends that will triumph in 2023.
Styles: Scandinavians wipe out again
When we talk about the fundamentals in decoration, we can not look away from the Scandinavian style. This style is like the sailor pattern, it never goes out of style and year after year it is still one of the strongest trends. 2023 is not going to be an exception, but it will not be the only style that will make us lose our heads. Older styles come stomping, like minimalism. Who has not ever thought that less is more?
Although if you like to travel to other times through decoration, you are lucky because the vintage style is back. Of course, you will have to find a balance between the retro elements and the more modern ones if you want to be up to date.
Colors: the beauty of the subtle
Just as there are styles that never die, no matter what season of the year, white is always a trend. In addition to making the spaces visually wider, it gives us luminosity and elegance. But it is not the only tone that will conquer us this 2023, the grays and earth tones will be its main allies.
To give more color and life to the muted tones, the pink will also be one of the trends of the new year, but in the softest tones. We must bear in mind that when we talk about colors, what today is a trend, tomorrow may not be. That is why it is recommended that when betting on a color that is not a basic color, as is the case with pink, do it with decorative accessories that you can change when they are not fashionable.
Finally, if you like to mix colors, these two combinations will devastate: the black-white binomial -always in fashion- and green and gold.
Materials
The little fashion materials will change this year, nature, especially wood, will continue to reign, although the cork will also give something to talk about. As for metal, the popularity of copper will begin to wobble to make way for brass and silver plated metals. Finally, the details of ceramic and glass will also sweep this new year.
Diaphanous spaces vs cozy spaces
In order to fit the big furniture we talked about, we needed very spacious rooms. The cozy and reduced spaces have gone out of fashion to make way for the diaphanous. For houses that have a few meters, the ideal is to join different rooms, such as the kitchen and dining room or lounge.
Although, that the trend is large spaces, does not detract from the intimate spaces of the house, which will also be a trend. It is the combination of the two tendencies that will be the perfect balance. To do this, the ideal is to divide the diaphanous spaces into small areas with different elements.
Furniture
Once we know the style that we are going to continue to decorate, it is necessary to get into it and in this task the furniture plays a fundamental role. When we begin the year, we do it full of dreams, big dreams, because with the furniture it will be the same. The trend will be large furniture, as they will bring a touch of elegance to the room, yes, make sure you have enough meters for such sizes or the effect you will get will be the opposite.
As fashion is not at odds with comfort and functionality, simple and functional furniture with straight lines will be one of the most useful trends. As a distinctive touch we remember that metal is a trend and that this can be applied to furniture, which together with dark wood will be the big winners.
Recycling
2023 comes very green and supports a type of sustainable decoration. It is good that we want to keep our house to the last, but if we also do recycling and taking full advantage of old furniture and other materials, the planet will appreciate it. This year there will be a tendency for hand-made decorative elements, handcrafted pieces and furniture made with recycled materials.
Walls
Last but not least, you have to think about how to decorate the walls, which are often forgotten. This year it will be a trend to decorate them with wallpaper or vinyl, making our gaze go to them when we enter the room. If you have a family vein and retailer or more artist, you can decorate them with original photo frames or pictures.
If you want to know more about the trends of next 2023, come to indecortrends. Find nearest store and we will advise you…