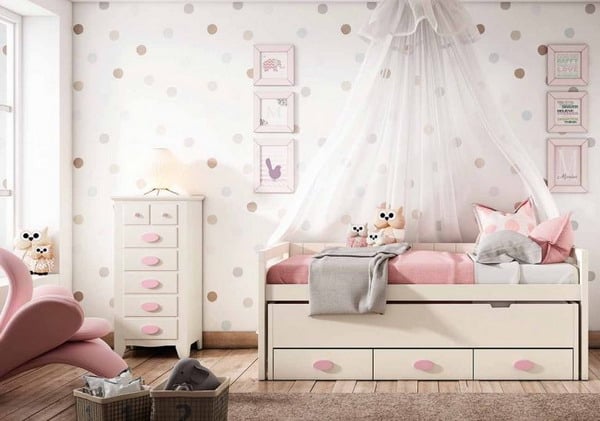 One of the most difficult spaces to decorate when we start a reform at home is the children's room. In general, parents want to surprise their children with the decoration of their new room, creating at the same time a space where the little ones feel comfortable and at ease. What are the trends in children's decoration that succeed in 2023? Today we tell you, so that the children's room is in the latest fashion.
When we get down to work, we see that there are a lot of possibilities in terms of decoration for children's spaces, so we may find it difficult to find the design we want. Today in indecortrends, we tell you what are the trends in children's decoration that will make the children's room the ideal place.
Decoration by themes
A bedroom for children is a space where playing, dreaming and enjoying will become the three main activities. Your room is a reflection of your tastes and your personality, therefore, we must decorate the space according to your tastes, so that it becomes your little world. If your child likes cars, we can set the room around this theme by choosing a bed in the shape of a car, a carpet with racing drawings and placing different stickers on the walls. And if the little one in the house is a lover of animals, we can add vinyl on the walls with different animals that will give a cheerful touch to the space.
Neutral colors
Before, the normal thing was to paint the children's room in blue or pink, depending on the sex of the baby but that now has been left behind. Blue and pink have disappeared to make way for neutral tones such as beige, sand or white. It is increasingly common to find rooms entirely in white or beige with small strokes of color in green, yellow, blue or pink; that will give a cheerful and striking touch. We can also choose to paper the walls with vinyl or original sheets according to the taste of children.
Functionality and design
Although the aesthetics and decoration of a children's room is important, the functionality and design of it is even more important. Parents prefer that a child's space be a comfortable, practical place that is easy to clean and maintain. A good option is to choose an expandable bed that increases as the child grows or a litter that allows two children to sleep in the same room. In this way we will not recharge the space and unburden the room. And if we do not have much space, we can place a bed embedded in the wall, which during the day we can pick up like a closet. Another good idea is a trundle bed, since we will save space and we will have an extra space to receive visitors. In addition, this type of beds can be converted into a sofa during the day by placing stuffed animals and cushions. One of the best trends in children's decoration!
Customize the space
Customizing the space is essential for children to feel comfortable in their room because, if we only decorate the room without giving it our personal touch, we will get a cold and unwelcoming space. To avoid this, we can place photographs or drawings made by our son; we can do it ourselves in a simple way, with a rope and decorated clothespins we can hang all those important images for the little one. Another option is to personalize the room by placing children's sheets. What triumphs most are those with simple lines, drawings of animals or vegetables in pastel colors that combine with the base color of the room.
Nature and geometry
Small touches of natural wood in contrast to the rest of the furniture and the light walls along with a small plant, will be a perfect idea to bring nature closer to the children's room. We can also place different textiles of natural fabrics with different textures that add a touch of color to the space. In addition, geometric shapes are also one of the trends in children's decoration: patterns and repetitive patterns appear in black or white and in more striking colors. They can be triangles, circles, rhombuses or clouds that can be found on both walls and textiles.
Less is more
This is one of the principles that commands decoration: less, more. It is always preferable to opt for spacious and little visually overloaded spaces both for adults and for children. If we have little space, we will choose to place few furniture and neutral colors to lighten and soften the space, creating a cozy atmosphere.
As you have already seen, it is not an easy task to know how to decorate the rooms of the smallest of the house. Therefore, we hope that our advice on trends in children's decoration have helped you. For more information, visit any of our stores and we will help you with your decorating process. Come and meet us!
Source: indecortrends.com