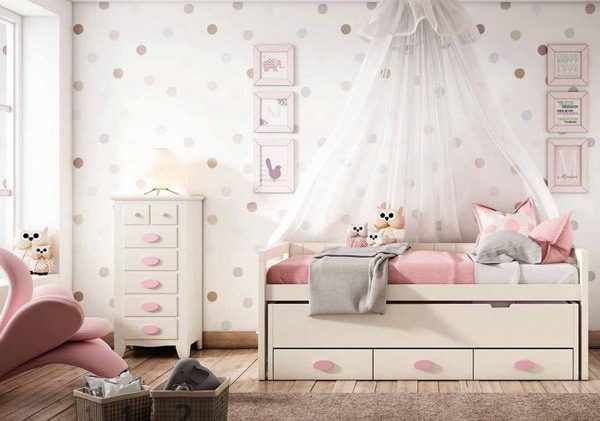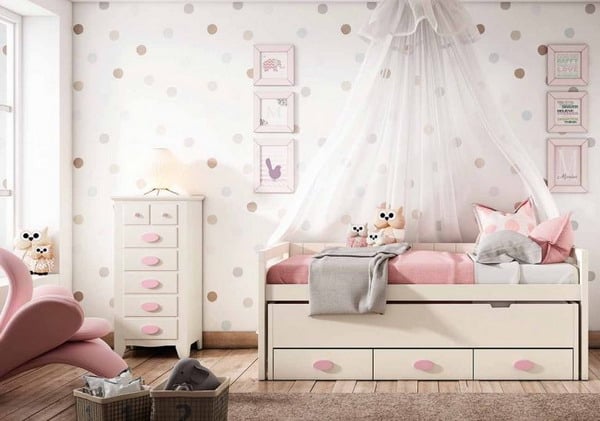 One of the most difficult spaces to decorate when we start a reform at home is the children's room. In general, parents want to surprise their children with the decoration of their new room, creating at the same time a space where the little ones feel comfortable and at ease. What are the trends in children's decoration that succeed in 2023? Today we tell you, so that the children's room is in the latest fashion.
When we get down to work, we see that there are a lot of possibilities in terms of decoration for children's spaces, so we may find it difficult to find the design we want. Today in indecortrends, we tell you what are the trends in children's decoration that will make the children's room the ideal place.
Decoration by themes
A bedroom for children is a space where playing, dreaming and enjoying will become the three main activities. Your room is a reflection of your tastes and your personality, therefore, we must decorate the space according to your tastes, so that it becomes your little world. If your child likes cars, we can set the room around this theme by choosing a bed in the shape of a car, a carpet with racing drawings and placing different stickers on the walls. And if the little one in the house is a lover of animals, we can add vinyl on the walls with different animals that will give a cheerful touch to the space.
Neutral colors
Before, the normal thing was to paint the children's room in blue or pink, depending on the sex of the baby but that now has been left behind. Blue and pink have disappeared to make way for neutral tones such as beige, sand or white. It is increasingly common to find rooms entirely in white or beige with small strokes of color in green, yellow, blue or pink; that will give a cheerful and striking touch. We can also choose to paper the walls with vinyl or original sheets according to the taste of children.
Functionality and design
Although the aesthetics and decoration of a children's room is important, the functionality and design of it is even more important. Parents prefer that a child's space be a comfortable, practical place that is easy to clean and maintain. A good option is to choose an expandable bed that increases as the child grows or a litter that allows two children to sleep in the same room. In this way we will not recharge the space and unburden the room. And if we do not have much space, we can place a bed embedded in the wall, which during the day we can pick up like a closet. Another good idea is a trundle bed, since we will save space and we will have an extra space to receive visitors. In addition, this type of beds can be converted into a sofa during the day by placing stuffed animals and cushions. One of the best trends in children's decoration!
Customize the space
Customizing the space is essential for children to feel comfortable in their room because, if we only decorate the room without giving it our personal touch, we will get a cold and unwelcoming space. To avoid this, we can place photographs or drawings made by our son; we can do it ourselves in a simple way, with a rope and decorated clothespins we can hang all those important images for the little one. Another option is to personalize the room by placing children's sheets. What triumphs most are those with simple lines, drawings of animals or vegetables in pastel colors that combine with the base color of the room.
Nature and geometry
Small touches of natural wood in contrast to the rest of the furniture and the light walls along with a small plant, will be a perfect idea to bring nature closer to the children's room. We can also place different textiles of natural fabrics with different textures that add a touch of color to the space. In addition, geometric shapes are also one of the trends in children's decoration: patterns and repetitive patterns appear in black or white and in more striking colors. They can be triangles, circles, rhombuses or clouds that can be found on both walls and textiles.
Less is more
This is one of the principles that commands decoration: less, more. It is always preferable to opt for spacious and little visually overloaded spaces both for adults and for children. If we have little space, we will choose to place few furniture and neutral colors to lighten and soften the space, creating a cozy atmosphere.
As you have already seen, it is not an easy task to know how to decorate the rooms of the smallest of the house. Therefore, we hope that our advice on trends in children's decoration have helped you. For more information, visit any of our stores and we will help you with your decorating process. Come and meet us!
Kids interior trends
If you are about to become a mother or you have just been one and you want to set up your baby's room with the latest materials, colors or decorative style so that, in addition to being functional, safe and cozy, it is modern and up-to-date, take note of the decoration trends 2023 for this room and choose the one that best suits both of them and the rest of the house.
The vintage style
If the Nordic or the minimalist (with Montessori as the header style) prevailed in children's rooms in recent years, this 2023 is committed to a 'vintage' decoration full of charm. To breathe that retro spirit into the baby's room, you can use vintage furniture or current designs that imitate them, such as a crib with carved bars, a round bed or a rocking horse, and accessories that have this air, such as a wicker mirror, a wicker cushion. velvet, an old trunk…
The 'boho' decoration
The 'boho ' style along with the ethnic one is one of the key trends for the year 2023 as far as children's rooms are concerned. A decoration that will conquer you from the first moment for its sweetness and its ability to dream, preferably asleep. To put it into practice, install a cozy and fluffy rug, multiply the patterns in the bedding, combine natural materials and add some details that invite you to travel and discover how a teepee, coat racks in the shape of wild animals or a mobile with airplanes, hot air balloons, a pouffe with ethnic motifs… A way to take your baby on a trip without leaving the room and to relax without the need for background music.
Natural fiber furniture
The natural thing has always been a trend in children's rooms, but this year is a real 'eco' revolution. Say goodbye to plastic and bet on furniture made with vegetable fibers such as wicker, rattan or even bamboo. These materials not only want to be warmer, but are also much more environmentally friendly (as long as you choose certified models). You can bet on a 'total look' with a wicker cradle, a cane sideboard, a bamboo trunk or a straw lamp, use them only in the main pieces or reserve them for accessories.
The 'transformer' pieces
Setting up the baby's room always involves a significant outlay. For this reason, it is necessary that you choose carefully and open the fan so as not to catch your fingers with a decoration that does not last long, goes out of style or is tiring in the first months. The 'transformer' furniture, with cribs that become beds or sofas or changing tables that are comfortable or desks, come ready for anything. "The first stage involves constant change, so you must invest in furniture that allows you to adapt to growth child, like our Tale convertible crib. Complete the decoration with neutral tones that convey harmony and calm, with which you will achieve a greater sensation of spaciousness and allow you to make the most of the light in the room.
Ecological and anti-allergic materials
Ecological and anti-allergenic materials are increasingly numerous in the collections of children's decoration brands. More than a decoration trend, we should talk about a real need, since in order for the child to enjoy a healthy environment, it is mandatory to choose furniture with natural varnishes, non-polluting paint (with lime, water…), natural dyes to dye the fabrics or even sustainable manufacturing certifications.
Furniture with capacity
The arrival of a baby brings with it a large amount of clothing and products (wipes, diapers, creams…) that you need to always have located, at hand and, if possible, without cluttering up the space with their presence. Aware of this, the furniture in the new children's rooms offers more storage capacity, to make your day-to-day easier, keeping everything in order. This implies introducing (and customizing) pieces from other rooms or from the bedrooms of the 'elderly', such as sideboards or bookcases.
Patterned wallpaper
Floral, geometric, jungle effect or animal prints, wallpapers are always in fashion in the baby's room, but this year they are essential. The most ideal thing is to paper a single wall and use it to delimit the different areas of the bedroom (rest area, game, changing room…). In order to guarantee a healthy space for your baby, opt for an 'A+ certified' wallpaper and use an ecological glue without solvents for its application.
The color taupe
As in the rest of the house, the taupe color has everything to succeed in a baby's bedroom. Soft and warm at the same time, this earth-inspired tone will be ideal for creating a cozy and calm environment. As it combines perfectly with white, wood and sober tones, you can easily use it on walls, bedding or accessories. A good idea is to use it on an accent wall, so you can enjoy its good decorative effects, without being too overwhelming.
Green in all its versions
Regarding the fashionable colors, the children's decoration collections give a privileged place to green. And the advantage of this hue over the classic blues or pinks is that it is a gender-neutral mixed color, and can be used in both a girl's and a boy's room. But that's not all, green also has calming benefits that will create a soft and comforting environment for your baby. Among the most current shades for babies' rooms, almond or sage stand out. You can use it on bedding, walls or furniture and combine different 'green' tones to enhance its decorative potential.
The 'gender neutral' decoration
The decoration for the baby's bedroom that comes breaks with the rule of for a boy or a girl, looking for a neutral territory where, regardless of the sex of your child, everyone can enjoy and feel at ease. Megan Markle has already applied it in the room of her first child and she has been joined by many celebrities. It is about removing labels and building a serene, friendly and not at all sappy space, with neutral colors and all kinds of toys.
Kids bedroom trends 2023
When we prepare the kid's room or focus on our boy or girl's bedroom, we do it with all the enthusiasm in the world. However, although in these cases our tastes and those of our children are a priority, you may be interested in knowing what is taking the most. Obviously, the smaller the child, the more opportunity we will have to leave everything to our liking. On the contrary, as they get older, they are the ones who decide many of the details. Would you like to know what are the kids bedroom trends 2023?
Kids murals
If there is something that catches our attention, it is the upward trend of large murals for kids bedrooms. The nature theme is, without a doubt, the one that inspires the most and the one that we can see the most in online stores and decoration magazines. Murals of plants, leaves and flowers are ideal to decorate one of the walls of the kids bedroom. Keep in mind that murals are usually quite visually heavy pieces, so it is convenient to include a neutral color palette in the rest of the room.
Wallpapers with floral motifs
A trend that we have been seeing this year and that seems to continue in 2023 is that of floral wallpapers. In slightly larger baby or kids bedrooms, they can give a very interesting touch to certain walls. Here the decorative patterns that prevail are large flowers, on a large scale. The interesting thing about this trend is that we can choose the type of flower and the color that best suits the rest of the decoration.
Trends in kids decoration: animal figures
Animals have always been a trend in kids bedrooms. Currently we see endless decorative touches with this theme, from stuffed animals, wallpapers to prints with animals. Now, in 2023 we are going to see a renewal of styles. A style that we already saw and that we really like, and it is about animals but within a more Nordic aesthetic.
Schematic illustrations, animals with almost childish lines, little definition and in small doses. Those stuffed animals that we liked so much are still present, but also in other types of accessories, from chairs to kids puffs.
High contrast rooms
High contrast rooms may seem more suitable for young people and adults, but the truth is that in kids decoration they are being quite accepted. It seeks to give dynamism and volume to the room by painting a wall in a much stronger and more vibrant color. A dark blue color, a powerful green or even a mustard yellow, to name a few examples. The truth is that creating an accent wall is nothing new, but we will see it a lot this coming year.
Black and white rooms
Do not panic! We know that black is a complicated color that we often associate with more sober decorations that have nothing to do with children. However, in kids bedrooms it works great.
And if we can combine it with white we will achieve an interesting contrast, at the same time that we will obtain clean, tender and very welcoming spaces. A black wall could go very well with white furniture to give more light, or with wood to add more warmth.
Gender neutral rooms
If there is a trend that we like, it is that of unisex or gender-neutral rooms. The concept of bedrooms for girls or bedrooms for boys is getting further and further away. Therefore, spaces that do not print a genre are opted for. We leave out colors like blue or pink to get into green, ocher or yellow palettes.
What do you think of these proposals? These are at least some of the kids bedroom trends 2023. We hope they will inspire you.
Source: indecortrends.com