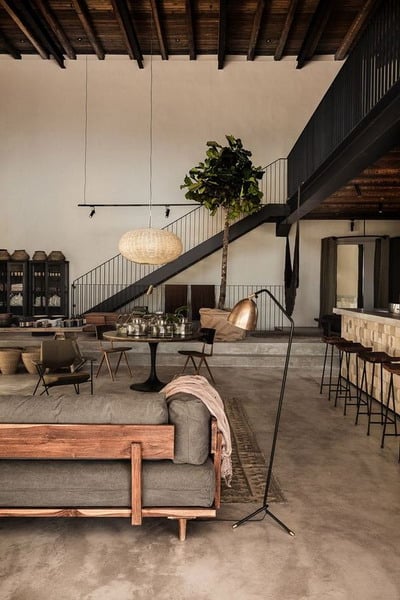 Today I want to share the best ideas and decoration details in the industrial style. The industrial style decoration is a relatively new option that little by little we see more everywhere. I will share some industrial style history, industrial style home, interior industrial style and many more details that I am sure you will love and you will see everything you can use this 2024 to decorate your home.
Industrial style decoration
The industrial style decoration is very related to the loft of New York and this relationship is not lost because of its origin, surely when you hear the industrial style come to mind the movie departments in New York, plus they relate with large windows, dark colors, the use of furniture and materials in metals such as iron, usually share open spaces and that is the essence of industrial decoration style. Do you like it? Well, keep reading, you'll fall in love!
The industrial style decoration you can try in any space of your home, from the decoration of the entrance to your house, the facade that would undoubtedly look very modern. You can also decorate your open spaces as living room – kitchen with this style and it would look amazing.
With this style your house will be more spacious, stand out a lot for the sober details that at the same time give a very chic touch.
As you can see this style can be combined with natural details such as wood, wicker and good lighting Your home will look like a magazine!
Industrial style living rooms
If you want to add this style to your living room it is super easy, you can achieve it with walls covered in brick, combinable with lamps and chairs in dark colors, itself with furniture.
You can add a warm lighting so that the tonalities of the details stand out.
As you can see the range of colors in any of the examples is very similar, look for a balance between the color and the details you add and dare with this style of decoration.
Industrial style kitchens
In the kitchen the open spaces are key, since there are no walls or dividers, use shelves instead of furniture or drawers, so you will give more emphasis to the natural since you will see all the things you store on your shelves. Without blocking the view.
These are some materials that you can use in decorating your kitchen and finishes in general.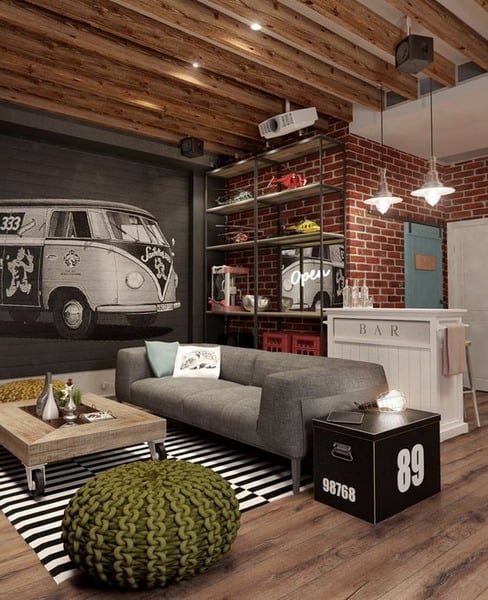 Your dining room should fulfill its main function but at the same time add details that give it the special touch of industrial style. Lean on metal objects, even the same table or chairs can help you with this.
Look for structural lamps that add points to the view of your dining room, wooden tables with metal chairs create a contrast of colors very flattering for this style of decoration.
Industrial style history
We started by talking a little about the industrial style that goes beyond what you can imagine, I will also mention a little of this industrial style and its origin.
The industrial style is increasingly becoming one of the most desired styles of decoration, which is related to sophistication and modernism at the present time. It is a style that was born in New York, because they were more popular to use loft to live, where the industrial details prevailed, such as brick walls, raw textures, metal views and beams that could be seen perfectly, etc.
The origin is related to this, that people who lived in these "lofts" instead of demolishing what was in the spaces they took as part of the decoration of their home Incredible not?
Interior industrial style
It can be considered as a very masculine style, but it is the same "aesthetic" that makes it look like that since it does not take care of the aspects that would normally be hidden in another style of decoration. It is a style of rock airs that are very much related to this by the colors that are normally used in their details that are dark colors, gray range as well as the use of metal structures and finishes.
Characteristics of industrial style
Finally, you have the industrial style characteristics ready which you have to complete so that your space is completely decorated with this style. Take note of these and seek to add them little by little to your home.
Sensation of enlargement at least visual, is that thanks to its open spaces it widens everything, avoids interruptions from one room to another for example between living room – dining room, you do not realize where one of the other begins or ends.
Respect original structures, if there are beams, columns, views with brick, etc., are taken as part of the decoration of the spaces.
It uses urban materials, such as iron, metals, exposed cement unpainted. All these elements are "raw" as if a structure were left halfway.
Large windows, this to allow more natural light, with metal finishes will complement the lighting and decoration of your home.
Use sober colors, the most used are black, range of gray, etc.