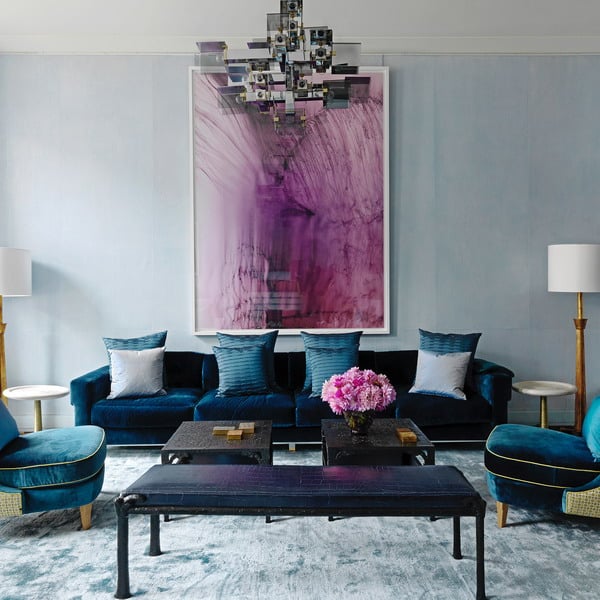 Today you will get to know the best decoration ideas that we can steal from experts, based on the contributions made by the best 10 interior decorators in the world, including: Kelly Wearstle, Peter Marino, David Collins Studio, Marcel Wanders, Kelly Hoppen, Philippe Starck, Rockwell Group, Victoria Hagan Interiors, Marble Radziner and Jean-Louis Deniot.
The interior design evolves as the years go both in the field of architecture, as in household decoration… Justo, is due to the latter two points, so the interior is to become a favorite specialty many people, who prepare themselves in order to advise families to convert simple homes, into beautiful striking homes, which not only tend to be very well decorated, but also organized. Today, we have come up with the idea of talking about decorating ideas that we can steal from experts, to decorate our home, as it is, a professional would do.
Ideas of decoration that we can steal from the experts
So get ready, because we have compiled the best images of Home Decoration, made by experts in the subject… To start inspiring you, I advise you to enter the next gallery and take as a starting point, decorations by Kelly Hoppen, David Collins Studio or Peter Marino, to mention only some of the interior designers, with more style and success in our days.
The decorating Ideas that we can steal from the experts, will allow us to make each area, each room and space of our home, look in balance, with tone and brightness. From the choice of materials, to the furniture that will be part of the decoration; every minimal detail counts to recreate the final design, according to the experts.
Decoration ideas that we can steal from the experts
Architecture and Interior Design, are not static professions, because styles tend to evolve, technologies advance and challenges drive… Indoor Decoration Course, shares today, an article full of style, with decorating ideas that we can steal from the experts; taking as reference the Top Ten of the best interior designers, whose imaginative and intelligent work will inspire us.
Interior Design or Decoration, is not a simple task, in fact, it is somewhat complicated, because there are many factors that influence the process… Its magic lies in that we can convert a common space into a whole work of art, however, we know that not everyone has this gift… But perhaps, if we have a source of inspiration to choose colors, tapestries, curtains or blinds, furniture, accessories, lights and plants, to make everything look in total perfection, maybe the task of decorating our home, is not so complicated.
The 10 best interior designers in the world
Let's learn to decorate our home, taking as reference the 10 best interior designers in the world, who show us through their decorations like perfection and balance, conjugated with the extremely beautiful, it is possible, as long as you add to your home what necessary and eliminate everything that goes… The best thing is that the ideas include colors, shapes, styles and art in each of their designs. Know the names that have more weight in interior design.
Kelly Wearstler
Peter Marino
David Collins Studio
Marcel Wanders
Kelly Hoppen
Philippe Starck
Rockwell Group
Victoria Hagan Interiors
Marble Radziner
Jean-Louis Deniot
Victoria Hagan
Within the decorating Ideas that we can steal from the experts, this is the contribution of a renowned interior designer… Victoria Hagan, who is defined as an intelligent interior designer, who knows how to integrate the architecture of the space to the decoration in which she works with a very accurate use of colors, silhouettes and materials.
Rockwell Group
One more interior designer that is considered one of the 10 best in the world, is Rockwell Group, one of the largest studios in the world, made up of 250 interior decoration experts who work in the offices of New York, Madrid and Shanghai… Focus revolves through creating experiences with the spaces they design.
Peter Marino
Peter Marino, one of the 10 best Decorators or interior designers in the world; Dior's stores on Rodeo Drive and Soho are among his works… In Paris, he is credited with the decoration of the Guerlain store. Peter Marino mentions that one of the goals is to naturally integrate the architecture of a space with interior design.
Marmol Radziner
If we want Decorating ideas that we can steal from the experts, we can take as a reference the designs of Marmol Radziner, a studio located in Los Angeles and formed by Leo Marmol and Ron Radziner… They have projects in the world of interior design, from designs architecture to interior design, garden design, restoration and community projects.
Marcel Wanders
Marcel Wanders, a Dutch designer, who is dedicated to surprising his clients, creating emotions and therefore is one of the 10 favorites in the world. Considered by many as an anomaly in the world of interior design, Marcel has been able to create environments of love, live with passion and make the biggest and most exciting dreams become a reality… His work, provokes, excites, but never failure!
Kelly Wearstler
Kelly Wearstler, the Rockstar of Design!… And one of the 10 best Interior Decorators, that personally, I declare her fanatical. In addition to being the interior designer of the Viceroy and Tides hotels, she is a blogger and market expert. Famous for its distinctive designs and creations that generate sophistication to the environments, making them look extremely vibrant… This woman is a pioneer celebrity of Interior Design.
Kelly Hoppen
Kelly Hoppen one of the 10 best designers in the world, South African interior designer, who has published books on the subject and is characterized by the use of neutral tones such as beige or cream in their designs, based a little on the culture oriented to create spaces or harmonic environments. It is dedicated to decorate private residences, yachts and commercial projects.
Jean-Louis Deniot
Jean Louis Deniot, Parisian Decorator, who has earned the title of being one of the 10 best Interior Designers in the world. For this interior designer, rather than designing interiors, he creates atmospheres of spontaneity and magic where he always seeks to find the perfect balance between function and form, in order to create a sanctuary of comfort rather than a simple dwelling.
Apply each of the experts' techniques and create spaces as a professional Interior Designer !!