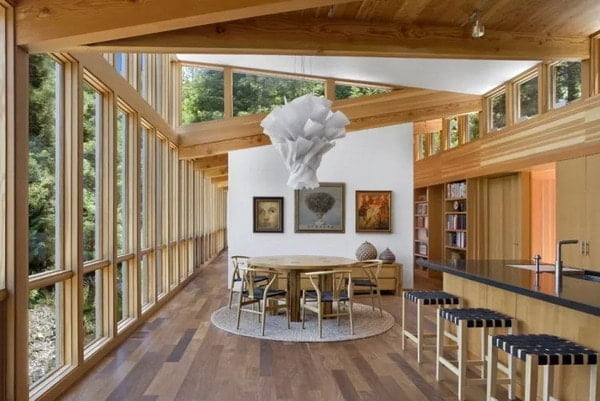 The new "decor" season dresses the house in colors and materials that connect us to nature, and in styles that make relaxation a modern value. But don't get me wrong, the sophistication and glamor don't leave us, they just show off a more relaxed version of what's called 'new luxury'. Choose from these 10 winter decor trends 2023-2024 the one that best suits you and your interior!
Top 10 winter decoration trends 2023-2024
Autumn has arrived and winter is knocking on the door. Cold but sunny days, comfy sweaters and earthy tones, it's a well-known set of characteristics that define this time and are in the spotlight, putting everyone in a rest mode.
Over the past periods, furniture brands, interior design magazines and numerous design experts, at trade fairs and communications, have defined the present and future of winter 2023-2024 decor trends. We have listed the most powerful of them for you, inspired by the advice of experts in the field. They will help you transform your space into an elegant, warm and modern home, which will scream the vibrations of winter.
Bring nature inside
It is always good to spruce up your home with charismatic natural elements. These will add an extra touch and bring your interior design closer to nature. This effect is to be obtained in particular with pieces in crystal and in wood.
The need for warm colors continues this winter, with rusty browns, warm greens, charcoal and terracotta. A heartwarming and welcoming interior design is exactly what you need for 2023 and 2024.
Warm, natural textiles inspired by global influences are another key factor that pairs perfectly with this season's earthy tones. By furnishing your dining room with a large wooden table and a clear crystal chandelier, you will obtain a space worthy of winter.
Minimalism is one of the major winter decoration trends 2023-2024
Inspired by iconic Nordic motifs, the Neo-Scandinavian style is a great alternative if you are not a fan of classicism or French baroque. This winter 2023-2024 trend sets the tone for a more bohemian look, through minimalist furniture and lighting.
Light up the house
It might sound a little trivial, but it's true: light makes a huge difference. Chandeliers are always a great way to make a statement. Lighting has become much more than a necessity and can now be the main piece of art in your residential interior project.
What do the winter 2023-2024 deco trends say about colors?
According to forecasters, there is a wide range of colors that promise to change the world of interiors. However, we have selected 3 main shades that will be found in all rooms.
Natural brown
As we said before, the trend of bringing nature indoors is here to stay. The brown color is comfortable, cozy, calming and versatile. It gives a traditional look to modern interiors.
Green quartz
Green is the new orange. This specific quartz shade imparts a sulphurous and luxurious vibe, and includes a visual sense of diamonds and pearls.
Tech blue
Can we bring the ocean home? Yes it's possible. Tech blue creates a clear statement. It is a fashionable shade that today has divine and timeless power.
Imperfect interior decoration
More than ever, bespoke creations are becoming popular. Handicrafts, handwork and pieces made in small batches are unique and natural. Organic materials such as wood are used to create furniture, and the imperfections that many of these pieces may have are accepted consciously and with pleasure.
Room dividers
This type of parting is more and more widespread, not only as a decorative fall / winter trend, but also in general. The partition walls and perforated piece separators are an excellent choice to define different functional areas without building walls between them, which keeps an open space concept.
Winter decoration trends 2023-2024: cannage
It made its hole in homes last year and it resists leaving us in 2024. So much so that we see it everywhere and in a multitude of rooms and objects: headboards, suspensions, cane furniture. Although it has a retro air, this material adapts as well to the country style as to the Scandinavian style or, even, to the bohemian one. A material without adaptation problem!
Golden elements
Among the top decorations of this season, we cannot miss the glimmers of gold metal. An elegant and refined material, gold is a good nod to the art deco style. It elevates side tables to centerpieces, adorns charming chairs and other seats, and showcases a ceiling light. Dare its presence in the interior without delay!
Living plants
More than a trend, it is a necessity: to surround yourself with vegetation to feel freer, healthier and more alive. In the same way that the coronavirus motivated the transfer from city centers to the outskirts (the purchase of single-family homes increased by 18% during these months), it also gave birth to the idea of living surrounded by plants, to make the house a friendlier and greener place. Remember to bet on species that keep the air clean and are easy to maintain.
Winter 2023-2024 decor trends highlight looped wool
If its wake was felt at the beginning of the year, it now occupies the front of the decorative scene. Without a doubt, this material is currently essential in cozy and warm interiors, with a "cocooning" soul. Soft to the touch, beyond blankets and cushions, loop pile wool can also cover seats or a sofa. Even if we love it in all colors, pure white has won us over for its elegance.