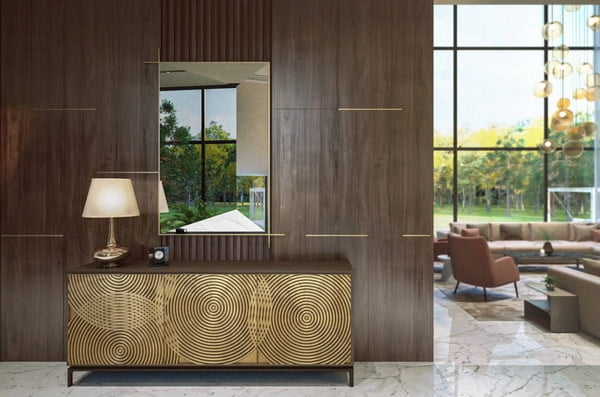 Very soon, 2021 will be replaced by a new one, and with it hot trends in design will change. Some of them can be predicted even now, based on current trends and conditions in the modern world.
This article will allow you to figure out what interior design trends will be relevant in year 2022.
1. Minimalism in the interior
Asceticism will become even more relevant. This is not just fashion, it is a whole philosophy that more and more people come to over time. Freedom and space have become the main trends of the outgoing year, and this year they will acquire the status of regulars. Multifunctionality will be all the rage. If you can make a comfortable bed out of a sofa, and then fold bedding into its space, then it is the best solution.
The theme is the same for bunk beds. If a second berth is not needed, you can put a table with a computer there, this is especially true for small apartments. Large double beds, filling the space of the entire room, will remain this year. Designers say their stylish "no" to them and confidently look to the future towards practicality and minimalism.
The comfort mentioned above is paramount. No more uncomfortable, but "luxurious" carved table legs, if they are constantly beaten against them by the little finger or the handles of cupboards in the shape of a vine, which clothes cling to every now and then. Only convenience – and let the whole world wait!
Also, don't forget about safety. This includes the aforementioned cabinet handles, as well as protruding table corners and cabinets hanging exactly at head level. Technological cabinets that open with a special mechanism with one light push will save you from handles. Round, streamlined design, shatterproof materials and stable construction. Taking care of yourself and your loved ones is what is really beautiful.
2. Mix of styles
Sometimes you want a simple human to stop trying to comply with the rules, to spit on everything and just do as you want yourself, and not as required by the regulations. A mixture of styles is born from this desire. This is a kind of cry from the soul of everyone who is tired of fitting into the framework. And who said that mixing different styles is bound to turn out badly?
And this trend is also associated with the philosophy of smart consumption. Old "unstable" things are not sent to the trash heap, but will be restored and reused. Perhaps even nothing will remain of their previous style, but a new one will be created that meets the requirements of eco-friendly.
This style is likely to become a new breath of eclecticism. This daring mix of styles will be very popular in the new year, because it has no boundaries and allows more than others. And it is also very economical, because if you can remake old things, why spend money on new ones?
This beauty, practicality and audacity , a youthful desire to do in their own way is inherent in all fans of eclecticism. They will get a real kick out of next year's trends.
3. Colors in the interior
The love of naturalness extends to the colors in the interior. Shades of brown, blue, gray, green and cream will be in fashion, expressing nature and cleanliness of environmental friendliness. There shouldn't be any unnatural or acid colors in 2022.
People have become ready for anything and if they suddenly have to sit at home for several months again, everyone will have their own personal sky, grass, forest and sand under their feet, thanks to natural vibrant shades and pastel colors that skillfully combine with each other. Such is the savvy.
White is again at the peak of popularity. As well as the eco-friendly Scandinavian style, which is passionate about this color. The light space will continue to give coziness, push apart the walls and give heights to the ceilings. You also need to take a closer look at the shades of green. In this color of grass and leaves, you can "dress" furniture or walls, or add live colors to a black and white interior. It goes well with the trendy 2022 natural materials, wood, tiles and stone.
4. Natural materials in the top
After self-isolation, everyone rushed into nature. Hug trees, plant potatoes and relax in the country. And you can also get closer to her with the help of environmentally friendly natural materials. Wood upholstery, stone countertops, linen curtains, and raw surfaces are increasingly appearing in interior design. In 2022, the excitement for naturalness, naturalness and naturalness will only last.
The decor is now green plants instead of vases and figurines. Many have even begun to enjoy the process of caring for them, replanting from a pot to a larger pot, and scheduling watering. Floriculture is now a real trend and a hobby of millions.
Eco-activists happily rub their hands : this trend concerns them first of all. They are joined by ordinary people who have begun to separate garbage and conscientious citizens, in whose countries such waste collection has become an obligation.
This garbage collection leads to the next step – recycling. Designers rethink previously used items and create new interior details from them. So, for example, there are chandeliers with shades, which were once metal cans for canned food, and curtains are made from old things, which are now collected even by many large clothing stores.
5. Texture and authenticity
There is nothing better than running your hand over a real oak countertop and feeling the roughness of the wood , touching the curtain to feel the texture of linen, and stepping on the heated bathroom floor – the ribbing of the stone. So the designers make another curtsy towards naturalness and leave no chance for other trends to win people's hearts. It is believed that in the modern world at the time of computerization and virtualization, people lack not only communication, but also a tactile component. I want something real, sincere and time-tested. So the need to feel something and pays off through natural materials and volumetric textures .
Here another trend appears, which will be expressed in the desire for ethnicity, real, living. For example, grandma's carpets will turn into light mats, and the tszor on bed linen refers to ancient runes.
Every year, the craving for the present, forgotten, but alive is intensifying more and more, and clay pots appear in the interior, hand-made and burnt by the owners of the apartment, maybe a little unprepossessing, but alive, made in love. Hand-made things take a firm place in the heart of novelty lovers and do not want to give it to soulless plastic from the factory.
6. Manufacturability
People today cannot imagine life without high-tech gadgets. Even the toilet has become so smart that it can flush the water on its own, the vacuum cleaner drives around the apartment, and the coffee maker broadcasts music via bluetooth.
People are so used to all this that they are definitely not going to stop. In the coming year, technologies will enter life even more densely . Most likely, new elements of the "smart home" will appear, and the refrigerator will be able to independently prepare diet ice cream. Even if absolutely absurd novelties appear, they will still find their admirers.
Technological interior items will surround the owners with their cyber care even more . At the same time, the concept of naturalness will still be preserved, because the furniture will fit into the space of the apartment as harmoniously as possible.
7.   Individualism
The most important thing next year is the rejection of mass character and emphasis on individualism. The interior is now not just a space to which they return in the evenings, it is a continuation of the character of the owners. Therefore, all details of the interior must be carefully thought out, be it a chair, curtain, vase or other decor. Even a refrigerator with an appropriate amount of imagination will become an object of self-expression. And this is the main idea and mission of the interior 2022, so important and so interesting.