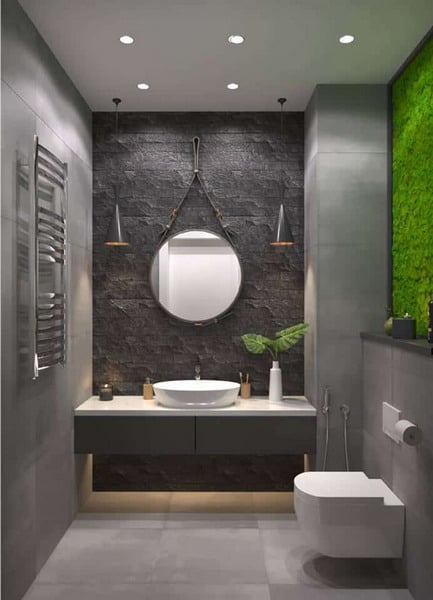 The design of the toilet 2021 is a combination of durable and hygienic finishes, modern plumbing and simple care of the toilet room. The toilet is the most utilitarian room of the house, and it would seem that domestic rationalism is the main and most important thing here; but the modern toilet design trends 2021 amaze with brightness and originality. Optical illusions of three-dimensional finishes, tiles and decor with luminous elements, lots of mirrors and light, bright colors and a mixture of styles are just some of the features of modern toilet designs in 2021.
Photos and news of modern toilet design trends in 2021
Photos and novelties of modern toilet design in 2021 show that both classic and rationalism can be viewed from a different angle. Designs of toilets always take into account the specifics of these rooms, and the used finishes and decor have all the qualities necessary for a trouble-free operation of the bathroom. Materials for finishing the toilet in 2021: Ceramics and wood, natural stone, metal cladding and textiles, mosaics and paintwork – the range of fashionable finishes is huge.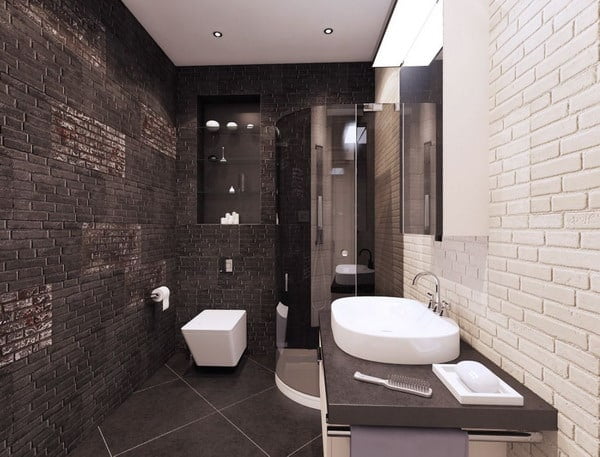 Invariably popular ceramics: the texture of tiles has become even more interesting, both classic and with imitation of wood and rough stone, textiles, mosaics, glass and metal. The toilet room, finished with smooth ceramics under a tree, wins especially – both luxurious unusual design and hygienic finish. Modern tiles can have a glazed and unglazed coating, imitate any texture. The variety of colors and shades of the tiles is beyond competition, and plus there is patterned ceramics and mosaic paintings. The classic finishes with tiles and new items are also relevant in 2021:
Three-dimensional tiles with themes of the tropics, nature, sea. Interesting and abstract 3-D drawings, such claddings are beneficial to do in small bathrooms – the effect of expanding the space is strong and pleasant.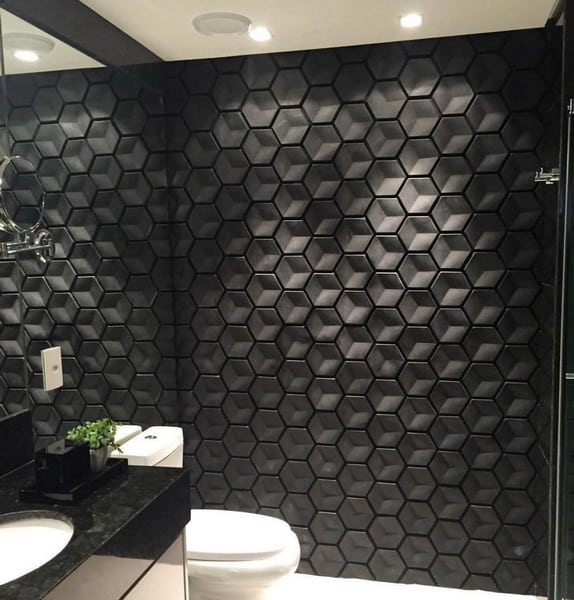 A mix of tiles is in fashion, two types of mixing are especially interesting: tiles of different shades and textures of the same collection and theme, and original layouts from completely different tiles. The second model involves outstanding artistic intuition and taste.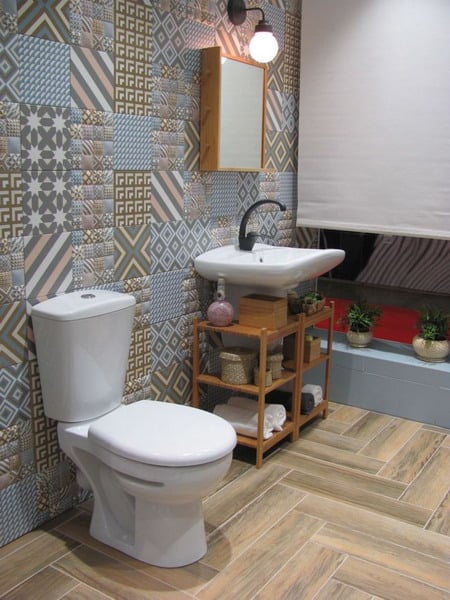 Carrara marble – luxury and prestige: the option of ceramic tiles with imitation marble has many advantages: ease of installation, luxurious textures and colors of natural stone, economy and affordability. The interiors of the toilet rooms decorated with light marble slabs and wood look especially festive and fresh. interior with signs of eco-style: living green plants, wooden decor and furniture, light marble wall decorations. The floors in the toilets are often trimmed with tiles to match the walls, but contrasting solutions are also relevant.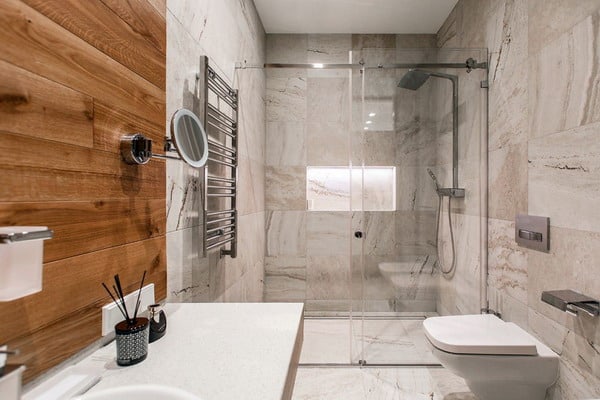 Light interiors are in fashion – white ceramics with colored borders and fragments. Black interiors are also in fashion – the nobility of shocking, brightness and style. Last year's hit – mirror tiles, usually used in a layout with glass, metal and matte tiles.
To paint the walls in the bathroom is a dull practice of repairs of the last century. Today, painted walls in the toilet, with all the simplicity and cost-effectiveness of such a finish, completely provide aesthetics, easy cleaning and a fashionable interior. Gradient colors and "geometric" decors are interesting: stripes, zigzags and a cell can slightly correct the shortcomings of a narrow and small bathroom.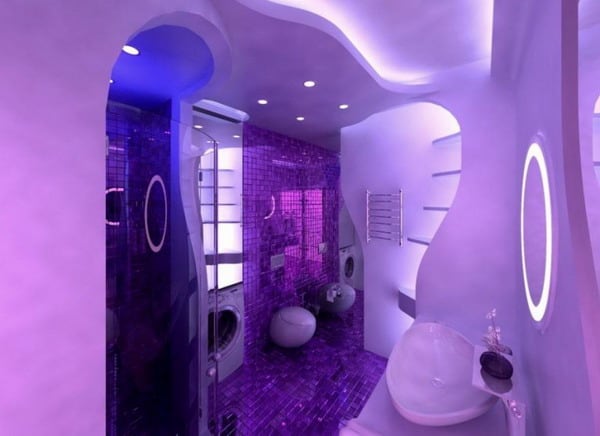 Wooden panels are possible in a spacious toilet room, this is one of the most fashionable finishes. For a small bathroom, it is more practical to take a plastic panel under a tree or tile.
Plastic panels – easy to install and inexpensive, always available. An excellent choice in colors and themes, for all tastes. The interiors of bright toilets trimmed with plastic will be relevant in the new year.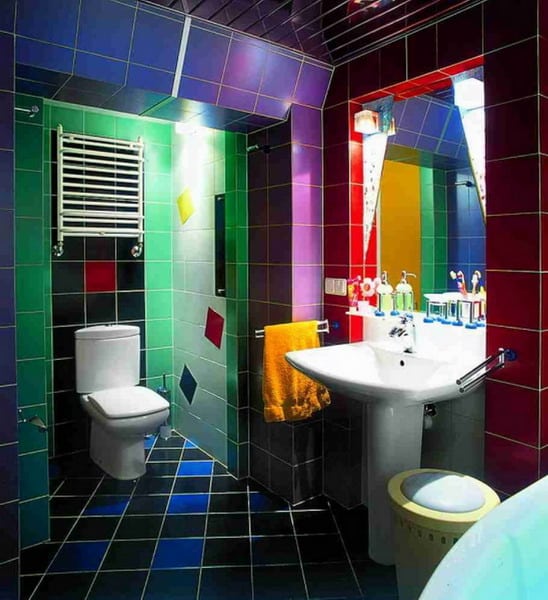 The fashionable toilet interiors with wallpaper finishes are luxurious. Wallpaper is needed with the quality of moisture resistance, a wallpaper is made under the polymer base and the surfaces are treated with bioprotective impregnations. Textile in the toilet for spacious rooms in country houses is relevant, in the usual bathroom of a high-rise building, it is difficult to imagine fabric walls in the toilet.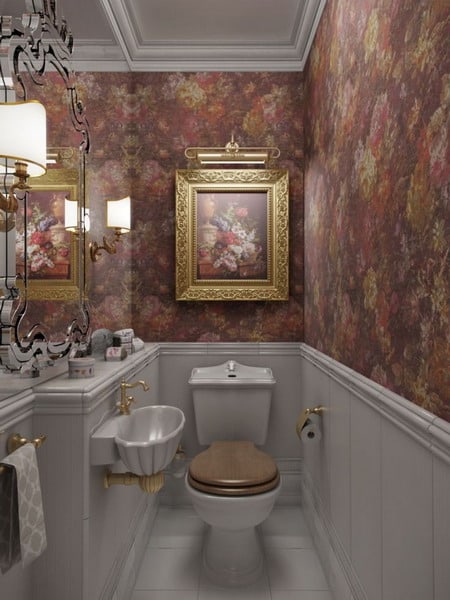 Marble and porcelain stoneware, natural stone claddings are eternal and always in trend. For a dressing room decorated in a palace style, there is nothing better than marble.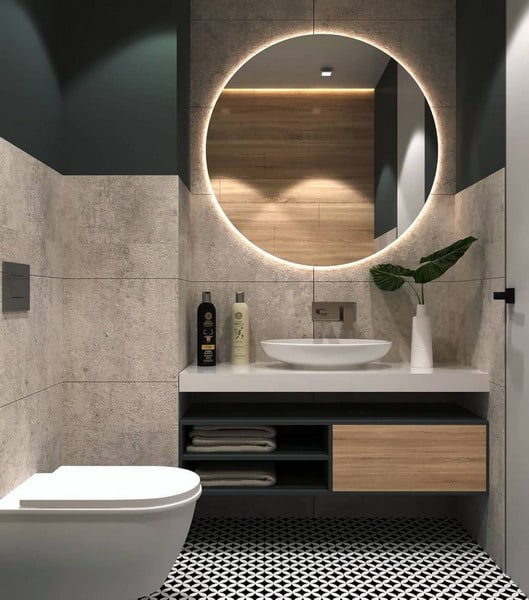 Bulk floor is not a novelty, but the popularity of bulk three-dimensional floors is due to new ideas and themes of polymer paintings. The tropics and the sea are in fashion – for a small bathroom a similar floor will be appreciated by lovers of bright positive and domestic extreme sports. Polymer floors are quite expensive, but their strength and the qualities of water and biostability important for the toilet are at their best.
No matter how luxurious and fashionable the interior of the toilet is, comfort is important not the decor, but high-quality sanitary ware. In 2021, the interior trend of space saving, minimalism and simplicity is developing. Hanging sanitary ware – bidets and toilets, are not new, they are recognized and popular. Compact suspended sanitary fixtures in small bathrooms are especially organic and practical. The space is freed up, the floor areas under the appliances are clean and easy to clean, there are no cleaning problems in hard-to-reach places, there is no accumulation of dirt and bacteria. There are a lot of suspended models, with different sizes and connection designs, with various drain tanks. A more convenient option is the installation of the tank "in the wall", this saves space in a small toilet. Touch plumbing, smart home technology – ordinary modern comfort.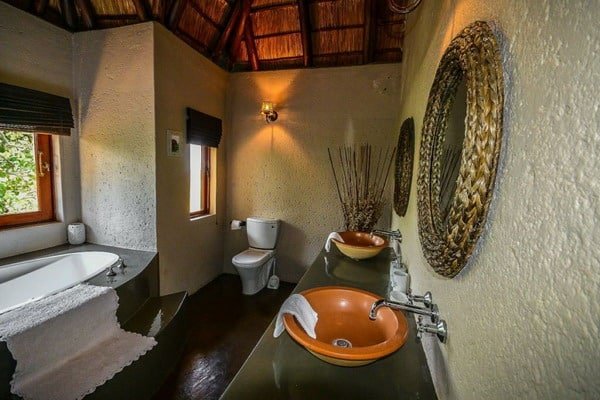 If there is such an opportunity (water and sewage can be supplied), then even in a small bathroom a washbasin should be installed. Amazing new plumbing items 2019 are increasingly popular: compactness, simple design, high quality comfort.