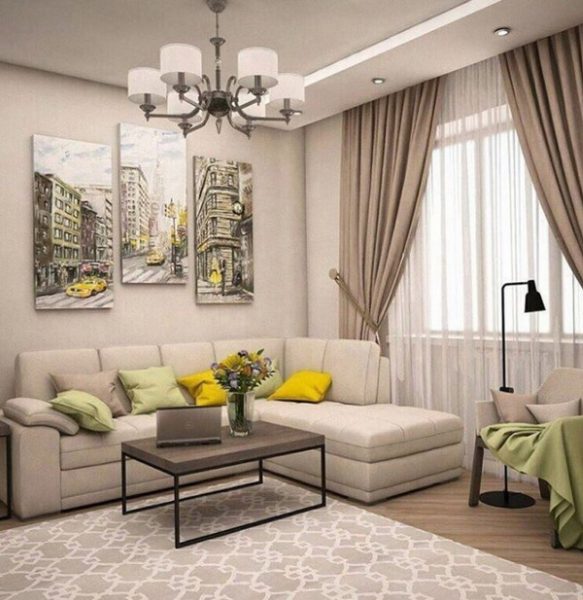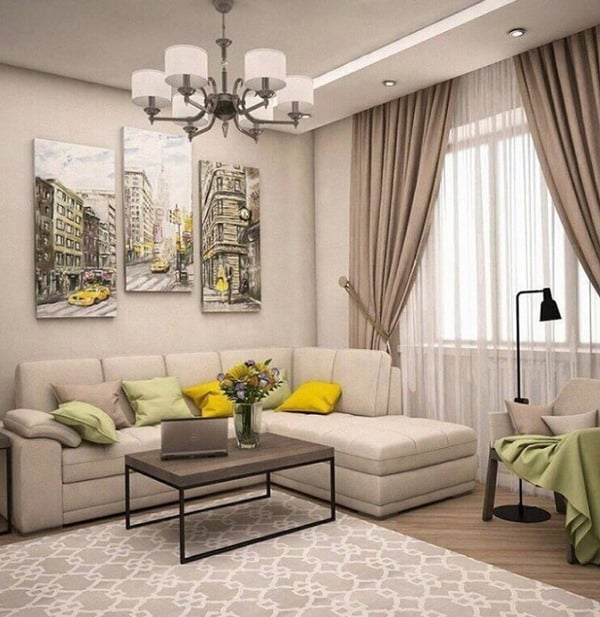 A cozy house is, first of all, a comfort zone for owners and household. But any home must meet not only the criteria of comfort, but also newest trends. Novelties of interior design relate to both the general design of rooms and individual details that should be paid attention to when organizing space. Inspiration and learn new ideas for your home will help new trends in the interior, which we have collected in this article.
Fashionable colors in the interior in 2021
The upcoming interior season is preparing us for a return to bright colors, new zoning ideas, unusual storage systems and upholstered furniture in which it is easy to "drown". The trend of the new interior season is the emphasis on juicy bright palettes in the design of furniture, lamps, accessories. A return to the intense gamut from pastels is one of the clear trends of the season. On the one hand, it is a natural expression of our rich lifestyle and thought processes. On the other hand, the manifestation of the nostalgia of designers for the "eighties" with their strong designs and colors.
Green color in the interior in 2021
This color is often used in interior design, because it gives a beneficial effect on the mental state, the property of calming and extinguishing any negative emotions. This shade also helps to concentrate and make important informed decisions. The variety of shades of this color is very large. It can be from a gentle olive tone to a deep emerald. In addition to the background shade, you can additionally use green accessories. It can be curtains, pillows, tablecloths, bedspreads and any other textiles that will give your room an atmosphere of comfort and coziness.
Gray shades in the interior in 2021
This color has been popular for several years, and accordingly, it is still one of the top ones that is often used in interior design. In fact, if you look at the essence, the gray color has a lot of different shades, ranging from light tones to a dark graphite palette.
An interesting fact is that light gray tones help you increase the space, so this is just the perfect shade for rooms that have a small square. It is important to know the fact that gray color is easily combined with other shades, so there will be no problems with combinations of different options.
Neutral, calm shades in the interior of 2021
Neutral shades are needed in the design for the background and emphasis. In the next season, experts predict the particular popularity of these five colors.
French vanilla A yellow-cream shade adds a sense of the sun to the room. Superb color to enhance a windowless room (such as a small bathroom) or to maintain the light effect of an already bright space. Good for decorating a nursery, kitchen, living room, bedroom.
Mint. A light mint shade has a relaxing effect on the psyche, it is no accident that it is used as an additional color for red. Looks nice in living rooms, bedrooms and bathrooms.
Hazelnut. A light brown shade of hazelnuts sets a calm emotional background and also helps to expand the room visually. Beautiful trendy color for living rooms.
Gray green. To include shades of green in the interior is the trend of 2021, which will continue to be relevant. Gray-green is refreshing and inspiring; white, blue, and beige furniture stands out against its background.
Warm gray. Where is it without a favorite of a neutral palette? A simple, soft shade will help out those who do not like bright colors. A great solution for living rooms and bedrooms, both in monochrome and in contrast.
Red color in the interior in 2021: new items
The red color in the interior is suitable for active people who want to always be in the spotlight. It helps to create a sense of celebration in the room, highlight accents, fill the room with warmth and energy. How to use red in the interior? What color is better to combine with? Below we consider the most and least successful alliances of red with other shades.
Emotionally unbalanced people should not use the red color in the interior of the living room, dining room, bedroom, office. Red accents can be used to decorate the interior of the bathroom, toilet, kitchen, hallway. Red color has less aggressive shades that can be freely used in the design of the bedroom and living room. These include wine, terracotta, burgundy, coral. These tones allow you to create magnificent interiors, emphasizing the luxury and style of the premises.
Black color in the interior of the apartment 2021
Many people mistakenly consider the black color to be the lot of gloomy people and pessimists. Despite this stereotype, in the wardrobe of almost every one of us there are many things of this color, and we consider this normal. But how relevant is the black color in the interior? After all, not everyone can decide to use this very specific color in decorating their home. And it's even in vain, because by correctly setting priorities you can achieve that the interior of your house in black will look fresh and elegant. However, it is necessary to very competently approach the dosage of black, otherwise the effect can be very deplorable.
From ancient times Black was a symbol of aristocracy and luxury. This is an incredibly strong color, but at the same time it's far from everyone's strength for a long time, because satiety with them can lead to depression and poor health. Therefore, you should be extremely careful when using black in the interior. Do not bother with the fact that black is considered the color of mourning. For example, in Asia, people consider it a symbol of purity, and the Japanese are absolutely sure that this is the color of nobility and experience.
Yellow color in the interior in 2021: subtleties of design
Yellow is often associated with gold and the sun. All of them cause pleasant feelings, but require careful handling. Otherwise, the risk is great, instead of profit, to incur losses, instead of getting an even tan, get a burn, and turn a bright design into bad taste. Therefore, we carefully handle money, smear with sunscreen and rather read an article on how to correctly use yellow in the interior.
Yellow is well perceived by dexterous, original, confident, honest and fair personalities, but people with overt or latent mental disorders this color is unnerving. Note: excess yellow negatively affects everyone: it leads to fatigue, causes headache, anxiety and even aggression.
Blue color in the interior of the apartment in 2021
Blue color according to Feng Shui is considered a symbol of purity and carefree. Designers like to work with blue shades: they create a feeling of spaciousness and visually adjust the room. This color is ideal for hot climates, as it brings the effect of freshness and coolness, also a great option for sunny rooms.
There are many shades of blue:
Heavenly.
Cornflower.
Turquoise.
Azure.
Aquamarine.
Dark blue.
Icy.
Blue-gray and others.
It is very important to choose the right variation of blue: the lightest tones give serenity and lightness, the cool shade is more saturated – it is often used to design living rooms and bedrooms. Trend is considered a dark blue hue.
Blue-gray color in the interior of 2021
For many, blue is associated with airy expanses, sea distance. It brings calm, causes a feeling of lightness, so the interiors of dwellings in such a palette look noble. Warm colors make the room cozy. This combination is well suited for a spacious living room, studio apartment, where many guests gather for friendly parties. This creates a relaxed atmosphere that is conducive to communication. The combination of gray and blue is often used when decorating living rooms in the "marine" Mediterranean style. Light gray goes well with various shades of blue:
heavenly;
aqua;
bright blue;
azure;
gray.
This combination can be used in a bedroom – it allows you to relax, sets up for rest. In the nursery, such a selection of colors will create a peaceful atmosphere.
Pink tones in the interior of 2021
The final decision is not subject to appeal: in 2021, the pink color in the interior loses its gender color and is no longer associated only with ladies 'boudoirs and girls' rooms. From frivolous romance, it shifts towards more complex shades and is now actively used in the design of living rooms, dining rooms and bedrooms.
Powdered pastel tones of walls and armchairs – a wonderful surroundings for brighter color accents.
A lacquered pink underframe with a gold border is a spectacular companion for a white marble countertop.
Dark pink and lilac walls in the bedroom are a convenient background for white photo frames and a copper mirror.