1. LIVE COLORS
The interior decor trends for this season have a daring color palette that we can see applied to furniture, walls, fabrics, wallpapers and accessories. The colors of 2024-2025 are: terracotta, garnet red, lime yellow, pastel pink, bottle green, olive green, ultraviolet, mauve and cobalt blue. We will always have classic, timeless and elegant colors such as gray, beige and stone colors that offer many possibilities when combined.
2. MATERIALS
Paying attention to materials is the key to good design. Next you have the tendencies in this aspect.
WOODS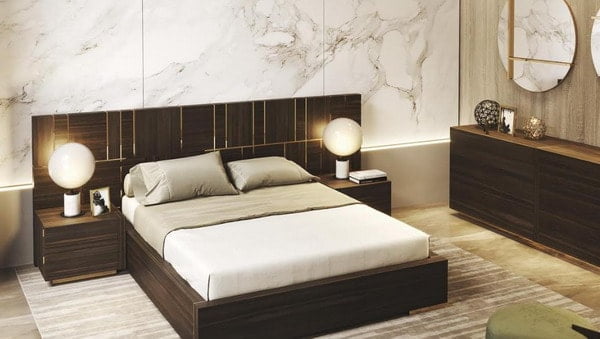 The dark finishes come back, in exotic woods such as ebony, wenge, rosewood and South African walnut. Natural woods are carried with the veins well marked and / or also dyed in black. The toasted and gray finishes will remain valid. The tendency of wood lacquered in brightness (super gloss) begins to have strength. In the next few years we will see brilliant lacquers in all the collections of the most recognized brands in the world of decoration. The stage of the pure Nordic style is already in the past, but reborn in pieces with prints and more sophisticated finishes.
METALS
Metals such as copper, bronze, dark platinum, aged gold, black steel will be widely used in elements such as lighting, decorative objects, faucets, structures or small furniture details. Depending on the object and its shape to which it is applied, we can obtain a chic or industrial touch, but without losing elegance.
GRANITE
More resistant and durable, less porous than marble, granite is ideal for kitchen countertops or bathrooms, or for places of high traffic such as stairs, for example, since it will require very little maintenance. The trend tones are the range of greens, blues, dark colors such as brown and black. We can choose the tones according to the design style that is chosen giving a distinctive touch to the space.
TERRAZZO OF COLORS
The terrazzo is a material that evokes to us past times, but it returns renewed using stones and pigments of bottom with bright and happy colors besides already of the well-known classics. It is no longer relegated its use only to the ground, it goes further and now we can see it placed on walls, as well as floors, forming pikes, bathroom and kitchen countertops, bathtubs and tables. It can be used indoors and outdoors. Each piece maintains the random pattern of shapes and colors since each one is completely different from the rest, which provides a fantasy effect. Among its advantages stands out the great durability because it does not need maintenance, due to its hardness and resistance to external agents such as humidity.
SOLID SURFACE
The solid surface is a material that offers an enormous possibility of shapes and colors, they have great hardness and uniformity, great resistance to scratches, blows, high and low temperatures. It is anti-bacteria, anti-mildew, absolutely easy to clean and resistant to stains as it is not porous. It has a very nice and silky touch, ideal for designing kitchen and bathroom countertops, sinks, shower trays, bathtubs and tables.
There is a wide range of firms that work with this material and can offer us products with which they create a functional and stylish environment.
GLASSES
Glasses and mirrors of colors and textures have been very seen in the last edition of Saloni de Mobile in Milano. There are in smoke, bronze, bright colors to use in lighting, decorative objects, shower screens, showcases, dining table envelopes or in small details. Glasses with textures and details that remind us of the 70s (armed glass or with geometric reliefs, vertical lines) will appear in the decoration stores in 2025.
PORCELAIN
Porcelain stoneware has great advantages compared to normal enameled stoneware. It is much harder, has a great resistance to water and traffic, can imitate any type of texture and you can apply infinity of colors. The trends in porcelain include geometric patterns, metallic colors, imitation of skins or textiles, with relief in three dimensions.
The porcelain can be used to cover both indoor and outdoor floors and walls and offers a wide variety of formats and thicknesses. Both floor and wall coverings are bold colors and textures that give character space. Thanks to its rectified edge, completely flat at 90º, it gives the sensation of continuity and elegance in the material once placed.
3. FABRICS AND TEXTURES
The velvets, printed or plain, fabrics of natural fibers such as wool, cotton, silk and linen, with geometric patterns or patterns that remind us of the 70s. Fabrics with fibers interspersed with metallic threads that give a differentiating touch, shine, wrinkled or worn effects – there is no limit to fabrics in the 2024-2025 season! Following the trends, we will see colors such as ultraviolet, bluish green, pink, mustard, mink, garnet.
CARPETS
They help to zonify spaces in the rooms and provide warmth. We can play with them to give different touches in the rooms according to their shapes and colors, whose tendency is that they are rounded, irregular shapes, with geometric drawings and a mix of bright colors, abstract patterns and personalized designs.
PAINTED PAPER
In the new collections we can find papers with jungle or tropical animal motifs such as birds, monkeys, cheetahs, exotic flowers and fruit plants, arabesque motifs, geometric or with 3D visual effect patterns that add depth to the rooms. To cover the walls, gray, sand, green, ash and blues are highlighted.
One of the advantages of wallpaper is its help when looking for inspiration when we design interiors. Creating combinations of colors, textures and shapes is made easier by having the paper sample previously chosen. The most usual and recommended is to have a single wall differentiated from the rest using an original wallpaper or painting that makes it stand out, both in living rooms and in bedrooms, kitchens and reception rooms. It is about giving that special touch that we seek without getting tired over time.
4. SHAPES
The shapes for pieces of furniture such as sofas and chairs, tables and cabinets, bathroom furniture and accessories are becoming more soft and rounded, it is customary to look for styles such as the Mid Century with a futuristic look.
5. LIGHTING
In lighting, the use of molecular structures, metal and glass structures that resemble exploding stars, metallic geometric shapes with transparent glasses or smokers, industrial-style lighting fixtures or where LED decorative bulbs can be seen reminiscent of the old lamps with tungsten filaments. You would illuminate original forms that look like sculptures will be the most sought by interior designers in the coming years.
The finishes are usually in gold, black steel, copper, brushed gold matt, aged gold, bronze, copper both matt and polished.
6. COMPLEMENTS
To give those touches that help reflect our personality we usually use objects or accessories that make us feel like the space (souvenirs of our trips, author's paintings, old dishes, objects with personal meaning). The last thing is to use objects that attract the looks, with original forms or with mixtures of materials and in colors that contrasted or combine with the main one used in the room. Sculptures in steel or brass with a marble base, aged ceramics, marble balls, crystal or wood chandeliers, animal statues will give life to your home!
7. DISTRIBUTION OF SPACES
The open concept of spaces remains in force; join rooms with each other, eliminate doors and corridors, maintaining the separation between day zone and night area. First of all, day-to-day functionality prevails:
In the night area; bedroom – dressing room, bedroom – bathroom, bedroom – study or office.
In the day zone; kitchen – living room, kitchen – dining room, dining room – working area using a table long enough to be able to serve the food without having to continually remove the work attributes.
Transformable spaces through the use of rail panels, which remain half-hidden, floor to ceiling to separate spaces at a given time. Use transformable furniture; TV furniture that turns into work tables, consoles that are transformed into dining tables, sofas that can be divided into armchairs.
8. INTEGRATED KITCHEN
The kitchens are becoming more integrated into the home by being able to manufacture the modular furniture of the living room in the same style and finish as the kitchen. The objective is not to define the boundary between the kitchen and the living room. It creates visual uniformity in aesthetics and materials, it seems all a single piece of furniture.
The trend in kitchen finishes is FENIX, a nanotechnological material that can not be scratched by a diamond, absolutely matt, anti-fingerprint, anti-rust, anti-mildew, water-repellent and antibacterial that can be applied to horizontal and vertical interior surfaces and also outdoors, with a wide range of colors.
9. ZEN BATHS
We continue with the concept of the bathroom as a resting area, that place where we start to relax when we get home. The trend in wall coverings are: marble and its imitation made of porcelain, terrazzo or natural stones that give us warmth and well-being. Putting green plants and white stones in a corner is a perfect trick to bring the Zen touch to your bathroom. The round and oval mirrors, wood or iron are the novelty of the coming seasons for the decoration of the bathrooms. The Emperador Marbles, the Black Marquina and the classic Carrara will not go out of style for many years. For the most daring we highlight terrazzo with incrustations of bright colors in the stones and pigments in the background, both for tiling and paving and in the formation of spades or baths.
FAUCETS
The guideline to follow for this season in taps is to choose dark finishes, leaving the classic bright chrome finish; black, dark platinum, brushed gold, with simple, pure and rounded shapes.
SANITARY
Sanitary pieces finished in matt colors, apart from the classic white, now also in black, taupe, brown and in materials as versatile as the solid surface that offers many possibilities of shapes, finishes and colors.
In bathtubs the tendency is to place them free, without touching the wall, as the main element of the bathroom, without covering them and where their legs or base can be seen with the pavement.
TIPS OF VICTORIA INTERIORS
We advise to follow trends in decoration and interior design always if space allows. Be realistic and do not sacrifice functionality for aesthetics. For example:
Use light colors in small spaces that provide and multiply the light, use pieces of furniture in proportion to the stay.
Bold or strident touches are best provided in small details so they do not tire too soon and if they do, they are easy to change; for example, changing the color of a single wall is always faster and less expensive in effort and time than in a whole room.
You can mix styles in a coherent way using details or touches that reflect the personality of those who live there.
Our house is our refuge and should be a true reflection of who we are and be completely to our liking without losing sight of the functionality or durability of what we project.