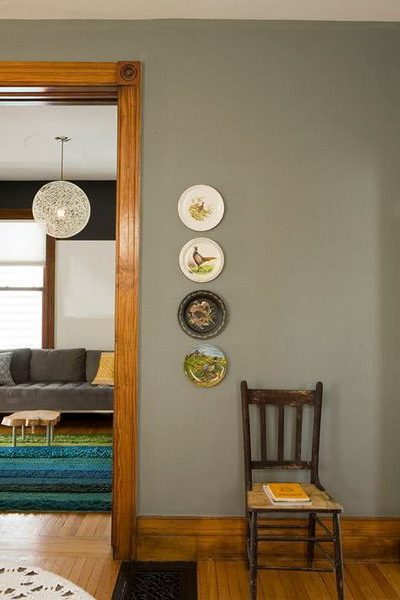 It is fashionable that owners seek professional assistance when it comes to improving their home to be sold or rented. Sometimes with a few improvements, the overall appearance changes a lot and achieves an impact that will be immediately reflected in the sale price. If you are thinking of a small renovation, a new coat of paint remains one of the most economical ways to make a change. We will show you some paint colors for walls that will be a trend in 2021.
Trends for Paint Color Walls in 2021
Walls in neutral colors
The decoration in neutral colors, that is, with subtle variations of white, gray and beige, is one of the most classic, which always gives us good results. We will show you some ideas to inspire you.
Neutral walls with color details
When neutral colors are used on walls and floors, we have total freedom to play with risky colors in furniture and accessories. Very interesting effects are achieved by creating great contrasts with vibrant colors and high visual impact.
Designers love the color gray because it admits to be combined with virtually any color. There is always a shade or shade of gray that works with each color. A scheme widely used both in minimalist environments and in vintage decorations.
You must choose colors capable of pleasing the greatest number of people, therefore the palette should be simple and classic, playing with the nuances of the same tone through the different spaces. That way you ensure a cozy first impression and a suitable backdrop for any idea of furniture or decoration that the potential buyer brings in mind.
The recommended colors are:
Khaki, combined with pure whites
Medium shades of blue
Bone color, toasted sand and black.
Decoration in different neutral tones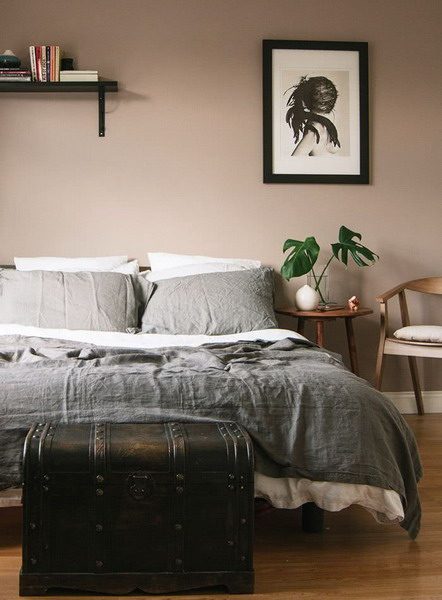 It can also be decorated using only different neutral tones.
Neutral walls with wood
Whether you are saying goodbye to your old house or hello to a new one, this classic color palette is suitable for all areas and is a good option, especially for living rooms, kitchens and spaces where family life takes place.
When choosing the colors to paint the house, light colors are usually used to paint the openings, the moldings, the baseboards or the floor and the boldest colors are chosen for the walls.
But on the contrary a good way to create light and space is to use the lighter color in the area of greater surface, like the walls and to leave the darker tones for the doors and windows, for example in wood color. This works especially well if used within a neutral scheme.
There are many visual effects that are achieved through good color management and can alter the perception of a space, for example if you paint the moldings in a color darker than the color of the walls, it will seem that the walls are They come forward. If you paint the moldings in a lighter color than the color of the walls, the walls seem to be farther away.
White walls
Decorating a house with white walls can be an excellent idea, if you know how to do it with good taste. We show you below, a few inspiring ideas.
The white color seems to be the one that dominates completely in this house that recreates the old Swedish country style.
This beautiful Swedish house was published by Sköna Hem. The idea of spatiality is reinforced with a very wide open plan, and the use of white color throughout: walls, furniture, ceilings and floors, with a few colored spots.
The open kitchen with black granite countertop and custom white lacquered cabinets opens to the dining room where a red carpet has been placed to make it warmer and cozy. Above to the right, you can see the open loft with steel cable railing.
A spiral staircase leads to the loft while a low brick wall where a sofa is supported, between the living room and the kitchen creates a small breakfast area.
Selection of beautiful completely white interiors to be inspired
White wall with black details
A house with a very personal style is this house in Amsterdam belonging to a designer named Stephanie Rammeloo, who has undoubtedly managed to combine perfectly good taste with functionality. Check out these neutral and clear interiors that are nevertheless very cozy.
A home office with everything you need, lots of storage space and lots of light. The windows take full advantage by placing the very wide work table all along.
The dressing room looks great the huge black and white built-in wardrobes, take advantage of the double height of the house continuing to the ceiling where you access with the help of a very practical staircase, which moves along a rail, library-style stairs.
This beautiful apartment decorated in black and white, located in New York by interior designer Ingrid Matheu is characterized by sobriety and elegance.
The space has been conceived as a neutral container, walls and ceilings have been painted white while some pieces of furniture and accessories in black next to the wooden floor, create a beautiful contrast.
Clean rooms and simple design. The living room looks very comfortable integrated into the kitchen and dining room, in a modern style, with a wonderful ceiling lamp that creates a very pleasant harmony.
Trendy Warm paint colors for walls
The colors of the families of red, orange and yellow are known as "warm colors," since they are colors evoke images associated with heat, such as fire or sun.
As a result, they make us feel warm in a psychological sense.
Yellow walls
Yellow is a primary color and is also classified within warm colors. It is a color that attracts attention and attracts the eye like no other, that is why it is widely used in traffic signs, for example. It is the brightest color of the color spectrum so it is ideal for dimly lit areas such as hallways and hallways.
There are studies that show that the yellow color raises the mood, so it is used in color therapy to paint the rooms of the elderly. However, the bright yellow color may be too strong and may cause anxiety in infants, young children and also in the elderly.
We have a multitude of shades of yellow, at one end we have ocher and raw colors, less bright but very used for its versatility, sobriety and elegance. On the other hand the autumnal tones, which are very well in rustic environments. Dorados should be used sparingly so that it does not look like a room too ostentatious.
The most vivid tones are those that have more red in their composition such as egg yolk yellow, it is recommended not to use them in large quantities but to accentuate other tones, such as in a pattern or wallpaper. Be careful with yellows that are too citrus, they can be cold, because they lack red in their composition.
Orange walls
Like red and yellow, orange becomes a warmer room, but in a less dramatic and passionate way. Within warm colors, the mood that stimulates the orange color is friendlier than the fire color, more cozy than seductive. It is used when it is intended to create feelings of intimacy. It works well in family rooms and rooms and is also a good option for children's bedrooms. It is a secondary color product of the mixture of two primary colors: red and yellow.
The color orange can be very bold and it is better to use it to accentuate instead of painting an entire wall. It is an exciting color and affects us by increasing enthusiasm and driving action. The peach color or in its terracotta tones is used for rustic environments.
In children's or youth bedrooms used next to apple green or turquoise. It is a combination that has been used for a long time of strong contrast because they are complementary tones.
It is also widely used in modern rooms. The orange color revitalizes an environment when used sparingly, painting a single wall for example.
Red walls
Red is a powerful and stimulating color that causes an increase in blood pressure and heart rate. It can also encourage emotions such as energy, passion and sexuality. It also stimulates appetite, which is why it is often used in restaurants. It is an excellent option for the home dining room. It is a pure color that in its different shades can range from burgundy reds, through autumnal shades to the different shades of pink.
Red is a color widely used in modern and high tech trends, since it fills the places it decorates with energy and movement. Then we will show you some images and ideas so you can decorate with red, if this is your favorite color.
Red, warm color par excellence, associated with blood, passion and fire. It is a dominant and provocative color associated with movement, is used to attract attention and is stimulating. In decoration it is widely used in the living room or dining room, precisely because of its psychological effects as it is vibrant and energetic. We must use it carefully and avoid painting large surfaces because it can be overwhelming. Avoid using it in dimly lit environments, as they will make the room look even darker and smaller.
Red in general is combined with white or black. It is also widely used in its more terracotta tones in rustic environments, since it works very well with natural fibers and wood. Used next to green, its opposite color in the color circle is a vibrant and contrasting combination.
As it draws attention, we should not use it in large quantities because it can result in environments with a lot of color intensity. Very often it is used in details or accessories to give life to monotonous environments. When the color red is chosen to paint walls it is usually applied in a sector of space and not in its entirety.
It is a color widely used in kitchens, since it provides warmth, but at the same time elegance, if used with good taste.
Being an intense color you may dare to use it to give life here and there in accessories or minor details as in the following environments. Keep in mind that there are several shades of red, like this tone that we see in the armchairs of the lower image, a Very elegant color that, combined with gray, can look simply fabulous.
Contrasting with the target, it acquires an unusual intensity.
Pink walls
Pink is a lustful and pleasant color. Classified within the range of warm colors, it offers innumerable possibilities, as it can be an exciting color or on the contrary a color that invites you to relax depending on the chosen hue. We will see some examples of decoration in pink.
Pastel pink
Perhaps for some too feminine, for others even a little cheesy, the truth is that the pink color has been raging for a long time, and has been the most used tones lately, both in the world of interior decoration and in the world of fashion
Historically it has been associated with feminine, romantic and love.
Intense pink
Honeysuckle tones, being so intense and vibrant, for some it can be a bit overwhelming if it is used on large surfaces, but if it is possible to find the exact balance with the other elements of the decoration, as it has been achieved in these environments, it turns out extremely interesting
A vibrant color and full of energy, between the color red and pink, inspired by the honeysuckle flower. As explained by the executive director of the Pantone Color Institute, Leatrice Eiseman: "In times of stress, we need something to lift our spirits. The honeysuckle color is captivating, it is a stimulating color that has the perfect adrenaline to ward off sadness »
Or you can choose to use it in small touches, to give life to an environment of neutral tones. Play with some details, which will attract the eye instantly, like these cushions on a dark gray sofa, on the one hand and the flowers of the same tone on the table on the other.
Pink has been abused for the decoration of girl's bedrooms, therefore there are certain shades that are better avoided.
This pink apartment that is for sale, was designed by Betsey Johnson and BNOdesign demonstrating that with good taste and choosing good combinations, pink can create elegant and modern interiors.
This elegant duplex is the New York residence of a famous fashion designer, whose respect for the classics does not prevent him from being on the borderline between fun and irreverent. A design that splendidly evokes the Hollywood glamor of the fifties with a lot of lace, velvet and gold tassels, resulting in a house with unique character.
If you are looking for new sources of romantic inspiration in interior design, this loft will certainly give you some ideas.
Green walls
An environment in different shades of green is refreshing and chic. Just by observing nature we can find the necessary inspiration to combine shades with elegance and harmony.
Paint the walls with your favorite green as in the photograph above and play with other greens in different textures, such as the head of the bed in olive green velvet. Also the bench is covered in velvet in a more grayish green. Another possibility is to play with the prints, taking into account the scale and motifs. Large motifs for the carpet and curtains and a small flower design for bedding have been used here.
You can play with textures or prints in their different shades or with other tones that are harmonic. Here are some other combinations that can inspire you:
Notice how the same environment changes with different shades of green, which apparently do not have much differences when you compare them in the catalog in the paint shop.
Soft next to the white one it is mixed with the terracotta red color of the floor that gives the necessary contrast to the whole. The white linen armchair with a blanket in another shade of green and the carpet in beige tones give warmth to the environment.
The same environment with this other shade of green achieves a revitalizing effect, and refreshing, lime green next to pure white, form an invigorating range. An ideal combination for children's rooms or kitchens.
Combining green
Green is a secondary color formed by yellow and blue, and its opposite in the color circle is red. It is used to create calm and relaxing environments.
The beige color (1) with a drop of color, is the neutral base that will combine perfectly with all the shades of green that you can think of. The milky green (2) would look fantastic in a kitchen next to a white for example. The next (3) petroleum green is so dark and intense that it should be used sparingly, such as being on a single wall. The bright green (4) is ideal to accentuate some detail, or create a focal point.
In the second sample four combinations are proposed that can not fail: moss green and light blue, remember the forest and the sky, a harmonious and quiet duo. Light green and chocolate. Classic green and white. And finally lime green and soft pink, for a bathroom, a baby bedroom or a children's play room.