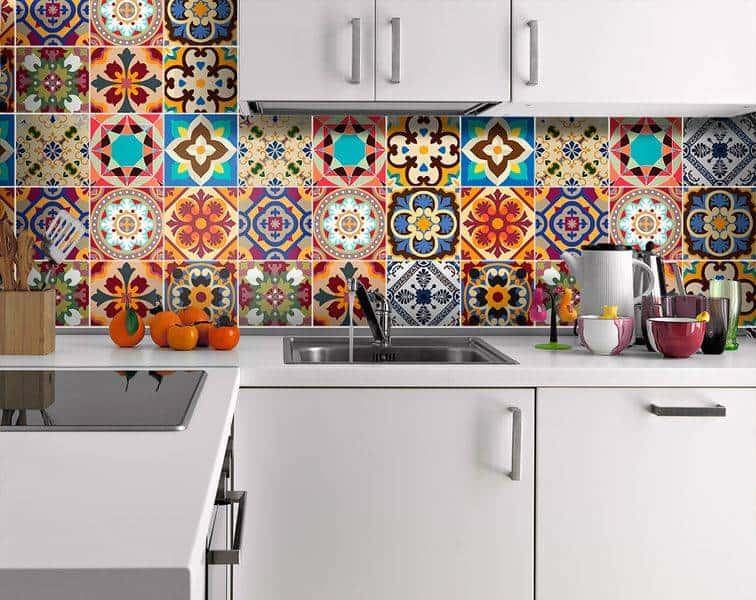 A backsplash is a part of the wall that is located between the upper and lower kitchen cabinets, directly above the work area. Like the backsplash, it is designed to protect against fats, moisture, and is considered an important element in the setting.
In our article, you will find a selection of photos of beautiful backsplashes, a large list of the most suitable materials for decorating this part of the kitchen and modern ideas that correspond to kitchen trends 2021.
In the design of the room, the kitchen backsplash can be a harmonious addition or a bright accent. Impressive, colorful wall decoration is suitable for the kitchen, decorated in 2-3 colors. A combination of these two approaches will be an original and modern move.
One way or another, a kitchen backsplash should be pleasing to the eye, consistent with the overall style of the kitchen, perhaps – be extraordinary and possess such useful properties:
resistance to high temperatures, and also to temperature differences;
low pollution;
resistance to moisture;
simplicity in leaving;
strength;
durability;
easy installation of sockets and roof rails;
resistance to fungi and mold;
resistance to deformation;
environmental friendliness;
nice price.
But there is no material that would 100% meet these obvious requirements for the kitchen. So when designing a kitchen backsplash, you need to find the optimal ratio of important criteria. Examples are in the photo below.
However, you can apply proven tricks. For example, pollution on a colored surface is not as visible as on a plain one. And the use of various imitations of wood, stone, leather, metal will help to profitably beat the situation and reduce costs. Just for these reasons, kitchen backsplashes are often made of ceramic tiles.
Tile Kitchen Backsplashes Trends 2021
High performance, a variety of colors, shapes, sizes, textures and affordable prices make ceramic tiles a popular material for backsplashes. By the way, there is a separate good article on these backsplashes.
Standard sizes allow you to implement extraordinary ideas and color schemes. Imitating any surface, it will be appropriate in different styles of interior design, as evidenced by these photos.
Glazed ceramic tiles – for many years it has been considered the best material for the kitchen and other rooms with high humidity.
Tile
This material has recently acquired new forms, which does not interfere with the use of the usual rectangular or square options for the kitchen, as in the photo.
The trend is the decoration of the walls with hexagonal tiles (hexagons), resembling bee honeycombs, and other non-standard forms – for example, as in the photo below.
Typically, the color of the kitchen backsplash is selected for furniture. The standard technique is that the strip in the middle of the backsplash is in harmony with the dark part of the headset, and the main background with light. But violation of previously established rules is not alien to modern ideas, so that on this section of the wall there can be all the colors present in the interior of the kitchen.
If you want, create a smooth color transition, creating a trend gradient. Can't pick the color? Choose mirror tiles that are particularly suitable for small kitchens.
Only in this case is it better to free the kitchen backsplash from roof rails and other utensils hanging above it, since the effect will be the opposite.
In 2021, the textured wall decoration, which gives them additional volume, will not lose its relevance. The relief on the tile makes the design extraordinary, as these photos confirm.
But such beauty complicates the cleaning process. Alternatively, fragments less susceptible to contamination can be laid out with textured tiles.
Wild boar
Have you ever wondered why in our country, "metro" tiles got such a strange name? The answer is simple: at the end of the tile there are two holes resembling a patch, and with a certain angle, it really looks like a very conventional image of a boar. White tile "metro" is considered a universal and always fashionable design of the walls.
It can be matte or glossy, with contrast or plain grout. To create an original backsplash, you can combine several colors or choose a custom solution – for example, a boar under bronze, as in the photo.
The hog is suitable for the kitchen, decorated in every style, and easily manipulates the space – expands and raises the walls. With a traditional layout in a run-up, it resembles a brick, but it can also be laid out:
in stacks;
herringbone;
diagonally;
staggered;
vertically offset;
your ideas.
Mosaic
If the kitchen backsplash has curves, niches, arches that complicate the laying of large tiles – the interior itself hints at the unique design of the mosaic.
Complex ceramic surfaces are lined with such ceramic mini-tiles, the backsplash or its accent elements are edged. Ceramic mosaic has all the properties of a tile, but can be made of multi-colored glass, pebbles, enamel and other materials.
It is ideally suited for kitchens in stalinka or Khrushchev, not differing in large dimensions. Many components provide unlimited possibilities for a fantasy flight. Among the few drawbacks are the high price, the need for professional installation and regular cleaning.
Panel
In fact, this is a picture that occupies the entire kitchen backsplash or part of it. Its components can be ceramic tiles, mosaics, or combinations of these elements that are appropriate in abstract images.
What will be on the panel – will help determine the chosen style of the interior. But whatever it is, it will definitely set the atmosphere for the kitchen. Floral ornament, reproduction of your favorite painting, intricate abstraction, sea or city landscape …
As you can see, each plot emphasizes the dominance of a particular style. If you have not yet decided on the style for the kitchen, opt for neutral images – landscapes and still lifes. They easily fit into soft, classic and more modern directions.
Photo tile
A great way to personalize your kitchen is to decorate it with your own, or just plain unprinted design.
You should not be surprised that thanks to digital photo printing technologies, any image can appear on the tile. Do you want to enjoy fresh flowers while tasting, to taste fresh fruits or berries? Perhaps you have long dreamed of a picky pet? All this can have on your kitchen backsplash!
The problem place of any type of ceramics is the seams between the tiles, which affect its hygiene indicators. But smooth grouting and coating with a protective varnish radically change the situation.
Glass kitchen backsplashes
A glass backsplash will be an excellent protection for wallpaper and other moisture-resistant materials, but it can be used on its own. Transparent, opaque, smooth, textured, with drawings or patterns, glass has all the necessary properties, except for strength.
Therefore, backsplashes for the kitchen are most often decorated with more durable tempered glass. Of course, it can also be broken, but for this you will need to try. Even if this happens, the fragments will be small and not sharp.
The leading position in the design of kitchen backsplashes is occupied by skins – glass panels with a wide variety of subjects, including 3D ones.
A simpler version of the glass backsplash – lacobel, will appeal to lovers of unobtrusive monophonic design. The seamy side of such facing is covered with a special, safe for health varnish.
Reliability and super-durability are distinguished by triplex glass. It consists of 3 layers, between which a film with an image is placed, and does not break at all. But again, the price will not please you.
The most budgetary way to simulate such design methods is glass covered with a vinyl film – monotonous or with a pattern. True, it does not withstand high temperatures and mechanical damage.
The disadvantages of all types of glass design include the biting price and the inability to drill any holes for outlets or rails without the help of professionals.
Made of stone
A kitchen backsplash, identical to the countertop, organically combines the cooking zone into a single whole, and also ensures its durability. Most often used granite, marble, quartzite, basalt, travertine – a strong breed of natural stone. Each of them looks very beautiful, is easily washed and will last for many years.
But this method cannot be called a budget way of finishing, besides the installation of stone is quite complicated. During installation, glue can seep through microcracks and pores of natural stones and form irreducible spots. This is not necessary, but still possible.
A good imitation of natural relief will be acrylic stone. With it, the boldest ideas and ideas will be realized, as can be seen from these photos. The kitchen backsplash will be decorated with luxurious stone texture, grainy pattern, various impregnations, colors and stains. This method of decoration is more expensive than the mentioned stone substitutes, is unstable to scratches and high temperatures, but is easily restored.
I must say that these shortcomings do not apply to artificial stones such as porcelain stoneware – a mixture of natural minerals and lithoceramics – a combination of marble and tile. At the same time, neither the appearance nor the combination of colors will betray their artificial origin. Make sure by looking at the photo.
If you have a brick house, you can easily achieve this design in a natural way by cleaning the wall from plaster and other finishing materials. Then it will need to be painted with white paint or varnish with special protective additives.
This design makes the wall significantly larger and is welcomed in such areas as loft, country, minimalism, in the Scandinavian style. But with all its cozy appearance, a brick can be impractical. Therefore, particularly stressed areas of the kitchen backsplash can be further protected.
Stainless steel backsplashes
This material is perfect for a modern kitchen. It will perfectly fit into new and somewhat modernize less progressive directions in interior design, in harmony with other metal surfaces and verticals.
The stainless steel kitchen backsplash is durable, durable and environmentally friendly. It visually increases the volume of the room due to reflectivity. Such an backsplash is combined with warm and cold colors.
The combination of metal surfaces – panels, tiles or mosaics with other materials allows you to realize extraordinary design ideas.
But there are also disadvantages. The appearance of scratches on such backsplashes is not excluded, they are sensitive to the effects of acids (splashes from lemon or tomato) and require gentle care without abrasive products.
PVC panels
This is one of the most affordable ways to finish a kitchen backsplash, not inferior to ceramic tiles in a variety of colors, patterns and textures.
Mosaic, tile, stone, wood, metal … Whatever you choose for the kitchen, it is imitated by PVC panels. Therefore, regardless of the style of the interior, you can easily find several options. And this is how they look.
Cons of design:
relative tenderness of the material;
high temperature deformation;
burnout of flowers from the sun;
dubious environmental friendliness.
Some disadvantages can be eliminated by making sure that the composition is harmless and without placing the panel directly above the stove. Others overlap with ease of installation, which contributes to the implementation of new ideas and a frequent change of scenery.
Handmade Kitchen Backsplashes Made From Original Materials
Do you think that all the best is done with your own hands? This is true, especially if you have certain professional skills. Just remember that the backsplash for the kitchen must be moisture- and heat-resistant, strong and easy to wash. You already have enthusiasm (once you read this section), you just have to decide on the materials.
The extraordinary design of the kitchen backsplash will be the highlight of the interior. Among the materials stand out:
pebble or river stone;
slate paint;
wine corks;
laminate;
glass mosaic;
parquet;
CDs
concrete;
vintage, aged tree.
On this, our selection of photographs of various backsplashes for the kitchen came to an end. We look forward to your comments and wish you original ideas, inspiration and a successful repair!