At the moment on the blog "Interior Decor Trends" there is no separate article on the topic – "Cabinets for the kitchen." I want to fix this and tell you which, in my opinion, kitchen cabinets will be popular among consumers in 2025, in which direction the market is heading and what awaits us in the near future.
Cabinets as a basis
Starting the conversation about cabinets, it is worth noting that they are the central element responsible for the composition and beauty of any kitchen. Therefore, we all first of all choose the color and design of the cabinets. And this is not so easy to do.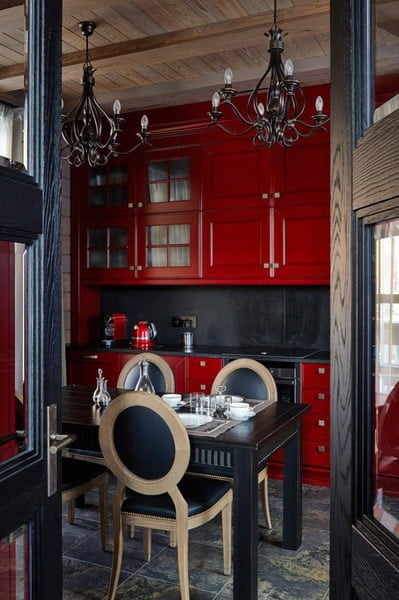 It just so happens that we always want something new and different. Working in the furniture industry, I see this especially well from the outside. We have never made a copy of a previously made product. Every consumer wants something unique and individual. Plus, over the past ten years, the level of complexity of projects implemented in Russia has increased several times. In a sense, we have even overtaken foreign countries.
If you go to the houzz website and compare the level of complexity of projects, you will see that we are taking the lead in ideas and concepts. We have less template solutions, more experiments with textures and colors. If, say, the US market has formed a long time ago (there are standards, there are traditions in the furniture industry), then everything is just developing here. We have not yet found ourselves "to the end" and have not completely decided what we want and what we like.
If we talk about production, then, in general, we can note an increase in competition in the furniture market. At the same time, the demand itself and the purchasing power of the population have not changed much over the past three years. The indicators of over-borrowing have increased. Although if you believe the general statistics, the furniture market is growing now.
To what extent these statistics reflect the real picture is difficult to say. The furniture market includes many directions and segments. If we take the kitchen niche, then this segment is definitely "overheated" by the offer. These conditions force manufacturers to pay more and more attention to the development of new cabinets. For example, a couple of years ago it was possible to introduce 2-3 new models and produce them for several years. It won't work now. It is necessary to constantly expand the line and closely monitor trends.
It is also worth noting that the market for the sale of finished cabinets (without cabinets) is now actively developing. Many large manufacturers are starting to provide this service. They are driven to this by the "narrowing" of the market and high competition.
Therefore, the topic "cabinets for the kitchen" is relevant in every sense.
Below I will outline certain types of kitchen cabinets and reveal why they will be popular in 2025.
"CNC cabinets" come to the fore
Our company "Green Kitchens" operates in the segment of custom kitchens (unique, sophisticated, sophisticated). Therefore, to a greater extent, I will rely on our segment and niche in which I myself work.
In Russia, cabinets for kitchens began to be made on CNC machines for a long time. Especially if we are talking about large companies that work in the segment of modular furniture, or conveyor production of cabinets. Hence, in principle, there is nothing new in the "technology" itself, but if we talk about the "product" itself, which is made with the help of these machines, then, in my opinion, a new trend began to appear that deserves attention.
Ten years ago, cabinets made on CNC machines were associated purely with budget furniture. As a rule, the very design of the cabinets at that time was very weak. A limited selection of cutters, weak software, the cost of the machines themselves and the very focus on budget furniture did not develop this technology by leaps and bounds.
Now the situation is changing – large companies are striving to robotize production, and "custom workers" to automate production using CNC machines.
If earlier custom furniture was associated with the manual labor of individual craftsmen, now every year more and more we will see custom projects that are completely made on CNC, right down to the holes for the addition of fittings. Someone has been working this way for several years, while others are beginning to come to this. And I see more and more such companies.
In the next five years, we will see how a unique kitchen project collected in one file will be the main one at all stages of design, production and installation. The measurer "scanned" the room, the designer designed it, the technologist corrected it, the operator started the machine, the assembler assembled and the assembler mounted it. And each person will have access to the desired "file". This is the future. While there are problems with digital synchronization of all processes, but in the coming years they will definitely be closed and software manufacturers will be more loyal to the conversion of "files".
And now imagine there is a good project, everything is non-standard and complex. And all details for this project will be made on CNC machines. This will significantly increase the quality of performance and minimize the likelihood of any errors. The craft will shift to programming and design. Specialists in this area will be especially in demand in the custom segment.
If we talk about the design of cabinets, then there are no problems. You can experiment as you like.
Veneered cabinets
Another category of cabinets that still remains popular is veneered cabinets. Especially when it comes to modern kitchens. So far, no "composite" artificial material can convey the natural beauty of wood texture. Both by tactile sensations and by performance (artificial materials can be identified immediately).
Speaking about "veneer" as a material, it is worth noting that in recent years the range of items supplied to Russia has significantly expanded. Natural painted veneer, reconstructed multi-veneer, veneer wallpaper appeared. I would even note that the furniture industry, in a sense, is not keeping up with new products. There are too many new positions. Therefore, the potential for the development of this direction of kitchen cabinets is abundant.
Separately, it should be noted that you can experiment not only with materials, but also with the design of the cabinets themselves. By applying and combining different manufacturing technologies, you can create beautiful non-standard options.
Cabinets with integrated handles
Kitchens with fronts without handles (push-open) and with integrated handles are still in demand. For example, in our company, every third modern kitchen comes with such cabinets.
Consumers choose such cabinets for several reasons. Firstly, a kitchen with such cabinets looks stylish and interesting. Secondly, such a kitchen is convenient to use, since when moving you will never get caught on the handle. Thirdly, such cabinets are safe for children – during the game, no one bumps or breaks their forehead.
If we talk about design, then the ways of implementing this concept of cabinets can be very different. You can use beautiful metal profile handles. For example, the well-known manufacturer Schüco. You can install painted or veneered strips behind the cabinets, and the cabinets themselves can be made with a slope. You can see different options for such cabinets in the photos below.
As a rule, designers in projects try to combine such cabinets with the "Push" opening system. The fronts with integrated handles are convenient in the lower kitchen cupboards. If we talk about mezzanines, then it is better to install cabinets with opening from pressing. You can see examples of interesting projects implemented in Russia below.
What about frame cabinets?
Frame cabinets have been and will be. They will always have their own buyer. Another thing is that the number of kitchens with such cabinets will decrease every year.
About five years ago, frame cabinets were more "status" and were associated with higher quality. Many manufacturers have used the concept of "frame cabinets" in their marketing strategies. But now CNC machines allow you to get a better product that does not depend on the skills of an individual master. In this regard, machine tools win.
Everything written above applies to painted cabinets. If we are talking about veneered cabinets and solid wood cabinets, in which the texture of the wood and its direction are important, then the frame technology will be in demand. However, modern design trends are such that traditional classic cabinets are not so popular. For ten kitchen projects, only one or two projects come with such cabinets.
It is worth saying that I do not have a negative attitude to frame cabinets. Any manufacturing methods may be required for a particular task taken. Something can be done on CNC machines, and something in the traditional way. In this regard, there must be flexibility. For example, in our line of cabinets (John Green kitchens) there are cabinets in which the main "blank" is made on CNC machines, and the decorative details are glued in separately.
Metal cabinets
Another material that has increasingly begun to be used in the manufacture of cabinets is metal. Especially if we are talking about premium kitchens. I think that many who actively follow current trends have noticed that many design projects have appeared on the Internet that use brass. In both modern and classic styles.
Metal, as a material, makes the kitchen visually more technological. If we talk about brass, then we can draw an analogy with gold, which has traditionally been associated with wealth. Now many suppliers have a lot of positions of both fittings and profiles with a finishing like "brass".
The complexity of working with "metals" is made up of two main factors. First, it is, by and large, a separate industry with its own standards and specifics of work. You need to have the skills and knowledge in this area. Secondly, if we talk about brass, then this material is currently overvalued by the market. Now the services of craftsmen working with brass are expensive. I think that in the near future there will be more companies working with metals for the furniture sector and they will begin to reduce prices due to competition.
Other cabinets for the kitchen
There are a huge number of other options for kitchen cabinets. Now there are no problems in this regard. There are many composite and artificial materials imitating various textures. You need cabinets with a stone pattern – there are options. Do you want concrete cabinets? No sooner said than done!
I didn't dwell on such cabinets because I don't like them. I believe that artificial always looks worse than natural texture. If you want wood, then it must be veneer, not plastic. If you want colored cabinets, then this is necessarily enamel. Of course, this is a matter of tastes and priorities (for example, in terms of budget). This is my opinion, which is not necessarily correct. Here everyone chooses for himself.
I have seen many kitchens from foreign manufacturers, which are very beautiful in the picture, but they do not have "charisma" live. They are dry, I would even say fake. Yes, everything works like a clock and the quality of parts is high, but something is not right. Therefore, I love furniture that does not have imitation materials. If metal, then metal, not drawing.
Furniture and kitchen design is a very large and multifaceted topic. Therefore, I advise you never to dwell on any one idea at once. Take your time and explore all your options. This also applies to the choice of cabinets. I hope this article will help you make a better choice and you will highlight something new for yourself.