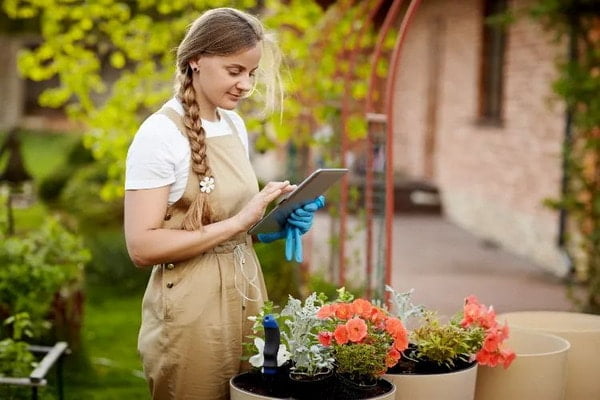 The temperatures are rising, the days are getting longer and the sun is shining – spring is almost here and we can't wait to spend some more time outdoors. For us there is hardly anything nicer than enjoying the warm weather in our own garden. Got some pretty big ideas about how to design your garden this year, but don't know where to start? It doesn't matter whether you're an experienced gardener or brand new to the world of gardening – when it comes to garden designthere are always some challenges to come. From choosing the right plants, to the right decorations, to suitable furniture – we have a lot of decisions to make. Fortunately, instead of spending a lot of money on a garden designer, we can trust the technology. So that you can transform your garden into your own oasis of well-being, we have looked around for you and reveal the best garden planner apps for 2024!
What do garden planner apps bring?
At first glance, designing your own garden seems like a fairly simple task. But let's be honest – not all of us have the necessary imagination or knowledge of where and what to plant. Do you need a privacy screen ? Or a fence? Not only the plants, but also many other elements and components influence the overall impression. Garden designers are usually very expensive and garden planner apps are a cheaper and just as good alternative for those who prefer to do it themselves.
The apps can be found in numerous versions and we can choose between apps for smartphones and tablets or software and freeware for the PC. All programs are user-friendly and can be operated very easily without any prior knowledge. From laying out a plot of land to building stone paths to planting – everything can be determined in a few minutes and an assistant often guides us through the individual steps. With 3d garden planner apps you can get an even more realistic impression of what your garden will look like in the end.
The best garden planner apps for 2024: myGarden App
You don't have to be a passionate gardener to know the "Gardena" company. The company has always produced high-quality equipment and accessories that can be found in almost every garden. So it's no surprise that Gardena's myGarden app is one of the best garden planner apps for 2024. The app is available free of charge and offers numerous practical functions that help us to realize our garden projects. There you can draw and plan your garden and create your own template. In addition, you can place countless objects such as ponds, soil and plants flexibly and arrange them as you wish.
The myGarden App has a sprinkler planner so that you can better plan the watering for the garden. You have no idea how you want to design your garden? Then you can be inspired by the numerous examples and suggestions. But the absolute heart of the garden planner app is the to-do list, in which you can enter all your pending tasks and keep an eye on them. And if you still need a little help with the planting, then you can look at the numerous instructions.
Home Design 3D Outdoor & Garden App
Would you like to redesign your garden and finally make your garden dreams come true? Then you would be in good hands with the Home Design 3D Outdoor & Garden app! The promo version is free, but in order to use all the features, you have to pay 4.99 euros for the app. Home Design 3D Outdoor & Garden App allows you to easily create different garden areas for relaxing or for growing different plants, fruits and vegetables. In the first step, you have to create the property with the exact dimensions and then you can supplement it with a wide variety of objects.
Whether garden furniture, swimming pools, trees or flowers – you can quickly add or remove everything with a tap of your finger. You can view the end result in a realistic 3D view and even take a virtual walk through the garden. One of the coolest additional functions of the garden planner app is the orientation according to the cardinal points – so you can see when and where the most sunlight can be expected.
Veggie Garden Planner as one of the best garden planner apps for 2024
Especially for those who are brand new to the gardening world, Veggie Garden Planner is one of the best garden planner apps for 2024 to know. Forget Wikipedia and all other websites – this app really has all the information you could need! And the best thing? You don't even need an internet connection and you can use the app whenever and wherever you want. There are two options to choose from when it comes to designing your garden in the best possible way. You can either build it from scratch according to your wishes, or let yourself be inspired by the numerous patterns and examples. In addition, Veggie Garden Planner includes information on whether the plants you want to combine work well together. Create your own schedule and let the app notify you when
iScape app for the perfect garden
The garden planner app "iScape" helps you to realize the dream of your own beautiful garden. However, the app is only available for Apple devices. The trial version is free and lets you take a test drive, but the premium versions cost around $10 a month and give you access to lots of useful tools. The app is very easy to use and has features like a virtual pen and the ability to add different objects. All you have to do is take a picture of your garden, upload it and from there you can let off steam creatively.
Change up the flooring, add different plants and paths, and work on your design until you're happy with the result. The 3D function Augmented Reality visualizes your project and in the end you get a more realistic idea of what your garden would look like. Have you designed the garden of your dreams? Then send it by e-mail and you will receive a list of all the objects that you use in response. So you can put together a shopping list and go shopping right away!
Urban veggie garden – garden planner app for the balcony
You live in the city and would like some plants and herbs grow on the roof or balcony? Then you are well advised with Urban Veggie Garden as one of the best garden planner apps for 2024! The numerous videos and instructions show you step-by-step how to plant a wide variety of fruit and vegetables correctly. The app is very user-friendly and if you have any questions, you can always contact other users in the chat and ask them for advice. If you're not sure when and what to plant, use the planner feature and let the app notify you when the time comes. Urban Veggie Garden also explains which containers are best suited for which plants. Just tap on the variety and you can see how big the pot should be and how much water the plant needs.
Gardening according to moon phases with "Moon and Garden App"
Did you know that plants are sensitive to the lunar cycles and that these can affect growth? If you want to understand the influence of the moon and get the most out of your garden, then the Moon and Garden app is for you. This allows you to easily see which day is best for which garden work. Whether sowing, planting or harvesting – there is a suitable moon phase for every activity, which is particularly beneficial for the growth and development of the different plants. With the "Moon and Garden" garden planner app you can track the phases of the moon, take notes or even upload photos and share them with other users. But that's not all. In order to be able to determine the optimal conditions for garden design,
Home Outside App
With all the hand-painted and realistic elements, Home Outside is undoubtedly one of the best garden planner apps for 2024 that any home gardener should know. The developers paid a lot of attention to the optics and instead of computer graphics, in the end we get beautiful hand drawings. This makes the app look very natural and gives us a realistic idea of what our garden will look like. With the so-called Map Tool, which connects the app to Google Maps, you can upload a real satellite image of your property and easily arrange various objects and plants on it using drag and drop.