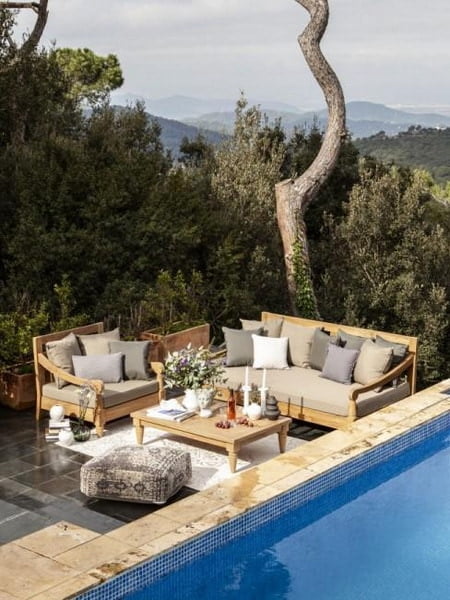 Enjoy the sun on the deck chair, end the mild summer evenings with friends and simply switch off: we can finally spend time in our beloved garden again! In times of Corona, the outdoor area is even more important than ever. Terraces are now becoming an open-air living room, a garden office or a place for the perfect stay. It goes without saying that this means that the right lounge furniture, garden tables and the like are becoming increasingly important! For this reason, we are introducing you to the 11 most beautiful garden furniture trends for 2023. From pallet furniture to hanging chairs to real designer pieces: there is something for everyone!
Garden Furniture Trends 2023
Trend 1: conjure up your cozy outdoor living room
Sure, we've always loved the garden and the terrace. But with lockdown, travel restrictions and the like, we only appreciate our outdoor areas even more! How wonderful is it to just move every activity outside when the weather is sunny? Work, eat, read or just relax: with the right furniture and accessories, your terrace becomes a real place to live.
Most important of all, of course, is comfortable lounge furniture. It is best to opt for a large sofa that can accommodate the whole family. The only thing that is even more comfortable is a trendy garden daybed! You can then combine other seating options such as crumple armchairs, bean bags, floor cushions or a rocking chair. This creates a wonderful seating area that you won't want to leave.
What is still missing for the perfect living room feeling is the right textiles. Simply use practical outdoor carpets, cozy plaids and stylish pillows. It couldn't be more comfortable!
Extra tip: Are you worried that everything will get soaking wet when it rains? We have two tips for you: On the one hand, you can make sure to choose quick-drying materials. And secondly, it is often worth buying a rainproof tarpaulin!
Trend 2: Outdoor Dining: Large dining groups for the perfect garden party
This year you will not only relax on your terrace: celebrations and dinner parties will probably also take place outside. But that's not a problem with large seating groups. On the contrary! With a little space and the right furniture, you can make your summer parties more beautiful than ever!
In any case, the basis for this garden furniture trend is a large table. Natural models made of wood are very beautiful here. If you like it practical, it is best to opt for extendable dining tables that show their full size when required. Then combine the matching garden chairs of your choice. Complete the setting with pretty lanterns, magical lanterns and colorful flowers – and off you go!
Trend 3: DIY garden furniture made from pallets – the idea for creative people
Last year we did more handicrafts, bake and handicrafts than ever before. We definitely want to maintain this trend towards more DIY projects in 2023. And what is better than self-made furniture for the terrace, balcony, etc.? Therefore, DIY pallet furniture is absolutely trendy this year. They are not only easy to build yourself, they also look great with the right seat cushions!
Trend 4: Romantic garden furniture in delicate pastel colors
In the garden year 2023 you have the choice: Either you rely on pure nature and thus above all on wooden garden furniture – or you bring a little color into play! The best way to do this is with trendy outdoor furniture in soft pastel tones. Ornate French-style bistro tables and matching garden chairs are very nice for your seating area in the garden. Whether a light green, romantic pink or summery yellow: You will fall in love with these sugar-sweet candy colors!
Trend 5: casual, casual, boho: hanging chairs made of rattan or macrame
We have always liked the casual boho style. Now we're going to go one step further – with gorgeous hanging chairs. They simply make our garden more light and are also wonderfully comfortable. Exactly what we absolutely want from the garden furniture trends!
Natural materials like rattan work best here. Also macrame knots, tassels and fringes are always welcome here. And don't worry: if you don't have the option of attaching your armchair to the ceiling, it is best to use a model with a bracket. Then decorate your armchair with a couple of cozy blankets and pillows in boho style and enjoy the relaxed time outdoors.
Trend 6: Rope design as a garden furniture trend for all weathers
Nobody can avoid this new trend material in 2023: Rope. The garden furniture is designed with colored ropes. These are usually made of plastic and are therefore particularly weatherproof. Nevertheless, the chairs, benches, tables and co. Look very natural thanks to the stylish weave and can also be authentically combined with furniture made of teak or rattan.
Trend 7: Life's beach: Holiday feeling with sun islands and colorful deck chairs
Even last year, planning a vacation was not that easy: Travel restrictions made some trips difficult or even canceled them. What you can rely on one hundred percent: that holiday feeling in your own garden! Because with our garden furniture trends that is guaranteed to arise.
Sun islands, deck chairs and beach chairs, for example, are perfect. The pool, beach and sea feel much closer to one another! It is best to use models in summery looks – stripes, bright colors and natural materials such as teak create real beach vibes here. Also very nice: a trendy parasol!
Trend 8: Design garden furniture trends in a modern style
Do you love modern, high-quality looks? Don't worry, you don't have to go without them in the garden either. It is best to use simple garden furniture in muted colors such as white, gray or black. You then combine these with one or the other designer piece. There are also atmospheric lamps and trendy accessories that make your outdoor area a real eye-catcher.
Extra tip: Use an exciting mix of materials for this style! Glass, metals such as stainless steel and polyrattan, for example, look very modern.
Trend 9: Out into nature – home office in the garden office
We have already talked about the outdoor living and dining room. But there is still something missing! Namely the outdoor study. If you feel particularly motivated with warm rays of sun on your nose and the soothing chirping of birds, you should pay close attention now: the garden office is absolutely trendy.
But regardless of whether you move your home office to the balcony, terrace or a seating area in the garden: There are a few points to consider. The main requirement is that you have an internet connection at the desired location. You should also choose a comfortable chair, especially when working outdoors for long periods. And to avoid sunburn, you can use stylish parasols.
But it gets even more luxurious with this variant: the Shoffice ! This trend comes from the USA and is made up of the terms shed (garden shed ) and office (office). So it is a small garden house that is completely converted into an outdoor office. This has a number of advantages: In the shoffice you can not only work quietly and undisturbed, but also in the middle of the countryside. In addition, the separation of work and leisure is particularly successful because you simply leave deadlines and stress outside. Corresponding manufacturers offer you numerous design options for the garden office.
Trend 10: gray as a trend color for outdoor sofas and Co.
Gray is not only one of the trend colors of the year for our four walls. Outside, too, we're now crazy about the classic shade! No wonder: gray not only exudes a lot of calm, but can also be combined particularly flexibly. Regardless of whether you want to create a modern, classic, rustic or Mediterranean look – garden furniture in gray is always an ideal basis. Whether you opt for a monochrome look or add different colors is entirely up to your taste.
Extra tip: We are completely in love with this combination: Give your terrace a summery look by decorating your gray outdoor sofa with sea-blue and lemon-yellow accessories!
Trend 11: Sustainability and natural materials – these garden furniture trends remain!
Sustainability is one of the big interior trends of all. It goes without saying that we can also find it in the garden area! That means: It is best to rely on high-quality pieces that you will really enjoy for a long time. In addition, you should use natural materials such as wood, rattan, raffia, bamboo or jute if possible. Not only do they look particularly beautiful in your garden, they also protect our environment.
Extra tip: Even the very trendy material Viennese wickerwork is now finding its way outside – and goes perfectly with the natural look!
We hope we were able to inspire you with our 11 garden furniture trends. You are also welcome to discover our garden trends 2023 ! For more creative ideas, we recommend our garden design, balcony design and terrace design sections ! Have fun setting up your outdoor oasis!