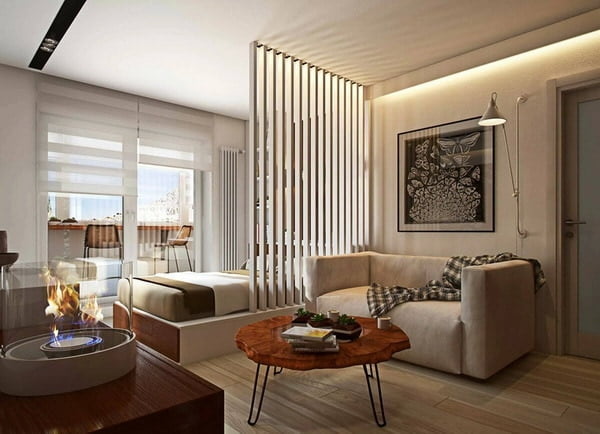 Trendy living room design 2024 is a room that is designed in a functional and thoughtful way. Such a room provides space for many activities, as well as the comfort needed for relaxation. In 2024, living room inspiration comes from nature – designers offer greens and grays, natural materials and botanical decorations.
Trendy Living Room 2024 – Multifunctional Space
At a time when the presence of a home hall is still relevant, and many people work in a mixed system, the division of the living room into zones is one of the most important design trends. A large living room in 2024 can be a place for relaxation, work and family gatherings. The key to a well-planned space is practical furniture, flowers and interesting partitions.
You can separate using the color scheme. Choose 2-3 fashionable shades and use them to designate zones in the room.
The second way is to divide it with furniture. First, think about the functions that the living room should perform. You can organize a cozy corner for relaxation, and possibly a place to work and store documents. Once you have identified your needs, plan your furniture arrangement. As an element that imperceptibly separates the interior, you can use a sofa or a decorative console. Equipment in individual areas may vary in colors and materials, but do not mix them too much.
Such rooms are separated by a partition made of wooden slats in the color of natural wood. This type of wall will not only separate areas in the living room, but also create a place where you can place a desk or bookcase. In the interesting interiors of the living room of the 2024 season, minimalism displaces an excess of decorative elements, leaving room for simplicity and comfort.
Trendy Living Room 2024 – Cozy Minimalism
In the rush of domestic, professional and urgent matters, it is worth having a space full of peace and organization. The arrangement of the modern living room in 2024 is based on a restrained color palette, simple shapes and a reduced amount of furniture. The increased need to stay at home means that many people are simply fed up with bulky furnishings and chaos of colors – it turned out that in a thoughtful, carefully organized interior, spending time is much better.
The trendiest living rooms of 2024 use what can be called cozy minimalism. The classical direction of this decision gives some the impression of coldness and inhospitality. For next season, designers are offering a warmer color palette that uses mixed shades of white, such as dark cherry or vanilla, as well as beige, gray and brown.
The minimalist layout of the living room for 2024 involves the use of simple furniture with soft-touch upholstery, natural textiles and rounded shapes. If you are just designing your home, make sure that there are large windows in the room – natural light perfectly emphasizes the spaciousness and neatness of minimalist interiors.
Living Room 2024 – Nature Above All
Love for nature and ecology is the main trend of the season, they simply cannot be avoided, they are ubiquitous and will surely stay with us for a long time. Decorating a room in accordance with these trends is the best solution, as this is a guarantee that the interior of the living room 2024 will remain in fashion for a really long time. You can equip the room and bring inspiration directly from nature into it as follows:
Choose from wood, stone and rattan furniture. Tables with stone tops are one of the hits of the season, especially in marble. No less popular are cabinets of all shades of wood, especially straw, gray and caramel. It is also worth adding a few rattan elements, such as a decorative wicker chair or a lamp.
Bet on green – one of the most fashionable colors. It dominates wall paint palettes and upholstery patterns. A sofa in this deep shade will be the perfect highlight of the living room interior in 2024. If you like to experiment with the color of the walls, you can use the colors of trendy scales of light olive, eucalyptus or fresh avocado.
Use natural fabrics – the time of polyester is gone forever. Linen, cotton and silk must be present in a modern living room.
Buy potted plants – without them, any house seems empty and unfriendly. Green plants and flowers will add energy to the interior and make it much more welcoming.
Living Room Trends 2024 – Rounded Shapes
In the season, only one trend is as strong as the fashion for nature – the trend for comfort! In addition to warm colors and soft upholstery, oval and spherical shapes are mainly used in the arrangement of the living room in 2024. They create the impression of home and comfort!
In 2024, the trends in the living room leave no illusions – fashionable sofas and armchairs should be oval, and tables should be round. The same applies to lamps and accessories – thanks to them, the composition acquires a sophisticated completeness.
Fashionable Small Living Room 2024
Although minimalism is often associated with spacious lofts, it can be a good solution for a small apartment in an apartment building. Ways to arrange this style in a small living room interior in 2024:
Paint the walls in light colors – shades of white and gray will make the interior visually larger. If you want to make a more expressive color, you can paint one of the walls in pale blue or light green.
Choose multifunctional furniture – in a small living room it is difficult to limit appliances, because every storage space is worth its weight in gold. A fashionable living room in an apartment building is easy to equip using modular and multifunctional furniture. You may need a coffee table with a shelf, an ottoman with storage space, or a bookcase with a desk.
Limit the excess – the trendy design of a small living room 2024 does not need an excess of decorations. An interesting vase, a mirror or a few framed photographs is enough. Choose quality, not quantity.
Opt for upholstery and textiles in muted colors. Mainly use shades of white, beige, gray, brown and black. For a change, you can add a drop of pink, terracotta or green.
Fashion Accessories For The Living Room 2024
Appropriate decorations can perfectly refresh the interior. So, if you care about a trendy interior, but do not want to change the whole environment, in 2024 choose living room accessories in accordance with the trends. It is possible to choose:
Carpets – soft, pastel colors and natural fabrics will fit perfectly even in a minimalist living room. They will warm the space and make it cozier. If you like slightly artistic solutions, put a few items overlapping at the sofa and coffee table.
The lamps are mainly suspended and standing with spherical glass lampshades.
Wallpapers were popular last season, there is every chance that they will be in trend again in 2024. It is worth giving preference to floral motifs or geometric lines, as they are the most popular.
Potted plants in ceramic pots and elegant vases will bring a touch of bohemian style to the living room.
What To Choose For The Wall In The Living Room In 2024
Although minimalism is an important trend of the upcoming season, this does not mean that the trendy design of the walls of the living room 2024 should be empty. Design options:
Wall Lights – Wall lighting is making a comeback in popularity and is definitely not to be missed in an elegant living room. It seems that flat wall sconces with oval lampshades and avant-garde design will be the most fashionable in the coming season.
A round mirror is well suited, for example, above a decorative console as an element that marks the center of the composition. It is worth choosing a model with a shelf and placing hanging plants on it, for example, picturesque ivy.
Framed graphics – all kinds of posters, collages and drawings are still in vogue. If you are aiming for minimalism, hang just a few works on the living room wall that match each other in color. In eclectic interiors, you can combine paintings of different sizes and shades.
Results
In 2024, modern living rooms will be distinguished by thoughtful furnishings, full of comfort and coziness. Soft tones of walls and furniture, soft upholstery, natural fabrics and plant decorations will help to get them.