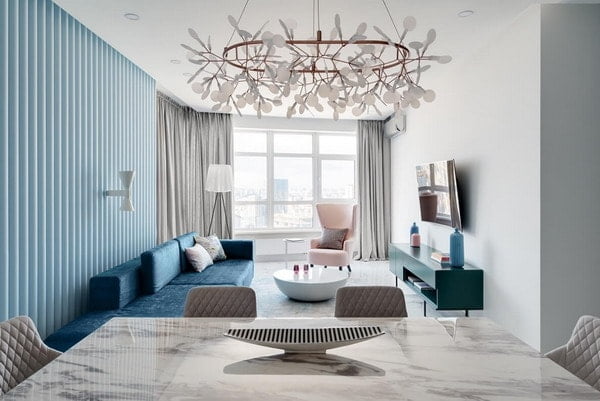 Many interior design trends in 2023 have their origins in 2022 or even earlier. These include a desire for minimalism and sustainable lifestyles. These trends are unlikely to decline in the next decade, so you can safely focus on them when arranging an apartment. But besides this, there are also fresh chips that will help update any design and make it relevant. We share with you popular trends, as well as talk about the most relevant styles and colors in the interior of 2023.
Main interior design trends of 2023: shortlist of the most interesting ideas
Truly stylish and modern interior design in 2023 is impossible to imagine without at least one of the following features.
Inspiration from nature
Residents of big cities sorely lack unity with nature, so eco-style in home decoration is more relevant than ever. Natural materials in decoration, furniture and decor will help to create a green corner in a city apartment. For a trendy 2023 interior, you can use rattan furniture or deliberately casual items like hemp tables.
Designers assure that living plants will be appropriate in any room. It is optimal to place one tall or spreading plant and two or three small plants in each room: they have a beneficial effect on health and give the room a stylish look. Fresh flowers look great in the interior of 2023 – if you do not have time or desire to care for plants in pots, then periodically buy bouquets and put them in beautiful vases. Realistic artificial flowers will also do a good job of bringing the design to life.
Individuality
One of the trends in the interior of 2023 is to make the house an extension of the owner's personality and a reflection of his tastes and interests. Therefore, down with standard designs, let your imagination run wild! If possible, customize furniture based on your family's needs. If the renovation has already been completed, and the furniture does not need replacing, you can get by with decor : for example, create a composition from frames with your best photographs or present your hobby. Do you like to travel, paint or read? Think about how you can beat this in line with the interior trends of 2023.
Rational use of space
The 2023 interior design should leave as much living and working space as possible to make the space feel cozier and more airy. This can be achieved using the following secrets:
Touch to open is a handleless door system that opens with a push. They look good in kitchens, wardrobes or shelving.
Multifunctional and / or built-in appliances and furniture.
Smart storage system.
Soft corners
One of the most interesting interior design trends of 2023 is flowing lines and rounded corners. Streamlined sofas and a bed, round ottomans, oval-shaped tables – all this allows you to give the apartment softness and comfort. You can choose a similar decor, for example, purchase oval photo frames, lamp shades for lamps in the form of a ball, or hang a garland with round bulbs.
Trendy interior colors 2023
According to the Pantone website, the main colors of 2023 in the interior are neutral gray and lemon yellow. Juicy yellow looks advantageous against the background of noble gray, and together these shades create a harmonious and modern interior.
To decorate a living room or kitchen, you can use more saturated shades of lemon, charging with positive and energy. Whereas for a harmonious bedroom interior in the trends of 2023, muted colors are suitable – pale yellow, amber, champagne.
In addition, in 2023, light colors in the interior are in vogue, ranging from pure white to pastel shades of mint, lavender and pale blue. They can be very nicely diluted with "earthy" warm tones – terracotta, coffee, mustard, chocolate.
Popular interor design styles 2023
The most important thing for a harmonious design is to decide on a single style of decoration for an apartment or house and adhere to it at all stages of renovation, from the choice of finishes to the decor.
A trendy interior in 2023 presupposes naturalness and a desire for simplicity, and trendy styles are fully in line with these trends.
Provence
Delicate Provence, which originated in the south of France, is synonymous with home comfort and unity with nature. French country music allows you to create the feeling of a quiet and calm country house in any apartment. This is facilitated by natural materials in decoration and furniture, simplicity of forms and light pastel colors, as if a little burnt out in the sun. Also in Provence, artistic shabby furniture, decoupage and gilding are welcome.
Minimalism
Minimalism has not given up its positions for many years, and in 2023 this interior will still be relevant. Its main principle is "Less is more" – "Less is more." This means that in a minimalist interior there is no place for unnecessary things that waste space, and decoration and furniture should be as laconic as possible.
So that minimalism does not look too simple and boring, it is worth focusing on interesting designer furniture or unusual textures in decoration.
East style
The traditional interiors of Japan and China are the most elegant expression of minimalist style. Of course, in the conditions of ordinary Russian apartments, it is unlikely that many will want to go to such extreme measures as replacing the bed and all the chairs with mats or installing paper floors instead of doors. But even a couple of details such as ikebana, bonsai or hieroglyphic prints will give the room an Asian charm. You can go further and arrange a small rock garden or a corner for tea ceremonies in the room.
The most important thing when creating an oriental interior design that is fashionable in 2023 is to adhere to light colors in white and beige tones and restraint in the choice of furniture and decor.
You can buy stylish home decor in any style in the Lavender Decor online store. We deliver within Russia, and in Moscow you can receive an order within 24 hours. Personalize your home with exquisite decorations, textiles and lamps from our catalog and create in 2023 an interior that will be the perfect reflection of your taste.