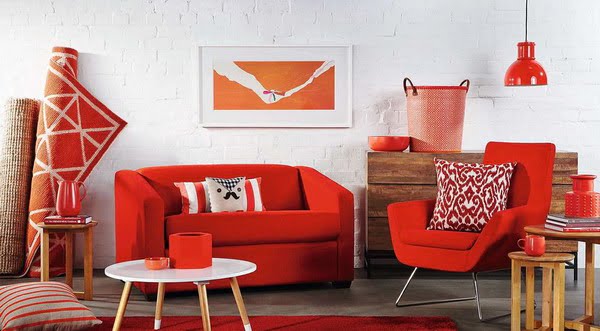 "Grape compote", "Guacamole", "Cream de Pesh" – no, we did not go into cooking, all these are the names of fashionable colors for the interior, which will be relevant in 2021. We talk about them in more detail and show examples of their use.
Designers around the world have already chosen popular home interior colors in 2021, and we present the selection to you. These shades will form the basis of trends in the design of next year.
Actual colors for the interior in 2021
"Quiet Dawn"
"Bleached Coral"
"Fiery Scarlet"
"Saffron"
Biscay Green
"Sunshine"
"Grape compote"
Guacamole
"Cream de Pesh"
Fruit Dove
"Eden"
Galactic Blue
"Dove"
"Orange Tiger"
1. "Quiet Dawn" (Tranguil Dawn)
"Quiet Dawn" is a cold shade that includes gray, green and blue notes. It was him who chose AkzoNobel, which produces paints and coatings, as the main color in the interior of 2021. It will help to refresh the space, make it visually spacious . Since it belongs to the cold palette, do not forget to create contrast with furniture in warm colors. For example, Beige, Brown, and a shade of cappuccino blend well with Silent Dawn.
2. "Bleached Coral" (Bleached Coral)
Creative agency Jack and Huei has contributed to the list of trendy colors for the interior in 2021 – this is the tone of bleached coral. It is such a pale blue that the coral who died due to the consequences of human activity becomes. According to designers, environmental trends in will be able to attract public attention to the problem of preserving the world's oceans and its inhabitants.
Like Silent Dawn, it is a cold light shade, so it will help to visually increase the space and make it lighter and more airy, but asks for a bright contrast. For example, as in these photos, with bright coral pink.
3. "Fiery Scarlet" (Flame Scarlet)
This year Pantone studio also chose its 2021 color in the interior, deciding that an incredibly rich and vibrant scarlet is best suited for this role. Designers of the studio announced that it symbolizes discontent and anxiety in the soul of people caused by the global political and economic situation.
Choosing such an energetic red as a base in an ordinary apartment is unlikely to succeed, but it looks very good in textiles, posters, vases and other accessories. This solution is optimal if you have never lived in an apartment with such a shade: it will play a good accent role, but it will be easily replaceable. If you are confident in your love of red and want to follow fashion, try using fiery red for a contrasting wall, upholstered furniture or an apron in the kitchen.
4. "Saffron" (Saffron)
Pantone is never limited to one trend. Each season, the company presents an extensive modern palette for the next year, and it is on it that the fashion and interior design industry is based.
Saffron shade is warm and very natural. It will work perfectly in an eco-style space, complement the classic style and can be used as an elegant accent in the Scandinavian interior . You can combine it with basic white, then the design will turn out to be light and cheerful, very fresh. Or you can take saffron in order to tint saturated dark surfaces, to make the space more comfortable.
5. "Biscay Green" (Biscay Green)
Another interesting Pantone choice is a color that resembles turquoise, which has gone closer to green than to blue. It is well suited for decorating non-residential rooms, such as a kitchen or bathroom. In the bedroom and living room, it can also be used if you are sure of good lighting.
Moreover, it is quite calmly perceived even in large quantities – as the main tone of the room, and is well complemented by white and gray .
6. "Sunbeam" (Sunlight)
A very interesting and multifaceted tone that is not often found in interior decoration. Try using it for walls in a poorly lit room or pick up such upholstery for large upholstered furniture to make it visually easier. Even the targeted use of this shade raises the mood of everyone who lives in the apartment, so it is especially good to use such accessories in the autumn-winter season to balance the heavy grayness outside the window.
7. "Grape Compote" (Grape Compote)
A deliciously named tone of purple will look good on textured surfaces: velvet, jacquard, embossed wall. Make sure that the room is spacious enough and has bright accents, otherwise this color can overload it.
In small rooms it is best to complement it with a neutral light base. She will emphasize its depth and will not spray your attention. As a contrast, details are suitable in saturated yellow, blue and orange palettes.
8. The Guacamole
Another Pantone choice. It is best suited if you want to refresh the space and use the trendy colors of the walls in the interior of 2021. The shade of Guacamole is the most versatile and friendly of all the above.
Against its background, tropical indoor plants and prints will look interesting . If you use it as a base, complement with warm tones, since cold ones can enter into an argument with him.
9. The Cream de Péche (Crème de Pêche)
Light peach was chosen by Pantone Institute for its softness and lightness. It is relevant for a small bedroom or living room, helps to create a chamber and bright space, which sets in peace and relaxation. A very good choice for textiles in a classic design, for example, for curtains. Also in this tone, you can arrange a gentle room for a girl without risking making the space deliberately infantile.
10. "Fruit Dove" (Fruit Dove)
Bright and very noticeable pink (namely, this color is dominant in the shade of "Fruit Dove") is best used fragmentary: in accessories, textiles, in the form of a pattern on wallpaper or tile. Medium-sized upholstered furniture with such upholstery , for example, an armchair in the living room, will be interesting . It is not necessary to use it everywhere – just one clearly distinguished accent is enough.
11. The Eden
Pantone characterizes the color "Eden" as majestic green. This is an actual solution for a bright and fashionable bedroom or living room. Make sure that the room has enough natural diffused light, and in the chandeliers and sconces there are bulbs with a good level of color reproduction. These factors help to correctly convey the tone and not make the interior gloomy and closed.
12. "Galactic Blue" (Galaxy Blue)
It is no coincidence that Pantone chose an association with space – this color really has a peaceful, pensive contemplation. Therefore, if you decide to make a colored ceiling , then this tone will make the space deeper and more interesting. It is also suitable for cabinet design or zoning of the working area, it will be appropriate to look in the bedroom.
13. The Dove (Paloma)
Light gray color "Dove" is called emphasized artless, but at the same time it is as elegant and versatile as possible in the design of rooms. It refers to the basic tones, so it can be applied in any style, in any room. It is light enough to visually expand a small space and versatile enough to decorate a large room and prevent a feeling of emptiness and incompleteness.
14. "Orange Tiger" (Orange Tiger)
The energetic warm orange chosen by Pantone energizes the interior, making the space saturated and vibrant. As a color for walls or large objects, it is especially suitable for rooms whose windows face north. It goes well with deep green, purple, dark blue. Another good addition to the orange tiger is a tree and living plants.
And if you want to shade a bright accent, use cool light tones of white or blue.