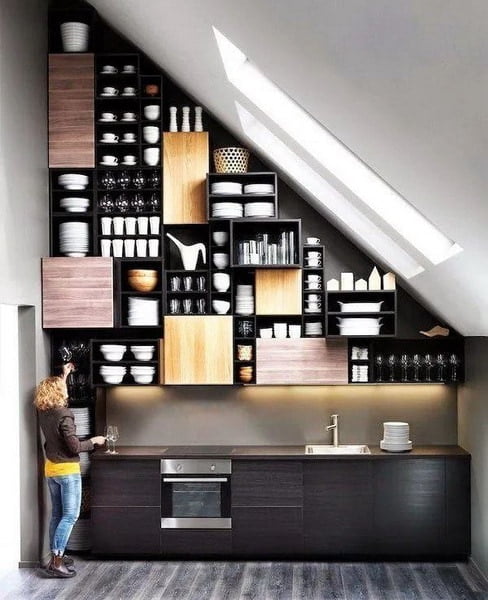 How to get the most out of  small kitchens  with new trends for 2021 without losing that feeling of harmony, of being a place where you enjoy cooking and create a greater sense of spaciousness. The modern kitchens we always provide functionality to our home and will be much more convenient for our day.
Let's see below, style trends for small kitchens in 2021. Photos with ideas for all tastes and with the most varied styles. You will surely find inspiration for your kitchen!
SMALL ISLAND KITCHENS
We all think that in order to include an island in our kitchen we must have one that is large, but on the contrary, with a good design we can include an island in our small kitchens. What we must take into account is designing  island kitchens always gives us functionality and, above all, with common sense.
You can keep modern kitchen designs for small spaces, being able to enjoy different designs that adapt to natural or artificial lighting, depending on your home. In fact, taking into account natural light is one of the keys in decorating kitchens, especially those that are small.
White island with drawers. This type of island is perfect to give light and lighting to the kitchen, also think that white kitchens are a trend, and that you can store many things in drawers, but we recommend that you have a washing, cooking and In addition, we can take advantage of and place behind the island a small area for informal lunches and dinners and breakfasts, using high stools. A clear example is the following photograph:
Marble island with high stools. It is another idea to take advantage of the island as a table to eat, breakfast or even cook. To locate an island in our small kitchen, it is important to take into account the minimum distances between the kitchen furniture or the wall and the island, which must be at least one meter (ideally it should be 120 centimeters) so that can be passed comfortably.
Small marble island. For small kitchens this is a great solution because it does not take up much space and is very useful. When distributing kitchen furniture we have to take into account the island, based on it we will place the furniture around the peninsula or island. In the following gallery you can see how we can locate them with more examples of small kitchens with an island. But if what you want is to give an original touch to your kitchen, the best thing you can do is change the island or peninsula's color or material, giving a greater contrast.
Below we show you a gallery so you can see small kitchens with a central island, but if you want to see even more photos of kitchens with a central island, just click on the link.
SMALL "L" KITCHENS
Red L – shaped kitchen. This first example of kitchen serves to describe the  small kitchens in «L» are the most used and this is due to its functionality and to save space by how the furniture is placed. This type of design allows more space and thus optimizes when it comes to cooking and cleaning.
Small L-kitchens generally need more storage space, we lack space to store kitchen products and it leads us to leave everything on the countertops being a complete kitchen burden. A good solution is to add a central island, as we have seen in the section above, in this way we can store the products or what does not have space at the bottom and use it as a daily dining room or a work area on the counter.
In the following photo gallery you can get an idea of the "L" shaped kitchens that will help you design and decorate your kitchen depending on the utility you need.
SMALL KITCHENS INTEGRATED INTO THE LIVING ROOM
Blue open kitchen. As you can see in this photo, a kitchen open to the living room is a perfect idea for small kitchens that are integrated into the living room to increase that feeling of space and spaciousness.
At the same time, we cannot forget that the kitchen bar trend is one of the most accepted and desired, so it also becomes a perfect option to enjoy a fashionable house.
And we do not have to miss the opportunity to try to make the kitchen integrated in the living room, in a neutral or soft color, so that it can better combine with the space that it actually occupies. With this we will be able to have the kitchen when we need it, but thanks to its color, it will go more unnoticed when we have everything collected, as we see in the image above.
Below we show you an image gallery where you can see different photographs of integral kitchens in the living room, you just have to click on it to start seeing them:
SMALL FREESTANDING KITCHENS
Small independent kitchen  is one of the latest trends this season, how to get the most out of it and get inspired by the best photos of small kitchens, you are in the right place.
Freestanding kitchens have the advantage that smells do not spread throughout the room and that one can cook without an audience most of the time.
Next, as in the previous case, we leave you an image gallery with the best independent small kitchens:
SMALL ELONGATED KITCHENS
Small elongated kitchen. As you can see it is very narrow and we will have to figure out how to get through two at the same time, if possible. In this case, one has to consider whether it is better to put tall shelves, some very narrow furniture on the opposite wall or if it is preferable to gain some space in the kitchen.
Here we present an image gallery with some photographs of narrow kitchens. As you will see, some kitchens are not small, but remain small if the space is not used well:
SMALL DESIGNER KITCHENS
Small kitchen in white design with glitter. As you can see this kitchen even if it is small if we put  elements so that it is functional and at the same time beautiful and decorative, that's why the touch we want it to have is important depending on the style of our house. In this way we will get small designer kitchens.
Small designer kitchen with an island where lighting plays a very important role, whether natural or artificial. If you do not have a window in the kitchen do not hesitate to put artificial light, so we will achieve a bright effect throughout the kitchen.
Small kitchen in white design. To have a design it is enough to have elements that make it special, modern and above all with a good design, which makes a normal, functional and modern kitchen. In this image we can see this large shelf perfect for storing and storing everything.
Small house with original design with a perfect shelf to store everything in the kitchen.
Another small design kitchen idea is this that we show you above, with a wall designed in glass, so that it not only serves to divide the environment, but also so that we can continue enjoying all the possible space.
After seeing several proposals for American cuisine as one of the best small kitchen options, we can also show you this one that is design. A nice American kitchen that has a minimalist design, also betting on neutral colors, perfect to make the space look more illuminated.
To give you an idea of small designer kitchens, we leave you the following gallery with several photos so that you can design your kitchens to your liking but always being functional and beautiful.
DECORATING TIPS FOR SMALL KITCHENS
If your kitchen is small  or very narrow, do not despair, there are kitchen designs that can help you gain space and comfort. In many floors of a few meters each centimeter counts and that is why in spaces that we use as much as the kitchen, it is important to have clear ideas regarding what elements are necessary and how they should be placed.
FURNITURE
As important are the furniture you choose and the style you want your kitchen to have as the fact of distributing it correctly.
White and red cabinets. Our first recommendation is to opt for cabinets with vertical storage, with which you will see that you gain in space and comfort.
The  kitchen cabinets with shelves outside the can be used as a pantry. A fantastic idea so that your kitchen, even when it is small, is practical and above all, that allows you to have everything tidy since sometimes if we do not know how to organize the elements, the space may be reduced too much. And if you like rustic things, baskets are useful to store while decorating the kitchen.
The open cabinets and shelves in the kitchen are undoubtedly used to make the most of the space. There are even corner furniture that can be made to measure so that you do not lose a single centimeter and can contain removable drawers so that you can reach the bottom of it in a comfortable way.
If you want a kitchen table, one of the best options is folding tables. You can only open it when you need it and easily close it again. Of course, look carefully at the different models because there are also tables that have their own storage space between the legs, which allows us to have a perfect place to store tablecloths, napkins and more. We are still saving space!
Another option is to have a small kitchen island, which can be a storage and work space at the same time. You can even have a kitchen island with wheels, which is a waitress, that you can move where you need it and remove it when it gets in your way. It seems to me one of the most useful elements because it provides extra space to cook and store in the kitchen. They are currently carried a lot for larger kitchens, but we can also find the odd model for small kitchens.
LIGHTING
Lighting is one of the most important keys to having a kitchen to enjoy, where you want to be and cook.
The ideal is to have good natural lighting, which in addition to ventilation will offer us an excellent feeling of spaciousness.
The space under the window is very functional and desired because it can become the perfect place to put a table and eat (folding table, kitchen bar with stools, wider table, etc.) but, I also have to tell you that many they take advantage of that natural light so that it is projected onto the sink or is lateral to the kitchen.
Large window in the kitchen. You can also take advantage of putting some shelves next to the window, where the light can enter, and placing some shelves where you can put your own aromatic and spice garden. Plants are great in the kitchen, both in decoration and gastronomy.
In the event that you do not have natural lighting, select very well the areas where you are going to put the lights. It is important that the entire kitchen is well lit so that it is pleasant to be in this part of the house.
An important detail, if we have great lighting but we have not selected the colors of the cabinets, walls and tiling well, we are not taking full advantage of what we could.
COLORS
As we mentioned in the previous section, lighting and color go hand in hand to achieve an effect of spaciousness and harmony in the room. For this reason, when we talk about colors we are referring to both the furniture and the electrical appliances, the walls and the floor.
White kitchen. One aspect that you always have to take into account, regardless of the room you are decorating, is that light colors give a greater sense of space. Of course, this does not imply that you should always paint white or very light tones, because you can also learn to make a pleasant combination that manages to offer a feeling of spaciousness.
If you like the intense color, we recommend that you use it in small kitchens only in some appliances or other decorative elements. This small selection will give a completely different style to the room, a very striking but not loading color point. For example, we can choose that the color of the walls and ceiling is white and the fridge can be a gray tone.
Blue kitchen. The chrome-plated and gilded stainless steel wallcovering along with the metal appliances brings a feeling of shine to the kitchen, this helps make it look more spacious.
Green kitchen. If you prefer wood or wood effect furniture, there we have to tell you that it is true that you can create a more cozy kitchen but it usually gives the feeling of being smaller. A solution that may be practical for you is to choose an integrated kitchen, so that all the elements are grouped; also choosing muted wood tones, such as that provided by natural wood, gives realism and is not so saturated.
Beige kitchen. Anyway, our main recommendation for a small kitchen is that you always opt for light tones. Only with it you will be able to get kitchens that, even if they are tiny, are as illuminated as this one above.
Kitchen in pastel colors. And if you move through the latest color trends, nothing like choosing also the small kitchens that are presented in combined pastel colors, as we can see in the image above, in which the pastel green and salmon color are combined with the White.
If you want to be able to see more of the kitchen proposals with design and color ideas, don't miss the photo gallery below:
SHELVES
When it comes to talking about small kitchens, shelves are considered essential in order to store as many objects as possible in a small space. One of the advantages of the shelves is that since they do not have a door you will see everything and you will gain space for objects that did not fit in a closet and that, in fact, you must have within reach when you cook.
Putting shelves in the areas closest to the ceiling is another of the "tricks" that will help us to distribute the space in our small kitchen, in addition that it will not make things bother us too much while we are cooking and we can have everything collected.
The use of transparent shelves increases the luminosity and the feeling of space in the kitchen, appearing as practically non-existent structures. Thus, these practical surfaces will help you store objects on the walls, freeing up space for other needs in the rest of the kitchen, they will not interrupt the flow of light and will transmit a soft and practically magical vision, giving the impression that the objects they are practically floating in the air.
Another option to the shelves is to use walls with cork panels to hang pots, pans and all kinds of objects. If this option does not appeal to you much, you can also put some fixed bars and buy some hangers to have them at hand or fix them directly on the wall with the rest of the kitchen utensils.
TRENDS IN DECORATING SMALL KITCHENS
In the previous lines we have already pointed out several tricks that can help you make your kitchen as elegant and functional as possible despite its small size.
In fact, more and more tricks, recommendations and furniture appear that aim to make any kitchen appear as wide as possible, so below we want to present you some of the most cutting-edge trends in the field of small kitchen decoration that you can think about incorporating yours in the coming months.
MIRRORS
You have probably read or heard on other occasions that mirrors are a widely used resource to give a feeling of greater spaciousness and light to all kinds of rooms, such as living rooms or living rooms.
However, until now, it had not been used regularly to give a feeling of greater space within the kitchens, since its presence in them, in addition to being strange, was considered impractical due to the use given to this room.. But this conception has taken a radical turn in recent times with the fact that cabinets or furniture for small kitchens whose doors are actually non-stick mirrors have become very fashionable.
With these elegant cabinets with mirrored doors you don't have to sacrifice a single centimeter of wall to get the same feeling of spaciousness that is achieved in other types of rooms with the placement of mirrors, you will have a brighter kitchen and, being products new and surprising, they will give your kitchen an interesting touch of originality and modernity.
THE CEILING
On many occasions, small kitchens can have high ceilings that we can use to increase the feeling of spaciousness, especially if the furniture that we have chosen to place in the kitchen does not completely cover the wall.
In this way, it is becoming a trend to take advantage of that little ignored space between the furniture and the ceiling to increase the spacious feeling of the room and add a touch of elegance to the whole set. Thus, you can take advantage of this small space to create long rectangular windows that add light to your kitchen, to create interesting designs that attract attention with tiles or wood, or even use wallpaper or different colors.
Making this forgotten space stand out, your kitchen will gain meters in the eyes of the people who step on it and you will be able to give it an original and personal touch that will really make it stand out from the rest.
TRANSPARENT CHAIRS
Clear plastic chairs have become a trend precisely because, unlike those made with other materials, they let in light and thus make the kitchen seem more spacious.
Therefore, high chairs made of transparent material have become very fashionable as a comfortable alternative that does not block the overview of the kitchen and makes the most of the light that enters the kitchen, while adding a touch modern to the kitchen.
These chairs, in addition, are usually very easy to clean and considerably cheaper than those of other materials such as metal or wood, which makes them enormously attractive. If you decide to renovate your kitchen, don't stop thinking about them!
SMALL KITCHEN PHOTO GALLERY
Here we show you designs from previous years and other novel designs that can be sensational for your kitchens. Sometimes an image is just what we need to get inspired, to find that kitchen that looks like ours or to find a style that we like.
To see the gallery, you only have to click on the first image so that the whole gallery appears:
IKEA SMALL KITCHENS – CATALOG
IKEA offers many possibilities to design your small kitchen as you want, depending on your tastes and needs. You can create many combinations and take advantage of all the spaces to get that functional kitchen you are looking for.
It has great prices so that all pockets can design your kitchen, in addition now they help us by facilitating the steps, with only the measurements of our kitchen it gives us the budget so that we can calculate how much it will cost us to decorate the kitchen.
If you are looking for more related information, we recommend these other articles on kitchens and their decoration that will certainly interest you.