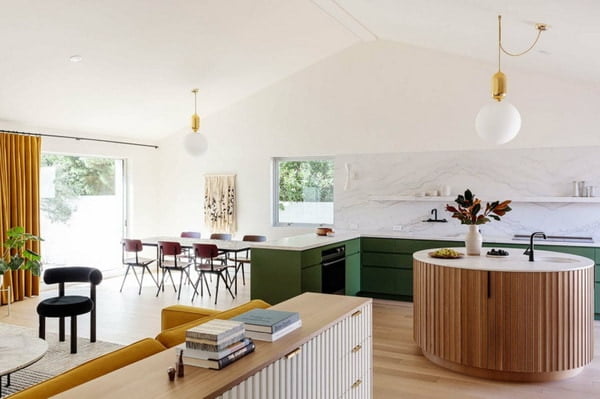 Kitchen designs have changed a lot over the decades and planning a kitchen remodel is very important. Technological advances and changing social dynamics have contributed greatly to the rise of modern kitchen designs. There's a much bigger focus on open-concept homes that revolve around the kitchen so everyone can be together. As with any modern design trend, clean, simple styles have become favorites for natural light homeowners, becoming an essential aspect of the overall look and function of kitchen space.
Modern kitchen designs – 2021 trends
With the advice of design experts, these are the top kitchen design trends that we expect to see in 2021.
Smart kitchen designs
Technology has entered the kitchen in full force and not just in the form of sophisticated appliances and appliances. Today, you can have a kitchen with technology built into every feature and appliance, from the taps to the refrigerator to lighting. This is what we call a smart kitchen.
Smart kitchens are an evolutionary aspect of design. In fact, many kitchens today are intelligently built from scratch. For older kitchens, sensors, smart devices, and other devices can be added for the owner's convenience. Smart kitchens are an evolutionary aspect of design. In fact, many kitchens today are intelligently built from scratch. For older kitchens, sensors, smart devices, and other devices can be added for the owner's convenience.
Easy add-ons are kitchen faucets equipped with motion detection that can detect the presence of hands underneath and will automatically activate or test a one-touch function. Refrigerators that can alert you when your food is running low or a coffee maker programmed to have your coffee ready when you wake up. There is also a device that monitors your eggs and tells you which ones are almost in bad shape. Don't forget to update your lighting system, allowing you to control all lights from your smartphone or tablet. Tech integrated kitchens are becoming more popular as homeowners experiment with new technologies. This is one of the most important trends of 2021.
Cabinet Colors – The colors are finally here!
Although the white cabinets are classic looking that can be used in almost any type of kitchen style, we are slowly starting to see them coming out! We expect white to begin to decline in popularity throughout 2021. To break the all-white kitchen, expect to see islands in a variety of paint colors or wood colors. The mix of finishes creates a necessary accent piece and extra pops of color for the brave.
These splashes of colors will be the most popular in shades of blue and green. In addition to these neutral tones of nature, there is another color palette that makes its way in the kitchen: dark jewel tones: black, navy, emerald green, and even plum. You will be amazed at how well dark kitchen cabinets can work and / or enhance a kitchen space with its dramatic and luxurious feel.
Dark kitchen cabinets represent total elegance and a deep, luxurious atmosphere that the other options simply don't have. They project the kitchen into a subtle dramatic essence. However, you must be careful not to dominate the room, making it feel perpetually dark. But more and more homeowners are becoming more daring and opting for a kitchen with dark colors in the cabinet in 2021. Expect to see tons of black and darker tones in the most modern house of 2021.
Two-tone kitchen designs
Forget the combinations, the kitchens get more and more mixed as we enter a new decade. The trend of combining two colors in kitchen cabinets will skyrocket in 2021. It's a great approach to add an interesting twist to your aesthetic and can change the whole feel of the room. Opt for deep, dark units and contrast with brighter shadows elsewhere to add depth and character to the space.
The trend extends beyond a contrasting paint color on the walls. From cabinets to countertops, it gives you the freedom to explore different design elements. You can play with rich textures like wood grains, matte finishes, or elegant laminate. Its juxtaposition use creates instant interest.
Smart storage
At a time when we strive to reduce our overall well-being, thanks to Marie Kondo, storage is key. Especially in kitchens where we need so many "things", from ingredients to kitchen equipment to prepare meals. Hidden and well-located storage is a flavor to the aesthetics of our kitchens. One of the most desired design features will be the kitchen pantry.
Eco-friendly cabinets and accessories
In recent years, it was all about the marina, but we hope to see greener kitchens in the future. It could be in the form of accents, like this wallpaper: palm leaves and botanicals are for 2019/20 what florals were for the mid-1990s.
However, it is increasingly likely to take the form of tiles and cabinets, in shades of emerald and forest green.
The bold dark shade trend was prominent throughout 2019, and as we move into 2021, green kitchen cabinets will be a new and key style. Green can be just as dramatic and luxurious when used in the kitchen.
Deep green forests can be balanced with latte shades, smoked glass, and soft metals to add opulence to the kitchen. The addition of white marble and brass through design aspects like lighting and countertops, or even fixtures, help to bounce light around the space and offset heavier tones.
Melancholic blue tones
While green is the favorite, shades of navy are still a big trend for kitchen cabinet options. The most sophisticated and dramatic color choice when it comes to kitchens, midnight blue has been an emerging trend recently.
Kitchen designs with soothing color schemes
While darker colors still greatly dominate cabinets in the future, we are seeing a growing trend of serene paint options for walls and freestanding furniture pieces. Give your kitchen a new lease on life by revitalizing it with soft, soft colors. The introduction of relaxing qualities in the home will be key in 2021 and the notes of dark pink, soft gray and sage green will bring a refreshing sensation.
Taps that impress
No kitchen is complete without them, so it's about time we let them shine! Industrial-looking brass taps with unusual handles and cool features are a great way to get attention and complement the space. Pair with similar cabinet finishes and grip to maintain consistent style.
Hidden gadgets
While there will be a lot of technology and new devices in our kitchens in 2021, we don't necessarily want to see them. Appetite for discreet storage is expected to increase. Homeowners are examining the aesthetics of the appliances they are integrating into their kitchens, and therefore concealment solutions, which create an aerodynamic finish without affecting style, are a key consideration.
So how can we have the latest alliances without taking over our kitchens? Hiding these appliances can take the form of simple cabinets to hide a fridge or dishwasher. Or a storage design that minimizes small counter appliances. A hidden station, which prevents the kettle and toaster from cluttering the counter, and helps create a dedicated area to sit and enjoy breakfast will be popular in 2021.
Living room furniture
With the increasing popularity of open plan living, it is not surprising to see that living room furniture grows in popularity in our kitchens. Kitchens are the heart of our homes now more than ever, so creating a comfortable and well-presented space has never been so important.
Lighting
Lighting has more freedom in the modern kitchen. With striking pendants that are used to dress the aesthetic more and more. While the use of spotlights or low beams is still key, there is a tendency to make the kitchen feel more like our living rooms – lighting plays a key role in this.
Brass finishes
We are seeing more and more warm brass tones in modern kitchens. Brass is the ideal shade to enhance blue tones and green cabinets, while adding a sophisticated touch. The hardware store can elevate the style of a kitchen and create an interesting feature. Often overlooked, attractive faucets, hinges, knobs, and handles can truly transform a kitchen design. It is the finishing touches that can make or break an outline.
Modern twists on tradition
While traditional styles are still popular, like Shaker-style cabinets, the way to make it traditional by 2021 is in a modern color. Choose traditional designs, but opt for a contemporary color to give kitchens a modern touch.
Industrial style kitchen designs
In kitchen design, the use of raw materials that are rich in tones and texture will definitely continue to increase in popularity by 2021. Metallic amber, gold and rust along with copper slate and Italian concrete offer a unique aesthetic that It is proving to be exceptionally popular for its on-trend industrial look.
Kitchen designs with vibrant accents
They may have to be functional by design, but that doesn't mean our kitchens can't be fun. In 2019, some are taking a more lighthearted approach by presenting primary shades and quirky finds.
Dining islands
We all know that islands and breakfast bars can provide a place for casual dining as well as workspace and storage. Here we can see a kitchen island that has a dining area, which means you get the storage benefits of an island, but also the addition of an integrated dining room. When it comes to entertainment, we want to be able to integrate both cooking and socializing and what better way to do that than with integrated seating on the island.
Retro kitchen revival of the 70s
This is an aspect that you will see both in mosaics and in anything, and reflects a broader return to 70s trends within the home. A combination of mint green cabinets with honey and amber accents could work for you.
Retro Kitchen Designs-1970s
Don't be afraid to mix unit styles, either. Add color with hints of mustard yellow and avocado green and choose cuisine in classic 1970s shapes.
Broken plan kitchens
Open plan kitchens have revolutionized the way we cook and entertain, but they have their sins. For starters, where do you hide all the dirty pots and pans from dinner guests? So if you are looking for a little more privacy, a broken plan might be for you. The concept is simple: take an open-plan layout but add a freestanding bookshelf or raised breakfast bar to create separation without the need for a full wall. This more zoned approach is an evolution of open planning life and allows for a more sociable experience for all.