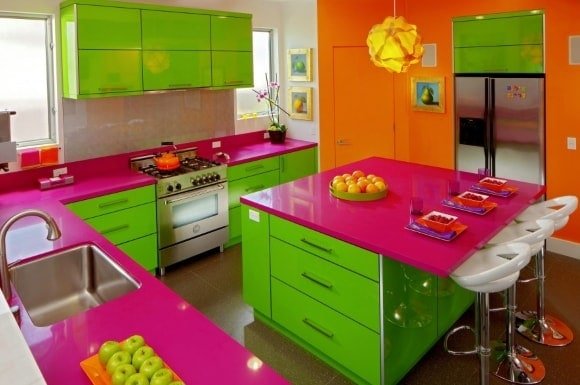 Hello dear readers of the indecortrends.com blog  ! If you are here today, then most likely you are worried about the appearance of the kitchen. You can't decide on its future appearance in any way. It is for you that we have collected 100 beautiful photos of new kitchen interior decor design trends 2022-2023. Based on the ideas presented, you can certainly create your own unique style.
Modern kitchen interior design ideas 2022-2023
It is very important to understand that in most cases the kitchen in the house is one of the spaces that well reflects the taste of the home owner. There are countless designs of space, options for arranging household appliances, materials used, colors, and the like.
The design project should always be carefully developed to the smallest detail, since not only beauty is important, but also functionality – the room is still narrow-profile.
In this article, we will talk in detail about the ideas for decorating the interior of the kitchen, which are relevant this year. We will describe the elements and tell you how to use them best so that your room is pleasing to the eye, not only to you, but to all guests who come to your house.
Finishing with plastic panels
What do they do most often in the kitchen? That's right – they prepare food. This is a place where a significant amount of moisture is retained due to thermal food processes such as boiling, frying, etc.
All of this does not work well on the surrounding materials and to avoid unnecessary hassle, homeowners often resort to using plastic panels.
Plastic panels are an actual material in use that does not absorb moisture, odors and lasts a long time. The material is not expensive, has a huge number of colors and, with proper installation, fits well into the surrounding space. Also a plus is the fact that various kinds of dirt are perfectly removed from it.
The main thing to remember is that such a material must have a good fit to the back wall and to adjacent panels. This will prevent the possibility of fungal growth over time.
Corner
Corner interiors are classics of the kitchen design genre. The corner option is very convenient and functional, since all the elements are practically at hand. Here are some successful examples in our opinion.
As you can see, the shell is most often located closer to the very corner or at the bend. Most designers think this is the most optimal placement option.
With a bar
Previously, the use of a bar in the kitchen was a truly exotic design solution. Now, such a layout will not surprise anyone, since bar counters have become widely used by those people who want to expand their functionality a little.
With a bar counter, it becomes not only a place for preparing food, but also a place where you can sit comfortably with friends or alone, sipping wine. Also, the use of a bar counter saves space well due to the fact that you do not have to resort to installing a dining table. Here are some good design options for this kind of rack.
Also, the undoubted advantages of bar counters are the variability of their width, length and height, which allows you to choose them for almost any area and layout.
Without top wall cabinets
Kitchens without overhead cupboards look quite unusual and are designed to save valuable space. Often such options are used in rooms with a low ceiling in order to visually enlarge the room.
In rooms of this type, lockers can be easily replaced with shelves of various lengths and levels. Thanks to this solution, it does not lose its functionality and looks also stylish and modern.
On the shelves, you can place a lot of useful things to which there will be quick and convenient access. Simply put – everything is at hand.
With an island
The so-called "island" plays an important and functional role in the kitchen. He can replace you not only the table, but also the bar counter. It is convenient for cooking and spending time with family or friends.
As practice shows, these "islands" can also be a wonderful storage for any accessories.
It is important to remember that if you are interested in this solution, then always select an "island" for the overall design of the kitchen. This is required so that all the elements look harmonious and do not get out of the general conceptual picture.
Also, don't forget about the dimensions. The "island" should not be too small or too large. Construction specialists can always help you in making the right choice.
With sofa
Kitchens with a sofa are classics and are ubiquitous in design. This is characterized by the fact that the sofa replaces chairs well. Also, undoubtedly, the sofa will be much more comfortable than the latter.
The sofa is also a rather capricious element. His choice must be approached very carefully and not be allowed to get out of the general visual picture.
Usually it is matched either to the color of the main elements, such as cabinets, refrigerator, and so on, or to the color of the floor or walls. If you like this solution, then carefully choose the material for your sofa.
It is desirable that the material does not absorb moisture, and it is possible to wet clean it at least once every couple of months.
With window
There is a window in virtually every kitchen and every living space. When choosing a window, be sure to consider the factor that the latter has the ability to open well.
Also, it should not be too small or too large.
With two windows
Also, you can consider the option when the presence of two windows is possible in the kitchen. This solution is used on areas long enough so that the space receives as much natural light as possible from the outside.
However, as practice shows, the presence of two windows remains quite rare due to the fact that not all apartment layouts can allow this interesting venture to be implemented.
At least – not in our latitudes. However, for example, in Europe and the USA, rooms with two or even three windows are considered the gold standard.
With bay window (ledge)
A bay window is one of the most stylish solutions in a living space. This is a specialized ledge on the facade of a building with windows (or one semicircular window).
It not only sets the style for the entire room, but also plays an important functional role – due to its presence, the kitchen area increases and it becomes possible to accommodate more household items. To better understand how to use it in design, we present several examples in the photographs.
As you can see, it is very beneficial to place either a sofa or a table next to the bay window. This will allow you to enjoy the surrounding views to the fullest with a cup of morning coffee or tea.
With refrigerator
There is no point in describing the types of refrigerators, since every inhabitant of the planet has this household appliance. In this sub-chapter, most of all I would like to focus on how more unusual it is to fit a refrigerator in the kitchen, so that it looks very organic and stylish by the standards of the latest projection trends. The examples in some of the photos below will help us with this.
You can see that recently, a certain trend has been an attempt to hide the refrigerator in an "array" of kitchen cabinets. This is done for the reasons that such a solution is very space saving.
Thanks to this disguise, all the elements in the kitchen look quite organic. By the way, for many years they have been producing specialized refrigerators that can disguise themselves as the surrounding space – they can be hidden in the closets themselves, the pantry, or even under the countertop.
This practice is observed in IKEA kitchen furniture, because for many years IKEA has been trying to develop the trend "the less the better".
Exit to the balcony
Some people can be very lucky if the layout in their apartment will provide for an exit to the balcony directly from the kitchen. This gives simply tremendous opportunities for design ideas to fly.
On the balcony, it is possible to organize a great place where you can put a coffee table with a couple of chairs, or mount cabinets for storing useful little things. Also, with a certain skill, it is possible to make a bar counter or a place with a dining table on the balcony. In general, you are only limited by fire and building safety regulations.
Some people, by the way, manage to make whole miniature rooms out of such balconies where you can live.
With ventilation box
Some apartment layouts are distinguished by the fact that they have a ventilation duct, the functional purpose of which lies in maintaining natural air circulation between apartments and floors in general.
The presence of a ventilation duct requires a special approach in kitchen design, since it is quite difficult to disguise it. However, you can – we present some of the most successful camouflage options below.
As you can see, a fairly good solution is to disguise it as the main elements of the kitchen – cabinets, the color of the ceiling, floor, and so on. Also, it is possible to hide it in a cladding made of the same material from which the entire base is made as a whole.
This will allow him to stay in the picture and maintain visual ergonomics. The main thing to remember is that under no circumstances dismantle the ventilation duct if it is present in your apartment. By these actions, you will inconvenience not only yourself, but also your neighbors, as you will cut off the path to fresh air.
With TV
The TV has become, perhaps, an integral part not only of such premises in an apartment as a bedroom or a living room, but also in the kitchen without it. Its functionality is to accompany cooking or eating, playing various programs in the background.
The question of its successful placement remains a good one, because any horizontal or vertical plane is suitable for this. When installing, it is important to take into account a lot of factors – angle, height (if the option of mounting on walls is being considered), slope, and so on. Now we will look at some of the most successful options for placing a TV in the kitchen.
With fireplace
A kitchen with a fireplace is a real rarity in the layout. Despite the difficult coordination of the construction of such an element with various services, this solution is unique in its kind and can surprise any guest in your house.
Naturally, a real fireplace can only be placed in a private house – such a solution is prohibited in apartments. A fireplace will not only create coziness in your kitchen, but also provide precious warmth during the cold season, which can help you achieve some monetary savings.
Depending on the size of the kitchen, the fireplace can be made both small and large. Also, you are not limited in its form factor – in this matter it all depends on your imagination.
The main thing to remember is that the fireplace should be constructed of heat-resistant material that can withstand temperature extremes well. This will extend its trouble-free service life for many years and make your time in the kitchen a pleasant experience cooking.
With zoning
Space zoning is used if you want to delimit the space between the dining room and the kitchen. Usually zoning is used in not the smallest studio apartments, where they want to make two different rooms from one (which, in most cases, were originally combined).
Various wooden columns, partitions, podiums, arches, curtains, and so on will help you separate these two zones from each other.
As you can see, zoning looks not only stylish, but also specifically emphasizes the purpose of a particular room.
With a brick wall
A brick wall kitchen is a great and stylish design, most often used in an industrial style apartment or loft. A brick in appearance can be of different colors – white, black, green, orange, and so on.
This solution allows you not to bother with the choice of tiles, it is very easy to install and will be relevant for many years to come.
Under the tree
Wood is not only environmentally friendly, but also a noble material that is used everywhere in the design and design.
Firstly, this material on the market is presented in different color variations (depending on the wood species), secondly, it serves for a very long time, with proper processing, and thirdly, it is easy to install.
Despite the fact that wood-like kitchens became a trend many decades ago, this solution is still in great demand.
With a berth
A kitchen with a sleeping place can be found if your living area is small enough.
Despite this, designers offer a lot of options for implementing such an undertaking. You can see a couple of examples below:
With corner sink
We have already written earlier about the fact that a corner sink is the best solution when using a corner form factor. To confirm this fact, it is worth showing some of the best, in our opinion, options for using a corner sink in kitchen design.
With a niche
Usually, a niche is present in those kitchens where the wall is adjacent to the bathroom. A lot of people don't know how to best play around with this kind of design niche. Some even try to close it up with building materials, but this is not the best idea.
We propose to view below some of the photos in which niches have been successfully hidden, thereby not losing beauty in the overall design picture.
With arch
Arches decorate any room – bedrooms, corridors, living rooms. Kitchens are no exception. With an arch, it looks not only much more interesting, but can also give you some opportunities for better zoning of the surrounding space.
Arches are easy to install – most often they are made of drywall. It is an inexpensive and durable material. Then, if desired, the arch can be decorated with additional decorative materials. This is already a matter of taste.
With stove
The stove in a modern kitchen is a kind of tribute to the past, but in a more beautiful current version. Equipping it with a stove is not an easy task, due to the fact that the design is limited by the materials from which the stove itself is made – it will not work out too much.
However, with the right approach and the right choice of materials, your room will look not only unusual, but also create a certain coziness in the house.
With black top
The black countertop in the kitchen looks really stylish. Also, due to the color, she knows how to mask various minor damages and, with proper care, looks like new from year to year.
No knife marks are visible on it, and it creates a good contrast with light cabinets and household appliances.
With a gas boiler (column)
In some apartments, a gas boiler is still an indispensable attribute. Despite this, do not forget that it is possible to fit well into modern design. Great examples can be seen below.
Simple, real photos of a kitchen studio after renovation
Studio apartments are not uncommon in modern homes. For example, in Europe, there are much more such apartments than those in which the kitchen is zoned from other premises.
Therefore, there are countless designs for such apartments for different wallets. The same goes for the kitchen studio. In 2022-2023, fresh and bright shades and minimalism are relevant. Also, more use of natural materials and decorative elements.
Beautiful design options for a large kitchen-dining room
As practice shows, the existence of a kitchen-dining room is possible if the area of the premises starts from 10 or 12 sq.m. She is able not only to receive guests, but also allows the dining area to look more noble. Let's take a look at unusual design options in recent years.
Small kitchen design
Even if the area of your kitchen is small, this does not mean that you cannot apply any interesting and relevant findings. On the contrary – for a small-sized one, there are countless different interesting layouts. Below we will consider the most successful design options for a small room.
With proper planning of the future space, even in a small area, you can very well enter all the necessary household appliances. Due to the rational use of space, you can create unsurpassed comfort – you will want to spend more and more time on this kind of territory.
Combined kitchen design options
We have already mentioned that the kitchen can be combined with other living quarters. With the right approach, such a neighborhood can look very organic.
Many people prefer to make a combined room with their own hands, however, in order to prevent any working mistakes, we will consider some of their options, as well as the design of a fashionable kitchen-living room – which has been a trend of the last couple of years.
With the hall
The kitchen combined with the hall is a very convenient design solution. In such cases, the hall is most often located behind a dividing wall.
The room can be deprived of the dining area, smoothly transferring it to the space of the hall, which will save precious space in the space and allow you to use it for something interesting.
From the living room
In addition to the hall, it is very popular to combine the kitchen with the living room, which can also play a multifunctional role.
It hosts guests, family members gather, festive events are held. In this case, having unhindered access to the area is definitely a very good idea.
Earlier, in one of the articles, we have already examined in more detail what your modern apartments can be , if you are interested not only in kitchens – rather follow the link and study!
Kitchen design of various sizes
Now let's talk in a broader context. It's no secret that every person's living space can vary in size.
Someone has a rather modest footage, someone, on the contrary, has a large space for a variety of ideas. Now we will consider kitchens of various sizes and how best to approach the design issue based on the footage.
5 sq m
The kitchen of 5 square meters is one of the smallest. However, there are also some interesting solutions for good design. In such an area, if you try, it is quite possible to accommodate a small table and a couple of chairs, as well as all the necessary household appliances.
As for the lockers, there will be few of them, however, if you carefully think over the purpose of each of them, then you will not be deprived of certain things necessary at hand during cooking.
6 sq m
A 6-square-meter kitchen is no different from a 5-meter version.
Unless you can add 1-2 small lockers to expand the functionality.
7 sq m
A kitchen of 7 square meters already differs from those described above in that, as a rule, such are elongated in length. They hold all the appliances, a small table, enough cupboards and leave little space for any small design gadgets.
Such options can be made visually wider if you select cabinets and household appliances of a not wide form factor.
8 sq m
A kitchen of 8 square meters brings us back to the square geometry. Variants of more than the average standard already begin with 8 squares.
They hold everything you need, leave enough space for any additional design gadgets, such as wide shelves, TV, air conditioning, and so on.
9 sq m
9 square meters – this is where the kitchens in fairly large apartments begin. Such a quadrature already allows you not to save much on space and to choose all the elements, regardless of their dimensions. At the same time, there is still a significant place to be able to turn around.
A standard table for 4-6 people will fit on such a zone. Also, the sofa is the same size. Another pleasant bonus may be that you don't have to save on the size of the washbasin, oven and cabinets.
In one of the articles, we have already revealed in more detail the secrets of a successful interior design of a 9 sq.m. kitchen. , if you are interested – follow the link and familiarize yourself!
10 sq m
Such kitchens cannot be called an exceptional rarity, however, they are present in fairly large apartments from 70-80 square meters.
Also, as in 9 squares by 10, you can not save on space and be firmly sure that everything you want to put will surely fit there well, leaving enough space.
11 sq m
11 square meters is actually the limit of the footage in public housing. Such kitchens come across quite rarely. However, this does not negate the fact that they also require careful design.
In such zones, as a rule, all those elements that we talked about earlier remain unchanged. However, now it is possible to add a kind of bar counter to such a footage.
12 sq m
A kitchen of 12 square meters makes it possible, in addition to the main components, to accommodate more ovens, a larger refrigerator, a table for 7-9 persons and wide cabinets with a voluminous table top.
12 squares can be called a "threshold" in the design of ordinary rooms in residential buildings. Only options designed for private buildings with a square of more than 100 squares can go further.
18 sq m
18 squares is a truly large kitchen. The premise of such a room no longer fulfills its narrow functionality and smoothly flows into the living space. In such areas, spacious sofas, tables, a large number of cabinets, etc. can be placed.
Some people prefer not to delimit the space on such beauties, which turns the living space into a studio. Some people use partitions.
20 sq m
A kitchen of 20 squares is not much different from an area of 18 square meters.
It contains all the same listed elements.
Earlier, in one of the articles, we already examined in more detail what a kitchen-living room with zoning could be , if you are interested – follow the link and study!
30 sq m
Kitchens of this size are not found in urban dwellings. This size is strictly for private houses with a large plot. Rooms of this size are popular in the United States, since Americans often live in large houses, where an area with such a footage has not surprised anyone for many years.
It can comfortably fit a banquet table, several sofas, overall cabinets and a refrigerator, a couple of ovens, and so on. These options are great for very large families and can fully satisfy their cooking needs with a margin.
Design of a very small kitchen
Moving away from luxurious footage, let's pay attention to more "mundane" options. These will be kitchens 2 by 2, 3 by 3 and 4 by 4 square meters. Yes, the space is very small and the real name of a room of such a footage does not turn out to be.
However, with the right approach and from such small spaces, a functional engineering marvel can be created.
2 by 2
In fact, in a 2 by 2 square meter kitchen, you can put everything you need for comfortable cooking. Yes, you have to give up a table with chairs, but, in general, you can work in such an area.
Again, a lot depends on the size of the home appliance. You can always find a small microwave oven, hob and small washing machine.
3 by 3
Kitchens 3 by 3 provide more freedom of action – you can already accommodate standard household appliances and a small table.
4 to 4
Almost indistinguishable from 3 by 3 kitchens.
The only difference is that there is a possibility of a standard size dining table.
Economy class
Some people are wondering how to make an economy class kitchen, while making it look stylish and not look too cheap. In fact, it is quite possible to do this. It all depends on the well-chosen material, colors and design details.
Most of the economy class options are made from chipboard material. Despite the fact that this material reacts quite strongly to moisture, you can find really high-quality samples that can last for many years.
The outer layer of chipboard is often masked as a noble wood. It sets a certain style and saves you money. The main thing to remember is that the material is monochromatic and not too flashy.
Also, pay attention to the quality of fasteners in chipboard structures. They must be strong and fit well together.
Interesting ideas for decorating the kitchen
Based on everything we talked about above, we can conclude that finishing a kitchen is a very difficult task. There are many factors to consider. Below we will talk about the most successful finishing, based on the type of living space, as well as the area suitable for this.
Let's pay attention to the decoration of a room in a private house, in a Khrushchev, a wooden house, and so on. Let's even talk a little about the design of a cozy summer zone.
On the balcony / loggia
This kitchen option is suitable for those who have a fairly spacious balcony and have the opportunity to bring household communications to its area without unnecessary approvals.
With such manipulations, you will not only save space, but also be able to greatly surprise your guests with your extraordinary approach to housing planning.
In Khrushchev / Brezhnev
As practice shows, the kitchen space in Khrushchev and Brezhnevkas is quite a good area. It also has high ceilings and, in some cases, an interesting relief.
This allows you to create unusual and amazing designs. You can see some examples below.
In a private house / cottage
Also, a good kitchen area is usually in a private house or cottage. Its style should be set by the general style of the house or cottage itself.
After all, you must agree – ceramic decoration in a wooden house will not look very good. All rooms should be in visual harmony with each other.
Remember that in a private house (cottage), household communications are arranged according to different schemes, unlike an apartment, so it would not be a good idea to be guided by "apartment" blanks. For these purposes, there are special designers who develop styles specifically for these types of housing.
In a two-room apartment / panel house
In panel houses, in most cases, all living quarters are of an elongated form factor. The same goes for the kitchen. But we have already considered the narrow-type options a few points higher, so this state of affairs does not frighten us at all.
In a panel house, do not skimp on soundproofing materials at the initial stages of finishing. This applies not only to all living quarters, but also to the kitchen, since it is a fairly walkable place in the house and it will be unpleasant when relaxing in the next room, hearing the sounds of cooking or the clink of dishes.
In a wooden house / cottage
With the right design approach, a kitchen in a wooden house or cottage turns into an amazing place with its own indescribable atmosphere. You want to stay in it a little longer – to sit, drink tea, read a book while singing birds, or just take a break from the bustle of the world.
In some cases, in a country house or in a wooden house, it is possible to combine it with the space adjacent to the house – a veranda, a porch, and so on. This allows you to make a real summer zone. This is true for those who live in a fairly warm and calm climate.
The only thing worth remembering and obeying unquestioningly is fire safety. In the country or in a wooden house, when installing kitchen appliances, great attention should be paid to their facing materials in order to prevent the risk of fire.
They must be non-flammable and heat-resistant. So, you will protect not only yourself and your family, but also your home.
Kitchen design in various styles
In this paragraph, we will more specifically consider the most relevant kitchen design options for 2022-2023. There are quite a lot of styles. We will cover many now.
You can choose which ones are most suitable for you and, based on the information provided, start the implementation of certain ideas.
Modern style
The kitchen in a modern style is minimalism and a competent approach to colors and surrounding details.
Strict lines, unpretentiousness, correct geometry are your most faithful companions.
Provence style
In previous articles, we wrote about the Provence style in terms of bathrooms . This is a classic style that also works well for the kitchen space.
In it, elegant details combined with modern household appliances create an unforgettable and organic ambience that pleases the eye with its regularity.
We have already spoken in more detail about Provencal kitchens here . Be sure to check it out!
High tech
High-tech kitchen design is dominated by lighting sources, modern materials (stone, brick, granite) and new household appliances.
Also, sharp geometric lines and free-organized space.
Classic style
The classic style is very similar to the Provence style.
The only difference is that the design contains a greater number of monochrome details.
Loft style
Loft style is an abundance of brick, concrete and wood.
Together, all these materials create an authentic space, the design of which will remain relevant for many years to come.
We have already spoken in more detail about the loft style in the article – the loft style in the interior , we advise you to carefully study it. You can read more about loft kitchens here .
Scandinavian style
The Scandinavian style is also similar to the loft style. However, in the first, there are more details from wood and brick.
Also, the style itself is presented in more neutral and lighter colors. We have already spoken about Scandinavian-style interiors here , we advise you to familiarize yourself.
It was about the design options for kitchens in the Scandinavian style that we also discussed once. Follow the link and enjoy!
Art Nouveau
As you can see, the Art Nouveau style is similar to both the Scandinavian and the loft.
We can say – this is something in between both styles.
Minimalism
The minimalism style was, is and will always be relevant when creating the design of absolutely any premises. The kitchen is no exception.
Only basic and functional details and nothing more. The style looks strict and fresh at the same time.
Country style
Country music is a relatively new style on the market. Not many people started to master it in kitchen design, but if you choose this style, then you will definitely surprise your guests.
Everything is mixed in this style – both classics and Provence and a little Scandinavian. However, all this looks very unusual.
Japanese style
What can prevail in Japanese-style kitchen design? That's right – this is the use of natural materials. Also, the presence of plants and drawings from Japanese culture.
This style is one of the rarest, so choosing it guarantees a unique and calm environment that will delight you every day.
Neoclassic
Neoclassicism, in contrast to the usual classical style, in the elements more resorts to such shades as beige, peach, milky and others.
3D
3D style kitchens use deep prints on the walls or ceiling.
They create the effect of volume and immersion in certain design elements.
In english style
The English style is dominated by elements from the Victorian era, as well as a mixture of such features that are inherent in the Gothic, Baroque, colonial motives and various symbols that are found in British culture.
Italian
The Italian style is characterized by the use of only natural elements, as well as massive kitchen sets.
Also, the design should contain various elements with the effect of antiquity, so that the guests do not lose the feeling that they are not used by the first generation of residents of the house.
Art Deco
Art Deco can be called a post-war style that emerged in the early 1920s.
Some eclecticism is inherent in this style, in which all Western canons are mixed. It has a lot of geometry and graphics.
Kitchen design in various colors and shades
The color scheme greatly influences not only the general mood, but also how this or that design concept will look as a whole. One and the same solution in different colors can look completely different. Our task in this subtitle is to show what modern kitchens of different shades are.
Black and white
Black and white allows you to focus only on the most important details. These two colors symbolize simplicity and precision.
These will look relevant for many years.
White kitchen design
The white color hints at sterility, which is very useful for the kitchen space, because they cook food on it and spend time at breakfast, lunch and dinner.
In bright colors
Light colors include milky, beige, light gray, and so on. They create a sense of calm and peace.
The kitchen in these colors looks stylish and matches the color scheme to almost any other living space.
In gray
The kitchen in gray creates an atmosphere of freshness and sophistication. Although the color is cool, it is great for the overall concept.
The gray color goes well with wood and stone elements.
In green
We always take green for the color of harmony, freshness, natural strength and its steadfastness.
Scientists have proven that green is designed to invigorate a person, so leaving early in the morning for such a kitchen you get a boost of energy for the whole day.
Lilac
You should be very careful with lilac color, as the color is quite cold. If you overdo it with it, it can create a depressing impression from the overall design.
But there are some shades of lilac color that can be safely used in the design of the kitchen – these are light lilac and lilac mixed with blue.
In red
Red, as well as green, is awakening.
It stimulates mental activity, increases concentration and attention, as well as appetite, which is undoubtedly important in the kitchen.
In beige tones
Although the beige color is quite versatile, you should not overdo it with it, for the reason that it is in the spectrum of cold colors.
Even so, it can be a great starting point for your individual and unique kitchen design.
Turquoise
Turquoise is a good-natured, comfortable and pleasant color.
However, it is used quite rarely due to the fact that you deprive yourself of the opportunity to successfully combine it with other warm shades, such as red, yellow, green, and so on.
Orange
Orange is also a warm color, but designers do not recommend using it in large quantities in the kitchen due to the fact that over time it will start to tire the eyes.
It is better to mix it with elements of black and white. Then the overall concept will look harmonious.
Black
Black kitchen is a strict classic about which you can not talk much.
Black has always looked (and will look) elegant, strict and expensive.
Blue
The blue color creates a "marine" atmosphere of calmness, freshness and harmony with the environment.
In addition to the kitchen, this color is great for the shower room.
Light green
Light green, which is a shade of green, has the same properties as green.
But since light green is more "sharp", then it should be used in moderation, simultaneously neutralizing with colder shades – black, white, etc.
Pink
Many people have a stable stereotype regarding the color pink, in which they identify it with infantilism, lack of independence, childishness.
However, this color can still be used successfully in the kitchen.
In blue
Blue has always calmed and balanced a person. It creates an association with water. And water is an important element in human life.
Elements of gray, black, white shades look great with blue.
In brown tones
Brown is very useful in kitchen design because of its versatility and practicality. It can be mixed with many other shades.
Also, wooden and stone elements look perfect with him.
Burgundy
Burgundy is a shade of red, but unlike the latter, it is not as flashy. Burgundy creates a feeling of high cost and originality among households.
Various steel elements look good with it, which enhances its positive influence in the interior.
Wenge
You may immediately wonder – what kind of color is this? Despite the decorative name, it is easy to understand.
Wenge is a peculiar shade of the coffee brown spectrum. It is one of the most suitable for kitchen design. Creates a sense of luxury and naturalness.
Pistachio
Pistachio kitchen is a rather rare color scheme, but those who use it in design can be sure that in the end result this shade will create a feeling of warmth and soulfulness.
Coffee with milk
Like wenge, coffee with milk is another most successful solution for the kitchen.
These two shades create a sense of harmony and tranquility. They do not overload visually and are ready for various other color experiments.
Kitchen design options of various shapes
Having dealt with the design things, we turn to the study of the layout of the space based on the form factor of the room. You need to know this in order to visually understand how it is best to place all household appliances in a particular kitchen.
Rectangular
Rectangular kitchens, due to their form factor, require all appliances to be the same size. This is necessary for reasons of space saving, which plays an important role in this type of arrangement.
Also, take care of the places where you will place the stove, refrigerator and sink. They should be close to each other in order to have good access to them in a rather narrow space of a rectangular zone.
Square
Square kitchens are rare. However, those who are fortunate enough to have such a layout when designing a design may be advised to use a central space for a dining table.
The rest of the layout is no different from the standard one.
Long
For a long kitchen, there are the same design requirements as for a rectangular one.
Straight
Those people who have either a big trouble with living space, or this is a kind of way to save the latter for any other needs, resort to designing a direct kitchen.
Straight lines, by the way, are very popular in many small apartments in Europe. Despite the fact that all household appliances are adjacent to the same plane, it does not lose its main functionality.
U-shaped
A U-shaped kitchen is no different in design from a square one.
However, since it has an open end, it is very rational to use a bar counter or a countertop in it instead of a dining table in order to visually "complete" the space.
Narrow
The design of a narrow kitchen is also similar to rectangular and straight options.
Always remember the width of your home appliances.
Design of individual components of the kitchen
In this final subchapter, designed to summarize all the information obtained in this large article, we will quickly go over the basic tips for choosing certain components of the kitchen, which include furniture, curtains, tiles, wallpaper, light, and so on. If the previous points were of a more general nature, then there will be specific advice on the correct choice of elements.
Furniture
Furniture is the face of the whole room. She should not only be beautiful, but also fulfill her role, and also have a good margin of safety. Wood was and remains the best material. It not only withstands moisture and mechanical stress well, but is also presented on the modern market in a variety of variations.
Also, there is a cheaper material – chipboard, but it has a shorter service life. Also, in chipboard assemblies, problems with fastenings are often observed due to "crumbling" of the walls.
Don't forget about functionality! Sometimes it is worth buying not the most fashionable kitchen set, but one that will allow you to rationally use the space and achieve efficiency in cooking.
Tiles on the floor
If we take the price-quality ratio, then ceramic tiles will be the best choice for the kitchen. It is very easy to wash, has a very long service life, does not require any additional maintenance.
Tiles can be found in a wide variety of designs and colors. Of the minuses, perhaps, we can only single out the fact that it is easy to break it if you drop something heavy on it. However, this can be easily corrected by replacing the broken tile section.
Curtains
Curtains in the kitchen should not only be practical, but also made of easily washable materials. Roman blinds, roller blinds, panel curtains or curtains made of threads are well suited for her. The choice depends on the installation possibilities and your taste preferences.
When choosing, pay attention to the materials – it is important that the curtains are made of non-combustible materials. This is especially significant if there is a slab not far from them.
Once, in one of the articles, we already figured out in detail how to choose and what curtains in the kitchen are in general, who is interested – you are welcome!
Apron
The main purpose of a kitchen apron is to protect the surrounding space from the effects of grease, dirt, moisture and other harmful factors. Behind it hides most of the electronics, so you should approach its installation with special care.
The materials of the apron depend on the overall design concept. Brick, ceramics, stone show themselves very well.
Stretch ceiling
The use of a well-made stretch ceiling in the kitchen remains the same popular solution as in other parts of an apartment or house. Firstly, the stretch ceiling is easy to install. Secondly, it is resistant to moisture and grease. Thirdly, it allows you to correctly place light sources.
The advantage of the stretch ceiling is that it will protect you from flooding by neighbors located above.
Combined wallpaper
Combined wallpaper in the kitchen is a bold move to create certain visual accents. They can not only hide minor flaws in the layout, but also give a unique and inimitable design.
Such wallpaper must be washable and fit snugly against the wall to avoid moisture and mold underneath.
Lighting
Lighting can be very different – LED lamps, strips, chandeliers, floor lamps and the like. LED lamps have proven themselves best in the kitchen, which we advise you and us to use. They are not only economical, but also fit into absolutely any design look.
Sometimes they can be diluted with other small fixtures. This will evenly distribute the lighting that will highlight the smallest design details on your favorite. The main thing is not to be afraid to experiment in this regard.
Next, we bring to your attention a video clip, which contains real photographs of kitchen design options. Happy viewing!
Well, that's all, it's time to end. After reading this article, you have probably decided on the future appearance of this zone. 150 photos of new products for the appearance of 2021-2022, presented in this material, definitely contributed to this. It remains only to realize our plans. Great luck!