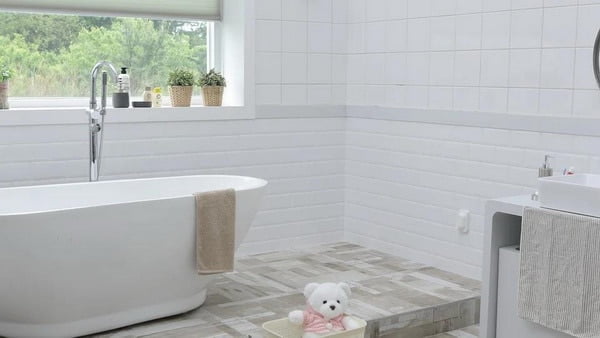 The trends in home decoration develop over a long time and are assimilated little by little, through the interior design magazines and companies in the sector, while the market adapts to the demands.
One of the most important spaces in a home is the bathroom. Previously it had a very basic and elemental use, but lately it has been expanding its versatility, making it an essential place for disconnection and relaxation. Spa-style baths are still in style.
Among the bathroom decoration trends in 2021, the Nordic style, popular in small houses, is maintained. On the other hand, in large and elegant houses a well-organized and refined environment is necessary, where personalization and originality take precedence.
Decorative trends for bathrooms in 2021
Let's see the main trends to follow in bathroom decorations for this year.
Use of space
Making the most of space is an exceptional rule, especially in smaller bathrooms, this also being a necessity. If the size of the bathroom leaves no room for a freer expression of style, extreme organization and personal touches is the next step.
Full height furniture is an interesting alternative to take advantage of more storage space. Custom-made cabinets that are partially open work great for storing everything, while also displaying some decorative trimmings.
Bathrooms with a minimalist style that can be seen with empty spaces are more characteristic of large houses. A widely used detail is to create a focal point, which can be a wall of natural stone or other prominent material. The black color is also being used for some details such as the faucet or the main parts.
Furniture trends
The custom-designed bathroom furniture under the sink, behind the toilet or on one side of the shower, also makes it possible to optimize spaces. Colors and textures do the same, exposing clean and neat environments.
Although white is no longer the mandatory color in a bathroom, you will never go wrong choosing pieces in this shade. And if you think about working the "white on white" style, the lighting that it recreates adds a plus to the whole environment.
In addition, let's not forget that the peace and tranquility that it transmits, helps the task of relaxing when taking a shower, or simply carrying out one of our hygiene and beauty rituals.
An option for this design idea is to combine it with the use of stone on the floor or on the walls of the shower.
Shower or bath
This is a question that we always have when deciding on the distribution of bathroom pieces. It does not only depend on space, although if this is not a limitation, having both options will be ideal.
For smaller bathrooms, custom-made shower enclosures are the best alternative, as the most modern models meet the goal of stylizing the environment. Tempered glass is committed to elegance, versatility and discretion.
These partitions show the advantage of adapting to any style without losing their simple character and structure, and they also add spaciousness to the space. An interesting trend in medium-sized bathrooms is to give prominence to this piece, choosing original colors and designs for glasses with striking profiles.
The retro or vintage style is another of the predominant trends this year. The golden touch and the play of colors such as blue, dark green and black can be seen in the most renowned interior design magazines.
The lighting
This is an essential element and makes the bathroom interesting. With technological advances it is now possible to integrate light sets in places in this space that were previously inconceivable. You can forget about lighting with regular bulbs and integrate the whole system into the architecture.
A functional example is lighting the beauty area, behind the mirror, or building a false ceiling to insert some spotlights. In summary, the bathroom furniture trends of this year 2021 multiply light sources, to transform it into a much more organized and attractive space.
The use of metals
Golden taps, mirrors with rims and bronze accessories will be more seen in the bathrooms, since they try to provide a chic atmosphere. It is important in this case, to emphasize that the metal allows to increase the reflection and enrich the lighting.
If you want to change the look of your bathroom without having to carry out complex works, you can add metal mirrors, reflective accessories or change the taps.
A dramatic style
This style can be adopted in small bathrooms, it is about choosing tiles with interesting patterns and with a dark tone. It will create an unexpected environment, capable of providing a different experience, and also, shocking and unusual, but that somehow works very well.
The lining of the shower raised in this idea will also make a difference if you do not want to carry out major reforms.
Let's not forget the technology
Impossible to talk about 2021 trends and leave aside the technological aspect. Testing the new generations for the toilet and sink will be a challenge for anyone planning to upgrade their bathroom.
Choosing heating and water pressure systems, as well as hygiene techniques incorporated in the toilets, are just some of the alternatives offered by the market in recent times.
Ecology and savings
The list of tips and trends will not be complete without mentioning the elements that are most trending in this era of environmental awareness and that is not separate from the use of new technologies.
Having automated systems for saving water and energy will be vital for any bathroom that boasts of being modern and updated. The taps for showers, bathtubs and sinks include innovative methods of saving vital fluid, while offering comfort and a variety of benefits for the user, such as enjoying revitalizing massages and hydrotherapy.
Bathroom Trends: The Styles That Will Succeed In 2021
For you, who so much love being fashionable in interior design and that you cannot decide on a style, here are the proposals that await us for the new year.
We are more or less excited, and although it may sound like science fiction to many, the truth is that the arrival of 2021 is increasingly imminent. In fact, a few months ago, Pinterest and Instagram began to fill with creatives that predicted how houses will be in this new decade and that invited us to give a complete turn to the decoration of our house.
And yes, we are already beginning to glimpse timidly which will be the styles and trends that 2021 holds for us : a strong commitment to minimalism, the role of wallpaper, the play of geometric shapes with certain Bauhausian airs or the increasingly accentuated presence of Natural elements are just some of the ideas that are gradually being kneaded in the last few months of 2019.
Both the new trends and those that are about to be redefined can help us bring to life each of the styles and designs of our home, and the bathroom could not be less. Whether we like it or not, it is still that room to which we tend to devote less attention and artistic eye. The reason surely lies in the fact that we consider it as "a place of passage", a corner dedicated to our intimate hygiene (and that of our guests) that does not deserve our consideration.
However, the reality is that the bathroom is still one of the most important rooms in our home, a space that we inevitably use several times a day, and in which it is worth investing. Therefore, if you decide to reform the bathroom, you will not only get to enjoy 100% of that space that you use every day, but you will also enhance your home.
So, if you already have to decide on finishes, colors or shapes for your bathroom, you will be interested in being up to date with trends and styles of interior decoration. Although in reality, as you will see, many are but an echo of the trends that can be applied to their neighboring rooms.
The magic of wallpaper
If you also thought that the bathrooms could only be covered with tiles, 2021 has come to deny all those rumors. Floral, geometric, natural motifs … There are hundreds of wallpapers for all tastes, and this year it has helped us to realize that they manage to give a very chic touch to our toilet area. If you also choose a vinyl wallpaper (they are ravaging lately ), you will not have to worry about humidity either. What more excuses do you need?
The natural power of wood paneling
In 2021 they will return, a strong return of the wood element is also predicted, which we can combine in various shades as we want to provide more light or create a more intimate atmosphere. It is a bet that goes hand in hand with vintage and industrial trends, but which also bring us echoes of the classic and industrial style.
The always elegant ceramic
And we are not only talking about the toilets, but also about the walls and floors. Despite the arrival of new technological materials and metallic surfaces, ceramics, together with marble, continue to delimit their domains well, demonstrating their ever-present power not only aesthetically but technically: it is very hygienic, easy to clean, holds up well. over time… Although it usually requires a larger investment, it is always a safe bet.
Synergy between spaces
In the 2021 bathrooms, the walls are no longer fashionable: now the flirtation between spaces is carried much more, and not only between the shower and the bathroom as such, but between the same bathroom and the bedroom, which increasingly more often we see mimeticas within the same atmosphere.
White is the new black
The new decade will come to continue showing us that, in a matter of bathrooms, there is life far beyond the bathroom, and that hygiene is not at odds with color. To underline his message, the latest trends have arrived dressed in black, a color that although it may seem forbidden from the start, in its fair measure can provide the elegance and relaxation we seek for our bathroom.
Vintage airs
When our bathroom becomes a creative ideas laboratory, it is easy to bet on futuristic ideas, but it is also a return to the charm of more vintage environments. Golden brushstrokes, colorful tiles… It is still a trend that continues to take center stage in our homes.
Rustic soul
The rustic bathrooms continue to give a feeling of warmth and relaxation thanks to the wood element, the natural stone and the elegance of the wrought iron present in its decoration. They are bathrooms that stand out for using materials that inspire us in natural environments, thanks to the use of earth colors and elements such as plants and flowers.
Eternal summer
As we see in the rest of the house, colors like mustard or coral are not just for summer. They are shades that provide a lot of light and a warmth that reminds us of the summer months, a spirit that we can manage to maintain throughout the year if we bet on any of these color ranges.