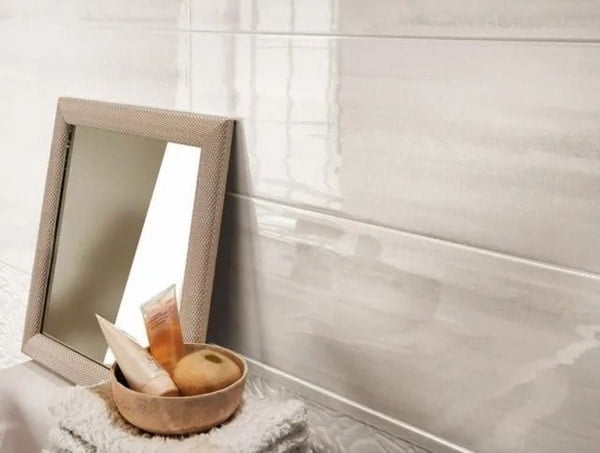 Today it seems that bathroom tiles have become very fashionable as they not only provide an unmistakable style but we can now find a large number of models, colors, designs, sizes, so that they adapt to everything type of bathrooms. So you can have one of the latest news in Bathroom Tiles with More than 10 photos with great ideas that are trends in 2021.
BATHROOM TILES: BEST PHOTOS WITH GREAT IDEAS
We want to surprise you today with the best ideas for the bathroom so that we are going to show you more than 10 photos with very good ideas and with which you can get to change the style of your bathroom in this 2021. For a long time the tiles were present in the bathroom since they provide the space with a very particular style, and also being made of ceramic, they usually withstand humidity quite well, they are easy to clean and we can always find them in different colors and sizes.
It seems that the current trend is to be able to count on modern bathroom tiles, or those that have different colors, from neutral ones, going through pastel tones or those that are patterned.
With this we are already giving you ideas, but let's see many more and we also leave you the complete photo gallery with more than 10 essential ideas.
BATHROOM TILES: MODERN BATHROOMS
The first thing we think of when thinking about current tiles is having a modern bathroom so that although you like small tiles in colors as traditional as blue or white, we can also think of tiles that are bigger and more bigger size.
In this way you can have such modern bathrooms, not only in the design itself, and arrangement of the elements, but thanks to the presence of the tiles, we achieve aspects like these, with a certain rusty appearance.
You can also choose tiles, and now we will see more, which thanks to their pattern make your bathroom the most modern of all.
With tiles like these, which look like protruding sheets, we will also make our bathroom the most modern of all. You can also combine it with those other small tiles for the bathtub.
Or those with relief, which also have the most varied designs, as you can see here with classic style tiles.
Or these others whose relief is much more modern, and add a lot of style to the bathroom.
BATHROOM TILES: COLORS
If you are better guided by colors, perhaps you would like soft and neutral tones since these are currently a trend in interior decoration.
Or perhaps the "warmer" shades are a better option. If you have a large bathroom, a brown like this, for your tiles, can be a great idea.
Also gray is a good choice as a color for bathroom tiles, considering that it is currently a trend color.
And for those who are looking for something a little more striking, and more romantic, nothing like some tiles in pink.
Those who prefer a unique style, nothing like tiles in a golden tone, as we see in this other image.
And for a much more modern style, the blue or emerald green that will make your bathroom ideal in times like summer.
BATHROOM TILES: PATTERNED
Patterned tiles are also a good option for a modern bathroom since with them, you will achieve an unsurpassed style. Also currently we find a wide variety of prints for them.
In this way, you can opt for example for bathrooms like this one, with a classic touch and a small drawing or pattern that serves to divide the tiles.
Or light prints with stripes, which are perfect for those bathrooms where you want a simple decoration.
The most striking, most careful and varied prints. These will also bring a unique look to your bathroom.
CERAMIC TILES THAT IMITATE YOUR BATHROOM
Cement in your bathroom? Why not? Cement is a material that is back in fashion. The industrial style has returned and with it the taste for sober and natural materials such as cement, among others. Therefore, it would not be unusual for you to want to stamp your concrete walls if you are looking for the most modern yet traditional appearance for this space.
Since cement is not highly recommended for a humid environment such as the bathroom, we can use its imitations with much kinder materials such as tile. Cleaner, stronger and more durable, the tile is presented as the preferred material and allows to achieve perfect and personalized designs, even under the appearance of cement. Tiles that imitate cement and are ideal to reflect an industrial style that has become a favorite in 2021.
HYDRAULIC TILES FOR YOUR BATHROOM
Tiles or hydraulic tiles are another fashion that we like in our times, although we believe it to be old-fashioned, if they made your grandmother fall in love, they will also get it with you. And if you doubt it, see what magnificent designs they allow to achieve. As an example, this image that we leave below.
TILES OR LIMESTONE? FOR THE BATHROOM
If you look at it, it looks like limestone on the wall of this beautiful bathroom. And even if you touch it it might also look like it. But the reality is that what we have put is simply tile. Of course, a type of tile that imitates limestone wonderfully, and the following photograph serves as an example.
TILES THAT LOOKS LIKE WALLPAPER
Wallpaper tiles don't have to take up your entire wall if you don't want to, but they are great for creating compositions because they are highly decorative. They give a lot of play when decorating and allow creativity to develop. For example, using wallpaper-like tiles to create a mural or frame for your bathroom mirror, or on your window or door.
BET ON DIAMONDS
Undoubtedly, original and very attractive are the rhombuses if they know how to fit in with the look of the bathroom. And at least the suggestion that we see in the image that we show you is perfect to create a sophisticated, modern and charming environment that draws attention for itself. In addition, it plays with hits with the hue of colors that make an impressive chromatic magic thanks to these tastefully chosen diamond tiles.