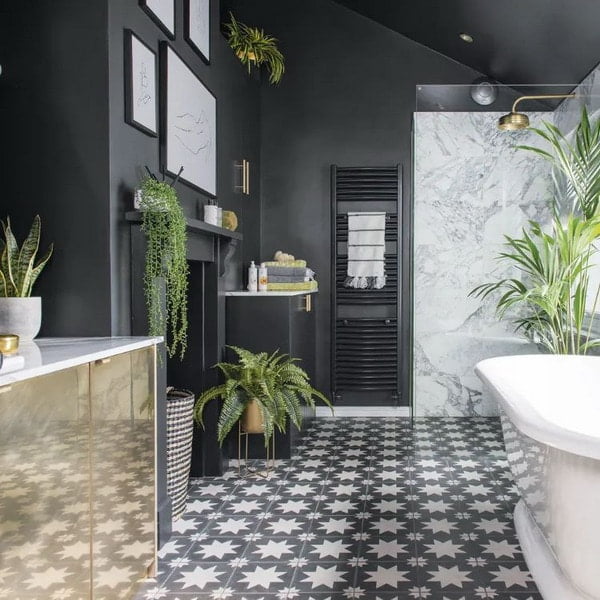 A month and a half before the arrival of the New Year, we turn our eyes to the most promising interior design fashions. That is to say that we are again looking for interesting designs that will certainly continue for the year to come. After the living room decoration and the top bedrooms, it is the turn of the room devoted to personal hygiene. So welcome to the 2023 bathroom purifying universe and its many fabulous incarnations!
What will be the bathroom trend 2023? 10 must-have modes
Before listing the best fittings and decorations for the water feature, it is advisable to open a parenthesis to justify our choice The criteria that we have taken into account are utility and comfort, visual appeal and overall inventiveness. Some designs are already known, others are brand new, but they are all, old and new, most likely to continue their upward momentum in 2023 and even beyond. Let's see what we have in mind in practice through the inspirational photo gallery to follow!
The fusion between interior and exterior is all the rage
Blurring the lines between interior and exterior isn't actually a brand new concept, no matter the room. However, the bathroom trend 2023 develops this organic idea and adapts it to any space, small or large, modest or exclusive, ultramodern or bohemian. Logically, the best scenario to make this trend work is to have a fairly spacious body of water where the architecture of the building makes it possible to opt for panoramic windows.
Of course, except in the case of luxury designer penthouses and villas, being able to outfit our space with floor-to-ceiling bay windows is rarely an option within the possible. So, what to do when you want a trendy 2023 bathroom in the rules of the art, but you don't live in a mansion of a few hundred square meters surrounded by a breathtaking panorama all around?
Evoking nature is possible in any bathroom!
So, there are a few effective tips you can try to make your space as exclusive as an architect's house ! If, for example, your bathroom only has a small window, the first step to take (when possible) is to strip it down. This will optimize the amount of natural light entering the interior by increasing its volume, but also by bringing it closer to the exterior.
When undressing bay windows is not feasible (or when it is not available at all), other tricky techniques are resorted to. Did you know that several ferns and air plants, certain species of orchids, dumb canes (Dieffenbachia) and bamboo, among others, feel very comfortable as bathroom plants ? Provide them with one or more light sources and these plants will thank you with a trendy 2023 bathroom at the top!
When, for one reason or another, the real panorama, skylights and green plants can't be taken advantage of in your home, know that you can always resort to the old "deception" of natural wood. Certainly, thanks to its organic nobility and warm appearance, this material will never go out of fashion and so much the better! Also, it can look minimalist, replicate the rustic style, or take on any other look you can imagine, depending on the rest of the decor.
2-in-1 layout with shower and bathtub
Here is a magnificent bathroom which in itself combines several 2023 trends that are simply essential. First, we have the spectacular backdrop of Nature, but we also observe the generous use of natural wood. The result ? An upscale mountain chalet where the water corner with shower and bathtub is an integral part of the forest on one side and the interior on the other!
In fact, the 2-in-1 shower and tub layout is another big bathroom trend 2023 that you can successfully adapt to your own unique home situation. The truth is, even a small bathroom can afford a bathtub as long as its design is well thought out in advance and every square inch is put to the best possible use.
Symmetry in the bathroom trend 2023
Then we have another bathroom trends 2023 which is proving to be in the wind in more than one respect. The pristine white background and the bay fitted with frosted glass, the green plants and the utterly fabulous oval freestanding tub … These are just a few of the trendy accents you should not miss. However, what matters most is the symmetrical arrangement with practical and aesthetic twin showers at the same time.
Of course, when the bathroom is in the attic, the symmetrical arrangement of its elements is only logical. But you can also pick up the idea in question and translate it into the language of your own unique interior. How about a pair of countertop washbasins in red tinted transparent glass? It's attractive and it's handy, right?
The countertop washbasin replaces the wall-mounted washbasin
Having mentioned the washbasin, we realize that in recent years the countertop washbasin holds the cord when compared to classic columns and wall-mounted sanitary ware. Take natural stone into consideration and choose a round or oval model whose shape is not quite ideal and you will be at the top of the 2023 trends!
Tiles, cladding panels or painting?
As for modern coatings, it has already been mentioned that wood remains very popular in all its forms. What if you don't like the thin minimalist paneling, or the large salvaged planks? Of course, we are going back to the classics, in other words: tiling in all its glory. It is up to you to choose between hexagonal tiles, those with geometric patterns or classic tiles, among the XXL concrete imitation and colored metro tiles, etc.
There are even more good coating options, as embossed panels continue to win the hearts of both home and professional decorators and this love does not seem to be coming to an end in the near future. The same goes for the terrazzo tiles with graphic effect that can be used on the floor and on the walls in the bathroom, but also for its kitchen splashback.
Color palettes in the bathroom trend 2023
Everyone is interested in what will be the most favorite color palettes in the bathroom trending 2023. Well, there are some from all segments of the color chart! For example, for admirers of neutrals and the classic style, we will mainly see off-white, with beige, bronze or cream accents, but also all the shades of the gray palette. Those who love the colors themselves will not be disappointed either…
Warmed white background of beige for chic wellness areas in classic style
What is your colored weakness? Unexpected marriages of pastel tones? Oases of green from emerald tones, through verdigris and sage to reach celadon shades? Blue oceans from bold saturated indigo to barely colored pale topaz hues? Whatever your answer, in 2023 we will see all this richness of pigments that will offer a little something to each taste!
Unmissable tip: If you want to achieve a two-tone bathroom, just don't choose a tile in two complementary colors. Consider mismatching the coatings too! A good example is the paneling or the mid-height tiling where the rest of the wall is adorned with paint, or even wallpaper in a contrasting shade. The effect is surprising, artistic and totally eye-catching!
Nostalgia in the design and decoration of the water feature
When it comes to decorating styles, there is always a great freedom that will continue for the following year. Fashions oscillate between purist ultramodern designs and more bohemian or downright eclectic designs. Whatever your preferences on this matter, a lot of sets emit some old world nostalgia that you can try to transfer into your space as well.
Decors inspired by past eras are very popular lately
What trendy bathroom lighting for 2023?
Gone are the days of purely functional lighting devices! In 2023, recessed spotlights and light ribbons give way to artistic wall lights and suspensions with an undeniable sculptural effect. When well chosen and strategically placed, these can easily become the piece de resistance in your 2023 bathroom trend!
Small bathroom trends with WC
As usual, this applies even more so in the small bathroom where we try to add space thanks to the play of light and the parsimonious, but classy decoration. So, what are the best trends in bathroom planning and decoration according to you? Which are the most likely to last?
What style of layout and decoration will be at the top in 2023?