What are the latest trends in decorating living rooms for this 2025? In interior decor trends, we bet on 7 most popular styles of decoration.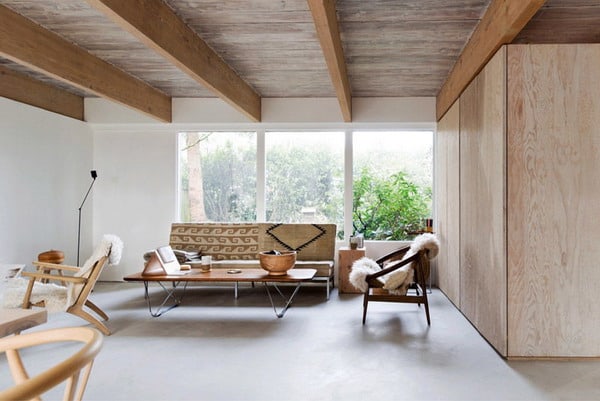 How to decorate a living room?
It depends!
Everything depends on your tastes and your style…
Are you going to the most ethnic and natural spaces, or maybe you lean towards a more baroque and sophisticated aesthetic, or can you bet on more minimalist and functional interiors?
If you did not just have it very clear and to help you break the ice, I show you seven styles of interior decoration so you can find ideas and the one that best suits you:
Minimalist
Nordic
Rustic
Boho chic
Industrial
Wabi Sabi
Modern
How to decorate a living room? Decorating ideas
Decoration of minimalist living rooms
Less is more in a minimalist living room
The minimalist decoration is characterized by its simplicity, sense of order and serenity. And is that the maxim of minimalist interiors, is to simplify to the maximum and leave aside all those elements that are superfluous and are not necessary.
Textures in minimalist living rooms
This does not mean that minimalist interiors have to be boring, far from it. For this, you can play with different textures such as textiles, ceramics, wood and clay.
North of Vancouver, Canada, is this minimalist but cozy mountain house. David and Susan Scott, the couple behind Scott & Scott Architects, have used wood and warm textiles to break the minimalism prevailing throughout the house.
Quality over quantity in the decoration of a minimalist living room
Little, but of better quality. The difficulty of decorating a minimalist living room is the little you really have to choose. This makes the decision process even more difficult than usual.
You must carefully consider each piece before it enters your home, but this will also mean that the final result will be more thought out. A good example of this is the Hunters Hill House, a beautiful house in Sydney awarded with numerous awards.
With a monochromatic palette and a distinctly refined aesthetic, the house is full of details: wood, marble, linen blinds, silk carpets and carefully selected furniture.
Open spaces in the minimalist style
The sensation of space is another very important element in the minimalist current. Make sure objects have living room to breathe. Decorated by renowned Belgian interior designer Axel Vervoodt, the former home of Calvin Klein in Miami Beach, is a clear example of the use of open and open spaces. And not for that reason it is cold or bland.
Neutral colors for a minimalist living room
In the same way, keeping the color combinations to their minimum expression, will improve the environment even more and will create more serene and balanced interiors. Photographer Kate Zimmerman, served for the living room of her home in Texas, USA. White color and neutral tones of the carpet, furniture and ceramics. Warm and beautiful
Nordic style living rooms
Due to the harsh climatic conditions to which the Scandinavian countries are subjected and the need to spend so much time inside their homes, the Nordic decoration seeks above all to create spaces that are as welcoming, warm and comfortable as possible and maximize their potential. the little light available in these countries.
White color and neutral tones in Scandinavian living rooms
In order to reflect the low natural light available, Nordic houses are characterized by the use of white. With this they obtain more luminous and ample spaces.
Warm textiles in the Nordic style living room
Warm textiles such as wool, linen, sheepskins and soft cotton provide warmth and comfort in Nordic-style living rooms. A clear example of the use of textiles are the magnificent outfits of the Norwegian photographer Line Kay. Delicacy and elegance in each of his photographs.
Scandinavian furniture
The Scandinavian furniture is characterized by a very simple and above all, functional aesthetic.
Pictures and photos on the living room walls
When it comes to decorating walls and in order to break with the white that floods everything, an element widely used in Scandinavian interiors are the photographs.
Flowers to decorate the living room
The decorative details in the form of plants and floral arrangements are also very common in Scandinavian decoration, as they provide a note of color and help create more natural spaces.
Decoration of rustic living rooms
If you do not fill the house with cuckoo clocks and Tyrolean motifs, the rustic decoration can be a great ally to decorate the living room of your home. And, the decoration of rustic style, does not necessarily have to be like "La Casa de la Pradera". And if you do not believe it, then I show you some houses that take away the hiccups.
Wood, stone and cement polished in the rustic style living rooms
Thanks to the warmth of the wood and the elegance of the stone, you can get interiors as inspiring as the ones I show you in the following images.
Charlotte De Cock, a renowned painter and interior designer, found her private retreat in a dream castle lost in a Belgian forest. Wood floors, lush carpets, animal skins and reindeer horns, dress the living room.
Along with a scheme of warm and autumnal colors, the rustic details do the rest. Wonderfully baroque
In the snowy mountains of Cortina d 'Ampezzo, you will find this elegant and cozy chalet. White walls, untreated wood, antique pieces and objects, and a wonderful fireplace for a house that invites you to get lost in it on weekends.
Boho chic living rooms
One of the styles that is gaining more strength in recent times is the combination of bohemian accents, natural elements and ethnic details. And it does not surprise me! Nice is little…
Natural materials and ethnic accents
Natural materials and textures and a mixture of ethnic and Scandinavian elements, in a house designed by Belgian architect and interior designer Peter Ivens. Simple, but very elegant.
Tulum Treehouse, is a wonderful house for rent decorated by the renowned interior designer, Annabell Kutucu. Local textiles, ceramics, Oaxacan rugs, wicker baskets and custom-made wooden furniture by local artisans complete the decoration.
White washed walls, neutral colors, natural materials such as wood, stone and wicker, for a house with a dining living room, which invites peace and tranquility. Sober, but very welcoming.
Industrial style living rooms
Predominantly masculine, industrial-style decoration emerged in New York during the 1950s, when young artists began to settle in spacious and spacious factories abandoned in search of space and light. Over time, the style evolved and matured in what we now know as lofts.
Structural elements in sight and vintage furniture in an industrial design living room
The living room in an industrial style interior is a combination of structural elements in sight, such as wooden beams, exposed brick walls, and bare concrete and iron, with vintage furniture, usually rescued in flea markets.
Wabi Sabi living rooms
A style that I particularly like every day, is the Japanese aesthetic of the Wabi Sabi. Yes, I know, maybe it's a bit dreary and more appropriate for decoration magazines, but it's undeniable that it's extremely elegant.
Decoration of a Wabi Sabi living room
Reduced to its most intimate essence, the Wabi Sabi is the Japanese art of the search for beauty in imperfection. So the Wabi Sabi interiors celebrate the peeling paint, the dull colors, the rusted elements, the frayed textiles, the asperities and the low light.
Decoration of modern living rooms
Surely, each of us has a very different idea of what a modern living room should look like. However, I am sure that we would all agree on a series of elements: neutral colors (white, shades of beige and gray), minimalist and functional design furniture, metal tables and chairs, works of art, ambient lighting, etc.
Design furniture, minimalism and neutral colors in a modern design living room
In the latest work by Danish architects Norm Architects, one can be surprised by the masterful fusion of contemporary design with the Japanese aesthetic of Zen decoration.
The focus of the living room is in the fireplace, which is covered from floor to ceiling with an elegant and dark stone. A pair of black and white marble blocks have been used as coffee tables. A very inspiring living room.
Located just half an hour's drive from Marrakech, on the outskirts of a small town called Tagadert, is Villa K, a five-bedroom retreat designed by the French firm Studio KO. The living room, elegant and minimalist, is dressed in beautiful designer furniture and warm and lush Moroccan Beni Ouarain rugs.
Have you found inspiration and ideas for decorating your living room?