The process of decorating your house does not end when you have furnished your interior. Because often times we also have a certain outdoor space which also deserves love and attention. It doesn't matter if it's a very small balcony, a large backyard, or something in between. And this outdoor space will undoubtedly benefit from a few small changes that can result in a beautiful garden furniture trends 2023 where you can spend a lot of time resting and recharging your batteries.
What are the decoration trends for the 2023 garden furniture?
Giving your outdoor space that much-needed focus can seem intimidating at times, and especially if you don't really have the time. But, according to experts, this is not strictly necessary. You need to think about how you want to use your 2023 patio furniture first and then focus on those specific goals. If, for example, you want to eat outside, start with the dining area. And if you want a more relaxing space, then create that space!
Garden furniture 2023, a space between inside and outside
According to experts and decorators, outdoor furniture has come a long way in recent years. In reality, these pieces of furniture have become so beautiful and comfortable that more and more people are starting to use the outdoor furniture even indoors. When it comes to design and comfort, outdoor furniture has become a real rival to the furniture that is typically found indoors. This helps to blur the boundaries between inside and outside, creating a feeling of cohesion and flow between the two. This summer, expect to see more spaces between outdoors and indoors, such as enclosed verandas, garden furniture or partially covered gardens.
Garden furniture 2023 with natural materials
When it comes to outdoor decor, experts say more and more people are gravitating around natural materials like rattan, bamboo, and terracotta. From woven lanterns to rattan furniture and terracotta pots, it makes a lot of sense that materials from nature have their place on the outside. All of these pieces are a great way to dress up your outdoor space. And in addition they give texture and create visual interest to each exterior.
2023 garden furniture in neutral colors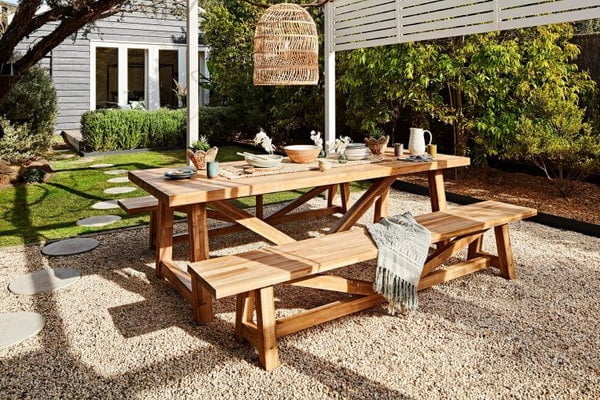 Subtle colors have long been often chosen for interior design. But, according to decorating pros, neutral color palettes are equally popular for the outdoors as well. More and more people are choosing neutral colors because these shades are calming, natural and everlasting. They also blend very well with the natural environment. But of course, the bright colors are not completely forgotten! Since neutral shades tend to combine well with bright colors, you can combine neutral colors very well with brightly colored furniture and accessories, not to mention colorful plants and flowers.
2023 garden furniture with clean lines
More modern pieces of straight, clean lines are very fashionable right now. The clean lines contrast very well with the organic elements, the curved shapes of the leaves and green plants. In case your exterior is very green and with a lot of green plants, you can think of creating more contrast with very elegant outdoor furniture. And even if your exterior is not particularly green, these pieces will still be very elegant additions for your garden furniture or balcony.
Garden furniture 2023 and the garden
The good news from last year is that many people have once again found their love for their outdoors and gardens in particular. And while many of us have learned to master the art of growing our own tomatoes, let's not forget that gardens can go far beyond flowers, herbs and vegetables. Just as we have different rooms inside, the same approach can be used for the outside as well. You can define the different spaces using hedges, fountains, plants etc. Then feel free to think outside the box, or in this case, outside the garden beds.
Garden furniture 2023 and teak
Something you can never go wrong with when it comes to patio furniture? Teak, of course! Although teak has never gone out of fashion, teak furniture is arguably very trendy right now. This is a classic choice and has its reasons: it combines well with every style and gets better with age. And since teak furniture is so trendy right now, it is also becoming very easy to find. And even better – the majority of this furniture is really very elegant!
2023 garden show and experimental updates
Historically, many of us reserved our outdoor space for times of socializing and special occasions. But lately, we are looking more and more to go outside. We realize the positive aspects that the outdoor space can offer and we try to increase its functionality. This leads to creating larger outdoor space that goes beyond socializing. We also see more and more work desks outside in the garden, equipped with WiFi, light, sound systems etc.
Garden furniture and sculptural shapes
A trend that decorating experts expect to see a lot this summer are curvy and sculptural shapes. Curved and sculptural forms have been around the design world for a while now. It is really very interesting to see outdoor tables in original shapes, rounded corners and big legs for sofas and chairs. Plant pots also take on very interesting shapes. These pieces will undoubtedly be very beautiful placed next to more refined and narrower pieces of furniture which are already trendy.
Garden furniture and outdoor lighting
If you are spending time outdoors in the evening or at night when it is already dark, outdoor light fixtures are a must have for your outdoor space. And outdoor lighting is certainly one of the best ways to dress up a space. Well-chosen outdoor lights help create a good day-to-night transition so you can continue spending your time outdoors after the sun goes down. To accomplish this trend, the pros recommend investing in beautiful light fixtures and electrical outlets. Look for suitable exterior and water resistant options and be sure to read the installation instructions carefully before installing them.
Garden furniture and modern materials
Although natural materials like rattan, bamboo, terra cotta, and wood are in abundance right now, some modern materials are also coming into vogue. We see more and more accessories in cement and terrazzo appearing on the outside. We can see side tables or plant pots and these materials become even more beautiful when they are combined with wood or upholstered and upholstered furniture. These pieces often have an appearance that is both modern and retro at the same time: a combination that makes them particularly fun as a decorative addition to any space.
Garden furniture and functional micro-spaces
You don't really need to have a lot of outdoor space to create beautiful garden furniture. In reality, we are increasingly starting to make the most of small spaces, such as small gardens behind or balconies. As land declines, land prices rise, and the population grows, many homes don't have the big yards that many people grew up with. And a lot of neglected areas like for example side yards, front gardens and even small city gardens turn into fully functional outdoor spaces. Even simple additions like a bistro table and chairs can make your outdoor space and garden furniture much more functional and help you spend more time in it.
Garden furniture and sustainable and ecological materials
We are not only looking for elegant ways to decorate the garden lounge – we are also looking for ecological and sustainable ways to do so. For some, this means opting for furniture made from recycled materials or harvested ethically. The push towards more sustainable and ecological practices is also very good to see. We have to take care of the planet and this is a very good step towards that.
And for others, it means looking for more sustainable and environmentally friendly ways for greenery and green plants. If you are in the process of landscaping your outdoor garden, you can for example think of permeable paving, raised gardens, pollinator gardens, edible landscapes and native plants. All of these things can really improve the local environment and have a big impact in the world.
Garden furniture and spaces that go beyond simple gardens
Our gardens and garden furniture tend to get a lot of attention, but the front gardens also deserve our attention. If you think your backyard is too small to create the times and experiences you want, it's time to think beyond your backyard.
With the help of a few hedges or trees you can transform your backyard into the private oasis you've always dreamed of and a neglected side yard could easily become an orchard, a place to grill or an outdoor dining area. When you look at your entire property, it is possible to realize that you have more space than you think. So be more creative and look for ways to make the most of your outdoor space.