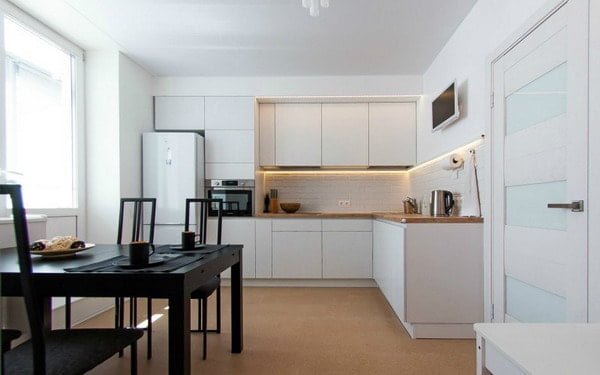 It is not for nothing that the kitchen is considered the heart of the whole house: it is here that the whole family gathers and shares food at the table, all holidays and celebrations are celebrated here, the working day begins with a cup of morning coffee. That is why this room should be not only functional and practical, but also spiritual and cozy.
How to make a trendy interior in the kitchen in 2025 – we will tell in this article
Interior kitchen 2025 – what's in fashion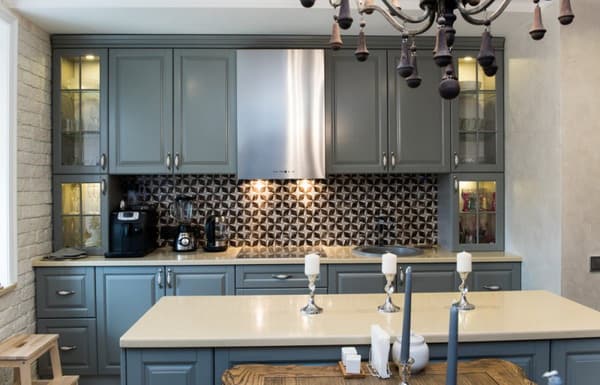 This year the designers proclaimed the year of coziness and comfort, reflecting the inner world of the owners of the house. Owners will be located in this room most often, which means that it should be "their" interior.
Fashion is a lady with a capricious and changeable character, especially when it comes to clothes or makeup. But since the design of the premises does not change so often and is chosen for several years, it is worth carefully choosing the style and colors of the interior of the future kitchen.
In 2025 environmental friendliness, minimalism and practicality are relevant. For the kitchen, as well as for other rooms, light shades and strict forms are preferable, and even if classic or Provence is chosen as the basis, the interior should not be filled with unnecessary details and furniture.
The decoration should give preference to environmentally friendly materials – wood, ceramics, stone, glass.
Since we are talking about the kitchen, we cannot do without a large amount of household appliances, especially since manufacturers are ready to offer appliances with different capabilities and in different styles. The minimum set of equipment for the modern housewife is:
Fridge freezer.
Oven.
Cooktop.
Microwave.
Teapot.
Coffee machine.
Dishwasher.
How to locate appliances in the kitchen, you need to think about the initial stage of repair, pre-pave the required number of outlets.
It is also important to divide the space into functional areas – dining or dining, cooking area, storage places. For separation use different textures and colors, different blood floor and ceiling lighting.
What color for the kitchen to choose in 2025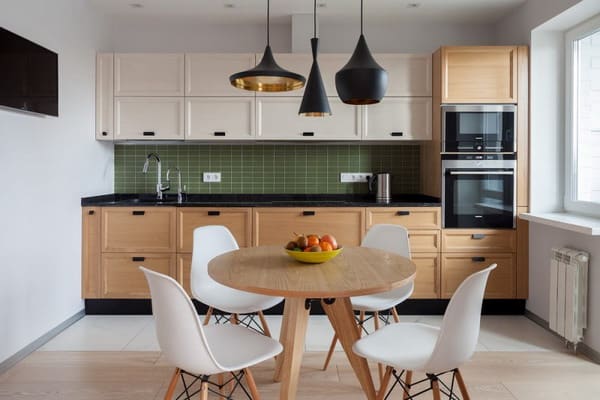 We have already said that natural finishing materials and environmental friendliness are in fashion. So, for the decoration of the kitchen are quite suitable shades of wood – oak, ash, walnut. As a main background, light neutral shades are preferred: beige, white, olive, cream, milky, gray.
Separately, I want to say about the white color. This shade will never go out of fashion, because it serves as an excellent background for complementary colors. Skillfully combining white with contrasting shades, a different and unique interior is always obtained.
As complementary colors in 2025, designers advise to choose one of the following: cherry, blue, shades of yellow and green, orange, chocolate.
Remember one rule: a bright color is only a supplement, not the main background, otherwise finishing the kitchen after some time will start to annoy.
White kitchen 2025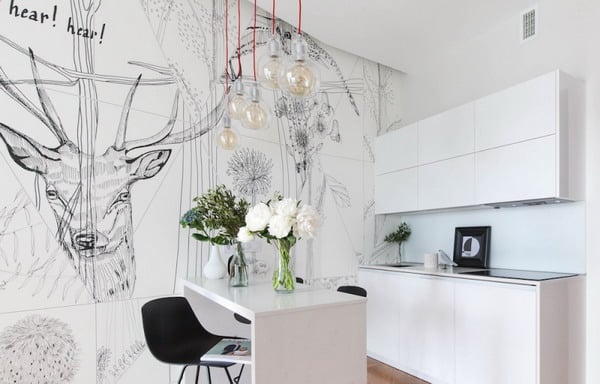 White kitchens do not cease to be relevant this year. No matter what style the room is decorated in – a gentle and romantic Provence or strict and laconic minimalism, white and its shades are relevant everywhere. We picked up a kitchen photo gallery, where the main color is white and its shades: milky, mother-of-pearl, and ivory.
Black kitchen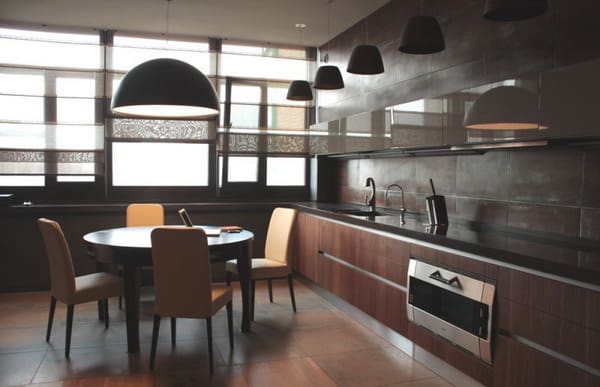 Most of us refer to black, as oppressive and narrowing the space. But designers advise to change their opinion, because black is pushing the boundaries on a par with white. The only limitation – a small kitchen – there is black, and indeed dark shades, there should be very little.
Red and its shades – burgundy, cherry, scarlet, pink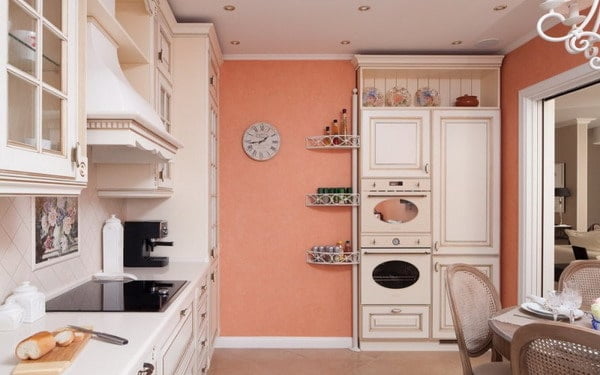 Designers are not advised to get too carried away with similar shades. Red, due to its aggressiveness, will soon begin to irritate, and the rest of its shades must be skillfully diluted with a neutral palette.
If, nevertheless, you cannot abandon the idea of buying red kitchen furniture, then it is necessary to create a background of white, milk, gray or beige walls for it.
Yellow and green shades in the kitchen
It is known that these colors contribute to better digestion, as are the reflection of the color of fruits and vegetables. But do not get involved and make out the whole kitchen in these shades. If for the decoration of the walls one of these colors is chosen, then the furniture should be neutral.
An excellent solution will also be orange (sunny and bright) shades reminiscent of summer.
gray kitchen 2025  – with what and how to combine this neutral color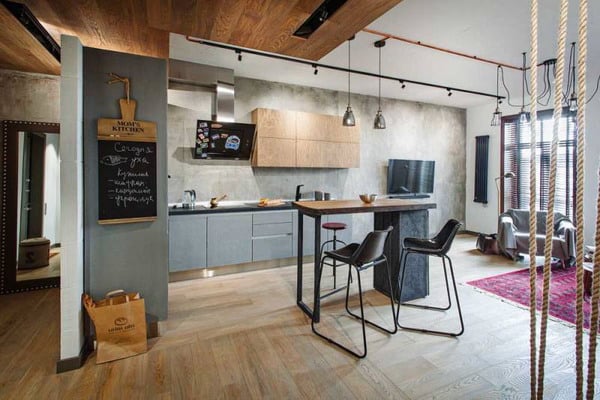 Gray – one of the trendy shades of the coming season. Moreover, both the walls in the kitchen and the facades of the furniture can be gray, but in this case it is necessary to use different shades of gray. You can pick up appliances in silver shades, emphasizing the modern laconic design.
But minimalism and hi-tech are not the only styles where gray shades can be used. Gray facades harmoniously look with panels on kitchen furniture in Provence or retro style. Different shades of gray can be a great background for a classic kitchen or a spacious loft.
Blue and its shades in the kitchen 2025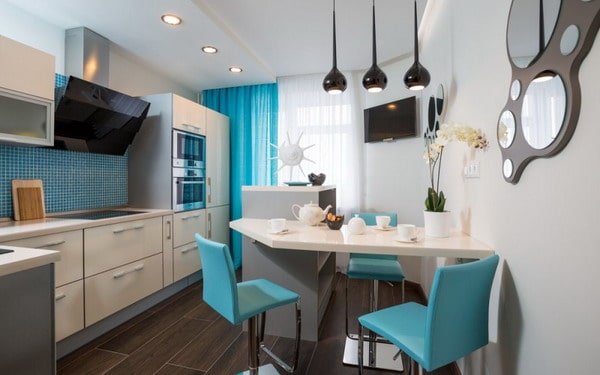 Whether it will be a gentle blue or deep blue – depends on the overall style of the room. So, in a modern minimalist kitchen interior, dark blue will be relevant, but for a gentle Provence, turquoise and light blue will be an excellent choice.
Brown color in the kitchen 2025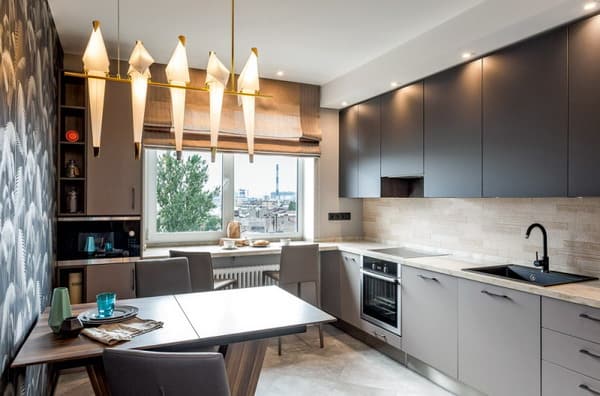 This dark chocolate shade needs to be skillfully dosed, especially in a small kitchen. If it is decided to use brown on the walls, then it should be either small blotches of color, or paint one of the walls, and on the rest use neutral light colors.
Brown can be not only the walls, but also kitchen furniture. Moreover, brown is considered a natural shade. It does not matter whether it is a rich dark or light shade – it can be supplemented with an unusual texture, for example, using a mosaic or a ceramic tile on an apron.
Kitchen furniture
Modern kitchen interior involves the use of only the most necessary pieces of furniture. For small kitchens this is:
Comfortable worktop that performs the role of the working surface.
Dining group – a table and a few chairs.
Storage areas – cabinets and shelves.
By the way, the spacious kitchen also should not be cluttered – use only the furniture, without which it is impossible to do.
For small rooms, the actual solution will be furniture-transformer, which at any time can free up space by hiding in a closet or turning into a comfortable table. Instead of hinged heavy cabinets use air shelves.
As for textures for furniture facades, naturalness and unity with nature in a trend, and hence the texture of wood and stone will be appropriate in the kitchen in any style. This is especially true of classic styles, Scandinavian style and loft. But for hi-tech or minimalism, you can use plastic and lamination.
Give up the bar with a metal bar – this solution is already outdated and is not fashionable. If you want to use the bar – make it stand-alone and without any metal pipes.
What style of kitchen to choose in 2025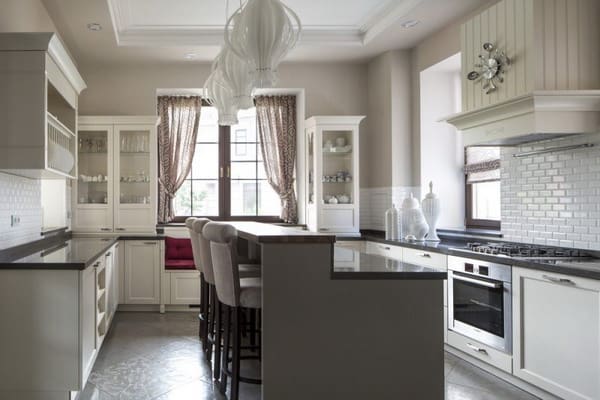 Designers do not call any particular interior style fashionable, but advise you to stick with the general style of the rest of the house. And most importantly – the interior of any room should be "spiritual" and reflect the inner world of the owners of the house.
Modern kitchen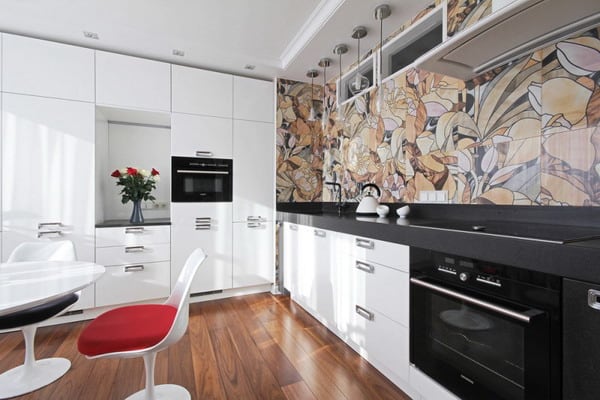 Modern can be attributed to non-standard solutions, characterized by broken lines and original forms. The simplicity and the lack of unnecessary decor – that is what is worth paying attention to. Asymmetrical and functional modern allows riots of colors and non-standard patterns.
By the way, unusual, floral or abstract prints can be used in curtains, towels or upholstery of chairs – ornaments and patterns will dilute the strict lines and introduce some mysteriousness in the design.
Modern (or Scandinavian) Minimalism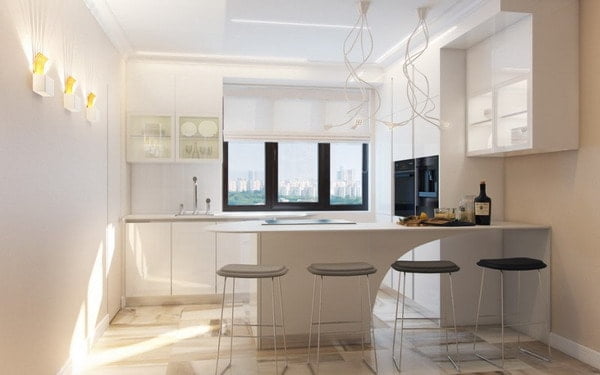 In such a kitchen, the location of any object should be clearly justified, since the space should be as free as possible. Clear and straight lines are the hallmark of modern minimalism. High-quality materials, maximum functionality, not visible to the eye, the original texture and only neutral shades – these are the main definition of modern cuisine.
Classic kitchen interior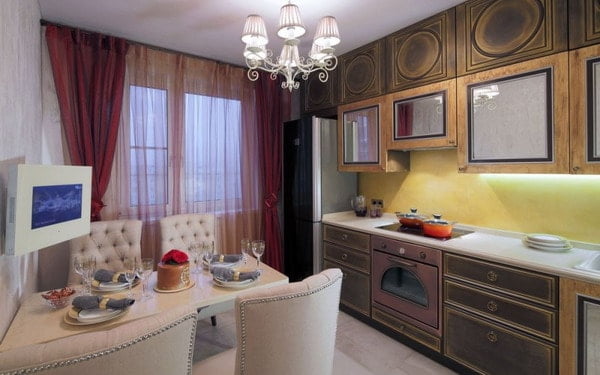 The classic style is always relevant, especially if the kitchen has a lot of space. Modern classics are somewhat more restrained – there is not much decor in it, however, the materials should be of high quality and durable. The abundance of carved or forged elements is a distinctive feature of any classical style.
But the metal and glass of the classic does not accept, with the exception of glass inserts in the fronts of the furniture set. Fabric upholstery on the chairs, elegant curtains, hanging chandelier and framed paintings remain relevant even in modern classic kitchen. It is also important to choose household appliances under the overall style of the room.
Loft Kitchen in 2025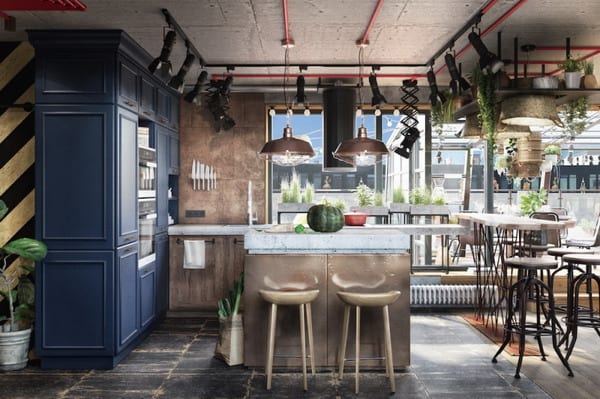 Loft remains relevant and fashionable style for several years. Concrete, untreated wood, brick, ceiling beams and open communications are the distinctive features of a loft. Metal lamps and a wooden tabletop, deliberately rough finish complement the modern kitchen in the style of a loft.
The advantage of this style is that if there is at least some rough finish on the walls – brick, concrete – it can be not masked or finished.
The interior design of the kitchen in the style of Provence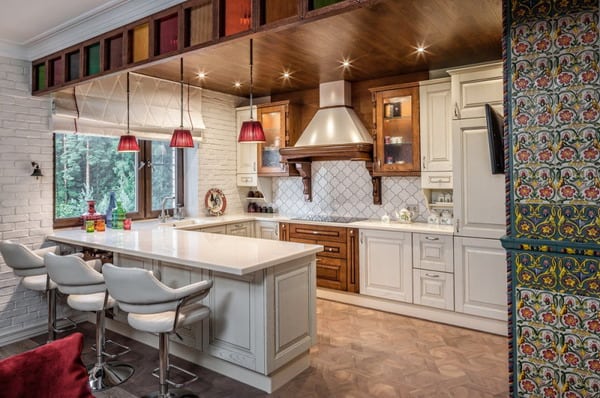 Provence – the style of the French hinterland, still remains one of the current areas for home decoration. Such a rustic interior looks truly homely and cozy, while combining simplicity and modern high-quality finishing materials. The obligatory attributes of Provence style in the kitchen are:
wooden surfaces of the table and storage places;
brick or stone finish (but not marble);
an abundance of textiles – on the windows, in the upholstery of chairs, towels and napkins;
patterns in stripes, peas, cell, flower;
forged carved handles on kitchen fronts;
dishes from clay or ceramics.
To give a real rustic atmosphere will help open shelves for storing utensils and other kitchen utensils.
How to make a small kitchen in 2025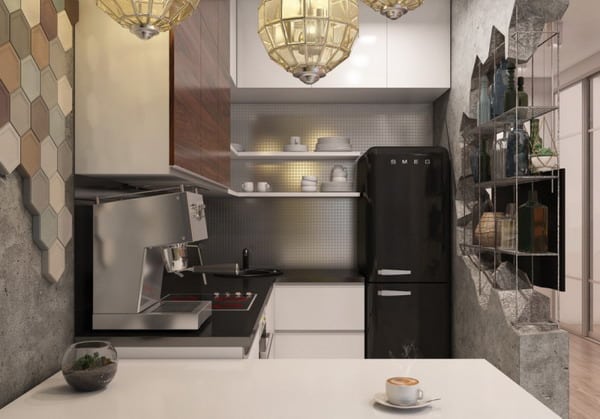 A small kitchen room is the scourge of apartments of the last century. But many still use such apartments. Minimalism and strict lines – exactly what you need for a small kitchen. Do not burden a cramped room with excessive decorative elements – use only those items that carry a functional load.
Another tip: use high cabinets up to the ceiling – you can organize roomy storage areas.
Discard the dark and acidic shades – in the cramped kitchen they are inappropriate, give preference to light shades: white, beige, gray, cream colors. Lightness and airiness will also give a glossy and reflective surface.
Use furniture-transformer – folding table and chairs, retractable work surface. Hide everything that is possible out of sight – use the built-in appliances, free the work space from unnecessary rubbish and unnecessary things – this is the only way to achieve ease in a small kitchen.
A great solution would be to use the space under the window, and on the windowsill you can easily make a work surface or a food intake zone.
Kitchen interior 2025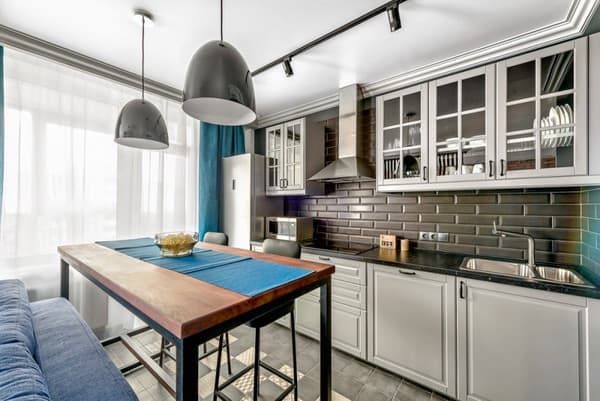 To organize a truly comfortable and ergonomic space in the kitchen, you also need to try. But, using the already implemented solutions from leading designers, any family will be able to create the very kitchen in which it will be nice to be to all its members.
Comfort, convenience, simplicity and ergonomics – these are the four main factors in the choice of design for the kitchen in 2025. The main thing is that the interior suits you, reflects the inner world of the apartment owners and has a convenient and functional content.
To choose a stylish kitchen interior that meets all the requirements listed above, we selected a collection of photo ideas and design options that can be used to create a new, unique interior. Enjoy watching!