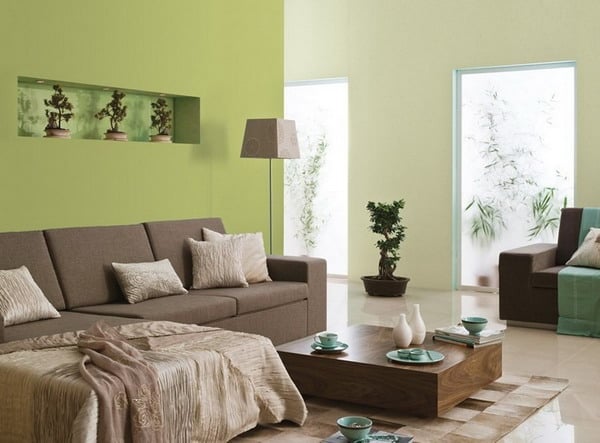 The wall color always plays a big role in the room, because it is the backdrop for all your furniture and personal items. No matter whether you want to change your old design or start everything from the beginning, here are a few ideas for the living room so that the potential of your room is revealed. Immerse yourself in the world of fresh, new colors! A great wall design does not lie in the choice of the brightest and most unusual colors, but rather in their skillful implementation. If you like yellow, you can opt for a two-tone color scheme and combine light and dark yellow tones. You can also choose two completely different but complementary colors such as yellow and white or yellow and blue.
Best Paint Ideas for Living Room Walls 2021
Painting ideas for the living room – tips for choosing the colors
Think about how colors affect your mood. Light or dark colors get the best out of you? Once you've chosen your colors, think about how you can use them. Do you need a contrasting or subtle color for an accent wall , a support column, sloping roof? Buy a color wheel. Complementary colors, such as yellow and purple or yellow and blue, are opposite each other. Paint two opposite walls in one color and leave the other two walls white. This will make the room appear larger or smaller depending on the color chosen. You are also welcome to match the wall color with the color of the couch, because it is often the focus.
Painting ideas for the living room – matching color with furniture
Colors that you may not have considered a good pair so far because they differ so much from each other quickly prove to be the perfect color combination. Blue and yellow are certainly such colors, but in the end they create a wonderfully upbeat and fresh look for the room and represent a great combination.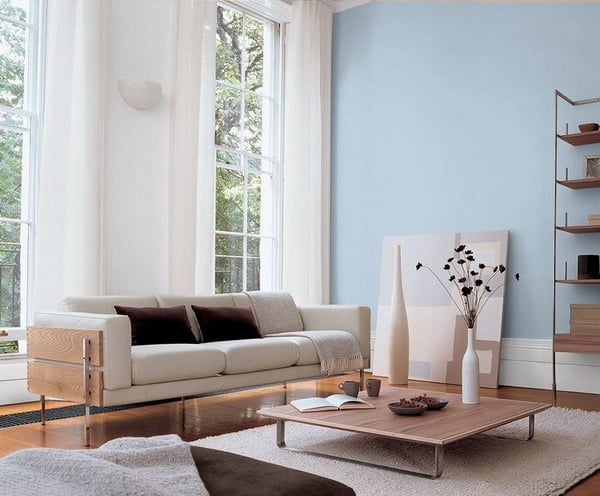 Pastel tones are very popular because they have a calming and romantic effect. So that's another factor that you should consider when choosing your wall color. Would you like to create a more calm atmosphere or a vibrant, peppy one? No matter whether subtle or strong, the colors should be used sparingly and not too chaotically. After all, a mess is anything but cozy!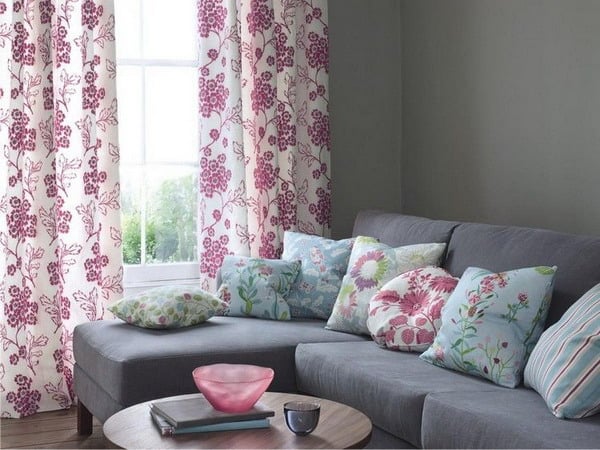 The gray wall color is very trendy, so you can consider its multitude of nuances as painting ideas for the living room. Since this is a neutral wall color, you can combine it with any other colors for the decoration, be it pastel shades such as pink, mint green and baby blue or strong shades such as yellow, red or pink.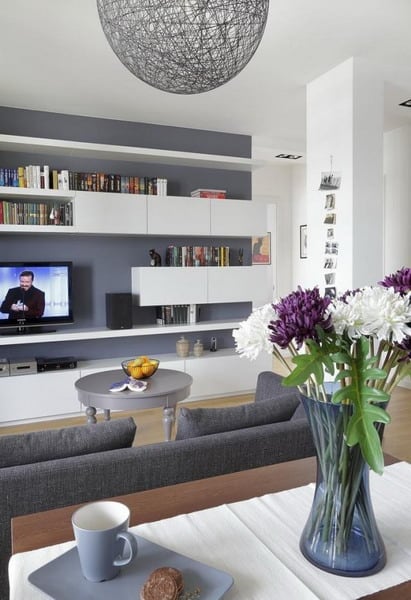 Gray is also wonderful for an accent wall, which you can then complement with matching furniture and white for the remaining walls. The gray tone can also have a slight bluish tinge or go in the direction of beige. It depends on your taste and the atmosphere you want to create. This wall paint is suitable for different furnishing styles.
Gray-brown tones
A variant in which the gray tone has a brown tinge can be seen here. This provides the best basis for furnishings with wood and also gray home accessories. So it is an advantage if you already know the colors of the future furniture before choosing the wall color so that everything can be coordinated well.
Vibrant shades of pink and purple
Admittedly, pink and pink are not for everyone. However, if you're one of those crazy about these feminine colors, take advantage of them when painting your living room. Depending on the color of the furniture, you can only design an accent wall or paint all the walls. But be careful not to overdo it with the number of colors. Limit your choice to a smaller number and distribute them evenly in the room. This also applies to the walls.
Fuchsia accents
We also really like the idea of combining a subtle wall with upbeat fuchsia decorations. So you get the desired pepp without creating an overbearing look. Combine with lighter shades of this color or with neutral shades such as brown, white, beige or gray.
Lilac wall paint and purple corner sofa
Lilac is undoubtedly one of the particularly popular wall colors. No wonder, because the color is delicate and romantic at the same time and can be used for any furnishing style. The choice of furniture color is also not affected by lilac. Make use of those from the same color palette as was done in this room or trust in contrasting colors by choosing one of the complementary colors.
Yellow accent
If they are skillfully combined, even several motley contrasting colors can be used perfectly for the design of the interior. A narrow yellow accent wall serves as the background for a white sofa with colorful cushions. The colors pink, green and blue were used. The result is an upbeat interior that no doubt creates a spring mood and banishes bad mood without hesitation.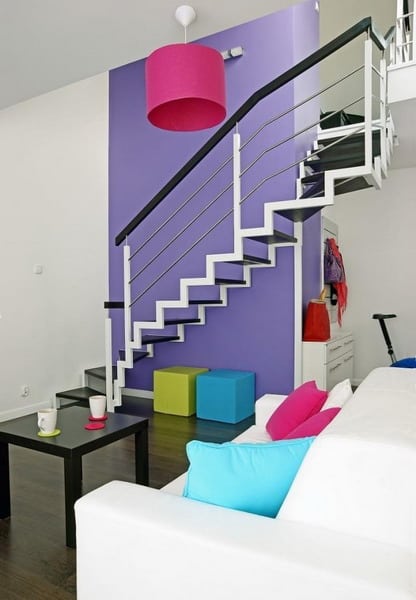 An accent wall in purple has been designed diagonally opposite, which gives the room additional pizzazz. Also pay attention to how the colors used are repeated over and over again – the pink of the pillows in the lamp and the blue and green of the pillows in the stools. The dark floor also highlights all the splashes of color wonderfully.
Wall paint colors 2021: best ideas for living room walls
The living room should shine in new colors, but lack inspiration? With our practical tips for the living room paint color schemes, you get fresh ideas for wall design.
The living room: a room to live
We love our living room! They not only offer space for relaxed television, but also for almost all other activities in everyday life.
The living room and sofa are there for us when we just want to put our feet up comfortably or when we spend a fun evening with our dearest friends. Living rooms can do much, much more.
We should therefore exercise great care in the color design of our favorite room. After all, we just want to feel good in the living room. The right colors play an enormous role here!
The best wall colors for the living room
In the living room it can be exciting to combine two different colors, such as white with a dash of black, so that a delicate gray is created.
Intense shades of exciting colors can lift the mood. For example, mixing the interior wall color red with a blob of black and a blob of purple so that a bordeaux-like color is created.
Also one of the best and most popular color ideas is the style that 3 walls are painted white and one wall in a dark olive green for the necessary contrast. This has a modern and calming effect and also works in the bedroom or in the kitchen.
It is very important to find harmony and balance, so that not too many color families come together, because this leads to unrest in the living room. The wall color and decoration, but also the furniture, should be perfectly coordinated.
Tip: Use test coats to test how the color affects the room and whether it matches the furniture.
Brown: wall color ideas living room
For example, if you have black and white furniture in the living room, a light tan wall is suitable, because it looks cozy and inviting to relax. But even with different colored furniture, a light brown shade fits wonderfully and makes rooms look a bit smaller and more cozy. Here you will find the Alpina Fine Color: Poet of the Earth .
Gray: the classic of wall colors
Which wall color matches almost all furniture? Regardless of whether black and white furniture, wood-colored, light or dark pieces of furniture – the shade of gray fits wonderfully here. However, you should make sure that this is not chosen too dark, especially in smaller rooms, because this is more restrictive. In a gray-brown combination or gray-beige color combination, a perfect harmony can be brought into the living room. Here is our special tip for " gray ".
Green: unusual living room wall in mint
The trend for every living room: wall color in delicate green-mint. Combined with black furniture and white windows, the color is calming and fresh without being too thick. Just the thing for everyone who doesn't want to bring 0815 paint to their walls. Here you will find the Alpina fine color: wings in emerald.
Dark red: accents with royal colors
Dine like the Royal. With the dark red wall, the dining area in the living room is bathed in royal flair. The dark red is perfect for antique furniture in dark cherry wood and chandeliers with candles. Alpina Fine Colors: Dance of Longing .
Ice blue: Scandinavian cosiness with cold colors
If you are decorated in a Scandinavian style, you should definitely paint your wall in ice blue. The blue going into white is particularly suitable for light wooden floors, furniture with clear lines and dark accents. Alpina Fine Color: time of the ice flowers .
Yellow: Bring the sun into the living room
Friendly wall paint for the living room: With the color yellow and vintage furniture, an oasis of wellbeing is quickly created. Aplina Fine color: awakening of spring .
Red: bright accents for white furniture
Red and white, this combination is a classic and never boring. As an accent wall or behind the white fireplace. Alpina Fine Colors: Freed Firebird .
Beige: cosiness in soft tones
Another classic that never gets ugly is the delicate beige. This wall color creates lightness in the living room with dark wood flooring and dark accents and has a calming effect with the pastel note. Alpina fine colors: elegant serenity .
Wall paint idea white: Alpina for the living room
You can't go wrong with the white emulsion paint. This has a calming, enlightening effect and fits any room decoration. Of course you can play with the brightness by adding minimally different colors. The best white paint bucket in the test , incidentally, come from Alpina. In our opinion, the best white for the living room is this productive and qualitative white .
Make the living room modern with a good emulsion paint: tips
The above wall paint ideas are modern, yet timeless. In order to design the living room walls, you cannot avoid a good emulsion paint. This is understood as an ordinary interior paint, which can be bought, for example, in the hardware store or online and can be applied in combination with the right painting tool even without great manual skills.
The following color design ideas for your living space are also modern and timeless. These fit just as well in large rooms as in small ones, but we will deal with this topic in this article.
Which wall color is suitable for small living rooms?
A small living room should be designed especially with light colors, i.e. white, a light blue, a light yellow or a light green, as this makes the room appear friendlier and not too restrictive. You should also follow these tips if you want to visually enlarge a room. Here are our always praised tips for …
light blue
bright green
bright yellow
qualitative white
Which wall color is suitable for large living room spaces?
First of all, we would like to point out this helpful article: "How much color do I need for the room? For a large room, you can mainly use darker colors such as ocher, beige, brown and a light gray or darker green. A large room looks more cozy.
Conclusion on the wall design of the living room
So if you want to redesign the living room, the tips above should have given you enough inspiration to get started. We have also introduced you to the best products so that quality is guaranteed in your living space. So you have fun for longer and more beautiful living is the order of the day. Below is a nice video for you. View a larger selection of colors in the online shop now!